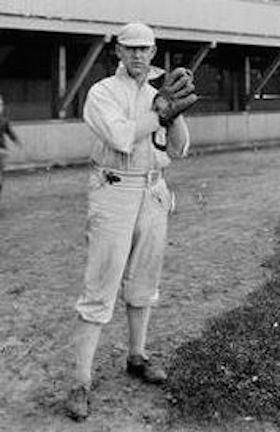 ---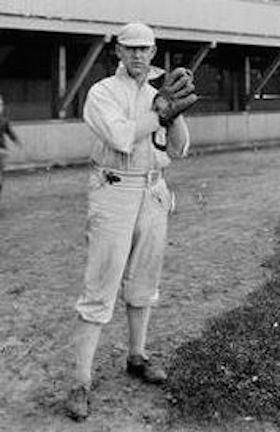 Chicago White Stockings manager Clark Griffith was desperate for pitching help in September 1902. Griffith was sick, Nixey Callahan was in a slump and nursing his arm, and Wiley Piatt was ineffective. Only Roy Patterson was dependable.1 Griffith reached into the minors and bought Sam McMackin from Milwaukee. "He had been a fine pitcher in his day. … (H)e admitted that his arm was about all in," Griffith later recalled.2 Once blessed with good speed, a solid curve, and superb control, McMackin was getting by at the end of his career with his baseball savvy and intelligence. Griffith was forced to start on September 4 against the Boston Americans. He surrendered 10 runs before calling for McMackin, who allowed only one run on the way to an 11-1 Boston victory. McMackin was released a short time later, but was picked up by Detroit. He got his only major-league start on September 21 against the Chicago White Sox. Given a 4-3 lead in the eighth, McMackin was unable to hold on and dropped a 5-4 decision. It was his final baseball action; a few months later he died in Columbus, Ohio.
Samuel McMackin was the first of four children born to Henry (aka Harry) and Maria McMackin.3 He was born on November 24, 1872, at the couple's home in Cleveland. Harry was a roofer and his sons followed in his footsteps after attending school through the eighth grade. Sam showed his baseball talent early and was a member of the East End Grays when he was just 17 years old. The Grays were led by team captain Tom Delahanty and were the strongest semipro team in the region. McMackin formed a bond with teammates Jim Gilman, Paddy Boyle, and John Killacky that would last long after the Grays disbanded in 1893.
In 1893 McMackin joined the Sandusky Sandies in the Ohio-Michigan League. Boyle joined him in the jump to professional ball. McMackin pitched 14 games and posted a 5-6 record. He also saw action in the field in five games and posted a .284 batting average, by far the best of his career. The league disbanded and when McMackin and Boyle returned to Cleveland they joined Joe Ardner's Leaguers. McMackin also traveled to Findley, Ohio, to pitch for the town team. The next year McMackin and Boyle headed west to the Omaha Omahogs of the Western Association. McMackin left Omaha for Lincoln of the same league in mid-July. He ended the season with yet another Western Association team, Des Moines. Sporting Life listed him with 48 games played, but had no pitching totals. He returned to Cleveland and roofing with his father.
In 1895 McMackin, Boyle, Gilman, and Killacky all headed south to become Dallas Steers. Dallas was part of the Class B Texas-Southern League. Gilman played second until he was sold to Norfolk, Virginia, Boyle saw time at short and third while Killacky caught and played outfield. The Steers ran away from the pack with a 23-game win streak in the first half. Dallas had a superb season, easily winning the first half and ending the season with the best overall record (82-33). According to statistics published in Sporting Life, Boyle and Killacky were in the top 10 for hitters and Killacky led the league in doubles. McMackin posted a 28-7 record, the second most wins in the league. At the plate he hit .249.4
In 1896 McMackin and Killacky were recruited by Ed Barrow for his Paterson (New Jersey) Silk Weavers in the newly formed Atlantic League. McMackin signed for "over $200 a month"5 and joined local star Dick Cogan and former major leaguer Lee Viau to give the squad a strong pitching staff. In the field the team boasted Bill Armour and a second-year star in HonusWagner. Paterson jumped into the lead early and remained in the pennant race until the final week. Viau's departure at midseason weakened the club because his spot was taken over by second baseman Heinie Smith, who hit 19 batters and threw 29 wild pitches in 149⅔ innings. McMackin was the ace of the staff, throwing two or three times a week. By season's end he had logged 384⅓ innings and posted a 25-16 record. In sharp contrast to number-three starter Smith, McMackin unleashed only two wild pitches the whole season.
Just before he was scheduled to report to Paterson the following year, McMackin was sold to the Newark Jewels of the same Atlantic League. Here he was reunited with Gilman and Delahanty but the reunion lasted only a short while. On April 29 McMackin took the box against Hartford and was clearly not in midseason form. He walked four and allowed 20 hits in a 19-12 loss. He was dropped shortly after and was picked up by the league's Hartford Bluebirds and manager Oyster Burns. After a few weeks, Burns realized he had an overabundance of pitchers and let McMackin go to a league rival, the Reading Actives. He was one of 22 pitchers used by the Actives and only Doc Amole saw more action. McMackin closed out the year with a combined 7-23 mark in 275⅓ innings. Forced into action as an outfielder with Reading, he batted.191.
Despite the down year, owner Frank Leonard of Augusta in the Southern League added McMackin to his squad along with Paddy Boyle. The Southern League disbanded after only a month or so. Leonard took over the Taunton Herrings in the Class B New England League in early June and took a contingent north with him, including McMackin and Boyle. Despite being worn out and a bit queasy from the ocean voyage from Georgia, McMackin, "a young southpaw (with) a very deceptive change of pace, quick curves and good speed,"6 made a great first impression, going 12 innings in his first start for the win over Fall River. The league disbanded after games of July 4. Any hope of making a salary like the one he had in Paterson disappeared quickly for McMackin. Attendance was so bad in Taunton that over the last 20 days of the season the players earned only $5 each.7 McMackin reportedly accompanied Leonard to Cortland, New York, in the New York League. When that franchise closed down, he went back to roofing in Cleveland, no doubt hoping for a steady pay check.
After two lackluster seasons, McMackin was looking for a better situation. When Ted Sullivan contacted him about a return to the Class C Southern League, both he and Boyle packed their bags to go south. Sullivan headed the Montgomery (Alabama) Senators and featured veteran King Bailey in tandem with McMackin. The team was shifted to Dallas and lasted about 40 games with McMackin and Bailey pitching 290 innings and 26 complete games. When the franchise folded in mid-June, McMackin moved to the Houston Buffalos in the Class C Texas League. He posted a 7-8 record with them. In late July he went to Emporia, Kansas, to play for an independent ballclub.
The 1900 census lists McMackin with a wife named Clara. It noted that they had been married one year. The obituary in the February 12, 1903, Cleveland Plain Dealer said it was a four-year marriage. Considering that some of the other information in the newspaper article was not chronologically accurate, an 1899 marriage seems likely.
Sam and Clara lived in Decatur, Illinois, during the June 1900 census while he pitched for the Commodores in the Central Illinois League. He had begun the year with Elmira in the Atlantic League, where he was involved in the arrest of the Elmira and Birmingham teams for playing ball on Sunday in Elmira on April 22. The case went to trial a few days later and all the players were acquitted after jury deliberation of three minutes.8 McMackin had originally signed with Decatur, but skipped out to play with Elmira. When he did not appear in Decatur for the start of training, it was reported that his wife was too sick to travel. He started the season with a lame arm, but rounded into shape and become an Elmira fan favorite. In mid-May McMackin was ordered to honor his original pact with Decatur.9 He returned to Decatur and used his guile and intelligence to have a successful season. The arm was not as good as it was in his prime and issues with his conditioning and lifestyle arose. He missed a game because of "boils" – sometimes a cover for being drunk. On another occasion McMackin could not pitch because of the heat, again raising questions about his condition. When the season wrapped up, the couple stayed in Decatur for the winter. They would also reside there in the offseason of 1901-02.
McMackin's performance at Decatur sparked interest from the upper leagues and he joined Louisville in the Class A Western Association. He posted a 1-2 mark before being sent to Marion, Indiana, in the same league. He split a pair of decisions there before being sent to the last-place Columbus Senators. He made over 30 appearances for the Senators and earned a spot on the 1902 roster when the Senators moved to the American Association. The Senators and McMackin got off to a blazing start; he was 5-1 with a 0.83 WHIP (walks and hits per inning pitched) and had a 5-0 win over Milwaukee, when trouble emerged. On the trip from Columbus to Louisville, McMackin left the team in Cincinnati when "the redlight dazed him."10 The Indianapolis News was blunt, citing his "love for the booze" as the reason for termination.11 When he did rejoin the team he was suspended and then released. Milwaukee manager Billy Clingman added him to the team's pitching staff, headed by Nick Altrock. McMackin dropped his first decision, to Indianapolis on June 27, and posted a 5-8 mark before being purchased in September by the White Stockings.
After McMackin finished the 1902 season with Detroit, the couple returned to Columbus for the offseason. There were numerous reports that McMackin had offers from major-league and minor-league teams. But he died on February 11, 1903, from pneumonia which at least one obituary attributed to his belonging to "that class of unfortunates who were unkind to themselves."12 His body was returned to his native Cleveland and after a ceremony in his parent's home he was buried in Woodland Cemetery.
Sources
A debt of gratitude to Bill Carle and the SABR Biographical Research Committee for help with McMackin's family background. Some sources had a different birth year and location in upstate New York. Thanks to Bill Lamb and Joe Wancho for their insights on his semipro years. Thanks to Jeremy Feador for his definitive answer about which Delahanty brother played with McMackin.
In addition to the sources cited in the Notes, the author also consulted the following:
Boston Herald.
Cleveland Leader.
Daily Illinois State Register (Springfield, Illinois).
Detroit Free Press.
Hornell (New York) Evening Tribune.
Omaha World Herald.
Philadelphia Times.
Notes
Born
November 24, 1872 at Cleveland, OH (USA)
Died
February 11, 1903 at Columbus, OH (USA)
If you can help us improve this player's biography, contact us.
http://sabr.org/sites/default/files/McMackinSam.jpg
600
800
admin
/wp-content/uploads/2020/02/sabr_logo.png
admin
2016-02-23 18:51:21
2016-02-23 18:51:21
Sam McMackin