---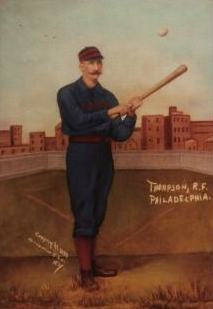 Samuel Luther "Big Sam" Thompson was born on March 5, 1860, to Jesse and Rebecca (McPheeters) Thompson in Danville, Indiana. Sam was the fifth son born to his parents. His parents were to have eleven children, two of whom died shortly after birth, with six sons and three daughters surviving infancy.
Rebecca's grandfather, John McPheeters, had served in the Revolutionary War and had ridden with the Virginia militia's Over the Mountain men under the service of Colonel William Washington, George Washington's nephew. John later settled in the Indiana Territory just across the Ohio River from Louisville, Kentucky.
When the Civil War began in 1861, Rebecca's husband joined Indiana's 63rd Indiana Volunteers for the duration of the war. During the war, Jesse's regiment was used basically to guard Confederate prisoners at Camp Morton in Indianapolis and throughout the South. According to family legend, Jesse learned the game of baseball from other Civil War soldiers. Jesse was finally medically discharged from the Union army in Guildford County, North Carolina, which also happened to be his birthplace. When Jesse returned to Danville after his discharge, he and the other Union soldiers of Danville brought with them the new game of baseball. With six sons, Jesse almost had a team under his roof. Danville had four amateur baseball teams, and the Thompson boys played for the Danville Browns. These games would draw nearly 1,000 people even though the towns weren't nearly that large. The Thompson boys became quite well-known throughout central Indiana because of their baseball skills. One paper reported that the Thompson boys were as good with their bats as they were with their fists.
A carpenter by trade, Sam grew into manhood reaching 6-feet-2 and weighing 210 pounds. All six of the Thompson sons grew to over 6 feet in height and weighed more than 200 pounds — uncommon dimensions in the 1800s.
Since many trains went through the town daily on the way east and west, it wasn't unheard-of for baseball teams to stop on the way to other cities, and to kill time they would play the locals in an exhibition game while waiting for the next train. One day a man named Dan O'Leary came to town with a team from Indianapolis. He had agreed to have his team play against the Danville squad and he was actually scouting Sam's older brother, Cy, who was a local druggist. However, Cy was 26 at the time, and O'Leary thought that was too old to start a professional career. Sam's youngest brother, William, was a local baker, and considered to be Sam's equal, but he was about six years younger than Sam. The mayor of Danville had bragged that if they had Sam, the Browns would beat O'Leary's team. When O'Leary found him, Sam was working on a roof for a neighbor. Sam refused to play since he needed the $2.50 he was getting for the roof work. O'Leary agreed to pay him the $2.50 so he could see him play. Sam proceeded to lose two balls in a cornfield and lead his Danville team to a 9-0 victory over Indianapolis. If the roof was ever finished, it probably wasn't Sam who did it, since he was signed on the spot.
In 1884, at age 24, Thompson signed to play for Evansville which had just joined the Northwestern League in July and played only five league games. In 1885 Sam was playing with the Indianapolis Hoosiers when several teams disbanded and league play stopped. Many of the Indianapolis players were taken by the Detroit Wolverines. In those days a team had ten days to claim players from teams that had disbanded. The owner of the Wolverines had the eight Indianapolis players kept on a steamer in Lake Huron until they all agreed to terms with the Detroit club and the time limit had passed. By this time the players were seasick and would have agreed to any terms.
Sam's first game was notable in the fact that Detroit couldn't find a large enough uniform to fit him, and in his first at-bat, he split his pants running into second base for a double. The good-natured Sam enjoyed the scene as most of the spectators did. From that time on, Sam became a favorite of Detroit fans. In his first year in the National League, Sam earned the respect of the older players by hitting .303, slugging .500, and finishing behind just two other players with seven home runs even though he played only half the season.
In 1887 the Detroit Wolverines and Thompson had one of their best seasons. Sam set a record of 203 hits, thus becoming the first man in major league history to garner more than 200 hits in a season. Sam also batted .406 and drove in 166 runners, a record that stood until Babe Ruth delivered 171 RBIs in 1921. Others recall 1887 as the year the rulemakers decided that it would take four strikes instead of three for a strikeout and walks counted as hits. Even after adjusting the numbers to reflect current rules on balls and strikes, Sam's batting average of .372 earned him the batting title for the season. Sam also established a record of hitting two bases-loaded triples in one game against Indianapolis, a mark that has been tied but not broken. Even without a title or trophy being awarded, Thompson was the most valuable player in the 15-game World Series, a 10-games-to-5 Wolverines triumph over the American Association's St. Louis Browns. Sam played in all 15 games and had 21 hits in 58 at-bats for a .362 batting average that led all hitters on both teams. He hit two homers and had seven RBIs, plus a .621 slugging average. The winning team received the Dauvray Cup, but it became lost over time. The cup was donated in 1887 by actress Helen Dauvray, wife of the New York Giants' John Montgomery Ward. It was to be held by the winner of the yearly postseason series between the National League and American Association champions.
After the 1888 season, with Thompson injured and the Detroit Wolverines struggling, the franchise folded, and major league baseball left Detroit. Sam was purchased by the Philadelphia Quakers. Also during that year Sam and Ida Morasha married. Even though there was no team in Detroit after 1888, they continued to live in Detroit the remainder of their days. Mrs. Thompson traveled with her husband's team on many occasions. The couple never had any children.
Beginning in 1889, Thompson began his tenure with the Philadelphia Quakers, who now were also known as the Phillies. Philadelphia's stadium suited Sam and in his first year hit 20 home runs. Thompson was the first left-handed player to hit that many home runs in a season. By this time Sam's contract had reached $1,850 and with the Brotherhood of Professional Ball Players forming their own league, Thompson was planning on playing in the new Players League. However, after checking the contracts, he decided to remain with the Phillies. Sam continued playing for the Phillies until the 1898 season and his contract never exceeded $2,400, the league's maximum in those days.
During his days in Philadelphia, Thompson played in the only major league outfield of future Hall of Famers who had all three fielders batting over .400 in one season. In 1894 Sam batted .407, Ed Delahanty hit .400, and Billy Hamilton hit .404. Thompson also became known for an amazing arm from right field. Throughout his career, Sam was always among the leaders in assists by an outfielder and unassisted double plays. Some early writings indicate that Sam was the first outfielder to master the art of the one-hop throw to both the infield and to the catcher, getting credit one year for being involved in 18 double plays. One record that Thompson continues to hold, and which probably will never be broken, is the ratio of RBIs per game played. Sam averaged nearly one RBI per game, .923 to be exact, ahead of modern-era sluggers Babe Ruth, Hank Greenberg, Joe DiMaggio and Lou Gehrig.
After Thompson's playing days, he and Ida returned to Detroit and became active citizens in the rapidly growing industrial town. Sam worked as a U.S. marshal in Detroit and bailiff for the federal courts in Detroit. He continued to play amateur baseball for the Detroit Athletic Club and in 1906 was coaxed out of retirement to play a home stand for the Detroit Tigers. Just as in Philadelphia a decade prior, Sam was part of an outfield featuring three would-be Hall of Famers. This time, his outfield mates were Sam Crawford and Ty Cobb. Once Matty McIntyre returned to the team in early September, Sam retired from professional baseball, this time for good.
Thompson remained interested in baseball and remarked once that Babe Ruth's home runs made his look like bunts. Sam maintained his friendships with many players in his later life. One of his best friends was Charlie Bennett, the Detroit Wolverines catcher who had lost his legs in a railroad accident. Charlie, Sam and their wives appeared several times on the "sawdust" trail with Billy Sunday, the former big league star-turned-evangelist. In Detroit, until Thompson's death, Bennett would always throw out the first ball of the season at Bennett Park, the Tigers' home (later renamed Navin Field), and Thompson would be the receiver, with the mayor of Detroit the umpire.
Thompson's health began to fail in 1922, and while working as an election official, he collapsed with a heart attack and died at his home later that day. The town of Detroit came to a stop during his funeral. Sam was a lifelong Methodist and his wife a lifelong Catholic, and for his funeral a Methodist minister and a Catholic co-officiated. Courts, businesses, and factories stopped working while the ceremony and parade of his casket went to Elmwood Cemetery in downtown Detroit. Industrialist and factory worker alike paid homage to this great ballplayer. He was laid to rest in Elmwood, which holds many of Michigan's most famous citizens: inventors, businessmen, politicians, soldiers, and sportsmen.
Throughout Thompson's 15-year career, he was never ejected from a game, involved in a fight, or suspended by the National League during an era known for rough play and rough players. At Sam's funeral, his friend Charlie Bennett said, "He was a wonderful friend. No one ever quarreled with Sam. No one ever knew him with all his strength to be rough or brutal. He was always even tempered, simple and plain."
In 1974 Cooperstown finally came calling for the greatest slugger of the 19th century. For some reason Sam had been overlooked since the Hall's founding, and it might have been because he was such a gentleman and rarely as newsworthy as other players. However, based on his baseball statistics, he is one of the more deserving players to be enshrined with the others that day: Mickey Mantle, Whitey Ford, Sunny Jim Bottomley, Negro Leaguer Cool Papa Bell, and umpire Jocko Conlin. Since Sam and Ida had no children, Thompson's plaque was accepted by Lawrence W. Thompson, Sam's only surviving nephew and who had actually known Sam.
Thompson was a left-handed batter. Although the record books say that Thompson threw with his left hand, enough doubt exists as to which hand he threw with. Lawrence Thompson was the last person in the Thompson clan who knew Sam, and when the two hunted or fished together, Lawrence said that Sam did those things right-handed. No record exists of any other Thompson kin having been left-handed. Lawrence Thompson said his uncle would never play catch with him, making an absolute determination of Sam's handedness impossible. When Big Sam was playing for the Phillies in 1891, he had surgery on his left hand to remove some "dead bones" from a finger. It's a plausible theory that the dead bones were old injuries from using his left hand to catch balls when he played bare-handed. Right-handers, as we know, catch with their left hands.
After Thompson's induction into Cooperstown, his gravesite at Detroit's Elmwood Cemetery has become the most visited one. A new monument was placed beside his grave telling of his baseball feats. In the state of Indiana, the Indiana Historical Society dedicated a plaque to Sam in his hometown — the first time the state had honored a professional baseball player with a marker. His hometown of Danville has dedicated a youth baseball field to Thompson to serve as an inspiration to others. Sam's memory lives on, and one hopes his baseball career will earn the attention of baseball fans for generations and his life will serve as a role model for future professional athletes.
Sources
Bak, Richard. A Place for Summer. Detroit: Wayne State University Press, 1998.
Fleitz, David L. More Ghosts in the Gallery. Jefferson, NC: McFarland, 2007.
Franck, Michael. Elmwood Endures. Detroit: Wayne State University Press, 1996.
Madden,. W.C. The Patriots of the Cowpens. Leicester, England: Scotia Press, 1985.
Nemec, David. 19th Century Major League Baseball. New York: Penguin, 1997.
Poremba, David Lee. Baseball in Detroit. Charleston, SC: Arcadia, 1998.
Reidenbaugh, Lowell. Cooperstown. St. Louis: The Sporting News Publishing Co., 1983.
Shatzkin, Mike, ed. The Ballplayers. New York: William Morrow & Company, 1990.
Born
March 5, 1860 at Danville, IN (USA)
Died
November 7, 1922 at Detroit, MI (USA)
If you can help us improve this player's biography, contact us.
/wp-content/uploads/2020/04/no-bio.jpg
600
800
admin
/wp-content/uploads/2020/02/sabr_logo.png
admin
2012-01-04 20:39:03
2012-01-04 20:39:03
Sam Thompson