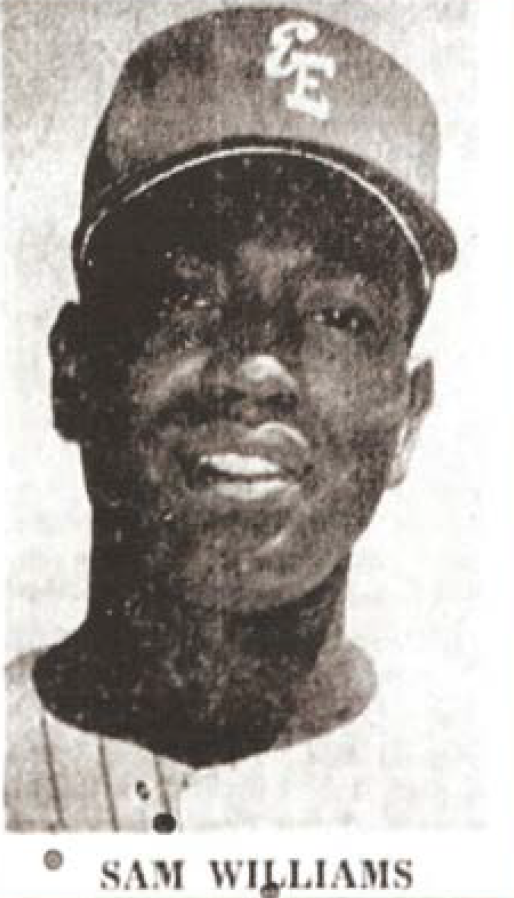 ---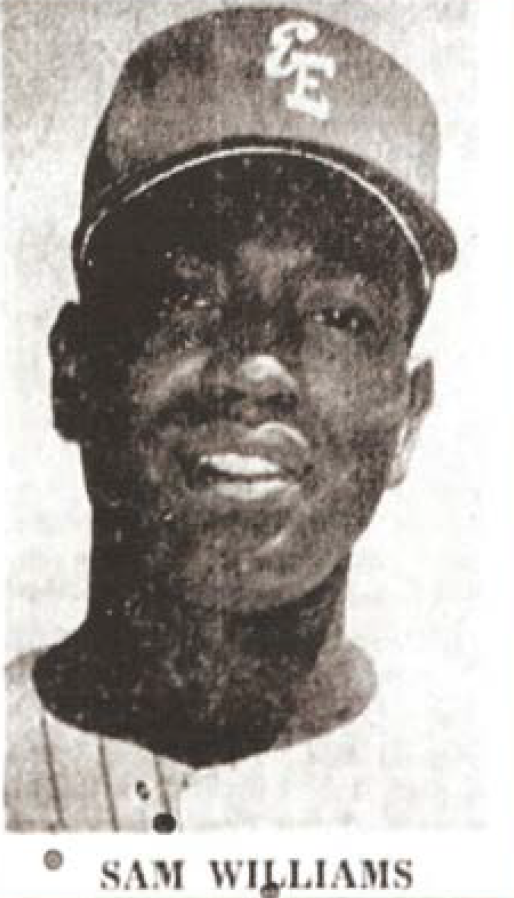 Sam Williams was born in a small, poor town in segregated Alabama, served his country in World War II, played in the last Negro League World Series, and then pitched for minor-league teams from California to Canada and from Mexico to the Dominican Republic. "It didn't matter who I pitched against, I was going to pitch my game," Williams said. "If you hit me, you hit me, but I figured I was going to get you out. I figured you had one chance to get a hit, and I had nine chances to get you out. That's the way I approached pitching."1 Known for his smiles and happy-go-lucky attitude, Williams was simply grateful for the opportunity to play the game he loved despite receiving neither wealth nor fame because of the color of his skin. "We all loved the game," he said. "We weren't playin' for the money because we wasn't makin' no money."2
Samuel Clarence "Sammy C" Williams was born on October 13, 1922, in Ketona in Jefferson County, Alabama, about seven miles north of Birmingham. Now incorporated into the city of Tarrant, Ketona was the site of Jefferson County's poorhouse. "The place name came to mean not a suburb of northeastern Alabama, but a place where indigents disappeared into oblivion," wrote historian Wayne Flynt. "Only the most calamitous set of circumstances – illiteracy, indigence, illness, and lack of family – brought one to such a destination."3
Williams was born to Jake and Sylvia (Johnson) Williams. By the 1930 census, the couple had apparently divorced and Sylvia had married Roosevelt Ferguson (spelled "Feurgeson" on the census form), a laborer in a steel mill. The other children were Warren, Marvelene, and Rosetta. Also at the residence were Sylvia's parents, Sam and Florence Johnson. Sam worked at a rock quarry. The family owned their own home, valued at $1,800. At the 1940 census the residence was listed as a farm in Ketona valued at $600. Roosevelt, now listed as "Robert," was making $390 a year as a coal miner. Neither of Sylvia's parents had finished more than three years of school; Robert had only finished the eighth grade and Sylvia the seventh. Sammy graduated from Hooper High School, possibly the first of his family to complete school.
Baseball was part of Sammy's life early on. "When I was a kid we used to play in the fields with little neighborhood teams," he reminisced.4 After graduating from high school, he went into the military during World War II and served in the US Army Air Forces from 1943 to 1946. "When I was in the service, I drove heavy equipment and the driver [would] get tired and I'd relieve him and give him some rest," Williams said.5 He met his future wife, Frances, while stationed in Pueblo, Colorado. They were married in New Mexico in 1943.6 Williams also played service baseball.
When the couple returned to Alabama, Williams got a job in a steel mill. He played for the Clow Pipe Shop team, a pipe manufacturing plant that fielded a team in Birmingham's Industrial League. The baseball teams were segregated; plant owners financed both black and white teams in an attempt to reach both demographics of fans. "Birmingham had a lot of companies there that sponsored baseball and they had a good city league," Williams remembered. "At one time, you could go to Birmingham and pick up any kind of a good ballplayer that you'd want to, but the thing about it is, the fellas didn't want to leave. They was workin' for those plants and they didn't wanna leave."7 Clow Pipe won the city championship in 1946, and that winter played a game against the Birmingham Black Barons of the Negro American League. Williams impressively pitched all nine innings in the 2-1 loss and Black Barons manager Tommy Sampson and player Artie Wilson visited him the next day. They offered him a contract, but Williams was hesitant. "I'd never been out of Birmingham, except for my time in the Army," the young pitcher said. "I wasn't sure that I wanted to go." Wilson promised, "I'll take care of you," and Williams spent the next four seasons pitching for Birmingham.8
Williams spent his rookie season of 1947 being a spot starter and relief pitcher for the Black Barons, pitching mostly in nonleague games. "It was all right with me," he said. "That was good experience for me."9 Williams made $300 a year for Birmingham.10 He also learned how to master control of his pitching from pitcher Chet Brewer, who taught him about pitch placement. Williams had arrived with an arm that could blow fastballs by hitters in the Industrial League, but he would have to learn new pitching mechanics when facing the more talented batters in the Negro Leagues. "Chet told me that I was wild in the strike zone," Williams said. "I'd never heard that before."11 Brewer encouraged Williams to throw to different spots of a player's body – belt buckle, kneecap, etc. – while playing catch. "After I got it down, I figured I was on my way," Williams said. He was now hitting the corners of the plate when pitching.12
Williams displayed his talent in a game in New Haven, Connecticut, shutting out a local team called the Sailors, 2-0. "That game really gave the Barons an idea of what they had," Williams remembered.13 Late in the 1947 season, he went the distance in a 7-4 win over the Memphis Red Sox in which he scattered nine hits.14
Williams remembered the long, grueling bus rides. "We traveled for a week without sleepin' in a bed. We would play here tonight and we'd be on the road goin' to the next town to play." But he had a fondness for those days. "We were a very close group of fellas. There was no animosity or nothin'. We were just like a bunch of brothers. Under the conditions that we were travelin' –  buses and changin' clothes in buses at the ballpark – everybody pitched in, nobody grumbled. All we wanted to do was play ball. That was the highlight of my career, them bus rides."15 When the bus driver was tired, Williams would replace him behind the wheel.
The 1948 season was a memorable one. The Black Barons had a strong pitching staff and Williams was 4-1 by the end of July.16 He finished 6-3 with a 3.21 ERA in 12 league games and the Black Barons went to the playoffs. He started Game Six of the Negro American League championship series. Birmingham led the Kansas City Monarchs three games to one (with one game a tie). Williams had scattered eight hits over eight innings as he took the mound in the bottom of the ninth inning with Birmingham leading, 4-3, three outs away from the pennant. He retired the first batter, but then Earl Taborn singled. Kansas City manager Buck O'Neil sent up pitcher Hilton Smith, a good hitter to pinch-hit. Williams, tiring, tried unsuccessfully to sneak a fastball by Smith, who ripped a double to right field, sending Taborn to third. Williams walked Herb Souell to load the bases.
Birmingham manager Artie Wilson jogged out to the mound to talk to Williams. He had no other pitching options at that point and the dangerous lefty Hank Thompson was coming up. His only hope was a double-play ball or a fly ball to Willie Mays, who had the strongest arm in the outfield. Thompson lined an opposite-field single to left in front of Jim Zapp, who had the weakest arm in the outfield. Taborn scored and O'Neil, coaching third base, waved home Smith, who scored the winning run and kept Kansas City alive in the series. Williams and the Black Barons walked off the field in despair, but it would be short-lived as they finished off the Monarchs and won the series.17 They lost the final Negro League World Series to the Homestead Grays.
In 1949 Williams went 8-6 for the Black Barons with a 3.21 ERA in 21 games. After the season he played against a Jackie Robinson-led touring team.18 In 1950 he was 13-7 for Birmingham with a 3.81 ERA in 22 games. The Negro Leagues were facing tough financial times as owners saw a shortage of talent, money, and attendance. Star players followed Robinson to the major leagues after he broke the color barrier. Other players went north to play in Canada, while still others, like Williams, went south to play in Mexico. "Down there," Williams recalled, "a baseball player was a god at that time. You were a big-time celebrity in Mexico. We were treated real well. The pay was more. This is why I chose to go to Mexico, because we could make more money down there."19 Williams said decades later that he had made $600 to $900 a month playing in Mexico.20
Williams pitched the 1951 season for the Jalisco, Mexico, club, going 5-10 with a 3.97 ERA.21 The 1952 season was a busy one for him. Williams went 9-5 for Jalisco, and also 8-3 for San Domingo.22 He later returned to the Black Barons and, in July, was sent to the Brandon Greys of the ManDak (Manitoba-Dakota) League. "Williams is highly recommended by several players now with the Greys," wrote the Brandon Daily Sun.23 He pitched in 16 innings for the Greys, going 1-2.24 Williams went the distance with a three-hitter in a 9-0 win over Winnipeg in the Winnipeg Tournament, which Brandon won.25 He entered in the fourth inning of Game One of the ManDak semifinal playoff series against Minot. Brandon was trailing 5-1 and Williams finished the game, giving up five hits and two runs in a 7-2 loss.26 Brandon was swept, and Williams's time in Canada was over. He made a quick trip south and played briefly for the Tigres del Licey team in Santo Domingo, Dominican Republic.
In 1953 Williams was signed by the Oklahoma City Indians (Double-A Texas League), which had been integrated by his former Black Barons teammate, pitcher Bill Greason, the previous season. A new Oklahoma City teammate remarked, "Oh, you're Sad Sam from Birmingham," and the nickname stuck.27 Williams was told by a white player on the team that he was the best pitcher on the staff, but they already had a black player and couldn't have two.28 It was common practice at the time, at both the major- and minor-league levels, for teams to have a limit on the number of black players on the roster. Williams and his black teammate, most likely Greason, actually had to call a black cab driver at the train station because white drivers refused to give them a ride.29 Williams was in Oklahoma City during spring training, then was sent to the Pampa (Texas) Oilers of the Class-C West Texas-New Mexico League.30 He pitched well right from the start for the Oilers, giving up only six hits in a 12-4 "virtually invincible" win over Clovis on April 26.31 On May 1, Williams carried a shutout into the ninth against Albuquerque, but "the negro mound artist weakened," in the words of the Albuquerque Journal, and gave up four runs, yet held on for the 7-4 win.32 In early June, Williams was leading the Pampa pitching staff with an 8-2 record.33 On July 4 he won both games of a doubleheader, defeating Abilene 7-3 and 9-0, to bring his record to 15-5.34 He had extra motivation during the game, as he faced racial slurs from a fan in the stands. "It made me a better person and a much better ballplayer," Williams said.35
Williams had 19 wins when he pitched for the South in the All-Star game on July 23. The South lost 7-3, but many in attendance were rolling in the aisles watching a Williams at-bat against pitcher Eddie Locke. Williams worked the count to 3-and-2 and then fouled off several pitches. After each foul Williams would playfully yell at Locke something like "throw dat ball in here and ah'll ware it out!"36 Several fans remarked that the exchange, ending in a strikeout, was worth the price of admission. Though Williams won 26 games, Pampa did not qualify for the playoffs.37 Williams was voted the league's Rookie of the Year.38
"I was famous for breaking these color lines," Williams said.39 He was the only nonwhite player on the Pampa team and found the African-American community there (which lived in a section of town near the railroad tracks where there were no sidewalks) warm and receptive. There were black-owned hotels and restaurants in town, which was a new experience for him. Williams had often stayed in homes of prominent black families while his white teammates stayed in a hotel.40 On one occasion, in Plainview, Texas, Williams slept in the boiler room of the hotel while his white teammates slept in their rooms.
Williams spent the early part of the 1954 season with Oklahoma City, but returned to Pampa after falling to 0-3. He won a doubleheader on June 1 against Lubbock, starting the first game and relieving in the second.41 He shut out Albuquerque on six hits and used his bat to drive in the go-ahead run in a doubleheader sweep on August 5.42 Williams homered in a 4-0 win over Plainview on September 5, gaining his 16th win and propelling Pampa into first place.43 He finished the regular season 15-10. He guided Pampa to an 8-1 win over Abilene in the opening game of the playoffs.44 After Game Three, the team bus was in an accident, and Williams was hospitalized with numbness in his left arm and bruises on his head.45 He returned to pitch Game Six, eliminating Abilene with a 17-3 shellacking.46 In the league championship series, Williams defeated Clovis 6-3 in Game Three, giving Pampa a 2-1 series lead.47 Pampa later won the series.48 Williams played winter ball that year for the Spur Cola team in Panama.49
In January 1955, Williams was acquired by the Eugene, Oregon, team of the Class-B Northwest League.50 The team and the league itself were in its first year of organization. His age was reported as 26 years, not his actual 32, so there were rumors that three major-league clubs were interested in acquiring him.51 Williams became popular with teammates and fans early on. "He is a happy-go-lucky sort of fellow who keeps his teammates in good humor," wrote the Eugene Register-Guard, which would soon refer to him as Smilin' Sam. He impressed his new team during batting practice when he smashed a home run into the left-field stands "and kept strutting until Bobby Doerr put three somewhat farther into the stands." Doerr, the former star for the Boston Red Sox and was later inducted into the Hall of Fame, was now a retired cattle rancher in Oregon who was an executive with the Eugene club.52
Williams threw a three-hit shutout against Spokane on July 2.53 He finished 9-7 with a 3.42 ERA in 25 games, only 12 being starts. In dramatic fashion, Eugene rallied from four runs down in the ninth inning of Game Six to stun Salem in the Northwest League championship series. Williams, who had entered the game with two outs in the eighth, struck out Harvey Koepf to end the game and "the entire Eugene dugout erupted and the fielders rushed in to mob Smilin' Sam," wrote the Register-Guard. "The dressing room was a bedlam – not because the players collect $13.86 as their winning share, but because they had won a championship – and will soon be heading home."54 Williams' got the pennant-winning victory with his 1⅓ innings of scoreless relief.
Williams recalled another memorable moment from his time in Eugene, but it did not occur in a game. Max Patkin, who called himself the Clown Prince of Baseball, was in town to put on one of his performances. Patkin would hang upside down in front of a wall or backstop and swing away at pitches thrown to him, more often than not making contact. Patkin asked to face the pitcher with the best control and manager Cliff Dapper recruited Williams, saying he was "the best control pitcher we got." Williams laughed at the memory years later. "I got a kick out of it. He used to put on a good show."55
Williams spent the winter in Eugene working as a gas-pipe inspector.56 In January 1956 he was traded to San Jose of the Class-C California League.57 Williams won his first three starts58 and had another strong season: 15-9 with a 3.10 ERA in 203 innings pitched with 52 walks and 121 strikeouts.59 He also batted .354 in 79 at-bats. Williams had trouble trying to find a black barber shop in town, and even more difficulty with housing discrimination. He often found that the home he and Frances were interested in buying would become unavailable when their race was discovered.60 After renting for 13 years, the Williamses were finally able to purchase a home in San Jose in 1972.61
Williams returned to Mexico for the 1957 and '58 seasons, going 8-8 for Veracruz in 1957 and 9-11 for Poza Rica in 1958. He held out during spring training in 1959 when he wanted to sign with the Mexico City Reds, but Poza Rica didn't want to release him. When he asked for a raise, Poza Rica refused, and Williams failed to report. The boss of the minor leagues, George Trautman, suspended him for a year, and that was the end of Williams's career. Frances had already been urging him to retire and spend more time with his children, Sam Jr. and Sharon. The suspension all but decided the issue for him.62
Williams got a job driving a bus in San Jose for the Valley Transit Authority. He thought this would be a temporary job, but found that the job fit his personality perfectly. "I liked it because of the people," he said. "The people were friendly and nice to me and I'm a fella that likes to laugh and talk and I just got a kick out of it." He retired from the job in the early 1980s after 25 years,63 and Frances retired as a sales clerk.64 In January 2007, nearly 60 years after playing together in the last Negro League World Series, the last surviving members of the Birmingham Black Barons gathered in Beverly Hills, California. The occasion was the annual Professional Scouts Foundation dinner. Mays, the most famous Black Baron of them all, honored his four living teammates: Williams, Greason, Zapp and Wilson. Mays made sure those gathered at the dinner knew he was only an American legend because of his teammates. "What they did for me, I'll never forget," Mays said. "Those four guys knew I could play baseball, and even though they were older than I was, they would say to me, 'You have a better chance of getting to the big leagues than we do, and we want to make sure you get there.' I want to give them as much credit as I possibly can."65
Samuel and Frances had been married over 60 years by the time of her death in 2005. Samuel died two years later, on August 8, 2007, at the age of 84. He was survived by his two children. He and Frances are buried in Pueblo, Colorado.66
Williams said baseball was "the best job I ever had in my life. I wouldn't take nothin' for the experience. You meet a lot of nice people, you get a chance to see the world and some of the country, and the value that you get from meetin' people you can't put no price on. It's an education."67
This biography appears in "Bittersweet Goodbye: The Black Barons, the Grays, and the 1948 Negro League World Series" (SABR, 2017), edited by Frederick C. Bush and Bill Nowlin.
Sources
In addition to the sources listed in the Notes, the author also benefited from the following:
"1952 ManDak League," in Western Canada Baseball. https://attheplate.com/wcbl/1952_20i.html. Retrieved March 14, 2017.
"1952 ManDak League Playoffs," in Western Canada Baseball. https://attheplate.com/wcbl/1952_20h.html. Retrieved March 14, 2017.
Powell, Larry. "Industrial Baseball Leagues in Alabama," Encyclopedia of Alabama. Retrieved March 10, 2017. https://encyclopediaofalabama.org/article/h-2479.
San Jose (California) Public Library.
Special thanks to Lorraine Denise Grant for research assistance.
Notes
1 Larry Powell, Black Barons of Birmingham: The South's Greatest Negro League Team and Its Players (Jefferson, North Carolina: McFarland, 2009), 161.
2 Brent Kelley, I Will Never Forget: Interviews With 39 Former Negro League Players (Jefferson, North Carolina: McFarland, 2003), 177.
3 Wayne Flynt, Poor but Proud: Alabama's Poor Whites (Tuscaloosa, Alabama: University of Alabama Press, 2001), 186.
4 Kelley, 175.
5 Powell, 160.
6 Lorraine Denise Grant, "Ex-Negro League Player Sam Williams Never Strikes Out!" Exodus, October 12-November 11, 1993: 8.
7 Ibid.
8 Powell, 159.
9 Ibid.
10 Ibid.
11 Ibid.
12 Ibid.
13 Ibid.
14 "Black Barons Stop Memphis Sox, 7-4," Arkansas Democrat (Little Rock), September 19, 1947: 17.
15 Kelley, 177.
16 "Winning Hurlers Pace Birmingham," Lexington (Kentucky) Leader, July 30, 1948: 5.
17 John Klima, Willie's Boys: The 1948 Birmingham Black Barons, the Last Negro League World Series, and the Making of a Baseball Legend (Hoboken, New Jersey: John Wiley & Sons, Inc., 2009), 167-169.
18 Powell, 160.
19 Kelley, 175.
20 Grant, 8.
21 The Pampa Daily News (June 7, 1953) claims Williams pitched for Birmingham in 1951, going 18-8.
22 "Meet the Oilers," Pampa (Texas) Daily News, June 7, 1953: 10.
23 "New Pitcher and Catcher to Bolster Roster of Greys," Brandon Daily Sun, July 14, 1952: 2.
24 "1952 Statistics," Western Canada Baseball. attheplate.com/wcbl/1952_2.html. Retrieved March 14, 2017.
25 "Brandon Greys Thump Giants and Edge Carman Cards to Win Winnipeg Tournament," Brandon Daily Sun, August 5, 1952: 3.
26 "Minot Mallards Win Semi-Final Opener," Brandon Daily Sun, August 19, 1952: 3.
27 "Meet the Oilers."
28 Grant, 8.
29 Grant, 9.
30 "Oilers Sign Two More; Play Hubs Tonight," Pampa Daily News, April 9, 1953: 12.
31 "Oilers Dump Pioneers, 12-4," Pampa Daily News, April 27, 1953: 5.
32 "Williams Stops Late Uprising," Albuquerque Journal, May 2, 1953: 13.
33 "Meet the Oilers."
34 "Iron Man Williams Halts B-Sox Twice," Abilene (Texas) Reporter-News, July 5, 1953: 44.
35 Grant, 9.
36 Buck Francis, "Press Box Views," Pampa Daily News, July 24, 1953: 7.
37 "B-Sox Clip Hubs, Dukes Clinch Tie for 1st Place," Abilene Reporter-News, September 7, 1953: 6. Sources including baseball-reference.com credit Williams with 25 wins.
38 "Sam Williams Rookie of Year," Clovis (New Mexico) News Journal, August 30, 1953: 8.
39 Grant, 9.
40 Grant, 8.
41 "Hubbers Continue Plunge With Double Loss at Pampa," Lubbock (Texas) Morning Avalanche, June 2, 1954: 14.
42 "Pampa Slames Dukes Twice," Abilene Reporter-News, August 5, 1954: 24.
43 "Oilers Trip Ponies; Take Over 1st Place," Pampa Daily News, September 6, 1954: 10.
44 Buck Francis, "Oilers Take Playoff Lead; Thump Abilene Blue Sox, 8-1," Pampa Daily News, September 12, 1954: 7.
45 "4 Oilers Injured in Wreck," Pampa Daily News, September 14, 1954: 1.
46 Jack Holden, "Blue Sox Close Season with Loss," Abilene Reporter-News, September 18, 1954: 2.
47 "Pampa Staggers Clovis, Takes WT-NM Series Lead," Lubbock Morning Avalanche, September 21, 1954: 17.
48 Buck Francis, "Oilers Bring WT-NM Flag Back to Pampa," Pampa Daily News, September 24, 1954: 7.
49 Buck Francis, "Press Box Views," Pampa Daily News, December 23, 1954: 6.
50 Joe Kelly, "Between the Lines," Lubbock Evening Journal, January 20, 1955: 18.
51 "Dapper, Williams of Emeralds at Portland Training," Eugene (Oregon) Register-Guard, March 4, 1955: 15.
52 Dick Strite, "Highclimber," Eugene Register-Guard, April 17, 1955: 27.
53 "Emeralds Beat Spokane Twice," Eugene Register-Guard, July 3, 1955: 12.
54 Dick Strite, "Emeralds Claim Northwest Crown," Eugene Register-Guard, September 13, 1955: 18.
55 Kelley, 176.
56 Dick Strite, "Highclimber," Eugene Register-Guard, April 15, 1956: 13.
57 "Williams Sold to San Jose," Eugene Register-Guard, January 13, 1956: 13.
58 "3rd Win Notched by Sam Williams," Eugene Register-Guard, May 24, 1956: 38.
59 Dick Strite, "Highclimber," Eugene Register-Guard, September 28, 1956: 14.
60 Grant, 9.
61 Ibid.
62 Kelley, 176, 178.
63 Kelley, 179; sources differ on whether Williams drove a bus until 1982, 1983, or 1984. Williams claimed he drove for the company 25 years, which following his career would have been 1959-1984. His obituary says he drove 30 years for the company, and other sources say he retired in 1982 or 1983.
64 Grant, 9.
65 Mel Antonen, "Holes, Questions Dot Pitching Staffs," USA Today, January 5, 2007.
66 "Samuel C. Williams," obituary retrieved March 14, 2017. https://legacy.com/obituaries/mercurynews/obituary.aspx?n=samuel-c-williams&pid=92508546; "Frances Elizabeth Williams," obituary retrieved March 14, 2017. https://legacy.com/obituaries/mercurynews/obituary.aspx?n=frances-elizabeth-williams&pid=15816701
67 Kelley, 179.
Born
October 13, 1922 at Ketona, AL (US)
Died
August 8, 2007 at San Jose, CA (US)
If you can help us improve this player's biography, contact us.
https://sabr.org/sites/default/files/WilliamsSamuel.png
600
800
admin
/wp-content/uploads/2020/02/sabr_logo.png
admin
2017-08-28 13:12:29
2021-09-17 01:14:47
Samuel Williams