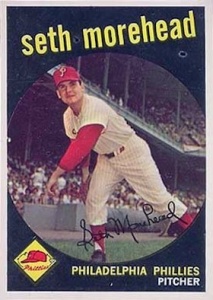 ---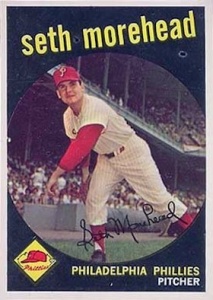 "One of the greatest scholastic pitchers ever turned out in Louisiana,"1 Seth Marvin Morehead was seemingly on a fast path to stardom. In 1957, Cincinnati manager Birdie Tebbetts dubbed him the "best young left-hander in the National League and a pitcher who has the potential to be a 25-game winner. Morehead has the natural equipment . . . All he needs is some experience and poise and he'll be on his way."2 This was high praise in a circuit sporting the likes of Sandy Koufax and Johnny Podres, but it speaks to the considerable esteem in which Morehead was held.
But 25 wins were not in Morehead's future. In 132 major league career appearances he won a mere five games and came closer to losing 25. By his 26th birthday Morehead would be out of the big leagues, and out of professional baseball altogether two years later. Issues of maturity and a heart attack at 28 derailed the career of the hard throwing southpaw.
Morehead was born on August 15, 1934, the eldest of two sons of Seth and Staley Vashti (Rogers) Morehead, Sr. in Houston, Texas. The Morehead family traces its roots to Rutherford County, North Carolina, 75 miles west of Charlotte, in the late 18th century (Seth's three times great-grandfather David). David's son gravitated to Mississippi and later generations continued west to Texas and Louisiana. Seth's father was born in Houston in 1906 but appears to have jockeyed back-and-forth between Texas and Louisiana, marrying a Louisiana native. Though their sons were born in Texas, they grew up in northwest Louisiana.
The boys attended C.E. Byrd High School in Shreveport, Louisiana. In 1951, during his junior year Morehead led the Yellow Jackets to a Louisiana High School 2-A runner-up championship. A year later he tossed six no-hitters. But Morehead's exploits were not limited to the prep fields. In 1950, under the guidance of coach Scotty Robertson, who fashioned a brief professional baseball career before establishing lengthy credentials in the National Basketball Association, Morehead led the American Legion Seven-Up Bottlers to a state championship. They advanced to the national tournament where they lost to a team from Sumter, South Carolina, that featured future New York Yankees' second baseman Bobby Richardson. Morehead's combined record over three years in high school and Legion ball was 59-8, averaging nearly 12 strikeouts and fewer than three hits per game.
Every major league club had a scout assigned to Morehead. After his high school graduation in 1952, he signed a $50,000 bonus with the Philadelphia Phillies.3 The 17-year-old was assigned to the Wilmington (Delaware) Blue Rocks in the Interstate League (Class B). Morehead struggled in his first three professional games before being demoted in June to the Bradford (Pennsylvania) Phillies. Bouncing between two Class D clubs the youngster managed to get his legs beneath him, but not before running into trouble in the Pennsylvania-Ontario-New York circuit. On July 31 Bradford engaged in a 14-12 slugfest against the Olean Yankees. The seventh inning ejection of Phillies' manager Dick Carter and six players spawned a ninth inning free-for-all. Morehead was cited for leaving the bench to strike an opposing player during the melee. Consequently, league president Vince McNamara issued him both a fine and a suspension. .
In 1953, Morehead was returned to Class B play with an assignment to the Terre Haute (Indiana) Phillies. He placed among the Illinois-Indiana-Iowa League leaders in appearances (39) and starts (26). Morehead walked or struck out more than 66 percent of the hitters he faced, leading the league with 167 walks and, for the first of two consecutive years, among leaders in the entire minor leagues with 206 strikeouts. Joe Reardon, the Phillies' farm director, claimed Morehead threw harder than the parent club's All Star flamethrower Curt Simmons. In a post-season poll of league managers and radio and print personnel, Morehead was selected to the Triple-I All Star team.
Morehead proceeded south to join the Cartagena Indios in the Columbian Winter League. On November 18, before Reardon's assistant Eddie Collins, Jr., the southpaw delivered a four-hit win against Vanytor. A month later he duplicated this feat and followed with a three-hitter against the Willard Electrics. In December, the 18-year-old joined three veteran players in a successful protest for better living arrangements for himself and his teammates. Morehead eventually quit the Indios before the league playoffs to prepare for spring training.
Inspected closely by Syracuse manager Skeeter Newsome, Morehead spent most of the spring pitching for the Class AAA team in the Phillies' Florida camp pitching. Seemingly poised to make the large jump from Class B, the organization stepped back to reassess after Morehead's dreadful March 28, 1954 performance against a Cincinnati Reds' B squad: a 17-1 loss in which he gave up 10 runs and eight hits in three innings. He was assigned to the Schenectady (New York) Blue Jays in the Class A Eastern League . Toiling for a miserable club (.407 winning percentage), Morehead constructed a winning season (14-13). The durable lefty topped the circuit in starts (30), innings pitched (225), strikeouts (207), and walks (131). On August 2, Morehead got credit for the win in the circuit's first-ever All Star game in its then 32-year history.
In 1955, the Phillies had no hesitation promoting Morehead. On April 23, he made his Triple-A debut with a 6-1 win over the Rochester Red Wings, missing a shutout due to a teammate's error. The Syracuse Chiefs' youngest player constructed a nondescript season of 8-13, 3.80 for the losing club. Despite his middling results, Morehead's progress apparently satisfied the Phillies which in October placed him on their 40-man roster. Three months later general manager Roy Hamey observed Morehead pitching for the Cienfuegos Elephants in the Cuban League and was quite pleased: "He has good stuff, and the people I talked to about him spoke well of him. He's only 21, and I don't know whether he'll be ready this year – but he can't be far away."4
Morehead received permission for a late arrival to the Phillies' spring camp to participate in the Caribbean Series. But his success in Cuba did not transfer to Florida. On March 10, 1956, Morehead was touched for four runs in one inning in a 5-3 loss to the Milwaukee Braves. In a sportswriters' poll a month later the best that could be said of the young southpaw was that he was the club's "Most Personable Newcomer."5 But the Phillies, who had just one lefty before acquiring Harvey Haddix in May, provided Morehead every opportunity to make the club (there is some indication Morehead may have hung around until the Phils broke camp). But as the parent club headed north, Morehead was assigned to the organization's Class AAA affiliate and relocated to Miami, Florida.
Although he improved his ERA to 2.87, Morehead posted an identical 8-13 record. Highlights included a 5-0 win over Columbus on May 23—the first shutout of the Jets in 1956—and a 3-2 win over Havana on July 12 in which he carried a one-hitter into the eighth. Until a dip at the end of the season (likely the result of elbow problems that sidelined him for several weeks in August), he had been among the league leaders in ERA. Morehead's rapid development, and that of fellow hurlers Turk Farrell, Don Cardwell, and Jim Owens prompted Gene Martin, the Phillies' new farm director to chirp that "at Miami we had the best young pitching staff ever assembled in the minors."6 Morehead got called up in September, but before he could make an appearance he got an induction notice from the US Army and had to report to the Shreveport draft board for a physical. (He eventually served a six-month stint in the military following the 1957 season).
During the offseason the four Miami hurlers garnered considerable attention among an emerging crop of rookies that included Bobby Richardson and future Hall of Famer Brooks Robinson. The Phillies looked to the foursome in hopes of improving upon the NL's worst pitching staff (4.20 ERA). Unlike the preceding year, Morehead enjoyed a strong Grapefruit League season. On April 27, 1957, he made his major league debut against the New York Giants in Philadelphia's famed Connie Mack Stadium. Entering the fifth inning with his team trailing 6-0, Morehead walked the first batter he faced, first baseman Gail Harris, before inducing Ozzie Virgil into an inning-ending double play. In the sixth he surrendered a leadoff double before retiring the side. A similarly successful outing followed two weeks later with two innings of one-hit relief against the Pittsburgh Pirates.
But his next two appearances shot Morehead's ERA above the stratosphere, over 7.00. He struggled into the summer and suffered his first major league loss (7-3 to the Braves) on June 23 in which he surrendered a two-run triple after the Phillies knotted the score at three. However, the young lefty served up just one gopher ball throughout the entire season, 58⅔ innings. Signs of improvement had begun surfacing at the beginning of August when he yielded just one earned run in nine appearances (11⅔ innings). This success set the stage for Morehead's first starting assignment on September 29, the last day of the season. Morehead was facing the Dodgers at home, and the visitors were playing in their historic final game as a Brooklyn franchise. He started shakily giving up a first inning unearned run, but then he settled down. Jim Gilliam's fifth inning two-out single became the last Brooklyn Dodger hit as Morehead retired the last 13 batters in a row. The Dodgers had feasted on southpaws in 1957, and Morehead's first major league victory, a four-hit, 2-1 win, was their only loss of the season to a lefty. Nearly a year would pass before Morehead earned his second.
In the offseason the Phillies, anticipating a greater role for Morehead in 1958 and needing offensive help, traded Haddix to Cincinnati for outfielder Wally Post. At the time Morehead was serving his six-month military obligation at Fort Chaffee, Arkansas. Though he secured a release nine days early, Morehead couldn't join the Phillies until April 12, three days before the start of the season. Having missed the full spring training regimen, he was assigned to the bullpen until he could build his strength for the campaign. But the logical plan went haywire when Morehead struggled mightily in relief, racking up a 9.82 ERA in eight appearances. In desperation the Phillies moved him into the rotation with only mixed success. Lack of offensive support certainly compounded the problem. For in six of his 11 starts, Morehead twirled a 3.35 ERA (vs. a league 3.95) that produced two losses and four no decisions. On September 3, he engaged in a pitching duel with future Hall of Famer Warren Spahn and carried a 1-0 lead into the eighth before the Braves tagged him for three runs. Ten days later he carried another shutout into the eighth before losing to San Francisco. On September 22, he collected a career-high 12 strikeouts and yielded just two runs to the Pirates but did not figure in the decision.7
These "flashes of brilliance"8 could not disguise a woeful season record of 1-6, 5.85 in 92 1/3 innings. Morehead's commitment to his job began drawing questions as reports surfaced that the lefty "hasn't always . . . been as serious about his work as the Phils would like . . . 'In a recent letter . . . I laid down the law to Seth,' [claimed general manager Hamey]. 'I told him to report weighing 185 pounds, or he won't get into camp. I let him know we meant business as far as next year is concerned.'"9 In spite of these concerns, the Phillies were reluctant to part with the promising 24-year-old. Morehead attracted much attention in rumored trades and reportedly drew interest from the Giants before the Phillies traded Jack Sanford to them on December 3, 1958.
But spring training did not bode well for Morehead. On March 7, he lost a 2-1 exhibition to the Dodgers on a wild pitch. Four days later he surrendered consecutive homers to the Braves' little-used outfielder Jim Pisoni. Morehead suffered a severe ankle sprain in the game and was sidelined 17 days. When the 1959 season opened the Phillies managed just four wins in their first 11 games. A syndicated sports columnist in New York wrote that the Phillies were a team of playboys, "a club going no place . . . and caring less."10 Morehead was tied to Turk Farrell and the "Dalton Gang," the corps of hard-partying young men on the Phillies squad. (The Farrell-Morehead duo had previously made an undistinguished mark in Syracuse four years earlier, charged with assault of a sportswriter in a restaurant altercation.) Morehead's résumé of youthful antics, combined with lack of progress on the field, made him a prime target when the Phillies mulled over a thorough house cleaning. And Morehead sealed his fate with a slow start out of the gate—including a May 2 start against the Chicago Cubs in which he did not retire a single batter. On May 12, he was traded to the Cubs for lefty hurler Taylor Phillips. Morehead started well with his new team: 6⅔ of shutout relief. But provided a start in Los Angeles on May 28, Morehead was knocked out of the box in the first inning. He made seven more appearances with mixed success before finishing the season with the Fort Worth Cats in the American Association.
In 1960, Morehead reported to spring training as the only overweight pitcher on the Cubs roster. But on March 12 the lefty tossed three innings of one-hit pitching against the Boston Red Sox (including a strikeout of slugger Ted Williams) and held on to win a spot in the rotation. Alas, this didn't work: he went 0-5, 6.35 in seven starts. He proved far more productive after demotion to the relief corps: 2-4, 2.80 in 38 appearances (83 2/3 innings), including a string of 16 consecutive innings without surrendering an earned run. By late May, manager Lou Boudreau said, "In the bullpen, I'm now pairing Seth Morehead with [Don] Elston as my lefty-righty combination."11 This earned Morehead a major league career high 123 1/3 innings. At 25 he seemingly resurrected a career that had appeared over.
Morehead returned to Florida the next spring with the addition of a slider to his repertoire and proceeded to produce a strong Grapefruit League performance. He captured the attention of the Braves whose 1960 pennant pursuits had been foiled by an ineffective bullpen. So on March 31, 1961, the Braves traded infielder Andre Rodgers (who, interestingly, four years earlier had gotten the first hit Morehead surrendered as a major leaguer) and prospect Daryl Robertson to the Cubs for Morehead and reliever Moe Drabowsky. Thirteen days later Morehead earned the Braves' first win of the season with 1⅔ innings of perfect relief against the St. Louis Cardinals. But it was Morehead's last win in the majors. On April 30, he surrendered four runs against the Giants in one inning to elevate his ERA to 9.00. In an extra-inning match against the Dodgers 17 days later, he walked in the winning run. The final straw came in Philadelphia on May 30, when he gave up three runs in 1⅔ innings. Morehead was sent to the Vancouver Mounties in the Pacific Coast League. He returned to make one last major league appearance on September 15 following a roster expansion call-up.
In 1962, Morehead, in keeping with his see-saw career, appeared to be mounting a comeback. Assigned to the Toronto Maple Leafs in the International League, he posted a record of 2-1, 2.25 in his first six appearances. But health problems soon spelled his demise. On May 18, Morehead was hit by a line drive that fractured his left wrist and sidelined him for approximately six weeks. Worse, on August 3, a couple of weeks short of his 28th birthday, Morehead was rushed to the hospital after suffering a heart attack. Everybody but him believed his career over.
In the spring of 1963, Morehead served as the pitching coach for the Baylor Bears in Waco, Texas, all the while building up his strength for a return. Remarkably, in mid-May, doctors cleared him to resume play with the Maple Leafs. On June 13, Morehead tossed a three-hit shutout against the Arkansas Travelers. Unfortunately, it was one of few encouraging outings. On or about July 25, he was traded to the Denver Bears in the PCL. On September 5, in what is believed to be Morehead's last professional appearance, he bested the Dallas-Fort Worth Rangers in a 2-1 complete game victory.
Morehead left baseball and resumed college pursuits begun in the fall of 1952 at Baylor University. Four years later, he transferred to Centenary College in Shreveport, Louisiana, but returned to Baylor in 1962. He received a BBA in General Business on May 24, 1963. Moreland found employment with the Life of Louisiana Insurance Company where he remained until his retirement in 1999. Seven years before, he had been honored with induction into the inaugural class of C.E. Byrd High School Athletic Hall of Fame.
Though displaying flashes of immaturity in his youth, Morehead exhibited signs of charity as well. From 1959-61 he accompanied an All Star contingent in the offseason exhibitions benefitting the Houston youth baseball programs. This generous spirit remained a part of his life until five months after his 71st birthday, a heart attack felled him on January 17, 2006. "It's a sad loss for us who knew Seth," said former American Legion teammate and longtime friend Buck Fulco. "As far as being a pitcher goes, he was pretty unique in being as good as he was."12 Morehead was buried in Grand Cane Cemetery, 40 miles south of Shreveport.
The hard-throwing Morehead never attained the major league greatness projected for him. He ended a five-year major league career with a mark of 5-19, 4.81 in 318 1/3 innings.
Author's note
The author wishes to thank Amanda Keys Norman and Chris Brown, Archivists at Baylor University and Centenary College of Louisiana, respectively, and Kay Berry, Administrative Assistant in Baylor's registrar office. Further thanks are extended to SABR members Patrick Gallagher and Rod Nelson, Chair of the SABR Scouts Committee, for their invaluable input and Tom Schott for review and edit of the narrative.
Sources
Websites
14-0productions.com/Louisiana_Baseball.html
Ancestry.com
byrdhighalumni.org/#!letterman-association-2/c250n
lasportshall.com/inductees/coach/robert-scotty-robertson/
thedeadballera.com/Obits/Obits_M/Morehead.Seth.Obit.html
Notes
Born
August 15, 1934 at Houston, TX (USA)
Died
January 17, 2006 at Shreveport, LA (USA)
If you can help us improve this player's biography, contact us.
http://sabr.org/sites/default/files/MoreheadSeth.preview.jpg
600
800
admin
/wp-content/uploads/2020/02/sabr_logo.png
admin
2012-01-04 20:47:29
2012-01-04 20:47:29
Seth Morehead