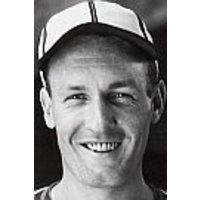 ---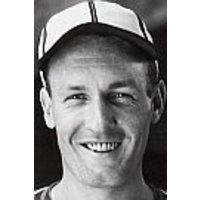 Modern metrics have demonstrated that a pitcher's won-loss record is not necessarily a true reflection of his effectiveness. Take Sid Peterson, for example. The right-hander's major league career consisted of just three games with the wartime 1943 St. Louis Browns. He worked ten relief innings and, despite surrendering fifteen hits and three walks, he managed to be credited as the winning pitcher in two of the three games he appeared in. His career major league pitching record is a perfect 2-0.
Sidney Herbert Peterson was born January 31, 1918, in Havelock, a small town in the far southwestern corner of North Dakota. Now a ghost town, a century ago Havelock was a railroad depot village along the Chicago, Milwaukee, St. Paul and Pacific Railroad line. He was the youngest of ten children born to Hans and Lavina Peterson. Hans was born in Denmark and immigrated to the United States in 1891. Sidney's mother, born in Minnesota, was of Swedish ancestry. His father was the proprietor of a hotel in Havelock.
According to his Hall of Fame questionnaire, Sid started playing semi-pro ball in North Dakota in 1939 and completed two years of college at the University of North Dakota in Grand Forks. Around this time (no marriage record could be found) he married Katherine (who also went by Kathryn, Kay, and Katie) Fleck, a native of Mandan, North Dakota. As of the 1940 U. S. Census, he and Katie were living with his in-laws in Mandan and the couple had an infant daughter, Sandra Kay, born March 19, 1940.
Peterson was signed by St. Louis Browns scout Pat Monahan and began his professional career in 1940 with Youngstown (Ohio) of the Class C Middle Atlantic League. The big (6'3", 200 pounds) blond right-hander had an "easy, effortless side-armed pitching notion."1 He won his professional debut on June 4, scattering eight hits in a 7-3 win over Portsmouth. Later that summer a rookie mistake cost him a win. On July 13, also against Portsmouth, he was on the mound in the 9th inning with the bases loaded and the score tied, 4-4. Portsmouth player-manager Walter Alston, the runner at third, yelled to him, "Wait a minute." Peterson paused, the umpire called a balk, and Alston trotted home with the winning run.2
Overall he had a successful rookie season, appearing in 25 games and winning 12 with a 3.11 ERA, and earned a promotion to Springfield in the Three-I (Illinois-Indiana-Iowa) League. He won 15 games there in 1941 and kept on his fast track through the Browns' minor league system by moving up to San Antonio in the Class A Texas League. In 1942 Peterson was the ace of the Missions staff, leading the club in victories with 17 and a 2.57 ERA in 263 innings. His manager described him as a "possessor of good control, a zippy fastball, and a first-rate curve."3
That fall the Browns purchased his contract from San Antonio and he was invited to the major league spring training camp in 1943. Peterson pitched well and made the staff. He made his major league debut on May 4, pitching two scoreless relief innings against the Tigers in Sportsman's Park in St. Louis.
Peterson picked up his first win in the nightcap of a doubleheader against Cleveland on May 9. Bob Muncrief started for St. Louis and allowed the first four batters of the game to reach base. Before an out was recorded, and behind 1-0, Peterson came in from the bullpen with the bases loaded. He allowed two of the inherited runs to score, but the Browns scored five in the bottom of the first and took a 5-3 lead. He pitched three innings, but because he was the pitcher of record when St. Louis took the lead, and the Browns were still in the lead when he left the game, he was awarded the win.
His final appearance was on May 12 against the Red Sox in Boston. Denny Galehouse started for the Browns and was behind, 3-1, after two innings. Peterson replaced him in the third and the Browns rallied for four runs in the fifth to take a 5-4 lead (Peterson was pinch hit for during the rally but was still the pitcher of record). A couple of weeks later, when the team had to get down to the 25-man roster limit, he was one of the players optioned on 24-hour recall to the Browns' AA farm club in Toledo of the American Association. He was 8-9 with a 3.73 ERA in 28 games for the Mud Hens.
In April 1944 Peterson was notified that because he was married and the father of a child, he was exempt from military service, so he reported to the Browns' spring training camp, held at Cape Girardeau, Missouri, due to wartime travel restrictions. It is not clear if he ever made it to camp but by late May it was reported he had opted to stay out of Organized Baseball and remain on his job at a defense plant in Youngstown, Ohio.4 He pitched for an amateur team in that city later that summer and also played with an independent team in New Castle, Pennsylvania.
He began the 1945 season with an independent team, the Youngstown North Side Civics, but by July was back in professional baseball with Toledo in the American Association and appeared in thirteen games the rest of the summer. The following February he was optioned to Little Rock in the Southern Association. Details weren't given but in mid-July he was suspended without pay and placed on the inactive list when he failed to report to the park for a week.5 Shortly after his return to the team he pitched twelve relief innings, including eleven scoreless frames in a row in a game he eventually lost to Memphis in the nineteenth inning. Overall he had a record of 9-15 in 36 games for the Travelers.
In the spring of 1947 Peterson was hanging around San Antonio and working out informally with his old club, the Missions. On June 6 he signed a free agent contract with the team and was back in the Browns organization. He got off to a slow start and managed just a 2-5 record in 13 games, but seemed to be regaining his old form late in the season. In one of his last starts he lost a 2-1, 13-inning decision to Houston. However, he didn't show Browns management enough, so in January 1948 he was sold to the Wichita Falls, Texas, Spudders in the Class B Big State League.
He quickly emerged as the ace of the Wichita Falls staff, winning 19 games in 276 innings of work. He and Katie decided to stay in town over the winter and he took a construction job. Peterson had an even better season in 1949, going 20-8 with a 3.22 ERA in 260 innings. In 1950, his last season in professional baseball, he had a record of 10-12 with a 3.51 ERA.
After the season ended Peterson was hired by the Wichita Falls Police Department as a traffic officer. A few months later he was promoted to patrolman, and decided to retire from baseball. By 1953 he was employed as a chief warrant officer for the department but left the police force in 1955 and found employment with the post office in Wichita Falls, where he worked until his retirement. Sid's wife and daughter were also involved in law enforcement. Katie worked as a secretary to the chief of police and later also became a police officer in the city. Their daughter Sandy had a 25-yerar career with the Wichita County Sherriff's office.
Sid's wife died on August 4, 2001; less than a month later, on August 29, Sid passed away in Wichita Falls and was cremated. He was 83. When his daughter Sandy died in 2011, her obituary mentioned she was survived by a brother Bill, but no record of a son being born to Sid and his wife could be found.
Acknowledgments
This biography was reviewed by Norman Macht and fact-checked by Kevin Larkin.
Sources
Clippings from Sid Peterson's file at the National Baseball Hall of Fame
Unless otherwise started, genealogical information was taken from Ancestry.com and statistics from his playing career from Baseball-Reference.com.
Notes
1 The Sporting News, March 25, 1943.
2 Zanesville Signal, July 13, 1940.
3 San Antonio Light, July 25, 1942.
4 The Sporting News, May 25, 1944.
5 The Sporting News, July 17, 1946.
Born
January 31, 1918 at Havelock, ND (USA)
Died
August 29, 2001 at Wichita Falls, TX (USA)
If you can help us improve this player's biography, contact us.
/sites/default/files/Peterson%20Sid.jpg
600
800
admin
/wp-content/uploads/2020/02/sabr_logo.png
admin
2018-09-30 21:51:39
2020-04-09 14:38:41
Sid Peterson