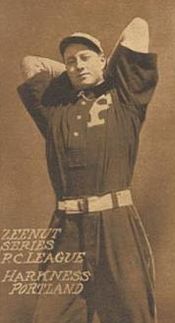 ---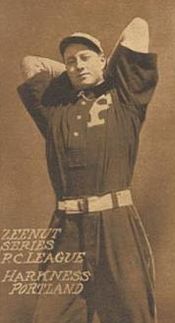 The 1910 Cleveland Naps were returning six pitchers from the previous season. They brought eight additional twirlers to camp in the spring. When the squad arrived in Cleveland for the start of the season, Fred Linke, Elmer Koestner, and Spec Harkness had joined the six holdovers. Linke and Koestner saw action in April, but because of a tender arm, and perhaps a lack of confidence on the part of manager Deacon McGuire, Harkness did not take the field until June 13. By that time the team was 17-21 and firmly entrenched in fifth place. Harkness handled himself well in the first outing and was rewarded with the start on June 18 against New York. He tossed a complete game, but lost, 5-2.
Frederick Harvey Harkness was one of 10 children born to Frederick and Norberta Sallie (Sparks) Harkness. He joined the family on December 13, 1887, in Los Angeles, California. His father was a native New Yorker who had moved west. There he met his future wife and they settled in the Los Angeles area, where the elder Harkness worked in the oil business. Young Harkness acquired the nickname "Spec" in baseball. His gravestone actually calls him "Speck," which is German for "bacon" or "bacon fat." Some photos of him show a very round face, which helps to explain the nickname's origin. Harkness worked his way up the ranks of amateur baseball. In 1905, he played for the Los Angeles Pacifics. There were leagues in the summers and winters, so he found playing time year-round with the Pacifics, Alhambras, various all-star teams, and the Harper and Reynolds company team.
In 1907, he joined the semi-pro, eight-team, Idaho State League. A right-handed pitcher and batter, he became the top pitcher for the Boise Senators. He gave notice of his talent when he struck out 14 in the home opener and drove in four runs with a pair of doubles as Boise beat Emmett, 8-2.
Future Hall of Famer Walter Johnson, a mound adversary of Harkness from their days in California, was also the number-one pitching star of the league. Harkness and Johnson had met in California during the winter and had both tossed 11 scoreless innings. Contemporary sources state that the two men were of similar size, but Harkness was a bit heavier.1 Both men had long arms that allowed them to whip the ball with excellent speed. They both were clean-cut teenagers, but Johnson was quiet, whereas Harkness was much more personable and outgoing.
Johnson was the star of the Weiser, Idaho, team. In their first meeting in Idaho, Johnson emerged as a 6-0 winner. Harkness had issues with control and consistency on the mound. On June 2, he was pitching poorly against Payette and the game was tied, 9-9, in the 11th inning. Harkness led off the top of the inning with a home run. The Senators continued the rally and, when Harkness batted again, he stroked a triple in what turned out to be a 17-9 victory. He was released two days later and signed on as backup pitcher and first baseman for Weiser. With Johnson the ace, Harkness seldom took the hill. He spent six weeks with the team before it disbanded on July 23. He had hopes of joining Aberdeen, Washington, in the Northwestern League, but it is unclear if he ever played with them.
In early March, the Idaho Statesman stated that Harkness had joined the Butte Miners in the Northwestern League. Training conditions were damp and cold, but a team of 19 was chosen for the league opener on April 18 with Butte at Seattle. Harkness debuted in right field and had two hits, plus a game-saving catch in the ninth inning.2 Butte won 6-4 in the tenth. Harkness made his pitching debut on April 24 against Seattle. The local paper raved: "The boy was cool and calm and he put something on everything he heaved."3 He struck out seven and walked five. He was just wild enough to keep the batters off balance in Butte's 3-0 win.
The Butte Miners were managed by Russ Hall, a longtime minor league infielder. They never mounted much of a challenge in the pennant race, languishing in fifth place most of the season. Harkness was the anchor of a four-man pitching staff. He tied for the league lead in wins with 22 and was second in strikeouts with 212. He struggled with his control and was fifth in the league in walks. The fact that two other Miners walked more batters in fewer innings points to a prime cause of their lowly record.4
On October 31, Harkness pitched for the Portland Beavers of the Pacific Coast League versus Los Angeles. When Hall got word of this he was furious and threatened legal action. Walter McCredie, owner of Portland, claimed that he had drafted Harkness and wanted to see what he had. Hall avowed no knowledge of a "draft."5 While the two parties wrangled, the Northwest League dropped the Butte franchise and awarded it to Portland and McCredie. Hall was awarded a financial settlement along with other terms and the issue went away. Portland would have two teams in 1909, one in the Northwest, another in the Pacific Coast League. Harkness was originally scheduled for the Northwest League, but was instead transferred to the upper-level club in the spring.
In the offseason, Harkness pitched for a touring all-star team named the Hoegees and also for the local San Luis Obispo team. On January 10, he struck out 18 and hammered two triples for the local team. He reported to Portland in fine shape. The Portland Beavers of the Pacific Coast League assembled a top-notch squad of future and former major leaguers. They went 122-87, but finished far behind the San Francisco Seals.
Harkness found that his fastball was no longer invincible and developed an excellent curve. He tossed one-hitters on July 25 versus Los Angeles and on October 20 versus the Seals. He and Al Carson were workhorses for the Beavers. Carson made 61 appearances and tossed 467 1/3 innings, while Harkness made 65 trips to the mound and worked 434 innings. Both men won 29 games. Harkness had brilliant moments, but also struggled with his control. His 146 walks were only two off the league lead. Nevertheless, he was named to sportswriter Harry B. Smith's Pacific Coast all-star squad. Cleveland acquired Harkness and Jack Graney for 1910. They sent a combination of money and players to Portland for the rights to the two men.
The Naps wound up with 34 players in spring training camp that year, and Harkness drew the honor of starting the first intrasquad game and pitched five scoreless innings. After his initial regular season start in June, he was rewarded with another, this time against Ed Walsh and the White Sox. Harkness battled the future Hall of Famer for 14 innings and won, 3-2. Plain Dealer sportswriter Henry P. Edwards raved about the rookie: "He depends on the old-fashioned stuff, a sharply breaking curve ball and a nice change of pace. Above all he is extremely cool in the pinches."6
Harkness was used as a spot starter and reliever the rest of the way. Cy Young was limited and Addie Joss left the team in July. Rookies Harry Fanwell, George Kahler, and Fred Blanding were added to the squad. Nine pitchers started at least 10 games. Harkness pitched four innings of relief on July 13 and would have earned a save if they existed then. His lone shutout performance came at the expense of the White Sox when he beat them 5-0 on September 5. He closed out the campaign with a 10-7 record.
The revolving door on the Cleveland bullpen continued to spin in 1911. Nine new pitchers joined the team over the course of the season. Harkness' best performance was a 7-1 win over Washington in May. He mostly filled a long-man or mop-up role until his release in July. He closed out his major league career with a lifetime 12-9 record in 189 2/3 innings. Back in Portland, his performance was erratic and he finished 5-8.
In 1912, Portland quickly fell out of contention, finishing at 85-120. Harkness struggled through the season, posting a 13-17 record, although his ERA of 2.62 was the eighth-best in the league. At the conclusion of the season, McCredie made it known that Harkness was on the trade block.
Over the winter, Harkness was sent to the Vernon Tigers in exchange for Al Carson. The move reunited Harkness with Vernon manager Hap Hogan, a former winter-league opponent. Years earlier, Harkness was at bat with a two-strike count. Hogan complained that his catcher's mask had a loose wire and asked Harkness to fix it. While Harkness examined the mask, Hogan called for a pitch, making Harkness an easy—albeit sneaky—strikeout victim.
The Vernon franchise was moved west to Venice, and Hogan offered Harkness a contract with a $500 bonus for winning 20 games. The team would use a five-man rotation, so the bonus was a reasonable offer for both parties. Portland got out of the gate quickly in the pennant race, while Venice struggled to keep close. In early October, the Tigers were eight games back, but went on a winning streak. Harkness won an 11-inning affair with the Beavers, tossing a three-hit shutout. That was the Tigers' last hurrah and Portland walked away with the championship. Harkness finished with 16 wins to miss out on the bonus.
Harkness made his home in Portland and replaced winter baseball with a full-time job. He worked for Captain M. A. Hackett with the Columbia Digger Company. The company was involved in shipping and the gravel business, and Harkness worked his way up the ranks of the gravel business operations. He was late reporting to Venice in 1914 because of his work obligations. It later was revealed that he was engaged to Miss Margaret Hackett, the daughter of his boss, and that he was considering retirement from baseball. He worked to get into playing condition and saw action in some exhibition games versus the White Sox. When the regular season began, he was pounded by San Francisco and lost, 12-6. He was relegated to a mopup, emergency starter role. He earned his first win on July 24, as Venice battled to hold the league lead.
Harkness and Margaret Hackett had arranged their wedding date of September 16 to coincide with the Tigers' visit to Portland. The wedding was covered by the Society pages in the area and was quite spectacular. Pitcher Ed Klepfer served as Harkness' best man. The Tigers left town in fourth place; the bride and groom went with them. Harkness closed out the season 6-3 with a 4.90 ERA. A number of the Venice players joined a touring squad that went to Honolulu. Harkness passed on the trip and returned to Portland with his bride.
Margaret Hackett was five years younger than Harkness. She was a refined lady and very involved in the social life of Portland's upper class. The Society pages had reports of functions she hosted or attended and also carried articles on her singing performances. The couple welcomed a daughter, Betty Jane, in 1918. They ended up divorcing sometime in the early 1920s.
In 1915 Harkness signed with Aberdeen, Washington, in the Class B Northwestern League. He got off to an excellent start with the Black Cats. On May 9, he tossed a five-inning, rain-shortened, no-hitter in Seattle. On May 20, he beat Victoria 1-0 with a complete-game no-hitter. When Aberdeen folded in August, he eventually caught on with the Spokane Indians. He posted an 8-18 mark between the two teams, allowing nearly six runs per game with his WHIP of 1.461 among the worst in the league.
After the 1915 campaign, Harkness gave up professional baseball and settled into family life. In 1918, he no longer worked for Captain Hackett, but instead had opened a soft drink distributorship. That endeavor did not flourish, and in 1920, he was again working for the gravel firm run by his father-in-law. In 1921 he signed on as a relief pitcher with the Portland Beavers, but after four lackluster performances, he was released in mid-June.
Harkness remarried in 1924, and Margaret remarried shortly after. Harkness' second wife was Dorothea T. Slocum, a Portland native. The couple moved back to the Los Angeles area where Dorothy worked for the California Bell Company and Harkness was an electric serviceman and later a salesman. In 1940 Harkness listed himself as married, but he was living with Betty Jane and not Dorothy. In 1942 he listed Betty Jane as contact on his draft registration. Dorothy had moved back to Portland, so a divorce occurred somewhere in that time span.
Harkness held various jobs in the Los Angeles area. He witnessed Betty Jane's marriage before he passed away on May 18, 1952. He had been hospitalized in Compton for a day with heart troubles and died from coronary sclerosis. He is buried in the Calvary Cemetery in Los Angeles.
Notes
Full Name
Frederick Harvey Harkness
Born
December 13, 1887 at Los Angeles, CA (USA)
Died
May 18, 1952 at Compton, CA (USA)
If you can help us improve this player's biography, contact us.
http://sabr.org/sites/default/files/HarknessSpec.jpg
600
800
admin
/wp-content/uploads/2020/02/sabr_logo.png
admin
2017-02-28 15:36:57
2017-02-28 15:36:57
Spec Harkness