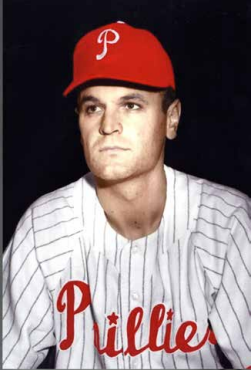 ---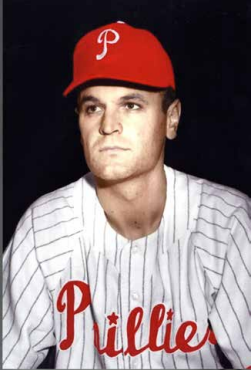 "He looked like a Texan ought to look — like a Texas Ranger or a man who could have fought at the Alamo," said Richie Ashburn.1 He was "Hondo," a two-sport athlete in college who was pushed too far too fast by the bonus-baby rule. Stan Hollmig could have been a major-league star, but without that early seasoning his career, like those of so many other bonus babies, was stunted.
Sometime in the late 1860s Ernst Hollmig (pronounced HOLE mig), a farmer from Germany, emigrated to the United States with his wife and two children. The family settled in the Fredericksburg, Texas, area, a part of Texas hill country that was settled by many Germans. His son, also named Ernst, married and had a son, Felix, born in 1902.
Felix grew up playing baseball, and was the star pitcher for more than a decade with the semipro Fredericksburg Giants of the Texas Hill Country League, at times playing alongside his younger brother Walter. Felix married a local girl, Erna Herbort, in 1924, and their first child, Stanley Ernst Hollmig, was born on January 2, 1926, in Fredericksburg. Stanley was named after future Hall of Famer Stanley "Bucky" Harris, at the time the "boy manager" of the two-time American League champion Washington Senators.2
Felix and Erna had three other children, Jeanette (who died at age 1), Jacqueline, and Thomas. The family moved in 1932 to Hondo, Texas, a town some 70 miles south of Fredericksburg. Felix worked as a bookkeeper and postmaster, and in later years held elected office, while Erna opened a dressmaking shop. Stan grew up playing baseball, football, and basketball, excelling at each. At Hondo High School, freshman Stan played one season with senior Clint Hartung,3 another future major leaguer. Stan was named an all-state pitcher and first baseman in 1942, with his team losing the state championship game as he pitched.
During World War II, Hollmig served in the Army Air Corps, stationed at Hondo Air Field, which had become the home of the Army Air Corps Navigation School. While there he played football and baseball against servicemen who had played college sports, and he did well enough to get noticed. After the war he went to Texas A&M College to play both baseball and football, lettering twice in each sport. He played quarterback and punter in football, was named team MVP in 1947, and got national attention when the Aggies beat undefeated Baylor 24-0, with Hollmig placing eight punts inside Baylor's 15-yard line. "That was the best punting I have seen in my 14 years on the Southwest Conference," said Aggies head coach Homer Norton.4
As an outfielder for the Aggies Hollmig twice led the Southwest Conference in home runs, and he was named All-Conference both years. His powerful hitting helped him earn the nickname of the "home run king," although in the major leagues he was better known as Hondo for his hometown. His hitting attracted several baseball scouts: White Sox scout Frank Bridges offered $12,500, but Phillies scout Hap Morse offered $25,000 and Hollmig signed in 1948.5 He left Texas A&M to play professional baseball, but continued his studies and earned a degree several years later.
Hollmig was sent to Wilmington of the Interstate League to finish out 1948, and hit .303 with 11 home runs. The bonus-baby rules required that a player receiving a bonus of more than $6,000 had to be promoted to the major leagues the season after he signed, and had to stay on the major-league roster for two seasons before he could be sent down again, or he would be exposed to waivers and cost the major-league team the bonus if he was claimed by another team. Thus, Hollmig was promoted to the Phillies for the 1949 season, and due to injuries to other players he received significant playing time, getting over 300 plate appearances while starting mostly against left-handed pitchers. He singled as a pinch-hitter in his first career at-bat, on April 19. He struggled, though, hitting .255 with two home runs. His first home run was a three-run eighth-inning shot off Vic Lombardi of the Pittsburgh Pirates that tied the score on June 7 in a game the Phillies won 6-5. The next day Hollmig connected again, this time in the sixth inning with a man on off Tiny Bonham to plate the only two runs in a 2-0 Phillies victory. They were the only two home runs of his major-league career. Despite his struggles, Hollmig was liked by his teammates. "When he did play it was obvious he had the talent to be a big league player," said Robin Roberts.6
In 1950 there wasn't room for Hollmig but because of the bonus rule he had to stay on the roster. He spent the entire season with the Phillies, getting into just 11 games and batting just 3-for-12 for the season. One of those hits was a clutch ninth-inning double against the Reds on September 15 to key a game-tying rally in a contest the Phillies eventually won in 19 innings. It was a disappointing year personally, made a little better by the team winning the National League pennant. Hollmig was voted a full $6,000 share of World Series money. The Phillies, however, were swept in the World Series by the Yankees without Hollmig making an appearance.
Stan met Mary Anne House on a blind date while in college. She was a student at the University of Texas, a big rival of Texas A&M, but the two hit it off right away. Six months later they were married, and she went with him to Philadelphia while he played in the major leagues. They had two children, Stanley, born in 1950, and Cheryl, 1953.
Hollmig's bonus time was up after the 1950 season, and he was eligible to be sent to the minor leagues. Speaking about the impact the bonus rule had on Hollmig, Phillies manager Eddie Sawyersaid, "He has the makings of a fine hitter and should have been out for two years."7 Hollmig was assigned to the Baltimore Orioles of the International League, where he started well but then struggled after a back injury. He was hitting just .248 when the organization sent him to the Atlanta Crackers in the Southern Association in June. There he started hitting again, finishing with a .303 average with 12 home runs, including five in a four-game span. This earned Hollmig an end-of-season callup to the Phillies, but two hitless pinch-hit appearances in September proved to be the end of his major-league career.
At the start of 1952 Hollmig was optioned to Schenectady in the Eastern League. This time he stayed the full season, hitting .290 as he tried to learn what he had missed earlier in his career. At the end of the season the Phillies sold him to the Louisville Colonels of the American Association, the Boston Red Sox' top farm team. He spent 1953 with Louisville, hitting .268 in 96 games and 394 plate appearances. In 1954 Hollmig began the season in Louisville, but in May the Red Sox acquired Don Lenhardt from the Orioles for Hollmig and $15,000, and Hollmig was assigned to Richmond of the International League. In July he was on the move again, after being purchased by the San Antonio Missions for the Texas League pennant drive. After hitting well over .300 in 17 games with the Missions, Hollmig underwent an emergency appendectomy, which effectively ended his season, as he returned for just the last two games of the year.
Happy to be back near home in 1955 with San Antonio, Hollmig played well for the full season, hitting .285 with a career-high 21 home runs. He also joined his father-in-law in owning a drive-in grocery store in New Braunfels. Shortly he would again be on the move, however, spending the first half of the 1956 season in San Antonio, before Nashville purchased him for the pennant drive. But he ruptured a blood vessel in his arm and missed the end of the season.8 Hollmig hit .339 for the month he was there. Nashville brought him back in 1957, and he hit .329 in 88 games.
Hollmig returned to San Antonio in 1958, but he was hobbled by a sore knee and was forced to play first base. Although he batted .276 in 32 games, he knew his time was coming to an end, and when he was offered a scouting job by the Cincinnati Reds he retired from playing. He spent four years scouting for the Reds in the Southwest, then took another scouting job, this time as Texas scouting coordinator for the new Houston Colt .45s.
The Hollmigs had bought a house in New Braunfels in 1959, and Stan lived there the rest of his life, while traveling around Texas as a scout for the Astros. He ran tryout camps across the state for many years, until he contracted cancer in 1979. He had surgery, but the cancer returned and he died on December 4, 1981. He was 55 years old. His legacy lived on, though; in 1999 Hollmig was inducted into the Texas A&M Athletics Hall of Fame.
Stan Hollmig perhaps did not produce a career as expected when he signed, but he was surely hurt by having been a bonus baby, which forced him to remain on the Phillies roster and not get the minor-league seasoning he should have had. He also may have been a better football player than baseball player, but baseball was the sport he loved more, and he got to spend his life in it. He was considered an all-round good guy, well respected by players and fans alike. "If they have a Hall of Fame for outstanding human beings, Stan Hollmig will be inducted on the first ballot,"9 said Richie Ashburn.
This biography appears in "The Whiz Kids Take the Pennant: The 1950 Philadelphia Phillies" (SABR, 2018), edited by C. Paul Rogers III and Bill Nowlin.
Notes
1 Richie Ashburn, "Hollmig Will Be Remembered," Philadelphia Bulletin, December 13, 1981.
2 Pat Galvin, "Hollmig-Hartung Duel Coming Up," San Antonio Light, July 1, 1948: 1-C.
3 Sportswriters dubbed Hartung the Hondo Hurricane after he went 25-0 as a pitcher and hit .567 with 30 home runs in 67 games in service ball in World War II. However he was unable to reach the stardom predicted for him in six big-league seasons with the New York Giants.
4 "'Best Ever,' Says Norton of Stan Hollmig's Great Punting," Hondo Anvil Herald, October 31, 1947: 8.
5 "Obituaries," The Sporting News, June 27, 1970: 48.
6 Bill O'Connell, "Hailing 'Hondo,' " New Braunfels Herald-Zeitung, October 10, 1999: 1.
7 Stan Baumgartner, "Bonus Rule Repeal Puts New Hustle in Phils' Stan Hollmig," The Sporting News, March 14, 1951: 22.
8 Chauncey Durden, "The Sportview," Richmond Times-Dispatch, September 8, 1956: 12.
9 Ashburn, "Hollmig Will Be Remembered."
Born
January 2, 1926 at Fredericksburg, TX (USA)
Died
December 4, 1981 at San Antonio, TX (USA)
If you can help us improve this player's biography, contact us.
https://sabr.org/sites/default/files/hollmig.png
600
800
admin
/wp-content/uploads/2020/02/sabr_logo.png
admin
2012-01-04 20:47:01
2012-01-04 20:47:01
Stan Hollmig