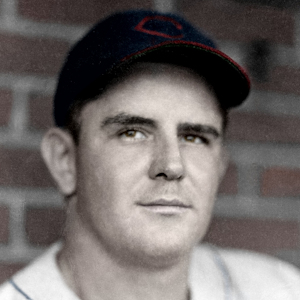 ---
The road to the major leagues can be a long haul for some. Others find it much easier and, of course, thousands never make it at all. Certainly, in all cases the player must have more than a modicum of talent. But there's another important factor that Steve Biras recognized. When asked how he broke into the bigs, he simply said, "By chance."1
Biras made it to the majors directly from the sandlots in 1944. World War II was in full swing and millions of young men were in uniform. Biras was married with two children. He worked for the St. Louis Shipbuilding and Steel Company. The combination of essential war employment and family made him a low priority (probably 3-A or 3-B) for his draft board.
Biras, from East St. Louis, Illinois, caught the eye of Cleveland Indians scouts — and player-manager Lou Boudreau — at a tryout in early August 1944 when the Indians were in St. Louis playing the Browns. Steve had been a fixture on East St. Louis baseball diamonds for seven seasons, playing infield and hitting the ball with authority. Had he been invited to the tryout, was he looking for a chance to play professionally, or did he simply tag along with friends? Sad to say, the story of that day has been lost over time. About three weeks after the audition, a St. Louis newspaper announced that Biras had been signed by the Indians.2
Biras spent only a month with the Tribe, playing in about 20 innings if two in-season exhibition games are included. On September 15 Biras — batting for Ray Poat in the fifth inning — hit a one-out single to center on future Hall of Famer Hal Newhouser's first pitch. Eleven days later, Biras made his other big-league appearance — and maintained his perfect 1.000 average. He never played another professional ballgame.
For many years, baseball references have claimed that Stephen Alexander Biras was born on February 26, 1922. Where the 1922 date came from is unknown. Biras listed 1923 as his birth year on a questionnaire that is contained in his file at the Baseball Hall of Fame. That 1923 date was also used by The Sporting News and American League Red Book in 1945.3
Yet neither 1922 nor 1923 is the correct year of birth for Biras. His gravestone shows 1917.4 Supporting this is the 1930 census, which lists him as 13 years old.5 His death certificate also lists a 1917 birth.6
He was the firstborn of Steve and Anna (Hlavek) Biras. Biras's father came to the United States in 1910 from Slovakia. His mother was also from Slovakia and came to this country two years later. The couple met, married, and settled in East St. Louis (sometimes listed as Washington Park), where the elder Biras worked as a laborer. Steve had a brother, John, and a sister, Irene.
Steve took to baseball at an early age, batting and throwing right-handed. He had the quickness and soft hands essential for an infielder. He began playing in the Southwestern Illinois Intercity League in 1937. (The Intercity was a highly competitive adult league, making a 1923 birthdate very implausible.) Graduates of that league from Biras's tenure included pitcher Les Mueller and outfielder Hank Schmulbach. Steve played for a team sponsored by Burke's Undertakers. It appeared in newspaper accounts as East St. Louis and Burke's.
Playing shortstop his first season, he worked his way into the cleanup slot for his team. Burke's took the regular season title but lost in the best-of-three playoffs. Biras batted .386 for the season and led the circuit in hits and doubles.7
The following year the newlywed played third base. On February 26, 1938, Steve and Anita Martinez were married in Holy Angels Church.8 The couple welcomed a son, Larry, in 1941 and a daughter, Carol Ann, in 1943.
News accounts (and many modern online sites) discussing Biras's major-league career erroneously labeled him a St. Louis sandlot alumnus. Because of his residence in East St. Louis, which is in Illinois across the Mississippi River from St. Louis, he was barred from playing in the highly competitive St. Louis MUNY League. His East St. Louis team even applied for membership one season and was turned down because the MUNY had a strict rule on residence, allowing players only from St. Louis itself. That rule was relaxed in 1945; after his major-league career, Biras finally played on the St. Louis sandlots.
After a couple of semipro seasons in 1939-40, Biras returned to the Intercity League. In 1942 he tied for the league lead in home runs as the Burke's squad overall batted a lusty .343. Their top pitcher, Earl Smalling, won 15 games in the 20-game season.9 As the war intensified, the Intercity loop decreased in size and length of schedule.
After signing his contract, Biras joined the Indians in Cleveland in time to play against the Great Lakes Bluejackets from the Navy base near Chicago on August 31. The Jackets, managed by Mickey Cochrane, were having a tremendous season. Virgil Trucks was on the mound for the sailors while fellow hurler Schoolboy Rowe played right field. Always a strong hitter, Rowe went 4-for-4 with two home runs and four RBIs, while future Indians outfielder Gene Woodling added three hits and two RBIs in the Bluejackets' 17-4 victory. Biras played second base in the latter part of the game and went hitless in three at-bats.10
After playing the Bluejackets, Cleveland began a western swing through Chicago, St. Louis, and Detroit. Biras saw no action until the Indians returned home. On September 13, they traveled to Sharon, Pennsylvania, for an exhibition with the military police unit stationed there. The Camp Reynolds team had nothing like the talent of the Great Lakes Naval Station and lost, 19-2. Biras started at second base, hammered three of the team's 21 hits, and scored a run.11
After his big-league debut on the 15th, Biras got a line in the game writeup by Cleveland beat writer Gordon Cobbledick, who noted that the infielder "today was sporting a batting average of 1.000."12 He then watched the veterans until September 26, when the Washington Senators were in town for a game at League Park. The Senators jumped out to a 7-0 lead and Biras was sent into the game in the sixth inning to rest Ray Mack at second base. In the seventh inning he came to bat after singles by Boudreau and Russ Peters coupled with an error had loaded the bases. Facing Emil "Dutch" Leonard, Biras delivered a single to drive in two runs. In the field, he handled three chances, two successfully. His error came on a ball hit by George Case, but that did not factor in the scoring.13
Biras was slated to bat again in the ninth, but Henry Ruszkowski made his major-league debut pinch-hitting for him. Washington won, 8-3. A bit of history was made that day besides Biras's appearance. Joe Heving, a 44-year-old Indians reliever, made his 62nd appearance of the year, setting a new American League record.14
After the month's absence to play in the majors, Biras returned to his family and his job at the shipbuilding firm. He signed for 1945 and awaited spring training. A preseason report suggested that Mack was going to miss the season to work in a war plant in Buffalo. Third baseman Ken Keltner was expecting to be drafted. With two openings likely, early speculation was that Biras had a strong chance to stick with the team.15
The speculation was ill-advised because Biras was traded to the Wilkes-Barre Barons in the Class A Eastern League just before the Indians began spring training in Lafayette, Indiana. The Indians received 21-year-old infielder Al Cihocki, who had been recently discharged from the Coast Guard.16 Cihocki had played a full season of minor-league ball (albeit in 1942) and was a better fit for the ballclub because he had been through the rigors of travel and a long season.17 Biras was used to playing only a game or two a week at home. The only day-to-day baseball he experienced was with Cleveland and then he'd played in only four games in a month.
Biras balked at going to the Barons. After some squabbles over his contract, he refused to report. He remained in East St. Louis working at his job with the shipyard. Meanwhile, with World War II still raging, his brother, John, had risen to the rank of staff sergeant by April 1945. In fact, he was slated to become a second lieutenant but was killed in a tank engagement on the eve of his promotion.18
The Indians placed Steve on the suspended list and then released him in the summer.19
In the years after the war, Biras played in the MUNY Mid-City League with a team called Borbein-Young. A few years later he left baseball behind to play fast-pitch softball. In 1954 he played with a team called Spanish-American Youth. They were part of the 167-team MUNY program. Led by Biras's powerful bat — he knocked a homer for a 1-0 win in the semifinals — they won the city championship.20
Biras worked for St. Louis Shipbuilding and Steel all his life. In 1950 the company opened a large barge dock known as the Federal Barge Shipyards. Biras was active in the Boilermakers Union No. 27. In his leisure hours, he was an avid bowler and a member of the Catholic Slovak Lodge No. 645.21
Biras was working at the barge dock when he suffered a massive cerebral hemorrhage. Aged 48, he died in Alexian Brothers Hospital in St. Louis on April 21, 1965. He was survived by his parents, his wife and children, and one grandchild.22 Burial was in Mount Carmel Cemetery in nearby Belleville, Illinois.
Biras's obituary called attention to his 1.000 batting average. With his 2-for-2 record, he wrote his name into the baseball history books. He joined six other men who had posted the same 2-for-2: Frank O'Connor in 1893, Mike Hopkins in 1902, Doc Tonkin in 1907, Hal Deviney in 1920, Fred Schemanske in 1923, and Chester Kehn in 1942. Biras and Hopkins (a catcher) were the only members of that group without any minor-league experience. The other men were all pitchers. Since 1944, pitchers Jason Roach (2003), Esteban Yan (2000 and 2003), and Gregory Soto (2019) have joined the select list. The major-league record of 3-for-3 for a career belongs to John Paciorek from 1963.
Acknowledgments
Thank you to Sister Mary Frances Flynn from the Belleville, Illinois, Archdiocese, who provided the church's information on Biras's birthdate. (They also accept 1917.)
This biography was reviewed by Rory Costello and Len Levin and verified for accuracy by the BioProject fact-checking team.
Notes
1 American League Questionnaire submitted by Biras and in his HOF file in Cooperstown.
2 "Indians Sign East St. Louisan," St. Louis Star and Times, August 26, 1944: 5.
3 "Birthdays," The Sporting News, February 22, 1945: 14.
4 findagrave.com/memorial/6532529 last accessed August 12, 2019.
5 search.ancestry.com/cgi-bin/sse.dll?indiv=1&dbid=6224&h=87934959&tid=&pid=&usePUB=true&_phsrc=VjY2185&_phstart=successSource. Accessed August 12, 2019.
6 Located in his HOF file in Cooperstown.
7 "Cusanelli's .404 Tops Intercity Loop Batters," St. Louis Globe-Democrat, November 23, 1937: 22.
8 "East St. Louis," St. Louis Globe-Democrat, February 27, 1938: 29.
9 "Smith Leading Hitter in Intercity Loop," St. Louis Globe-Democrat, January 3, 1943: 8.
10 "Indians Lose at Great Lakes, 17-4, Cleveland Plain Dealer, September 1, 1944: 14.
11 "Indians Trounce Camp Reynolds," Cleveland Plain Dealer, September 14, 1944: 13.
12 Gordon Cobbledick, "Gromek Gives Indians Split with Tigers, Browns Tied for Second, 5-1," Cleveland Plain Dealer, September 16, 1944: 12.
13 retrosheet.org/boxesetc/1944/B09260CLE1944.htm last accessed August 11, 2019.
14 Gordon Cobbledick, "Nats Spike First Division Chances of Tribe, 8-3," Cleveland Plain Dealer, September 27, 1944: 13.
15 Harry Grayson, "Cleveland's Prospects No Worse Than Others," El Paso Herald Post, March 16, 1945: 10. Grayson was syndicated by the NEA news service.
16 "Barons Trade 'Al' Cihocki to Cleveland," Wilkes-Barre Times-Leader, March 10, 1945: 10.
17 "Indians Entrain for Camp Sunday," Zanesville (Ohio) Signal, March 10, 1945: 5.
18 "11 Give Lives in War, 18 Others Wounded," St. Louis Post-Dispatch, May 3, 1945: 8.
19 "Obituaries," The Sporting News, May 8, 1965: 32.
20 "Wagner Girls, S.A.Y. Men Even Softball Finals," St. Louis Post-Dispatch, September 16, 1954: 32; "S.A.Y., Royal in Muny Final," St. Louis Post-Dispatch, September 10, 1954: 23.
21 "Biras," St. Louis Post-Dispatch, April 22, 1965: 66.
22 "Stephen Biras Dies; Batted 1.000 in 1944," St. Louis Post-Dispatch, April 23, 1965: 24.
Born
February 26, 1917 at East St. Louis, IL (USA)
Died
April 21, 1965 at St. Louis, MO (USA)
If you can help us improve this player's biography, contact us.
https://sabr.org/sites/default/files/BirasSteve.jpg
600
800
admin
/wp-content/uploads/2020/02/sabr_logo.png
admin
2019-09-09 15:43:53
2021-01-17 06:20:07
Steve Biras