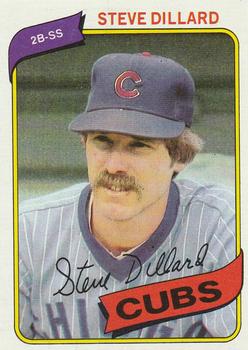 ---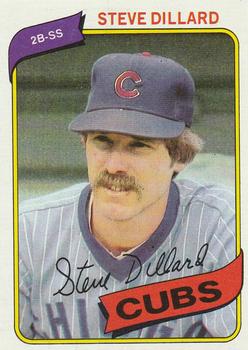 Steve Dillard was born in Memphis on February 8, 1951, but was raised and — as of 2014 still resided — in Saltillo, Mississippi, a town of around 3,400 people some 100 miles to the southeast of Memphis. Steve's parents were working in Memphis at the time, his mother for a catering cafeteria supply place named Vend-Foods and his father doing a number of things, but eventually becoming tax collector for Lee County, Mississippi. Stephen Bradley Dillard was the oldest of four boys in the family.
Steve's father loved baseball and had played some in school, as well as a little softball. He really sparked his son's interest in it and encouraged him any way he could. His youngest three sons all played high-school ball, but Steve was the only one to move into professional ball. "I started to play from the time I could walk, I guess," Steve remembered in a 2005 interview.1
Dillard did well in high school, always playing shortstop, and Saltillo High won the state title in his senior year. The summer before, the American Legion team from Tupelo, Mississippi, on which Steve played won the Legion championship as well. Playing on a couple of standout teams like that, he got scouted a bit and attracted the attention of a bird-dog scout in Tupelo, who recommended him to the San Diego Padres. His memory is that he hit around .520 for Saltillo High and was drafted right out of high school by San Diego in the 13th round of the June 1970 draft, but had been granted a full scholarship to the University of Mississippi and elected to go to college instead.
After Dillard's sophomore year at Ole Miss, though, the Red Sox drafted him in the second round of the June 1972 free-agent draft. Milt Bolling was the Red Sox scout. "He had this area and he signed me and Butch Hobson, Jack Baker, Sam Bowen, Andy Merchant, and I'm sure a lot of others, but those guys eventually got in the big leagues for at least a little bit of time. … I think with the signing bonus and incentive bonuses they gave back then, it was probably worth about $35,000."
After signing with the Red Sox, Dillard was assigned to Winston-Salem, North Carolina, in the Carolina League. "They had a team in Winter Haven then, in the Florida State League and I guess they considered Winston-Salem the higher Class A team at that time. Of course, now both those leagues are high A or advanced A leagues, but I think back then the Carolina League was considered a little bit better than the Florida State League." He played at Winston-Salem for a month and a half or so, finishing out the season, and played there again for a full year in 1973. Both years, Dillard went to the instructional league after the season, but after the '73 season he needed shoulder surgery, so he missed the first month or two of 1974. Still, that year saw some real progress. Dillard started in June in Double-A Bristol, Connecticut, but after only 30 plate appearances was advanced to Triple-A in Pawtucket and finished the season there. Again, he played in instructional league ball.
In 1975 Dillard started with Pawtucket, but there was another shoulder repair and he went down to Bristol to finish up the season there. When Bristol's schedule ended, he was called up for the last week of the big-league season, joining the Boston Red Sox and sitting on the bench taking it all in. The Red Sox clinched the pennant on the next-to-last day of the year, a Saturday, and both Dillard and Andy Merchant made their major-league debuts on the following day. Coming in a few weeks ahead of them had been Butch Hobson and Rick Kreuger, who also played that final game, an 11-4 loss to Cleveland.
Dillard batted second and had a 2-for-5 game, scoring two runs and even stealing a base. He was flawless in the field, with eight chances. He enjoyed a .400 batting average his first year in the majors. "Everything was downhill there after that," he joked.
In 1976 Dillard made the team out of spring training, and got into 57 games. By year's end, he'd hit a very good .275, and also claimed his first major-league home run, off left-hander Dave Roberts in Tiger Stadium, a three-run homer on September 19. For a period of time in August he was sent down to try to learn second base, a position he'd played for a few games back in eighth grade or thereabouts. After his couple of surgeries, Dillard wasn't able to throw as well as before, and the Red Sox thought they might be able to convert him from a utility player to a second baseman. Shortstop was a position that was pretty well set for the Sox, with Rick Burleson. Second base seemed like a good position to learn.
Between '76 and '77, there had been an interlude where Steve had played winter ball for Valencia Magallanes in Venezuela. Most of the position players were in the Pirates organization, but Steve was able to go in, and played second base for a couple of months. The experience was "OK," but he did say at the time that he'd never go back. He wasn't sure if it really helped him to develop in any way. Most of the players were American at that time, and Steve remembered the crowds as sometimes passionate. "When Magallanes and Caracas played in Caracas, that was a big rivalry, I guess like the Red Sox and Yankees, so when they played, you might have 30,000 or so. Some big crowds there."
At second base, Dillard was behind Doug Griffin and Denny Doyle, but in 1977 he platooned with Doyle, batting against left-handers while Doyle played against right-handers. "I didn't get to play a lot because most teams didn't want to start a left-hander in Fenway, so more of my playing I guess was really on the road than it was at home." He got more starts the year before, and more at-bats. In 1977 Dillard's average dipped to .241.
Early in December 1977, the Red Sox acquired second baseman Jerry Remy from the California Angels. "I knew it was going to be pretty crowded and I asked Haywood Sullivan, I called him and told him I wouldn't mind getting traded if the opportunity was there." The Red Sox accommodated Dillard and on January 30, 1978, he was traded to Detroit for two minor-league prospects and some money. "They just tried to help me out, give me a chance." He was optimistic about his chance to get more playing time with the Tigers, but that's not how it worked out. "It looked like I was going to get a real good opportunity over there because they had a couple of young infielders and they didn't know how much they were going to play or how well they were going to do, and that was Alan Trammell and Lou Whitaker." Dillard platooned with Whitaker for the first month or so, but Lou "was just wearing it out, so I didn't play very much after that."
After a full year with the Tigers, near the end of spring training 1979, Dillard was moved to the National League, traded to the Chicago Cubs. "I got traded to the Cubs and spent three years with them. That was a good time. I enjoyed playing with them. The Red Sox, to me, were the greatest place to play in the American League and I thought the Chicago Cubs, that was the greatest place to play in the National League." Partly it was the old ballparks that appealed to him, but more so the fans, with how devoted and "crazy about their teams" they were. Dillard hit .283 his first year with the Cubs, but tailed off sharply to just .225 his second year. The players strike in 1981 curtailed play for everyone, and Dillard's average dropped a bit more to .218 in more limited action, though he still amassed 119 at-bats. "We came back and played after the strike. We were out about six weeks that year, and then came back and played. I don't think I played hardly at all after the strike, and that was when the Cubs brought in Dallas Green from the Phillies to run their major-league operation, and he released a bunch of guys." Dillard was released on December 17, 1981, but hooked on pretty quickly with the White Sox.
He'd met White Sox GM Roland Hemond, so gave him a call and was invited to spring training. Hemond asked him if he didn't make the big-league club, would he be willing to go to their Triple-A team in Edmonton. Dillard said he would, and spent the whole season with Edmonton. There were a couple of injuries on the big-league club and he came up at the end of the season and played under Tony LaRussa from mid-September on with the White Sox, but hit for a disappointing .171 average.
The White Sox saw other potential in Steve Dillard, though. "They wanted me to manage in the minor leagues at the end of that season but they released me to give me an opportunity to try to find a team to sign me in the major leagues. I really couldn't find anybody. Everybody wanted the younger players, so I told them I would go to work and manage for them in the minor leagues. After the season ended, I got released again. I started calling other teams, trying to find a job as a player. I didn't have any luck, so I called the White Sox back and said I'll manage. I started managing with them in '83. I spent two years in the Gulf Coast League with Sarasota. At that time, we had moved down to that area, too, so it was pretty nice being at home all the time. I managed Double-A the next year, and we had a big changeover in general manager, farm director, and all that. I went back down to the Gulf Coast and managed two more years there, I think. Then I went to the Midwest League, the last year I was with them. I was with them six years managing in the minor leagues."
"I was with the Astros after that for six years. I was infield instructor a couple of years and then I managed four years, I guess. Then I went with the Cubs in '95. I was a hitting coach with Rockford in the Midwest League. After that season, my kids were all getting high-school age and I wanted to see them play so I got out of affiliated ball after the '95 season."
After that, Steve kept his hand in, even around home. He helped run an independent league team in Tupelo for a year, but the team folded in its second year. He served as hitting coach with Glens Falls, New York, with Les Lancaster. "He was the manager, and he'd been the pitching coach with me with the Tupelo team. He called me up (and) wanted to know if I'd come up there with him. I went to Lafayette, Louisiana, and managed a team, and Ron Guidry was the pitching coach down there. That's where he's from. He was king down there. That was a good time with him."
Dillard did answer the Organized Baseball call once more, returning to manage Quad Cities for the Cardinals in 2008 and 2009. Then it was back home to Saltillo.
"Last couple of years, I've been … in our old town here we started a Park and Rec. I've been director of that. We've got baseball, softball, soccer, and so on."
At the time of the 2005 interview, Dillard was actively following his son Tim, a real prospect pitching for the Brevard County team in the Florida State League. His oldest son is an engineer with the Air Force, and his second son has a master's degree in business administration. Tim is the only one who sought a career in Organized Baseball. A right-handed pitcher, he made the majors with Milwaukee in 2008 and pitched in parts of four seasons — 2008-09, 2011-12. He appeared in 73 games, all in relief, with a combiner ERA of 4.70 and a 1-4 record.
Steve still follows the Cubs and the Red Sox, and keeps up with the Cardinals and Braves as well. His father's a big Braves fan. "Now he's got a grandson, so hopefully he'll get to see him play one of these days."
Last revised: July 1, 2014
Notes
1 Unless otherwise noted, all quotations from Steve Dillard are from an oral history and interview by Bill Nowlin on August 18, 2005.
Born
February 8, 1951 at Memphis, TN (USA)
If you can help us improve this player's biography, contact us.
https://sabr.org/sites/default/files/DillardSteve.jpg
600
800
admin
/wp-content/uploads/2020/02/sabr_logo.png
admin
2012-01-04 20:44:40
2012-01-04 20:44:40
Steve Dillard