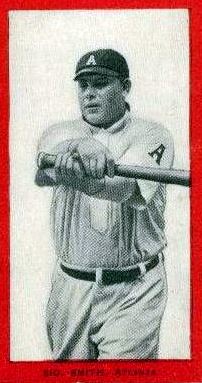 ---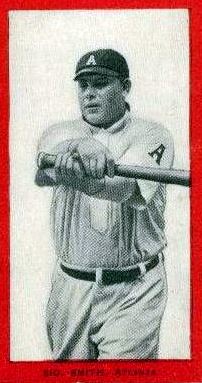 Syd Smith got around. In 1915 alone he played for two minor league teams (the Atlanta Crackers and the Shreveport Gassers) and one major league team (the Pittsburgh Pirates), and coached the baseball team at the University of South Carolina. It was not uncommon for players to start out in the South's textile leagues, and then move on to the minors and majors. Syd was one of the rare textile mill players who actually started out in the minor leagues, made his major league debut, and then played for some textile teams. He preferred working as a catcher but was frequently used as a utility infielder. There is some confusion about his name. He is variously referred to as Sydney, Sidney, Syd and Sid, and the University of South Carolina lists him in its records as Sydney E. Smith.
Syd Smith was born on August 31, 1883, in Smithville, South Carolina, a small town south of Camden, which had formerly been known as Spring Hill. His parents were Lafayette M. and Medora Sarah Bradley Smith. His father was a successful merchant and planter in the area. Syd had at least two siblings, a brother, Mendel Lafayette Smith and a sister, Jennie Medora Smith. His father died in 1883, and the family moved to Camden.
Syd was not the only member of his family interested in baseball. His older brother, Mendel Lafayette Smith, played baseball while studying law at the University of Virginia and was considered one of the foremost college athletes in the country. He and the other members of the Virginia team traveled to the Worlds Fair Exposition in Chicago to participate in the collegiate baseball tournament there. He also organized the short-lived South Carolina State League of Baseball Clubs in 1907. M. L. Smith went on to political prominence, serving two terms in the South Carolina House of Representatives, and running several unsuccessful campaigns for governor. He was eventually appointed to the state Supreme Court.
Although several sources say that Syd Smith attended Wofford College in Spartanburg for two years, starring on both their baseball and football teams, Wofford has no record of this. He did attend the University of South Carolina in 1902 and 1903, and in 1903 he played right tackle on USC's football team. By 1904 he was playing baseball for the Charleston Sea Gulls, a Class C team in the South Atlantic (Sally) League. He remained there through 1905.
Apparently while at Charleston Syd attracted the attention of at least one major league team, because, according to the Atlanta Constitution, he was drafted by a major league club, refused to go north, and returned to the South Atlantic League. In 1906, according to the Constitution, New York of the American league drafted him, but sent him to the Class A Atlanta Crackers of the Southern Association before the beginning of the season.1
The Charleston News and Courier was highly complimentary of Smith when he debuted for the Crackers: "his advent into professional balldom came as a result of such good playing on college teams that managers made him flattering offers. Before he realized it he found himself wanted as a player by half a dozen men at the same time. . . he has a college education and can spout Greek as well as he can play ball. . . . Before many games have been played at Piedmont, Sidney Smith will be a favorite with the lovers of the national sport. He is playing a fast game, and in both contests in which he has appeared since reaching Atlanta, has made a favorable impression."2 He had a good season with the Crackers that year, batting .326.
He remained with the Crackers for the 1907 season, and the Atlanta Constitution described him as a "crack infielder" who could "hit better when playing at some position on the inner works than the receiving job . . . and at the same time, he is a fast catcher."3 That same year, the Constitution reported that he was engaged to Vera Youngs, an actress with the Fawcett Stock Company, which had been performing in Atlanta. This engagement was apparently short-lived.
In 1908, the Crackers sold him to the Philadelphia Athletics for $2,000. He made his major league debut on April 17, 1908. "Sid Smith made two hits during his first game in the big league the other day," the Constitution reported. "One was with the crowd and the other was a two-bagger. . . . Smith caught and threw well and, better than all, played his important post with rare judgment. Connie Mack's pony battery earned the respect of the players and spectators, and the unanimous opinion of the crowd was that the slim manager had made a happy find."4
As was often the case, one of Philadelphia's more experienced players, pitcher Chief Bender, took Syd under his wing: "When I came up from Atlanta to join the Athletics," Syd wrote, " . . . I was the greenest catch there ever was when it came to inside play. I was there with the mechanical stuff, but when it came to the finer points of the game, I was worse than a novice. Connie Mack told me that he was depending upon me to become a star catcher. . . . So he put Chief Bender in charge of me and by the time Chief had completed teaching me the inside stuff, I think I was a mighty wise catcher, for there is nothing about the game the Chief does not know."5 The inside stuff involved the art and science of stealing the opposing team's signs, a practice that was common at the time.
Another South Carolinian who debuted with the Athletics that year was "Shoeless Joe" Jackson. He and Smith were to become lifetime friends. Smith played in 46 games for the Athletics before being traded on August 2 to the St. Louis Browns for catcher Bert Blue. He played 27 games for the Browns. His combined total of games, 73, would be the most he would ever play in a major–league season.
In February of 1909, the Browns returned him to the Atlanta Crackers. Smith may have left the Crackers at times during that period, because Thomas Perry lists him as having played for Poe Mill in the South Carolina Textile League in 1909, and for both Poe Mill and Brandon Mill of Greenville in 1910.6 He was definitely with the Crackers for some part of both seasons, however, since Atlanta manager Billy Smith later credited him for the Crackers' pennant-winning performance in 1909. In June 1910 the Atlanta Constitution praised Smith's defensive play as catcher, noting that during the Crackers' previous 14 games, there had been 54 attempts to steal, and only four had succeeded. Apparently, Syd continued to be attractive to the ladies. In June 1910, Miss Emma Bunting, who was appearing in summer stock at the Lyric theater in Atlanta, declared him to be just "too cute for anything."7 By July of that year, newspapers reported his impending marriage an Atlanta girl, the cousin of a girl slated to marry his teammate, Roy Moran.
In 1913, manager Billy Smith called Syd the "best all-round player that ever pastimed in the Southern league."8 "Without Sid," he noted, "we would never have won the pennant of 1909. It was his willingness and his ability to star in utility roles and his pinch hitting that saved the day. . . . Sid played third base, shortstop, second base, right field and caught that season and played the positions better than the regular that was holding down the berth. When I put him in at some new position I strengthened the defensive strength of the club at that particular point, and kept a good batter in the line-up at all times. . . . But, after all, it was the way the big fellow could hit the ball that made him of such value. He led the league in 1906 with an average of .326, but his .280 average in 1909 was of more value to the club than the 1906 figure. He hit .280 in the pinches. The big fellow never seemed to hit one unless there was a man waiting to score."9
On September 1, 1910, Smith was drafted by the Cleveland Naps, rejoining his pal and fellow South Carolinian "Shoeless Joe" Jackson. He only played nine games for the team that season, but the following season he had his second most productive year in the majors, playing in 58 games, batting .229 and slugging .383. He also had his best year in the field, primarily as catcher, although he did fill in at first and third in a few games.
Smith did not play organized ball in 1911, but the next year he was back in the minors, playing for the Columbus (Ohio) Senators in the American Association. He played for the Senators for three years, consistently hitting in the .280s. He may have returned to South Carolina for some part of 1912, since Thomas Perry, the chronicler of mill team baseball in South Carolina, lists him on the team roster of Mills Mill of Greenville that year.
He was out of baseball again in 1913. In 1914, the Pittsburgh Pirates purchased Smith's contract from Columbus, and he played in five games for them. And although he went to spring training with the Pirates the following season, he played in only one regular-season game. He played his final major league game on April 18, 1915, and that same month the Pirates granted him his unconditional release. During his five different seasons in the major leagues, Syd Smith appeared in 146 games, batted .247, had an on-base percentage of .291, and a slugging percentage of .320.
Records at the University of South Carolina indicate that Smith coached their baseball team during the spring of 1915. He then returned to the Crackers, but left the team abruptly on a road trip to Little Rock on June 6, 1915, amidst speculation that he might have fallen out with manager Bill Smith. Granted his outright release by Atlanta, Smith quickly signed on to play and manage for the Class B Shreveport Gassers. He hit well for Shreveport, piling up 145 hits in 140 games. In a letter to the Constitution's sports editor Smith boasted: "I am certainly hitting that pill – no double plays – all clean slashes – two-baggers a specialty." 10 He did indeed enjoy a solid year, batting .282 with 29 doubles. Smith managed the Gassers again in 1916—his last as a player—and 1917, finishing seventh, next to last, both years. They were to be his last seasons in organized baseball.
During the off-season Smith continued to live in Atlanta. Evidently the lackluster results for the Gassers the previous season had not damaged him. For in January 1917 the Atlanta Constitution reported that "Chubby Sidney Smith, looking as rotund and prosperous as ever" had returned to Atlanta driving a new Buick that the Shreveport team had given him as a token of their appreciation. That winter Smith sold Buicks to the dealers in Louisiana.11
After the 1917 season, he left baseball to sell cars full time for Bernstein Brothers in Shreveport. Over the course of his 12-year minor league career, he played in 1,544 games and had a batting average of .284. He apparently remained in Shreveport, as the Atlanta Constitution reported that he was still selling cars there in 1922. In 1925, he returned as manager of the Gassers for part of the season. He maintained his connections with South Carolina, however, and was a member of Camden's outstanding polo team during the 1920s.
By 1930, he was living in Columbia, South Carolina, with his wife, Elizabeth. He was once again engaged in automotive sales. By 1939 he was the head of the Florence, South Carolina, office of the South Carolina State Employment Service. He remained in Florence until 1945, when he was transferred to the Greenville office. An avid tennis player and golfer throughout his life, Smith retired sometime in the mid-1950s and returned to Camden. In 1959 he and his wife moved to the Methodist Home for the Aged in Orangeburg. He died there on June 5, 1961, and was buried in the Old Quaker Cemetery in Camden. He was survived only by his wife, Elizabeth, who died the following year. Syd Smith was inducted into the South Carolina Athletic Hall of Fame in 1962.
June 28, 2011
Sources
Baseball-Reference.com
"Syd Smith." Retrosheet.org.
Photograph of Syd Smith was supplied by Thad Gregory.
Notes
1 Atlanta Constitution, February 18, 1909: 11.
2 Charleston News and Courier, April 6, 1906: 3.
3 Atlanta Constitution, July 28, 1907: 4
4Atlanta Constitution, April 17, 1908: 14.
5 "Mackmen Steal Signals." Indianapolis Star, April 2, 1911: 53.
6 Thomas K. Perry. Textile League Baseball: South Carolina's Mill Teams, 1880-1955. (Jefferson, NC: McFarland & Company, 1993).
7 "Enthusiastic Member of the Fan Family." Atlanta Constitution, June 14, 1910: 7.
8 Atlanta Constitution, April 13, 1913: 7
9 Bill Smith, "Bill Smith Picks Namesake Sid as the Best All-Round Player Ever in This League." Atlanta Constitution, April 13, 1913: 7.
10 "Sid Smith Playing Fine at Shreveport," Atlanta Constitution, June 22, 1915: 16.
11 Atlanta Constitution, January 3, 1917: 10.
Born
August 31, 1883 at Smithville, SC (USA)
Died
June 5, 1961 at Orangeburg, SC (USA)
If you can help us improve this player's biography, contact us.
http://bioproj.sabr.org/bp_ftp/images5/SmithSyd.jpg
600
800
admin
/wp-content/uploads/2020/02/sabr_logo.png
admin
2012-01-04 20:31:36
2012-01-04 20:31:36
Syd Smith