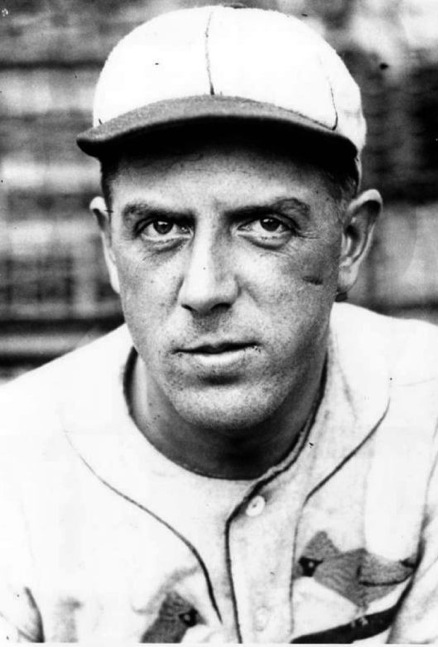 ---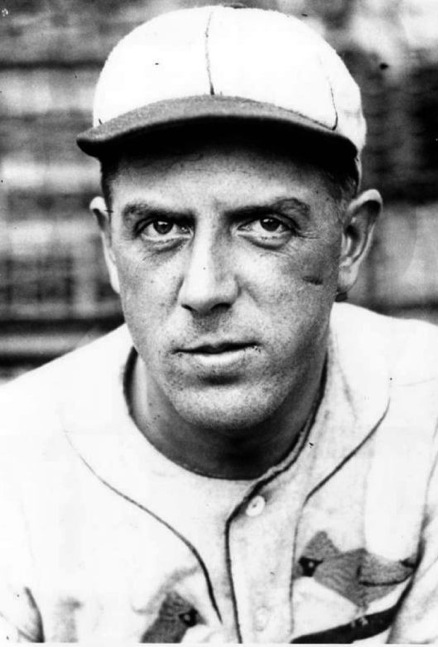 During my career I answered to a Peach, a Doc, and a Street. My age always kept me away from war. Collins put me on the Hall of Fame hill. I collected four World Series rings. I married a babe named Ruth. If Shoeless Joe would have stayed in the game, I might have "seen" things differently. I was a professional football scout for a short while. The Motor City paid $40,000 for my skills and smiles. I was credited as one of the first men to design a pension plan for baseball players yet I never received a plan for myself. I broke the ankle of Rajah. I was born on the last day of the 19th century. Bibb and Pipp left major impressions on me. Over half of my life was devoted to Organized Baseball. Several of my supervisors were named Bill. I hit Cobb with a baseball bat. A man was killed for bragging about my pitching talents. The Great Bambino sent a few of my heaters into orbit. The record books will show that I played for two Tigers and two Beavers. I am noted by many as "the most unlucky pitcher in baseball history."
Sylvester Johnson was born in Portland, Oregon, on Wednesday, December 31, 1900. Not only did his date of birth fall on the last day of the month – it was also the last day of the year and the final day of the century (that is, if you believe that the 20th century began on January 1, 1901). He was born Sylvester Johnson, with no middle name included on his birth certificate. Sylvester was welcomed to the Johnson clan by his parents, Oscar and Caroline, along with two older sisters, Charlotte and Effy. A few years later, Oscar and Caroline added another child, Norman, to the Johnson roster. The two Johnson brothers spent most of their time playing baseball on the Portland sandlots. Before he discovered his pitching talents, Syl preferred handling backstop duties during the bush games. Since the sandlot position did not include any catcher's-mask protection, young Syl had a few unpleasant encounters with screaming baseballs drumming him in the eyes and mouth. During one game he was smacked with a serious dose of destiny. An unforgiving foul tip slammed him in the kisser and the kid was knocked unconscious. When he woke up, poor Sylvester discovered that the ball had smashed four teeth off his gum line and shattered several others. Sylvester decided he would rather play in front of the plate than behind it.
After a few games and lots of practice, Syl had learned to perfect his signature pitch, a side-arm fastball. Many strikeouts followed and the youngster soon became the ace of the local sandlots. When he wasn't throwing pepper, Syl could be found playing his second favorite sport, golf. In the spring of 1918 the teenager decided to test his baseball talents, and caught on with a well-regarded semipro club called the Advanced Junior Artisans. Once the team saw his lightning side-arm at work, Syl became the team's weapon of choice. After he made a few impressive mound appearances, a Portland newspaper, The Oregonian, got wind of "the skinny Johnson kid" and his strikeout record, and began writing about him. Every week Sylvester would clip his name from the papers and set them aside. Before the summer of 1918 had ended, he had created a personal scrapbook. The youngster, known to many as Silent Syl for his quiet demeanor, made plans to let his semipro newspaper scraps do the talking for him. Some believed that he kept his lips sealed because of his absent-toothed jack-o-lantern smirk, thanks to that errant foul tip, but others said, in effect, "He never said much. … That's just how he was." While his name continued to pop up in the sports sections of the Portland papers, Sylvester met a Portland girl named Ruth Heitsman. With a new girlfriend in the bleachers, Sylvester and his AJA teammates clashed with Oregon small-town baseball clubs.
In the spring of 1919 Johnson spent more time on the AJA mound, and the newspaper ink continued to flow. More clippings were collected and each piece was carefully sealed in his scrapbook. In 1920 he felt he had enough on his homemade résumé to earn a tryout with the city's minor-league team, the Portland Beavers of the Pacific Coast League. His bicycle took him to Vaughn Street Park, the stamping grounds of the Beavers. He showed Beavers owner/manager Walter McCredie his scrapbook and got the chance he was hoping for. After pitching in ten games with a record of one win and four losses, Johnson was sent to the Vancouver Beavers of the Class B Pacific Coast International League for some seasoning.
Before Johnson traded his Portland uniform for Vancouver duds, McCredie promised the 19-year-old that if his control matured with the Canadian club, he would have a slot on Portland's 1921 roster. In June, July, and August, Johnson pitched 190 innings for Vancouver, collected 11 wins and 12 losses, and learned to control his wildness, earning his spot with Portland for 1921. For the weak-hitting, last-place Beavers in '21, he pitched 304 innings and posted a 12-26 record. After the season the McCredie family sold the team to a former president of the Seattle Rainiers, William "Billy" Klepper. Before making his permanent exit in November, Judge McCredie told The Sporting News: "I look for Johnson to be one of the best pitchers in the Pacific Coast League next season. Within five years he will be one of the greatest pitchers in the country. Just paste that prediction on the wall and see if I'm not right."
Before the Beavers were sold, Detroit scout Eddie Herr had tried to purchase Johnson and another Portland twirler, Herman Pillette, for the Tigers, but McCredie refused to give them up. After Klepper got the club, he saw things differently. Tigers president Frank Navin met with Klepper in early December and bought Johnson and Pillette for $40,000 in cash and eight players. Not a bad deal for Klepper, who pocketed one-third of his Portland investment and an octet of Motor City players. Sylvester's name made headlines around the country, noted as top billing in the most famous baseball transaction of 1921: "The Johnson-Pillette Deal." Perhaps noticing Johnson's checkerboard smile over his good fortune, Eddie Herr arranged for him to get his teeth repaired at the Tigers' expense.
Sylvester's first order of business with the Tigers involved a barnstorming tour with the Rochester Tribe of the International League. In a game early in the trip, Johnson tossed a side-arm bullet to a Rochester batter who whacked a line drive toward the mound. The ball slammed against Johnson's right wrist, fracturing it. Johnson feared that manager Ty Cobb would send him back to Portland. But Cobb decided to keep Johnson on the team, and on April 24 Syl made his major-league debut, against the St. Louis Browns at Sportsman's Park in St. Louis, stepping to the mound in relief in the fourth inning. He pitched four innings in a losing cause and held the Browns to one unearned run. Cobb used Johnson in relief four more times before giving him his first start, on May 11 against the Boston Red Sox. Johnson was yanked after giving up two runs in the first two innings, but the Tigers came back to win.
Johnson continued to pitch in relief. On June 9, hurling against the Philadelphia Athletics, he received an unfamiliar signal from his catcher, Johnny Bassler, when third baseman Jimmy Dykes stepped to the plate. It was an order, relayed from Cobb in center field, to make a brush-back pitch to Dykes. With Cobb staring over his shoulder, Johnson tossed a high curve hoping that the pitch would push Dykes away from the plate without harm. Instead, the pitch struck Dykes behind the ear and the third baseman fell to the ground. Johnson recalled the traumatic event in a 1978 interview: "Blood was coming out of his nose. That scared the heck out of me!" In July Syl spent more time on the bench after tonsil surgery. Later he was cracked on the elbow while pitching batting practice. On August 6 he pitched against Babe Ruth for the first time and yielded the Sultan of Swat's 182nd career home run. On August 16 he pitched against Ruth again and gave up home run number 184.
Johnson battled bronchitis for part of August. Despite a broken wrist, a sore elbow, and his breathing ailment, he managed to get into 29 games, and recorded seven wins and three losses. From the beginning of September until the end of the season, he made five starts. After he pitched the last game of the season, Johnson hopped a train back home to Portland, and a few days later he and Ruth Heitsman were married.
In 1923 manager Cobb used Johnson frequently. Syl pitched in 37 games, starting 18. He won 12 and lost seven, but ill luck found him again. On September 19 he smacked his first major-league home run. But a few innings later he pulled ligaments in his pitching arm. That was the end of his season. A few days before, Johnson had enjoyed one of the most exciting moments of his career when he started a game against Walter Johnson. Although the Big Train ran over him with a 7-3 victory, Syl took the loss as accomplishment since he had had the chance to face his most idolized competitor. Years later he decided to add the middle initial "W" to his name, in honor of Walter. Syl's eldest daughter said in a 2011 interview, "He wasn't born with a middle name but I remember when I was a little girl he told me that he looked up to a ballplayer named Walter Johnson. When he got older, he started signing his name with the middle initial 'W' and that stood for Walter. Only my mother and us kids knew why he chose the initial 'W,' Walter Johnson is the reason."
Syl pitched two more seasons for the Tigers. In June 1924 he gave up another home run to Babe Ruth. He made nine starts in 1924 but none in 1925, appearing in only six games, none after May 25, when his season ended after the Chicago White Sox' Bibb Falk slammed a line drive that struck him in the left eye. Johnson described the catastrophic injury in a 1978 interview: "We had a big lead going in the ninth inning. Bibb Falk hit a line drive, hit me right there. Fractured eight bones. The ball rolled over to first base, Lu Blue [Detroit's first baseman] picked the ball up. Knocked me down. Just a line drive. A flash. So I got up. Fred Haney was on third base and he come over and Bassler was catching and he got ahold of me. Blood was just pouring out. After that happened they thought I was through."
Falk's liner knocked Johnson back into the minor leagues. After three weeks to recuperate, he was shipped to California to pitch for the Vernon Tigers of the Pacific Coast League. His record suffered as the vision in his left eye adjusted. With his recovery and a scarred cheekbone, Johnson turned in an atrocious 3-17 record for Vernon. But St. Louis Cardinals scout Charlie Barrett was impressed enough by his work to persuade the Cardinals to give the unlucky pitcher a chance in 1926. Johnson's good luck turned sour in May when Cincinnati first baseman Wally Pipp smacked one of his pitches back to the mound and broke a toe. Just as the toe finished healing, teammate Bob O'Farrell hit him with a liner during batting practice and smashed several bones in his hand. Johnson sat at home in Portland while the Cardinals defeated the Yankees in the World Series. Two months after he slipped on his World Series ring, Ruth Johnson gave birth to their first child, Beverly, in Portland.
The Cardinals shipped Johnson to their Syracuse farm team in 1927. With manager Burt Shotton at the helm, he quickly came back into his original form. In June he pitched a no-hitter against Buffalo. At season's end he was 18-13. The Cardinals brought him back to St. Louis in 1928. This time he avoided crippling injuries and made it into the World Series, pitching in relief in Game One as the Redbirds were swept by the Yankees. In the season he was 8-4 with 34 mound appearances. He was back with the Cardinals in 1929 for the fourth of his eight seasons with the team.
At the age of 28, Johnson was noted as a reliable relief pitcher. In 1929 he led the Cardinals' mound staff in pitching appearances: 42, of which 23 were relief appearances. He won 13 games and lost seven, and that season was considered the best of his major-league career. In 1930 he made 24 starts and posted a 12-10 record as the Cardinals won the pennant again. For once the injury bug struck someone else: Johnson and his old boss, Rogers Hornsby, collided at third base, and Hornsby suffered a broken ankle. He pitched twice in relief as the Cardinals fell to the Philadelphia Athletics in the World Series. The Cardinals captured the pennant again in 1931. Johnson spent much of the season as a starter, finishing 11-9. He started Game Four of the World Series against the Athletics, losing, 3-0, and pitched twice in relief as the Cardinals won the Series in seven games.
After their three-year pennant run, St. Louis plunged to a sixth place place tie in 1932 with a 72-82 record. Johnson's performance reflected the team's fall from grace: a pitching record of five wins and 14 losses. In January 1933 the Cardinals attempted to sell his contract to their Columbus farm team in the American Association. The deal was called off after Cincinnati Reds President Sidney Weil noticed that Johnson's name was not included on St. Louis's waiver list. In February the Cardinals informed him to report to spring training in Florida, and Johnson's major-league service was far from over. Cardinals manager Gabby Street assigned him a substantial amount of relief work while Dizzy Dean handled the brunt of the starting duties in 1933. Pitching 84 innings in 35 games, Johnson won three and lost three.
The next season held major changes for Johnson and his Portland family. In January St. Louis sold Johnson and veteran catcher Bob O'Farrell to the Cincinnati Reds. O'Farrell was to be the Reds' player-manager. Shortly after the sale was completed, Johnson got an interesting call from an old friend, Jimmie Wilson, who had caught his side-arm twirls in St. Louis for five years. Wilson had been sold by the Cardinals after the 1933 season, and was now managing the Philadelphia Phillies. "He said I'm gonna take you back to Philadelphia with me," said Johnson in a 1978 interview. "And I said oh, get outta here. Sure enough, series was over, I got called by Cincinnati. You're traded to Philadelphia." He had appeared in just two games with the Reds. Johnson's eldest daughter remembered her family's short Ohio visit in a 2011 interview: "My mother and I stayed in Cincinnati long enough for me to catch the measles and get rid of them. Then Daddy said we're moving to Philadelphia. Whenever I hear about the Cincinnati Reds, I think of the red measles I had for a few days." Wilson put Johnson to work as a relief pitcher. The two shared the Philadelphia clubhouse for the next five years.
After the 1934 season Johnson played in the California Winter League with Joe Pirrone's All-Stars. Johnson was able to throw some pepper to future Hall of Famers Willie Wells, George "Mule" Suttles, Norman "Turkey" Stearnes, and James "Cool Papa" Bell during a game between Pirrone's and Thomas Wilson's Elite Giants. In the summer of 1935 Syl and Ruth welcomed their second child, Sylvester Johnson, Jr. In late August, less than a month after the pitcher handed out cigars to his Philadelphia teammates, a hemorrhaging ulcer put him out of action, and he returned to Oregon, his season over. Johnson reunited with the Phillies in 1936 and pitched almost entirely in relief. Teammates nicknamed him the Fireman as he amassed seven saves. Regardless of Syl's saving grace, the Phillies slipped into the cellar with a frightful 54-100 record. The following season, 1937, barely brightened for the Phillies as the team moved up to seventh. Johnson stayed busy that season as manager Wilson assigned the relief pitcher the additional task of coaching first base. Johnson started to worry about the future since his arm was starting to tire and his age earned him the nickname Old Syl.
That season Johnson began a campaign to create a pension plan for retired baseball players who had played for ten years. The 36-year-old veteran pointed to the major leagues' pension plan for umpires. "Umpires are entitled to a pension after 15 years of service," he pointed out to sportswriters. "Why shouldn't a player receive the same reward? I'd like to see each ten-year man become eligible for a pension of $75 a month, with $5 for each additional year of service. There are not many players with that length of service in the majors." Johnson tried to pitch his idea to Commissioner Kenesaw Mountain Landis and the owners during the winter meetings of 1938, but his proposal fell on deaf ears. (Nine years later, in April 1947, Commissioner Happy Chandler and Yankees boss Larry MacPhail helped create a pension plan for retired players.)
On December 31, 1937, Johnson reached his 37th birthday. For the next three seasons – his last three in the major leagues – he kept busy as a reliever and occasional starter. In 1939 he was invited, along with such luminaries as Babe Ruth, Dizzy Dean, and Mel Ott, to play in the first Hall of Fame Game at Cooperstown. Summoned by manager Eddie Collins to pitch in the fifth inning, Johnson faced his old nemesis, Babe Ruth, who had been retired as a player for four years. He tossed an easy pitch, but the Babe could do no more than lift a popup to the catcher.
During the 1939 season Jimmie Wilson was fired and was succeeded as the Phillies' manager by Doc Prothro. The team finished last for the second year in a row with a 45-106 record. Johnson finished with an 8-8 pitching record in 22 appearances. Back with the team in 1940, Johnson, at 39, was the fourth oldest player in the majors, behind only Charlie Root, Jimmie Wilson (by then a player-coach with Cincinnati), and Gabby Hartnett. In January of that year his third child, Judith, was born. Besides pitching, he took on coaching duties. His season was interrupted in April, when he was stricken with a hemorrhage in the Phillies' clubhouse and was taken to Temple University Hospital. Busy with coaching duties, he pitched in only 17 games, starting two of them. His last major-league mound appearance came on September 14, 1940, against the Chicago Cubs at Shibe Park, and it was a good one: He pitched a complete game as the Phillies defeated the Cubs, 5-3. The victory left Johnson with a record of 112 victories and 117 defeats in his 19 years in the major leagues. He had pitched 2,165 innings in 542 games, struck out 920 batters and walked 488. Released by the Phillies in February 1941, Johnson caught on with the Seattle Rainiers of the Pacific Coast League, closer to his family, which was about to grow by one more. There were rumors that other major-league clubs had their eyes on Johnson, but he had made up his mind to stay closer to his family. In August 1941 Ruth gave birth to their fourth child and second son, David. A few weeks later, Johnson, who had a 13-7 record at the time, broke his elbow in a pepper game, and missed the rest of the season.
In December the Japanese attacked Pearl Harbor and the US entered World War II. Johnson, now 40 years old and with a wife and four children, was not drafted for military service. He continued to pitch for the Rainiers, and in 1944 manager Bill Skiff appointed him a player-coach. (The Rainiers also hired 8-year-old Sylvester Jr. as a batboy.) Johnson took the mound 13 times during the season. In November of that year, baby number five, daughter Sharyn, was born. In 1945 Johnson, now 44 years old, was named assistant manager of the Rainiers and appeared in 23 games, earning himself a 6-3 pitching record. In December Bob Brown, Johnson's manager at Vancouver in 1920, offered him a job as a "co-manager" (along with Ed Carnett and Bill Brenner) of Brown's Vancouver Capilanos in the Class B Western International League.
Johnson was uncomfortable with the three-headed arrangement, and the Capilanos were not very good. In June Johnson got a call from Bill Skiff, who had been dropped by the Rainiers and returned to his old scouting job with the Yankees. At the end of the month Johnson resigned from his Vancouver job. In August he was hired as a Yankees scout. In the offseason he took a job in Portland working part-time for Reynolds Aluminum. He spent seven years scouting for the Yankees on the West Coast. A Brooklyn Dodgers scout, Don Lindeberg, paid tribute to Johnson's determination. Both scouts had their eyes on a young pitcher from Washington state. Lindeberg knew he had lost the competition when he visited the youngster's farm home and learned that Johnson was out plowing the field with the boy's father. Lindeberg told a sportswriter, "I have no doubt that he was the best hired man the boy's father ever had."
In 1949 Johnson spent time searching out football players as well as baseball players. The Yankees had a connection with the New York Yanks of the National Football League, and scouts were instructed to look for potential big leaguers in both sports. Johnson spent time visiting fraternity houses, baseball diamonds, and football fields throughout the Coast.
Early in his scouting years, Johnson had purchased some property in Gresham, Oregon, just east of Portland, with his in-laws and started a berry farm. According to his children, boysenberries were Johnson's most popular produce. When he wasn't picking players, Syl could be found picking berries at home with his family who shared countless hours of fun at the berry farm with him. In 1954 Johnson bade farewell to the Yankees and went to work for the Brooklyn Dodgers, covering the same territory he had with the Yankees. He remained a Dodgers scout until 1961.
As the years progressed, Johnson was invited to several old-timers games to meet with old teammates from the Portland Beavers and the Cardinals. After leaving the Dodgers in 1961, Johnson said goodbye to baseball. He had played for 19 years in the major leagues and ten in the minors, and had spent 15 years as a scout: 44 years devoted to Organized Baseball. Johnson maintained his berry farm and found local work as a foreman with Portland's Lord Brothers Construction Company. In 1976 he attended a 50-year reunion in St. Louis with six other surviving members of the 1926 Cardinals. He was happy to share company with Ray Blades, Bob O' Farrell, George Toporcer, Bill Hallahan, Ernie Vick, and Lester Bell. Two years later, by now 77, he taped an interview with Eugene Murdock, the well-known baseball historian. In 1981 he was elected to the Oregon Sports Hall of Fame.
Just after his 84th birthday, Syl Johnson died in Portland on February 20, 1985. Months before his death he and Ruth had observed their 62nd wedding anniversary. Ruth died in 2001, preceded by their son David W. Johnson in 1995.
Sources
Baseball-Reference.com
Retrosheet.org
Baseball Almanac
Baseball Hall of Fame Museum
Baseball Hall of Fame Library
BaseballLibrary.com
Baseballguru.com
SABR Encyclopedia (SABR Members)
OregonSportsHall.org
Missouri Digital Heritage
Personal interviews by the author via telephone and letters with Sylvester Johnson's children: Beverly Johnson (nine contacts), Sylvester "Junior" Johnson (two contacts), Judith Johnson (two contacts), and Sharyn Johnson (one contact) conducted from March to June 2011
Copy of interview with Sylvester Johnson taped by Eugene Murdock on June 27, 1978, in Portland, Oregon. Accessed from Cleveland Public Library Social Sciences Department
Sylvester Johnson photo (1932): Baseball Hall of Fame Library, Cooperstown, New York
Reisler, Jim. A Great Day in Cooperstown. New York: Carroll & Graf Publishers, 2007
McNeil, William F. Black Baseball Out of Season. Jefferson, North Carolina: McFarland & Company, 2007
Lowenfish, Lee. Branch Rickey: Baseball's Ferocious Gentleman. Lincoln: University of Nebraska Press, 2009
Snyder, John. Cardinals Journal. Cincinnati: Clarisy Press, 2010
Stump, Al. Cobb. Chapel Hill, North Carolina: Algonquin Books, 1994
Stang, Mark. Phillies Photos. Wilmington, Ohio: Orange Frazer Press, 2008
Broeg, Bob, and Jerry Vickery. St. Louis Cardinals Encyclopedia. Indianapolis: Masters Press, 1998
Westcott, Rich, and Frank Bilovsky. The Phillies Encyclopedia. Philadelphia: Temple University Press, 2004
Alexander, Charles C. Ty Cobb. NewYork: Oxford University Press, 1984
The Sporting News (1920-1985)
Brooklyn Daily Eagle (1931)
Detroit Free Press (1922)
The Oregonian, Portland (1918-1985)
New York Post (1939)
Additional assistance provided by:
Brooklyn Public Library
University of Oregon Library, Eugene
Cleveland Public Library
Oregon State University Library, Corvallis, Oregon
Graves-Humes Public Library, Mendota, Illinois
Somonauk Public Library, Somonauk, Illinois
New York Police Department
Baseball Hall of Fame Library and Museum, Cooperstown, New York
Born
December 31, 1900 at Portland, OR (USA)
Died
February 20, 1985 at Portland, OR (USA)
If you can help us improve this player's biography, contact us.
http://bioproj.sabr.org/bp_ftp/images5/JohnsonSyl.jpg
600
800
admin
/wp-content/uploads/2020/02/sabr_logo.png
admin
2012-01-04 20:37:09
2012-01-04 20:37:09
Syl Johnson