Ted Giannoulas (San Diego Chicken)
---
They say the best things come in small packages and this is quite true when analyzing Ted Giannoulas's career as a 5-foot-4 costumed chicken for four decades and counting. Baseball fans in San Diego consider The Chicken as their own but as time passed The Famous Chicken took his act around the world, mesmerizing fans with his sketches and antics, cavorting around ballparks, stadiums, and arenas. He has been a joy to watch by anyone, of any age. He is the very first, and the most famous, professional mascot in sports history to most observers.
Ted has entertained more than 5,000 times at sporting events in over 900 different facilities in all 50 states and 8 countries. Counting all his appearances from all events he has appeared more than 17,000 times around the world. Moreover, he has played to more than 60 million people in live audiences, which ranks up there with best entertainment ever.1
His parents, John, a restaurateur, and Helen, a seamstress, emigrated from Greece to Canada in the early 1950s with just $17 to their name. They settled in London, Ontario, where Ted was born on August 17, 1953, and two sisters followed. His father traveled to San Diego in 1965 and 1966 to visit Ted's godparents, who were the first to leave the harsh winters of Canada. He returned raving about the climate —very similar to that of his homeland. 
The family applied for residency and their application was accepted in 1969. They left Canada in the family station wagon during the Woodstock Music Festival. Ted remembered vividly that trek while he was 16 years old. "I enjoyed all the stops along the way, and was especially fascinated by all the big-league stadiums we passed en route."2 His dad was not a sports fan of any kind but Ted kept up on baseball by reading copies of The Sporting News from cover to cover.
The family settled into a neighborhood that enrolled Ted at Herbert Hoover High School, the same high school that Ted Williams attended. "It was a thrill to learn that Ted Williams walked the same halls as I did," Giannoulas said. "They also had a large picture of him at the end of one of the halls."
When Ted was at Hoover High, there was an open tryout for the school mascot and a lot of his friends wanted him to try out. "I thought I was too hip to be doing anything like that," said Ted. "They really thought I was that stupid to do anything that goofy."
Ted took journalism classes at Hoover hoping one day to be a sportswriter. He immediately began winning California state awards for high-school journalism. He was soon named editor of the school paper. "I actually declined becoming editor-in-chief because I just wanted to focus on sports," Ted said.
His favorite memories in high school included taking drama classes at which his teacher encouraged him to be expressively creative in his body language while on stage. Although he never committed himself to being in any of the school's major stage productions, his teacher strongly suggested he might have a career as an actor. Prophetic advice seen in hindsight.
A straight-A student at Hoover, Ted took his education to another level at nearby San Diego State University, majoring in journalism. He graduated with honors in 1976. For somewhat political reasons, he never worked for the student-run Daily Aztec. "It was clearly a case of who you knew to get any plum assignments like covering Aztec sports," he lamented. "But I have no sour grapes about it because it merely created other fateful opportunities as a result."
On the day before spring break in March 1974, the campus was deserted of students who had taken off early. "I decided to hang out for a few minutes at the small, student-run radio station, KCR," said Ted, "to shoot the breeze with anyone still left that were hanging out."
"There were four other kids casually lounging about as I joined them, settling in toward the back corner of the cramped lobby area. Within minutes, a representative from KGB radio appeared at the doorway to address us. He himself was an alum of KCR a few years back. He was in search of quick intern help on a short promotion the station was planning."
"All five of us volunteered on the spot, no questions asked —anything to get a foot in the door of an honest-to-goodness real rock 'n' roll station! He immediately cautioned that KGB was only willing to pay two dollars an hour. No problem, we all said! Then he cautioned that this wasn't going to be a conventional assignment. Again —no problem, we all repeated. We'll clean bathrooms, empty trash or shine records!"
"When the rep mentioned next that one of us would have to wear a chicken suit at the [San Diego] Zoo as a promotional stunt, there was a brief pause in our enthusiasm … but then —no problem, we restated with all our hands raised. … Bring it on!
"The rep was taken aback, I think, by our continued spirit for the job as he still stood in the doorway. He glanced about the room quickly, looking for a polite reason for one of us to be selected before having to disappoint the other four.
"When he saw me towards the back corner, he immediately had his answer, "You … the short guy. You'll fit the chicken suit the best of all!"
"This hiring episode took two minutes —no audition, no job application to fill, and no interview to process. He said, 'You start tomorrow.' And it began."
After Ted's 10-day stint at the San Diego Zoo ended, he mentioned to station management that it might be a good publicity idea to send him to the Padres Opening Night. "Personally, I was just hoping to get in free anyway!" he said.
They agreed and when the press expressed how quirky it was to see a "red, ragtag chicken" at the game, KGB's brass were thrilled by the attention. "They kept me on as a result and allowed me to continue attending Padres games."
That one-week gig turned into a five-year run with the radio station. It was not unusual for The Chicken to appear at six or eight events a day. At the ballpark he would traipse up and down the aisles handing out "eggs" to the fans. Eventually he found his way onto the field, where his dancing and casting a spell on the visiting team thrilled the fans. Attendance nearly doubled his first year. At one point, The Chicken appeared at 520 consecutive Padres home games.3 His knew that he had made it as a guy dressed in a chicken suit when he was asked to appear at the All-Star Game in San Diego in 1978.
Before The Chicken came on the scene the only music one heard at the ballpark was organ music. Ted changed all that by introducing popular prerecorded music at games.4 "Stadium Rock" has its roots from his act in the 1970s. Ted was also the first to use a game's time-out breaks, including between innings, to perform his comedy gags on the field. The audiences were thrilled. No more boring interludes.
His escapades on the field included all baseball personnel —the players, the umpires, the grounds crew. They all became tools in his act.
"The umpires have been the most overlooked and under-appreciated part of the game," Ted said. "Yet, through the magic of humor, I engaged them in comedic bits on the field."
One night in San Diego before a game, umpires Joe West and Frank Pulli suggested to Ted a gag in which they would turn their backs standing in tandem outside the infield. Ted would then beeline his three-wheeler at them from across the diamond. Within feet of them he would yell a signal and they would split apart at the last second. As he buzzed right through them, the crowd shrieked with laughter. "Little did they know that the whole sketch was designed by the umpires themselves," smirked Ted.
Employing an eye chart for the umpires has always been one of his best pranks.
In 1977 the KGB Chicken almost caused an international incident. The San Diego Mariners hockey club scheduled an exhibition game with the champion Russian hockey team in San Diego. They were not amused about a red chicken sporting the letters KGB mocking their goalie behind the glass and hexing all their skaters and even mooning them.
But when it was time to begin the game, the Russians refused to come out of their dressing room. They sent word that they would only take the ice when "that fowl" was removed from the premises. They had had enough of that insulting Chicken, who they believed was hired for the evening to ridicule them with his "KGB" logo on his vest.
The game was delayed 20 minutes. A sudden meeting under the grandstands to straighten things out was convened among the coaches, ambassadors, executives, and interpreters. The Russians came to finally understand that it would make bigger news if The Chicken was evicted from the arena and that his KGB insignia had nothing to do with their spy agency. Grudgingly, they relented and The Chicken was allowed to stay. Flustered as they were, the Russians fell behind early in the game before coming back to win it handily.
"I had no idea at the time I was the focus of their ire!," said Ted.
As the years progressed and the KGB Chicken's popularity increased, he was often spotted at other sporting events: NHL games, NBA games, concerts, and conventions. Ted's growing career ambitions increased faster than the radio station's management policies.
As feathers were ruffled in the media regarding the spiff between Ted and KGB, the radio station abruptly fired him in May 1979. It tried to stop him from going out on his own. But Ted decided to contest the lawsuit accusing him of appropriating the station's "intellectual property." He said, "How can you sue a guy for intellectual property wearing a chicken suit?"
"I designed my own new caricature which I still wear to this day," Ted said, "and I had my mom, a professional seamstress, sew it together. I then approached the San Diego Padres about appearing in their games for a fee. They were all for it!"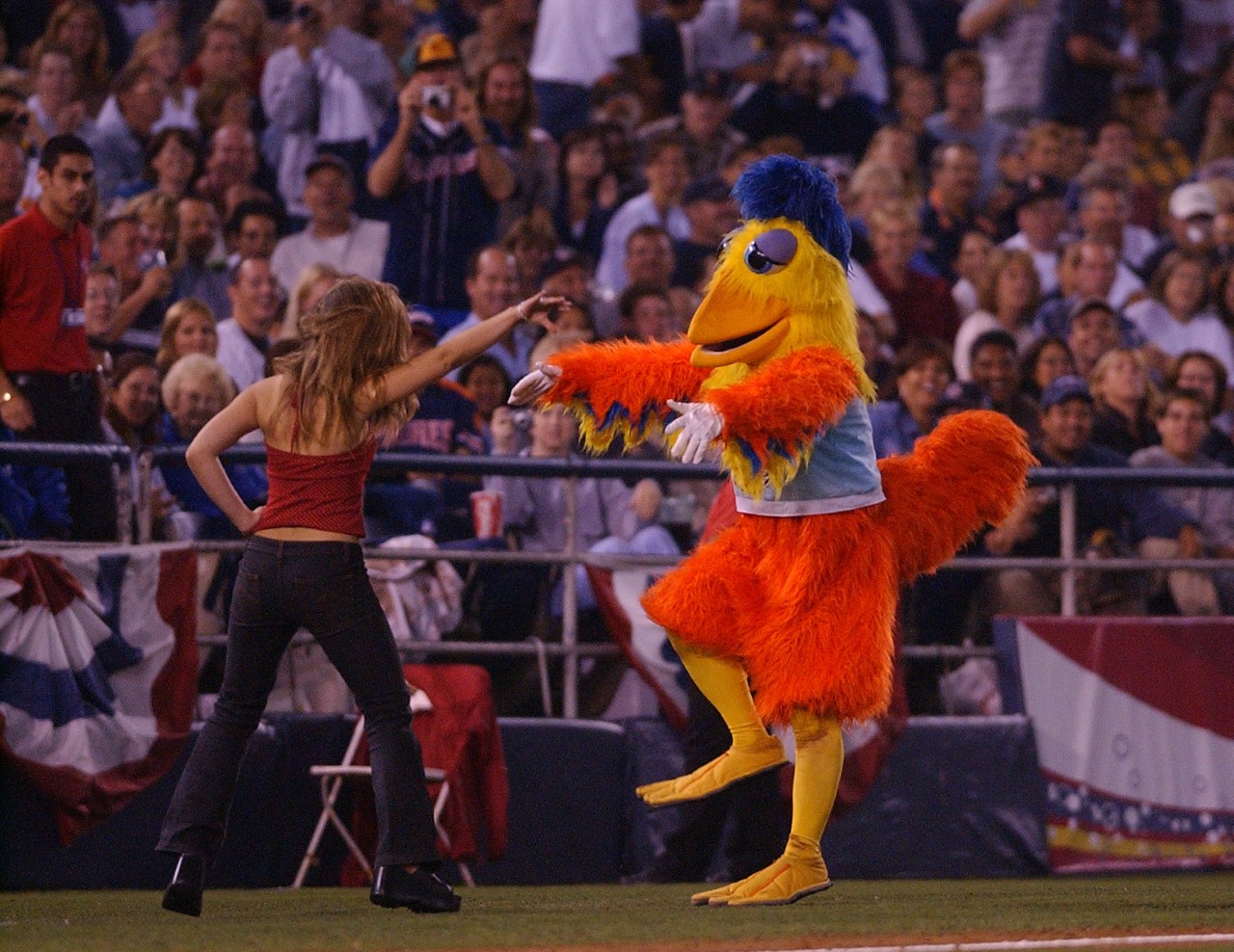 But for his return debut night, on June 29, 1979, Ted requested an attendance-based bonus if the event drew more than the Padres' average crowd of 18,000. The front office essentially laughed off such a notion and agreed to an arrangement in order to humor Ted, he thought. Ted would be paid $1.50 per person above the average crowd.
Meanwhile, through media interviews Ted heavily promoted his return night as "The Grand Hatching," and had a professionally constructed eight-foot Styrofoam egg built that he would break out of during a pregame ceremony on the field to introduce his new coat of feathers. The public was excited.
That evening, more than 41,000 fans sold out Jack Murphy Stadium to witness the spectacle. It featured a parade of the egg —with Ted inside it —atop an armored truck onto the field, led by a California Highway Patrol escort. The entire Padres team helped to lower the egg from the truck and onto the field. Then, as the soundtrack to 2001: A Space Odyssey played, the new Famous Chicken burst out of the shell to a 10-minute standing ovation. Baseball historians have said this was one of the greatest public-relations spectacles in the game's history.
"The next day, the Padres cut me a check for more than $43,000 —more than eight times what the highest major-league player (Rod Carew) was paid per game," Ted said. "The entire amount was gobbled up by attorney fees as I defended myself from KGB's litigation. Still, the fans' turnout that night saved my bacon to continue onward in my career." He was now a free bird.
Over the next couple of decades The Famous Chicken became popular all over the world. Three US presidents —Gerald Ford, Ronald Reagan, and George W. Bush —requested his presence at their events. He co-starred with Johnny Bench and Pete Rose on the Emmy-winning children's show The Baseball Bunch for five seasons. The Sporting News named him one of the 100 most powerful people in sports for the twentieth century. The New York Times has characterized him as "perhaps the most influential sports mascot in history."5
In 2011 Giannoulas was inducted into the Baseball Reliquary Shrine of the Eternals.6
His feathered chicken suit was sent for display in the National Baseball Hall of Fame in Cooperstown, New York. "I'm thrilled that my costume is now enshrined," Ted said, "The Hall of Fame is about stats, not lore. My Hall of Fame is getting thousands of people to laugh whenever I perform. Having said that, Cooperstown has a players wing and a broadcasters wing. Maybe one day they'll have a chicken wing!"
Those wings are getting tired after flying more than two million miles over four decades. Ted's appearances have dwindled from approximately 260 a year to about 40 in 2018. He has never missed a scheduled appearance and there has never been a replacement for him either.
There was the possibility of keeping his "legacy" continuing if he sold The Famous Chicken rights to a ballclub. But Ted said in 2019 that he was unsure if having someone else wear the costume was the right way to go. "I'm going to keep going until it isn't fun anymore, he said. "It's not the end, but I can see it from here."
Notes
1 Chris Jenkins, "The San Diego Chicken's Still Kickin'," San Diego Union Tribune, June 24, 2015. sandiegouniontribune.com/sports/padres/sdut-giannoulas-chicken-famous-padres-2015jun24-story.html.
2 Author interview with Ted Giannoulas on January 3, 2019. All quotations otherwise unattributed come from this interview.
3  Pete Croatto, "The San Diego Chicken Heads Into a Sunset," New York Times, August 27, 2016. nytimes.com/2016/08/27/sports/baseball/ted-giannoulas-san-diego-chicken.html. 
4 Unknown author, "The Famous SD Chicken," 2016. famouschicken.com/biography.html. 
5 Pete Croatto.
6 "Shrine of the Eternals," Baseball Reliquary. https://baseballreliquary.org/awards/shrine-of-the-eternals/shrine-of-the-eternals-alphabetical-list-of-electees/.
Born
August 17, 1953 at London, ON (CA)
If you can help us improve this player's biography, contact us.
https://sabr.org/wp-content/uploads/2018/04/GiannoulasTed.jpg
600
473
admin
/wp-content/uploads/2020/02/sabr_logo.png
admin
2018-04-08 07:47:56
2020-10-01 14:31:25
Ted Giannoulas (San Diego Chicken)