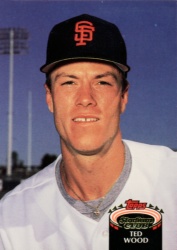 ---
A collegiate star at the University of New Orleans, outfielder Ted Wood also stood out for Team USA in international competition in the late 1980s. The first-round draft pick never got an extended trial in the majors, as he appeared in just 47 games from 1991 to 1993. He continued to chase the dream longer and farther than most ballplayers, though. After playing at Triple-A through 1995, Ted spent a summer in Mexico and — seeking the best available salary — three in Taiwan. He then gave it one last shot in Korea before coming home full-time to his family.
Edward Robert Wood Jr. was born on January 4, 1967, in Mansfield, Ohio. He was the second of Edward R. Wood Sr. (Ed) and Carol Grove Wood's three children. Older sister Tina arrived two years before; another girl, Tricia, came along about 18 or 19 months after Ted. Ed Wood, who was born in Toronto, only played a little fast-pitch softball growing up. He went to Ashland College (now Ashland University) in Ohio, located between Cleveland and Columbus. Ed played baseball there, and had at least some talent, but thinks the athletic genes came from Carol's side of the family too.
Ed stayed on in Ohio after school, and the Woods raised their family in the town of Chagrin Falls. Ed was a science teacher at Orange High School in yet another affluent Cleveland suburb, Pepper Pike. He was also the baseball coach, and so realized that his son had truly special talent "probably around fifth or sixth grade. Ted would come over after school and I could see he was better than some of the guys on the varsity. My wife Carol deserves some credit — while I was teaching, she'd be out throwing a ball with him. It got to where she had to use a garbage can to catch so she wouldn't hurt her hand."
"Ted always played with the kids my age," says Tina. "It's one of the reasons he excelled."
Young Wood was sometimes called "Wilbur" in jest, after the White Sox knuckleballer. But as one would expect, he was an Indians fan, in the era of André Thornton, Rick Waits, and "Super Joe" Charboneau. Ted remembers the local radio hit, "Go Joe Charboneau", from the summer of 1980. "I used to go to old Municipal Stadium about five times a year," he also recalls. "I would have gone more, except my dad used to turn down a lot of tickets. He'd be busy, or he'd say there was too much traffic, or something. So after that, for a long time, whenever I was offered tickets, I'd always take 'em!"
Wood played high school ball under his father. He also went out for football, sustaining a badly broken arm during his freshman year, and basketball. "What made me mad there was that I was going to play on the junior varsity basketball team as a freshman, which just wasn't done. But after the arm injury, they didn't want me playing JV because there was more contact."
Ted was a respectable hoopster, making second team all-league as a junior and the first team as a senior. His coach, Bob Krainz, stays in contact with Wood even today. Says Krainz, "Basketball was not his true love, although he enjoyed it. I knew that Ted was not going to be a Division I player. I told him he could throw in the gym before and after basketball practice. But years later, he said, 'Coach, you should have told me to concentrate on basketball!' We're talking about a special kid. He would go out of his way to help people. He was also, in a very academic school, one of the best in the math department. He would like to have been a doctor, an orthopedist."
A four-year letterman in baseball from 1982 through 1985, Wood was Orange's leading hitter his last three seasons and the team MVP the last two. He peaked as a senior, setting school records for hits (51), batting average (.638), on-base percentage (.738), homers (11), and RBIs (49). He repeated as a member of the Cleveland Plain Dealer Dream Team, also earning All-Cuyahoga County and All-Ohio honors.
Wood was not drafted out of high school. He observes that major-league scouts did not find Cleveland a fertile area for prospects, even though there was Connie Mack ball in the summers too. Ted played with two local squads: Go Bandos (1982-83) and Millrose (1983-84). In 1984 and 1985, he also participated in the All American Amateur Baseball Association (AAABA) tournament in Johnstown, Pennsylvania.
Ed Wood notes, "A lot of credit for Ted's development has to go to the Connie Mack program. We only got to play about 20-25 times a year with Orange — it was so cold in Cleveland. Go Bandos was sponsored by Chris Bando. [The Cleveland native, younger brother of Sal, was then playing third base for his hometown Indians.] The coach was a man named Rich Viskovic, a math teacher at Arizona State. He was extremely strict; Ted learned focus and fundamentals. The Millrose coach, Chuck Rozanski, also helped him have a good time playing."
A higher profile came when Wood was named to the North roster that played at the National Baseball Festival in Baton Rouge, Louisiana in the summer of 1985. John Smoltz (Michigan) was the most notable future major-leaguer on that team, but others included Dave Silvestri (Missouri) and Brian Traxler (Illinois). Wood went on to play college ball with "Trax" and become his lifelong friend. "We both had two sisters," says Ted today. "He was the brother I never had."
Previously that summer, Ted had also signed a letter of intent to play at the University of New Orleans (UNO). Although Bowling Green, Indiana University, and some other schools up north were pursuing him, Wood wanted to be down south so he could play every day. His father recalls, "As a senior, Ted and I traveled to Mississippi State [where future Giants teammate Will Clark was then starring]. Coach Ron Polk said, 'We could have you, but we probably couldn't offer you a scholarship or much playing time.'"
So the best option turned out to be UNO, which had a new coach, former Cardinals bonus baby Tom Schwaner. "When I went to recruit Ted in high school," Schwaner recalls, "he hit a popup that the shortstop called for, backing up into left field, and it fell. Ted ended up at third base. That was all I needed to see. I could tell he was a thoroughbred.
"I was looking for some speed at the top of my lineup. And having a lefthanded batter leading off was good too. He had the speed, and the good eye-hand coordination — but he had some power to go with it too. When Skip Bertman went to LSU as the coach, he introduced some gimmicks, like a home run derby before games. We had Ted, Trax, and another boy named Keith Schmitt. Well, they defeated LSU, led by Albert Belle."
"'Schwan' wanted to redshirt me as a freshman," says Wood. "But he couldn't get me out of the lineup! I was the leadoff man most of the time. Sometimes I'd hit third. I'd work the count, and though I didn't steal a whole lot of bases, I could run [Ted also ran cross country for two years at Orange]. And I was always a gap hitter. I'd take the ball the other way if that's where the pitch was."
Ted's mental approach to the game was and is what he calls "Winning Baseball." It's something all his coaches instilled in him over time. The team comes ahead of the individual. For example, "you may get a pitch in the second or third inning you can pull for a homer, but if the situation isn't right and you can set the pitcher up for a more important spot later in the game, you don't go for the fences just so you can add to your totals."
Schwaner states, "As far as a college coach was concerned, Ted was the consummate player: ability, but also attitude, desire, work ethic, confidence. And self-discipline — 15% of the kids who came into this town, I was going to lose because they couldn't handle New Orleans. Ted was a great student and leader."
Wood and Brian Traxler were roommates for a time, a sort of collegiate Odd Couple. Says Schwaner, "Ted wasn't the character, the caricature that Trax was. He was neat and clean, not the kind of guy that fans pick out for their ragging. But they were inseparable." The reason was their deep attachment to the game. "They spent hours and hours and hours of batting practice together."
"When we were on the road," he adds, "I'd get calls from the hotel manager — noise complaints from other guests. Brian and Ted would take those plastic golf balls, the kind with little holes in them, wrap them in tape, and take batting practice in the halls!" Wood responds, "It was just what we did. We never thought of it as weird, just chasing our dream."
"They used up all of Schwan's tape making little tape balls to play in the gym when it was raining," says Brian's mother, Ruthie Traxler. "They broke out all the gym windows!"
"We'd use each other as scapegoats, getting the other guys to relax," Wood remarks. "We also spent a lot of time together exchanging philosophies on hitting. I being the long skinny kid that could run, I could beat the ball into the ground for hits. He couldn't do that. I used him as a source for hitting — we were both able to do that. We'd go back and forth for hours. Throughout our careers, we'd call each other at 12:30 at night."
About Schwaner, Ted emphasizes, "Understand that Trax and I were 'his' first players during his first season as head coach. We had tremendous success together. All three of us grew together. We learned together… and occasionally we failed together." While the Privateers went 29-30 in 1986, it was a standout year for Wood individually. He batted .368 to lead the squad and was named Louisiana Freshman of the Year, as well as an All-American Freshman.
Then, Ted observes, "[Future big-league pitcher Joe] Slusarski showed up in our sophomore year and we had a complete package." Indeed, UNO jumped to 42-17 in 1987, followed by a 2-2 showing in the NCAA South II Regional tournament at Privateer Park. The American Baseball Coaches Association named Wood — who hit .409 with 17 homers — a Division I All-American. He set UNO single-season records for hits (104) and runs (91).
The Pan Am Games were held in Indianapolis in August 1987. The baseball tournament was loaded with future major-leaguers from various nations. Wood and Joe Slusarski took silver with Team USA, which was seasoning many sophomores ahead of the next year's Olympics. But the winners — for the fifth straight time in their unbroken 36-year run — were the Cubans. The U.S. squad had a good chance at gold, especially after Ty Griffin helped them upset Cuba 6-4 in the preliminary round. Homers by Ted (who hit .267 with 8 RBIs in the series) and Scott Servais in the 11th inning led the Americans to a 4-0 win over Puerto Rico. But Cuba got to arm-weary Cris Carpenter for five runs late in the final game.
In 1988, the Privateers had another fine season, going 42-21. For the third year in a row, Ted led the team in batting average (.357). He had 14 homers and 55 RBIs in 64 games, also scoring 83 runs and adding 22 stolen bases. He was named conference co-MVP with Slusarski and was also a Sporting News First Team All-American. However, in the NCAA Central Regional, UNO got knocked out in the first round. After losing to Texas, they dropped a tough 6-4 game to Michigan and one-handed pitcher Jim Abbott.
That June, the San Francisco Giants used a "sandwich" first-round pick in the amateur draft to select Wood. Unable to resist the lure of the pro game, he decided to leave UNO after his junior year, giving up his pre-med studies. He established the school's career record batting average of .380.
"Baseball totally dominated his mind," says Tom Schwaner. "The kids who really have a chance, I tell them they can come back to school later. You only get one opportunity like that."
In the summer of '88, Team USA and Cuba renewed their rivalry at several meets, notably in late August and early September at the World Amateur Championship in Parma, Italy. Author Roberto González Echevarría described the action. "It was already known that Cuba would not play in the Olympics, so all other tournaments acquired special interest.
"Cuba, which finished undefeated, beat the Americans twice by rallying in the ninth inning both times. In the championship game [Jim] Abbott held the Cubans to three hits for eight innings and was winning, 3-1. But after a disputed tag play at first, Lourdes Gourriel hit a homer to tie the game. Another controversial tag play ensued, and Lázaro Vargas blooped one off [Andy] Benes over a drawn-in infield for the Cuban victory." [1]
Ted remembers the first tag play vividly. "One of the Cubans [RF Luis Casanova, who had grounded to Robin Ventura, who threw wide] ran right through Tino Martinez's arm and the ball came loose. That led to the rally. But that was a quality team. At least 10 guys were major-league caliber, especially the whole infield and the center fielder." At third was Omar Linares — Cuba's finest player of the '80s and '90s, and in the eyes of many, then the best in the world, period. Antonio Pacheco, the tournament's top hitter and defender, was at second, with flashy Víctor Mesa in center. Gourriel (OF-1B) is now a manager in Cuba; his son Yulieski is the best young Cuban star today. Orestes Kindelán (C-1B) and Germán Mesa (SS) were other Cuban standouts of the era.

Then came the Olympics in Seoul, South Korea. Despite the absence of the boycotting Cubans, it was a spirited competition. Canada beat Team USA 8-7 in the second game of the round robin. But the Americans then defeated host Korea, Puerto Rico, and Japan to win the gold medal. (However, baseball was a demonstration sport then, so the medals were not part of "official" totals.) Wood, who went 9 for 19 (.474) with 8 RBIs, set the record for the highest batting average for the USA in Olympic competition, edging Tino Martinez (.471).
Ted followed up his Olympic exploits with his first taste of pro ball. In a nine-game fling in the Arizona instructional league, he hit .419 in 31 at-bats. The next spring, in 1989, he started his minor-league career at Double-A with the Shreveport Captains of the Texas League. He didn't show much sock, posting .258-0-43 numbers. So that winter, the lanky outfielder (6'2″, 170 pounds) entered the workout program of famed trainer Mackie Shilstone, who helped build up many champion boxers, Evander Holyfield among them.
"Mackie was right there in New Orleans, where I was living. A lot of his exercises are good for the core, they can help you generate power. But over the long run, they can hurt your back."
When asked about the prevalence of steroids and the temptation to juice, Wood replies, "I saw guys around me who I knew did it. You could see the changes in body shape. I never did, though. I was worried about health issues. But more than that — it was just impure." Even though Ted saw players whom he knew to be less skilled surge past him to the majors, it didn't sway him.
Two days after his 23rd birthday, on January 6, 1990, Ted got married to Olga Jackson, whom he had met during their freshman year at UNO. The introduction came thanks to his buddy Brian Traxler. "Trax saw this cheerleader in class," Wood recalls. "He said, 'Hey, you're pretty cute. I know I'm a fat-ass and I have no shot with you, but you should meet my roommate.'"
Olga had her doubts. Before she got to know the endearing Trax, he made an initial impression like "Bluto" in Animal House. "He was sliding his paper under my arm, he wanted me to look. I thought, 'What a freak!' And Ted wore these bright orange sweatpants from his high school. I thought, 'Are all Northern boys this way?' But I'm very conservative. I was not involved in partying. And that's why Ted and I are so compatible. He didn't even drink beer until years later in Mexico because he was afraid of the water there. He was afraid he'd be one step off and disappoint people.
"I don't really like baseball, never really did. I just tried to explore outside of it. I needed to detach myself. So many wives in the game need their husbands because they're ballplayers. When you get to the majors, it's all about Chanel purses and bigger rocks. For me the biggest turnoff was being a ballplayer. But they grow on you after a while!"
Back with the Captains in 1990, Ted showed that his work with Shilstone paid off. He hit 17 homers and drove in 72, though his average remained low for him at .265. The performance was still strong enough for the Giants to promote him to Triple-A in 1991. With the Phoenix Firebirds of the Pacific Coast League, Wood posted his finest season as a pro: .311-11-109. His RBI total led the PCL. "I was going back and forth with Eric Karros, and finally I won."
Yet despite this very promising year, San Francisco initially told Ted that they did not plan to call him up when the rosters expanded that September. "So I went down to Tijuana to visit with my wife's family [Olga's mother is Mexican]. I had shut it down mentally. And then they called me up after all! I had to go, how could you not? But I just wasn't ready."
In his debut against Pittsburgh's Roger Mason on September 4, Ted struck out. He got the chance to start in seven games out of 11 appearances that month, but went just 3 for 25, striking out 11 times.
After a third straight winter in Mackie Shilstone's program, Wood returned to Phoenix in 1992 and again put up very good gap-hitting numbers (7-63-.304). Once more he was leading the club in RBIs when the Giants recalled him in early August after Kevin Bass was traded to the Mets. He played in 24 games, just over half his big-league total, and remained with the team through the season's end. However, he missed nearly a month after getting hit by a pitch on August 26.
The highlight was his one home run in the majors, off San Diego's Tim Scott at Jack Murphy Stadium on September 21. The pinch-hit solo blow in the 9th inning was the Giants' final run in an easy 7-1 win. Almost 15 years later, Ted can recall the details instantly.
"I knew Tim Scott from Triple-A, and he used to own me. But over time I got a better idea of what to do with him. He ran a 3-1 count on me, and then he left one out over the plate, and I got my arms out. It went way back, near the back wall that they had in the bullpen there.
"A couple of weeks before, the team had suggested I should go home. I had a broken fingertip, Eric Hillman ran a ball in on me. But I said to Roger Craig, 'You don't think I can learn anything, staying here for the rest of the season, even on the bench?'"
After that season, Olga Wood notes that there was talk of joining the Colorado Rockies via the expansion draft. But the Giants protected Ted, who then fell victim to the numbers game in spring training 1993. While San Francisco had been featuring some journeymen corner outfielders such as Mike Felder, Willie McGee was still performing well — and that winter the club had signed Barry Bonds.
"Wood had virtually no chance of making the club, and the Giants tried to pass him through waivers even though he had one option left. The Giants intensified their pursuit for starting pitching help last week. Wood was on the 40-man roster, so his spot could be taken by a non-roster player should the Giants fail to trade for a pitcher." [2]
The Montreal Expos claimed Ted on March 23. Bob Krainz says that Kevin Kennedy urged Felipe Alou to grab him. However, Olga says she heard a story that this was payback for a similar move the Giants once made when Montreal wanted to get a player through waivers. This has not been possible to verify through transaction records, but one does question why a team with such a loaded young outfield — Moisés Alou, Marquis Grissom, and Larry Walker — wanted another 26-year-old.
Wood appeared in 13 games during April, going 5 for 26 (.192) with no homers and 3 RBIs. Then on April 24, Montreal activated John Wetteland from the 15-day disabled list and optioned Ted to the Ottawa Lynx of the International League. He never reappeared in the majors; his final career stats were 1-7-.183 (20 for 109).
In its Scouting Report book for 1992, STATS, Inc. stated that "Wood has good speed, a strong arm and good range… plenty of gap power… a great batting eye… a lot of major league skills." [3] The 1993 volume noted these positives again, but pointed toward perhaps the main thing that kept Ted from a longer big-league career. "He strikes out an awful lot for someone who … is more of a line drive hitter." [4]
"It is one of those mysteries to me why he didn't stick," Tom Schwaner muses. "He just couldn't get that spark he needed."
"I just never got comfortable," says Wood in retrospect. "And I wasn't one of Dusty [Baker]'s boys."
At Triple A, Ted suffered through a disappointing .255-1-21 campaign. "I got into a terrible slump at the beginning. I went 0-for-30 or so. And it was really hard to battle back from that." That winter, however, Wood enjoyed a professional highlight with the Navojoa Mayos of the Mexican Pacific League (Spanish acronym LMP). In 217 at-bats over 64 games, he went .309-7-25, winning the league's batting title. That was the lowest mark ever to win a crown in the LMP — but it was just enough to keep Nelson Simmons of Los Mochis, who batted .308, from winning a Triple Crown.
Navajoa was not one of the luxury spots in the baseball world. "Dirt roads… blink and you miss it," says Olga. "It could be very dangerous too. Buses were held up because there were a lot of workers with cash." But she adds, "We got robbed a lot in Phoenix too. Ted lost his Olympic ring and his Double-A champion ring [from 1990]. We lost our wedding bands. One time Gil Heredia got tied up with a phone cord!"
Olga also notes the camaraderie among the Mayos. "We'd be grilling outside on rocks, feeding stray dogs — Joey Eischen had them as pets." Ted also made a good friend in manager Jim Tracy, the former Cubs infielder who went on to lead the Dodgers and Pirates. Olga, who also helped Tracy's wife Deb adjust to life in Mexico, remembers, "What a sight, the manager wearing a stuffed bra saying 'Happy Birthday Ted'!"
Tracy and Wood remain close today, but the manager recalls that "it was very cold at first — guarded. Teddy, he's one of those guys who's going to wait to figure you out, see you show him what you have to offer him as a player. He was always looking for information, but he would filter it. If it didn't apply to him as a player and especially as a hitter, he'd let it go in one ear and out the other. One day I told him he wasn't using his lower half, gave him a couple of things to think about, and then I just walked away.
"He tried it and had some success. All of a sudden, I found him coming around more and more. He gained a tremendous amount of trust in me, and likewise. It ended up evolving into one of the more special relationships I've ever had with a player."
Back with the Lynx in 1994, Wood rebounded to hit 13 homers, drive in 59 runners, and hit .279. Ottawa's new skipper was Jim Tracy, who called Ted "the liaison to older players, like Tim Laker — he helped me build trust. He was the leader of that club, like he was in Navojoa. He was a very fundamentally sound player who knew his capabilities and stayed within them. But he brought a lot more, a lot of little intangible things. He called a spade a spade. He was the glue for a team to succeed collectively. If I had a wall full of pictures, guys to have if you're building a team, to surround yourself with this kind of player, he'd be right there."
The Expos might have won the World Series had the crippling strike not aborted the season. But aside from the strike, Ted still faced a logjam in the Montreal outfield. The primary backup was an even better runner, Lou Frazier. Jim Tracy feels that Wood suffered after he didn't get off on the right foot in 1993. "It was a really bad start from a non-marquee player, and then it was all about timing, the fit."
In the winter of 1994-95, Wood returned to Navojoa, putting up similar numbers: .294-6-31 (201 at-bats in 55 games). The Hermosillo Naranjeros then added Ted to their roster as a playoff reinforcement. Hermosillo captured the Pacific League title and represented Mexico in the 1995 Caribbean World Series. The Naranjeros dropped five straight games, extending Mexico's overall losing streak in the Series to 11. In the final game that year, though, Wood's three-run homer helped snap the skid, sparking a 13-2 win over Venezuela.
Ted returned to Ottawa for a third year in 1995, recording moderate stats (.267-8-49). "The Expos actually did call me up once more. It was just before the David Segui trade [with the Mets on June 8]. I was insurance in case it fell through. But the deal went down, and so did I, before I even played another game."
The winter of 1995-96 was Wood's third in the LMP, but he joined the team in Ciudad Obregón, just a little northwest of Navojoa in the state of Sonora. With the Yaquis, he went .278-2-18, amassing 162 at-bats in 44 games. "In Mexico, the key was for the family to be together," says Olga. "Ted did not believe in home schooling. People thought we were crazy when we sent the girls to the local school. But they learned perfect Spanish. We'd be eating Domino's pizza in a hotel room at Christmas. But we knew it wouldn't last forever."
Wood stayed south of the border for the 1996 summer season. With the Aguascalientes Rieleros in central Mexico, Ted enjoyed a solid season (.299-13-55). The club was affiliated with the Boston Red Sox, which used the Rieleros to monitor players who might prove useful. Boston never called, though, and Wood never got an offer from a team in Japan either. While he could have hung on in Triple A, he weighed the diminishing chances of a return to the majors along with the likely salary there (the minimum $109,000). There was a better-paying alternative: Taiwan.
In late 1996, in retaliation for the loss of television rights, media executive Chiu Fu-Sheng formed the Taiwan Major League (TML) as a rival to the Chinese Professional Baseball League (CPBL). The TML drove up salaries and helped attract international players. One of those was Wood, who joined the CPBL's Brother Elephants, Taiwan's most successful and popular franchise. He posted excellent numbers in his three seasons with the Elephants.
1997: .373-23-94 in 96 games — Ted's 139 hits in 373 at-bats earned him his second international batting title
1998: .321-19-79 in 105 games (368 at-bats)
1999: .322-19-68 in 94 games (329 at-bats)
To be sure, the level of competition was lower in Taiwan. Ted comments, "In general, the best pitchers were around Triple-A quality. But once you got down deeper, it was more suspect."
The game was easier for Wood across the Pacific, and his family remained most supportive. Olga says, "We loved Taiwan. Sure, it's hot and sticky, but even now the girls sometimes say they'd like to go back." Even so, the distance was much more difficult to manage when they were apart. "Olga and my daughters would come out from June 1 to early August, but then they'd have to go home. It was just so hard for my younger girl in particular."
In addition, something was poisoning baseball in Taiwan during that time. Organized gambling syndicates were bribing players. "Envelopes would be left for players in their rooms," says Ted. "And if you took the money, they had you." The threat of physical reprisal was there for those who didn't go along after taking the bait initially. "Some of the guys claimed they didn't know what was going on. But sometimes it would be just so obvious to me. I'd be on first base, and I'd see a righty batter swinging over a ball by several inches. That's just not natural."
Thus, "in the end, the money wasn't as good. The first year, it was about $200,000. Then it went down to about $150,000. Then it went down below $100,000." The match-fixing scandals were directly responsible, causing a crisis of confidence among fans. The result was the loss of one CPBL franchise in 1998 and two in 1999, a much smaller TV deal, and lower ticket prices. [5] Wood adds, "When we lost, I lost out on the bonus money that would be paid to stars of the game. That was thousands more out of my pocket." But he was never remotely tempted to go on the take. Again Ted uses a word with almost religious overtones to describe his feelings: "It would have been impure."
So for the 2000 season, Ted turned to Korea, where the earning potential was greater. "Alan Nero, the agent, offered me a deal. But the catch was that the representation included all other international markets. I said, 'I've already been to Mexico, I've already been to Taiwan. There's nothing happening for me in Japan. So there's nothing else you can offer me. I don't want it." Toward the end of January, Nero's side gave way on this provision, and thus Wood signed with the Lotte Giants. The annual salary was roughly $190,000.
"It's a pretty good league," says Ted. "They've got some 'long' guys there — they can produce power. The pitching isn't bad either." In 35 games, Wood went 28 for 110 (.255) with a single homer and 9 RBIs. That wasn't enough production for Lotte, which released him on May 31.
"I just didn't play very well," says Ted matter-of-factly. "And my shoulder was bugging me. I'd had my right, non-throwing shoulder operated on in 1995, this time it was the left." Olga adds, "He was miserable, it was just a job. There was nobody to communicate with, I don't think the Koreans were fond of Americans. He lived far away from the park. But I would never ever say, 'Give it up, come on home.'"
Wood finally made that decision. "When I was released, I realized the time had come to move on from baseball. But it took me about six months of cross-cutting my lawn to really come to terms with it, get it out of my system."
His new path in life was not immediately apparent. "I thought I was going to be a physical therapist or something like that. My wife and I had moved to Atlanta because there was more going on there than in New Orleans. I was going to college locally. I'd never finished up at UNO."
Then Scott Merrill, a veteran stockbroker with Smith Barney, took a hand. "Ted was a client of mine while he played for nine years. We had an event in Atlanta, a seminar. Ted walked right in, dressed in a suit for an interview. He was sitting in the back row, and when I saw him, I had an epiphany. I said, 'You really ought to come work for me. All the grand poobahs are here, let me make some introductions.'"
Ted went on to obtain his licenses as a registered representative. Ever since, he has worked as a stockbroker and financial planner, in partnership with Merrill. "The very day I started, Jim Tracy [whom the Los Angeles Dodgers had named their manager on November 1, 2000] offered me a coaching position. But it most likely would have been in the minors — I couldn't have jumped straight to the major-league level." All things considered — the money and especially the time away from home — he declined.
Wood has built up deep knowledge of the markets and a healthy client base, so more than ever the decision has turned out well. "It's been a good fit for us and for him," says Scott Merrill. "He has integrity, and from an intellect standpoint, he can handle anything Wall Street has to offer."
Adds Jim Tracy, who along with Joe Slusarski is a client, "He would have been successful in whatever walk of life he chose. The guy does not know how to do anything half-assed. He doesn't need the limelight, he doesn't need the top step. He just wants to know the job has been done. He's a winner."
Ted's profession also enabled him to help the family of his dear friend Brian Traxler. After Trax passed away at age 37 in November 2004, Wood — who delivered a stirring eulogy — handled the college fund for Brian's daughter Ashley.
Today the Woods — Ted, Olga, and daughters Nadia and Dior — live in Kennesaw, Georgia. Along with his work and family activities, Ted serves as an instructor with Cobb Sports Complex in nearby Marietta. The facility opened on September 16, 2006 and announced that Wood had joined the staff four days later. Ted also remains a trustee of USA Baseball, the sport's national governing body for international competition. One can be sure that he will continue to uphold his ideals: Pure Baseball and Winning Baseball.
Acknowledgments
Grateful acknowledgment to Ted Wood for his personal memories (via a series of e-mails; a phone discussion on March 5, 2007; and talking baseball in person on May 28, 2007).
Thanks also to (in chronological order): Orange Alumni Association, Pepper Pike, OH; Carla Bustamante, director of public relations, Hermosillo Naranjeros (LMP statistics); Tom Schwaner; Ruthie Traxler; Ed and Carol Wood; Tina Wood Marinoni; Scott Merrill; Olga Jackson Wood; Bob Krainz; Jim Tracy.
Notes
[1] Roberto González Echevarría, The Pride of Havana: A History of Cuban Baseball (New York: Oxford University Press, 1999), p. 383.
[2] Mark Gonzales, "Giants lose Wood, gain roster spot," San Jose Mercury News, March 24, 1993, Page 6F.
[3] STATS, Inc.: John Dewan, editor, and Don Zminda, associate editor, The Scouting Report: 1992 (New York: HarperCollins Publishers, 1992), p. 670.
[4] STATS, Inc.: John Dewan, editor, and Don Zminda, associate editor, The Scouting Report: 1993 (New York: HarperCollins Publishers, 1993), p. 673.
[5] Michael Bristow, "Taiwan's baseball cleans up its game," BBC News, April 11, 2002.
Sources
www.paperofrecord.com (assorted small pieces of information from The Sporting News)
www.retrosheet.org
Professional Baseball Players Database, V6.0
S. Derby Gisclair, Baseball in New Orleans (Charleston, South Carolina: Arcadia Publishing, 2004)
Games of the XXIVth Olympiad Seoul 1988, Official Report — Volume 2: Competition Summary and Results.
Enciclopedia del Béisbol Mexicano
Taiwanese and Korean information: http://www.bck.idv.tw/P.htm, http://twbsball.dils.tku.edu.tw/wiki/
Photo Credits
The Topps Company
Born
January 4, 1967 at Mansfield, OH (USA)
If you can help us improve this player's biography, contact us.
http://bioproj.sabr.org/bp_ftp/images/WoodTed1992.jpg
600
800
admin
/wp-content/uploads/2020/02/sabr_logo.png
admin
2012-01-04 20:35:14
2023-03-29 12:13:48
Ted Wood