---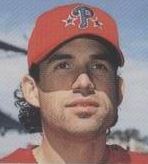 There have been more than 200 father-son combos in the majors as of 2018. One lesser-known pair is the Jacquez men of Stockton, California. Between them, Thomas "Hawk" Jacquez and his father Pat pitched in just 11 big-league ballgames. Pat, a righty power pitcher, appeared twice in relief for the 1971 Chicago White Sox. Thomas, a calculating lefty, came out of the Philadelphia Phillies bullpen nine times in 2000. In 2011, Thomas said, "An estimated 5-6% of all draftees ever play a single day in the big leagues. My father and I are blessed to have made it to the top of the athletic pyramid. We have the privilege to say that we made a living by throwing strikes."
Thomas Patrick Jacquez — his first and middle names are his father's in reverse — was born in Stockton on December 29, 1975. He was the second of two children born to Pat and Patricia Deerinck Jacquez, after a sister named Suzann. Pat's pro baseball career ended in the spring of 1973 as he retired following a non-roster invitation to the St. Louis Cardinals camp. By the time Thomas was born, Pat had joined McDonald's Corporation; he would rise to become an operations manager, overseeing everything involved in running six restaurants in the area's biggest chain of McDonald's franchises.
The Jacquez family legacy was important to Thomas and Suzann, who were both ballplayers. "The baseball field was our classroom where we learned about composure, hard work and sportsmanship. My father taught us how integrity is the cornerstone of success in any endeavor we encounter. My sister was an academic all-American shortstop at UC Berkeley, so we were always having fun while working hard to refine our skill set. We had the gift of pairing our passions with our skills," Thomas Jacquez said. The family also had another pro ballplayer in Pat's brother Hank Jacquez, who played Class A ball in the Phillies chain from 1967 through 1970.
Whereas Pat Jacquez went to Stockton's Stagg High School, Tom went to another of the city's secondary schools, Lincoln High. Lincoln has turned out at least two other big-leaguers: Mike Macfarlane and Adam Melhuse. In 1993, as a junior, Tom was a first-team all-league player in the San Joaquin Athletic Association.1 Playing first base and DH as well as pitching, he was a first-teamer again as a senior, adding league MVP honors.2 Like his father, Tom also pitched American Legion ball, though for a different team, Ed Stewart Post.
Thomas (he began to favor his full name in college) then went on a full scholarship to the University of California at Los Angeles. He also considered various other schools: the University of Southern California, Berkeley, the University of Arizona, Arizona State, and Santa Clara (where his father had pitched). In 1995, the Daily Bruin called him part of "maybe the most heralded freshman recruiting class in recent UCLA baseball history." That group also included three other future big-leaguers: slugger Troy Glaus, Eric Byrnes, and Jim Parque.3 The next year they added one more, Eric Valent.
Even in college, Jacquez was a pitcher, not a thrower, as L.A.'s Daily News described. "He throws in the mid-80 mph range and is more than just a crafty left-hander. He has a changeup known as 'The Floating Butterfly.' It is made even more effective because of his sneaky fastball. 'He really commands his pitches,' Bruins coach Gary Adams said. 'He really doesn't beat himself.'"4
Jacquez was a dedicated athlete. Dan Keller, a teammate and fellow pitcher at UCLA, started a baseball instruction company called Lifeletics. On its website, he presents a series of Life Lessons, #3 being "Work Hard." As part of this lesson, he recalled, "Thomas Jacquez…would rise at 9:00 AM every morning and go for a run. Whether it was pouring rain or scorching hot, Tom would roll out of bed for a morning jog."
Jacquez made the Bruins starting rotation as a freshman in 1995. However, he missed most of his sophomore year after an emergency appendectomy in February 1996. "I had a bad stomach ache for a day," he said a year later. "I thought it was food poisoning. It progressively got worse as the night went on. The next morning, I went to the emergency room. When something like this happens and prevents you from doing something you love, it is real hard mentally and physically. You don't realize how much you appreciate something until you can't do it anymore. I don't take anything for granted anymore. Every outing I'm pitching like it could be my last one. I'm giving it 100 percent every time.'"5
Weighing the medical risks, Thomas was prepared to return if the Bruins needed him, but instead he got back in action during the summer of 1996 with Cotuit in the Cape Cod League. He went 2-1, 2.14 and got his nickname "Hawk" from his host family.
UCLA had a new pitching coach in 1997: Tim Leary. Jacquez rebounded strongly as a redshirt sophomore, posting a 10-4 record with a 3.06 ERA and leading the Bruins with 129.1 innings pitched. UCLA won the NCAA's Midwest Regional tournament, although Harvard surprised Jacquez in the opener, winning 7-2. The Bruins made it to the College World Series as the #4 seed before losing two tough games to Miami and Mississippi State.
On the recommendation of area scout Mark Ralston, the Phillies selected Jacquez in the sixth round of the 1997 amateur draft (he was eligible because he had junior standing). He said in 2011, "My childhood dream was to pitch in the major leagues. By leaving early, I was able to take one step closer to achieving my goal." A couple of weeks later, he signed and reported to Batavia in the NY-Penn League. After going 2-1 with a 2.42 ERA in four starts, he went to Piedmont of the Class A South Atlantic League in July. There he was 2-4, 4.97 in eight starts.
For 1998, Jacquez rose to Clearwater in the Florida State League (high Class A). It wasn't an impressive year overall — 9-11, 4.50 as he started 28 of 29 games — but he showed flashes. Late that July, he pitched a one-hit shutout and gave up no walks. He did enough to rise to the next level, Double-A Reading, in 1999. After a win over New Britain in late May, the Reading Eagle wrote, "Far from overpowering, Thomas Jacquez uses control and finesse…Jacquez started to laugh Sunday afternoon when an out of-town reporter anointed him the new ace of the Reading Phillies staff. 'I wouldn't say that,' said Jacquez." He had already yielded 11 homers that season and added, "Every game is a battle for me. I'm a groundball pitcher. If I get the ball up, you saw what happens."6
For the first time, Jacquez also began to pitch more often as a reliever; he started 14 times in 38 games. Again his marks were far from dazzling (6-5, 5.28). Nonetheless, he showed enough to earn promotion to Philadelphia's Triple-A affiliate, the Scranton/Wilkes-Barre Barons, for the last week of their season. The Philadelphia Daily News indicated on August 30 that he might even get a September call-up to the big club, but that was not the case (although he pitched well in three relief appearances for the Barons).
Jacquez started the 2000 season back at Reading, but after posting a 2.96 ERA in 13 games, he climbed to Scranton/Wilkes-Barre once again (despite an 0-3 record). With the Barons, he got four saves behind primary closer Kirk Bullinger, going 5-1, 1.98 in 35 games with one start. Baseball Prospectus wrote, "His progress this year as a reliever is apparently a product of minor-league pitching coach Gorman Heimueller's work with him."7
In early September, Jacquez got his call to the big leagues as Philadelphia purchased his contract. "He's here to give us an extra arm in the bullpen," said manager Terry Francona.8 There was a little more to the story, though. As Baseball Prospectus put it, "Jacquez's call-up is the product of a tit-for-tat that Francona and [general manager] Ed Wade are playing out through the media, a game Francona started by complaining about his need for a second left-hander, with Wade snapping back that 'he only has to ask.'"9 Francona was already on the outs in Philadelphia; he was fired immediately after the season ended.
During the last few weeks of September, the skipper called on Jacquez nine times in relief. Although he posted an 11.05 ERA in 7 1/3 innings pitched, that record was distorted by two bad outings in which he gave up four earned runs apiece. One of those was his last appearance, on September 30 at Pro Player Stadium, when he gave up a grand slam to the last man he faced in the majors, Cliff Floyd of the Florida Marlins. Hawk's high note in the majors came on September 17 at Veterans Stadium, when he earned a save for Randy Wolf by striking out Mark Kotsay of the Marlins (a lefty swinger) with the go-ahead run on first.
Jacquez decided to play ball in Venezuela that winter, thinking it would help him compete for a job in the Philadelphia bullpen in 2001. He got into five games with Águilas del Zulia, going 1-0, 1.80 in 10 innings. The South American experience was a scary one, however; not only did the field catch fire during one game, Jacquez came down with "a brutal stomach infection" and had to spend three days in a Venezuelan hospital.10
The Phillies went with just one lefty in their pen at the beginning of 2001, Rhéal Cormier. They reassigned Jacquez to minor-league camp in early March, and he spent the full year at Scranton/Wilkes-Barre. Two of his teammates had been with him at UCLA too: Eric Valent and fellow pitcher Pete Zamora. Jacquez had a nice season as a swingman (10-6, 3.13 in 33 games, starting nine times), but the big club did not look to call him up at any point.
In January 2002, the Phillies signed pitcher Terry Adams to a free-agent contract. They made room for Adams on the 40-man roster by designating Jacquez for assignment. The organization was hoping that he would clear waivers and return to Scranton/Wilkes-Barre, but instead the Chicago White Sox picked him up. On January 28, The Sporting News wrote, "The team continues to stockpile lefthanded pitchers with potential. Thomas Jacquez, acquired off waivers from the Phillies, is the latest project." That March, Baseball Digest commented, "Has good make-up and mound presence with four quality pitches — fastball, curveball, slider and changeup."11
The White Sox gave Jacquez a look in spring training but optioned him to their top farm club, Charlotte, in early March. He came up with a bad elbow and went 0-7, 6.75 in 14 games (seven starts). Charlotte placed him on the disabled list in June and he finally underwent season-ending Tommy John surgery in July. After returning from his operation in June 2003 — a quick recovery — Jacquez went to Great Falls, Montana, in the Pioneer Rookie League on rehab assignment. He returned to Charlotte in July, starting once in 13 games over the remainder of the season (5-3, 4.08). That October, the White Sox granted him free agency.
Near the end of January 2004, Jacquez signed as a free agent with the Baltimore Orioles organization. He took a step back to Double-A and became part of the bullpen for the Bowie Baysox, going 4-3, 5.90 in 21 games. According to John Hoffmann of the Orioles fan website The Orioles Hangout, one day in June Jacquez gave up seven runs in one inning and the next day retired.12 In 2011, he recalled, "I walked off the field to be greeted by a mob of screaming fans, smiled, and tossed my glove into the stands as a souvenir. At that moment, I knew there were greater opportunities to be had."
Jacquez then returned to get his college degree at the University of San Francisco. He earned a BA in Spanish Literature, graduating with honors in 2005. In 2006, he joined Aim High, a San Francisco educational organization with the goal of providing progressive teaching and learning for middle school students from underserved neighborhoods. Through December 2012, he was co-director at one of Aim High's sites, The Urban School of San Francisco, teaching Service Learning and Spanish. He also worked with a diverse group of young men at Urban School to explore various notions of and expectations about masculinity in order to talk about what it means and what it's like to be a young man in high school and beyond. Back in 1994, his interest in his Latino heritage had prompted Thomas to reclaim the Spanish pronunciation of his surname: HA-kez (father Pat uses the Anglicized JACK-wez). Jacquez also coached the school's baseball team from 2006 through 2009.
Jacquez remained with the Urban School through June 2014 as an educator. Meanwhile, he earned his master's degree in organization and leadership from USF in 2013 and was accepted as a doctoral student. Since October 2013, he has served on Aim High's Board of Trustees.
Baseball remains an important part of Jacquez's life. In July 2014, he started an instructional business called Pitch in the Zone. He emphasizes the cerebral side of athletics as well as the physical side; his aim is to develop well-rounded people, players, and teammates. In his words, he "teaches pitchers how to thrive on the mound by instructing proper biomechanics, functional fitness, nutrition, game strategy, leadership skills, and a champion's mindset." In addition to his knowledge and application of biomechanics, kinesiology, and video-based analysis techniques, eastern philosophy informs his approach. He is an active practitioner of meditation wellness programs from The Art of Living Foundation.
Jacquez also enjoys spending time with family playing guitar, which he first picked up in high school. He played out with his band at UCLA as an outlet from the rigors of baseball. He continued to entertain in public while pitching for Reading, also performing the national anthem in college and in Great Falls during his rehab stint. He plays occasional gigs in San Francisco. "My singing abilities aren't too great, but it's fun," he said in 1997.13 He has been married to Shelby Corkern Jacquez since October 26, 2002. They do not have any children. Jacquez also studies food politics and health. Snowboarding and cooking with his wife are his passions.
Originally published in February 2011. Updated on June 14, 2018.
Grateful acknowledgment to Thomas Jacquez for his input (e-mail, January 10, 2011).
Sources
www.uclabruins.com
www.dailybruin.com
www.capecodbaseball.org
www.purapelota.com (Venezuelan statistics)
www.aimhigh.org
www.urbanlegendnews.org
www.lifeletics.com
www.pitchinthezone.com
Thomas Jacquez profile on LinkedIn.com.
Notes
1 "SJAA baseball." Lodi News-Sentinel, May 20, 1993: 14.
Born
December 29, 1975 at Stockton, CA (USA)
If you can help us improve this player's biography, contact us.
https://sabr.org/wp-content/uploads/2020/03/research-collection4_350x300.jpg
300
350
admin
/wp-content/uploads/2020/02/sabr_logo.png
admin
2012-01-04 20:00:48
2020-12-24 09:48:01
Thomas Jacquez