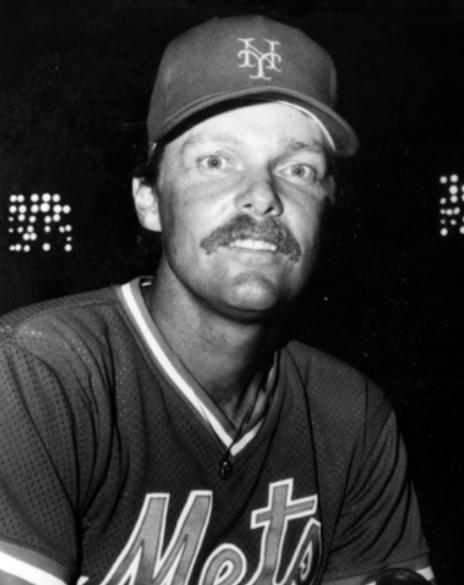 ---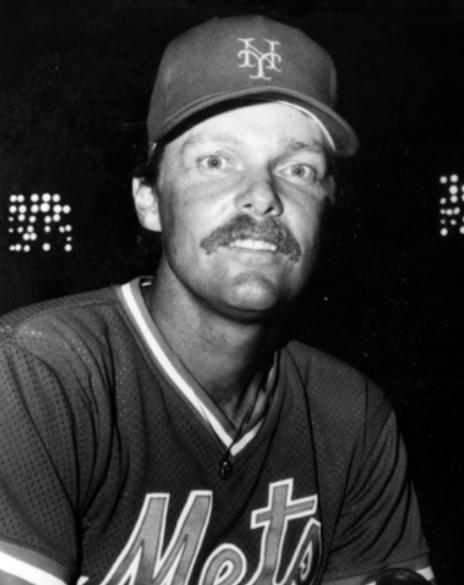 Tim Corcoran showed promise with the bat but never seemed to be in the right place to catch on as a regular, full-time player. His hitting never seemed to be quite enough to convince his managers that he could handle playing day-to-day. Corcoran spent parts of the first month and a half of the 1986 season as a reserve first baseman with the 1986 New York Mets, appearing in six games before being released on June 9 so he was not a part of the championship team later that season. Corcoran came to bat seven times for the Mets and scored one run on two walks. The Mets needed a lefty bat but more importantly they needed a backup in case Keith Hernandez received a suspension due to a pending drug case. Once the Mets realized Hernandez was in the clear they released Corcoran.
Born Timothy Michael Corcoran on March 19, 1953, in Glendale, California, he grew up playing sports. He attended both Mount San Antonio College in Walnut, California, and California State University Los Angeles before being signed as an amateur free agent by Detroit in 1974. Corcoran is one of 18 players from Mount San Antonio who have played in the major leagues (132 drafted). He played for Tigers' Rookie League and Class A teams in his first year and worked his way up, playing at Double-A Montgomery in 1975 and 1976 and then 39 games for Triple-A Evansville in 1977 (hit .346) before earning a promotion to the major leagues in mid-May after a spring in which he hit .378. In an exhibition game against the Pirates, Corcoran helped the Tigers by hitting a home run in the bottom of the 13th inning for a 5-4 win. He followed that with a two-run homer in the 11th inning of a 3-1 win over the Phillies. Manager Ralph Houk stated, "The kid is opening a few eyes, isn't he? He's hot right now."1
Corcoran played in 55 games with the Tigers in 1977, playing every outfield position and even as the DH in a couple of games. He hit .282 with 29 hits in 103 at-bats. His first big-league hit was a two-run homer in a 7-4 win over the Chicago White Sox on May 20. Corcoran's play helped earn him a spot on the roster in 1978, when he played in 109 games in the outfield, 116 games overall, and batted .265. (When not on the field, he served double duty as the Tigers' bullpen catcher.) Corcoran's average was respectable but he hit only one home run in 363 plate appearances. He was a contact hitter with a good eye at the plate but was not a large man (5-feet-11, 175 pounds) and never generated the power that most teams demanded from their first basemen and corner outfielders. In 1979 Corcoran split his time between the Tigers and their Triple-A affiliate in Evansville and in 1980 played another 84 games with the Tigers, enjoying one of the most productive seasons of his major-league career. Performing mostly as a pinch-hitter and as a platoon first baseman against right-handed starters, Corcoran batted .288 with a .379 on-base percentage in 177 plate appearances. 
For three winters starting in 1977, Corcoran played in Venezuela for Leones del Caracas and Tigres de Aragua. He played in a total of 104 games, hitting .341 while knocking in 50 runs and scoring 54. 
Despite that solid performance, Corcoran could not find a regular spot in Detroit — he had become typecast as a Triple-A player. He spent most of the 1981 season at Evansville, where he hit .298 with a .400 OBP before the Tigers traded him to the Minnesota Twins late in the year.  On his ups and downs with Detroit, Corcoran explained, "I got 300 at-bats that year, but I was platooned in right field. It was the first time in Organized Ball that I'd ever been platooned, and I didn't know how to handle it. It was a learning experience. Up and down." He appeared in 22 games with the Twins that September, batting just .176, and drew his release near the end of spring training in 1982.  
The 29-year-old Corcoran signed with Philadelphia, where he spent the next two seasons in the minors, posting his usual solid averages and on-base percentages, but minimal power. Corcoran hit .289 for last-place Oklahoma City in 1982. In 1983 he played for the Phillies' Triple-A affiliate in Portland and hit .311 to help his club win the Pacific Coast League crown. His manager, John Felske, said, "If you look at him play once or twice, he might not do anything to excite you. But you watch him every day, and you find out that though he doesn't have a great arm, he always throws accurately and quickly while also being an excellent defensive first baseman."2 Corcoran's performance earned him a brief call-up when the rosters expanded in September, and he appeared in three games for the pennant-winning Phillies. 
As the aging Phillies dipped to .500 in 1984, Corcoran spent the entire season in the major leagues and turned in a career year. Manager Paul Owens used him almost exclusively as a pinch-hitter through mid-June and he responded with an average of .409. When starting first baseman Len Matuszek went down with a broken finger, Corcoran finally received a chance to play every day. From June 10 until Matuszek returned to the starting lineup on July 27, Corcoran started 30 games and remained hot, posting a slash line of .366/.459/.554 with 5 home runs. He returned to his bench role in August and received a cluster of additional starts in September, finishing the year with an average of .341 to go with an OBP of .440. When asked about how the Tigers could have let him go Corcoran's attitude was one of practicality. He stated, "No complaints. Detroit wanted a guy who could play every day in right field. They'd been trying to fill that position for a long time, and Kirk Gibson is doing the job pretty well now. But at that time, Gibson was in center, and they wanted a right fielder with power, whereas I can just hit a homer every now and then."3 Corcoran also said the Tigers never lied to him about the role they wanted him to play as a platoon player. When they traded him to the Twins, he thought his chances would be better, but he was hurt when he arrived and never really got a good chance to show what he could do. 
When the Twins released him, Corcoran joined the Phillies because he had played in the Pacific Coast League before. His real break came with Portland and Corcoran credited manager John Felske for his return to the big leagues. "Thank God for John Felske," he said. "I think he had a lot to do with me making the big club this year. He gave me a chance to play every day in Portland and he helped me this year in spring training. He gave me confidence. When I made the club, I knew exactly what my role was: I'd be a pinch hitter and fill in if somebody got hurt. Unfortunately, Lenny (Matuszek) got hurt, but I'm glad I was able to do the job when Paul (Owens) called on me."4
The magic wore off in 1985, though, as Corcoran's average tumbled to .217. Philadelphia cut him loose in December, and he signed a free-agent contract with the Mets in March 1986, near the start of their championship season. Corcoran was surprised by the release, saying, "'It was a heck of a Christmas present. They told me they needed a roster spot. And I'd just gone out and bought a new truck and a house. It was a shock."5
The Mets had high hopes for Corcoran when they signed him because of his versatility. New York newspapers described him as a "crisp fielder and line-drive hitter with some long-ball power."6 Due to his earlier catching duties, Corcoran told the Mets when he arrived that he had a catcher's mitt if they needed him behind the plate. After he made a couple of appearances in April, New York assigned him to its Triple-A Tidewater club, and recalled him in June. His six games in 1986 were the last he played in the majors. He drew his release on June 9. He played in parts of the 1987 and '88 seasons with Philadelphia's Triple-A affiliate, the Maine Guides, before he called it quits at age 35. For Corcoran it always seemed he was in the wrong place at the wrong time, being traded to make room for younger players or filling in until a stronger player came back from injuries. Then there was no permanent place for him on any roster, though he played parts of nine seasons in the majors.
In 2000 the Anaheim Angels named Corcoran a scout. Since 2002 he has worked as a coach for the Angels Elite program, whose goal is to give the top 30 incoming high-school seniors in Southern California a chance to perform each summer for colleges, universities and the Angels. The coaches work one-on-one with the players, and the work yields results. Since the program began, 180 graduates of the Angels Elite squad have been drafted, including pitcher/shortstop Tyler Chatwood, a second-round pick for the Angels in 2008, who made his big-league debut for the club in 2011.7
Tim and his wife, Tina, have two children, Travis and Tara. Tara played soccer and volleyball in high school and went on to play soccer for Long Beach State.
Notes
1 "Tim Corcoran Has Night to Celebrate on St. Pat's Day," Gettysburg (Pennsylvania) Times, March 17, 1977.
2 Jack Lang, "Corcoran Finally Getting His Chance," in Player File, National Baseball Hall of Fame, Cooperstown, New York.
3 Ted Meixell, "Tim Corcoran 'Just Happy to Be on a Club with Chance to Win A Division' Baseball," articles.mcall.com/1984-08-02/sports/2433686_1_tigers-and-twins-minor-tim-corcoran.
4 Ibid.
5 "Mets' Handyman Reports Equipped," New York Times, March 2, 1986.
6 Joseph Durso, "Mets Get Corcoran, a Versatile Player," New York Times, February 27, 1986.
7 angelselitebaseball.com/; Lyle Spencer, "Waiting Is the Hardest Part for Halos," MLB.com, June 5, 2008.
All statistics come from baseball-reference.com/players/c/corcoti01.shtml. and purapelota.com/lvbp/mostrar.php?id=corctim001.
Born
March 19, 1953 at Glendale, CA (USA)
If you can help us improve this player's biography, contact us.
http://sabr.org/sites/default/files/Corcoran-Tim.png
600
800
admin
/wp-content/uploads/2020/02/sabr_logo.png
admin
2012-01-04 20:38:36
2021-02-28 10:14:43
Tim Corcoran