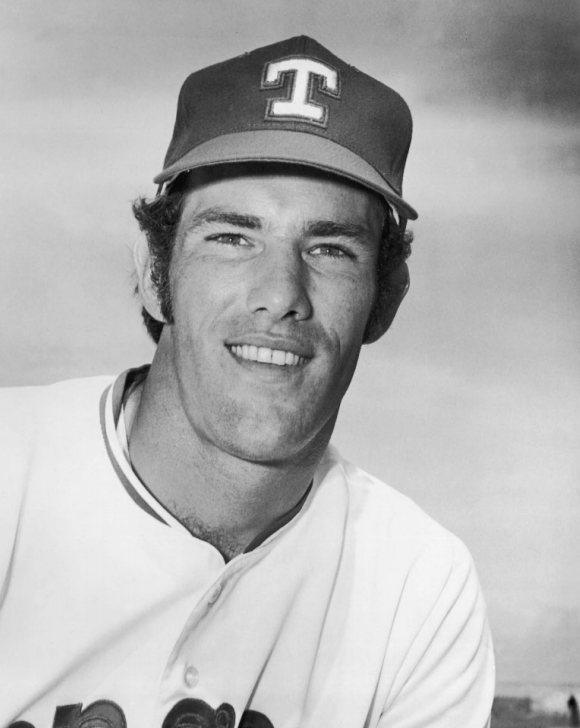 ---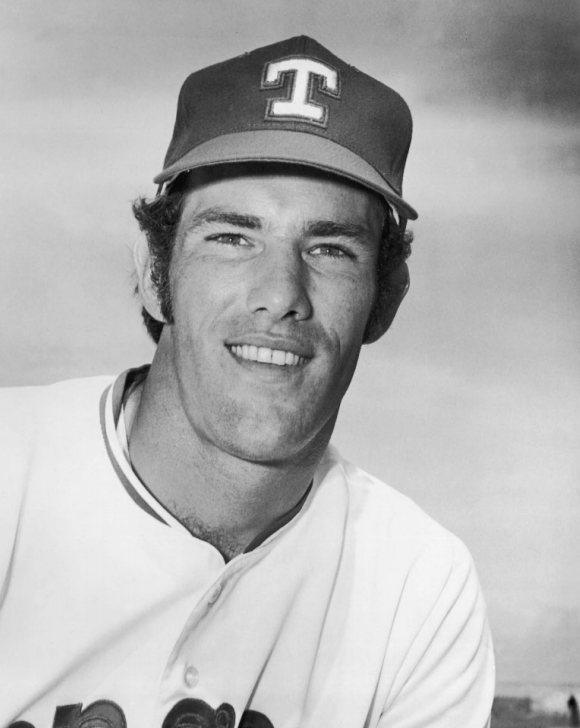 Tom Grieve has passed 50 years in baseball, 49 of them spent with the Texas Rangers franchise. He played, was general manager, and worked as a broadcaster for the Rangers, rightfully earning him the sobriquet "Mr. Ranger."
Thomas Alan Grieve was born on March 4, 1948, in Pittsfield, Massachusetts, to Alan and Polly (Hopkins) Grieve. After military service, Alan worked in clothing manufacture, then as an automobile salesman and as a fleet manager. Tom grew up with two sisters, Laurie and Cande. He was known for much of his life by the nickname Tag, for his initials. Tom remained close to his family all his life. As a commentator with the Rangers, for many years he had a tradition of calling his mother every Mother's Day, talking to her while on the air broadcasting the Rangers game.1
Pittsfield is known to baseball historians, because a 1791 town ordinance barred the playing of baseball near the town's meeting hall. This ordinance is the earliest known written reference to baseball.2 During his broadcasting career, Grieve mentioned this fact on several occasions. He said that he and his friends regularly played on the field by the meeting hall but had no idea of the historical significance of the location.3
In high school Grieve played football, basketball, and baseball, in which he pitched, caught, and played in the outfield. In baseball and football, in which he was a quarterback, he was named to All-Western Massachusetts teams. He played on Pittsfield High's 1966 state champions, hitting over .400 and driving in the only run in the championship game, and won an award as the top scholar-athlete in Western Massachusetts. "He's always been a quiet competitor with a burning desire to do well," Buddy Pellerin, his high-school coach, said many years later.4 Grieve went on to play for the Chatham Anglers in the Cape Cod League that summer, hitting .416 in 89 at-bats.
Drafted in the first round (sixth overall) by the Washington Senators, Grieve had already committed to go to the University of Michigan. He refused to sign with the Senators until they agreed that he could finish his college degree. Senators farm director Hal Keller agreed to let him complete the school year before reporting to the minor leagues each summer. He also gave Grieve a $60,000 bonus.5
Assigned to Burlington in the Class-A Carolina League in 1967, Grieve struggled. He hit .138 in 13 games before being sent down to Geneva of the Class-A New York-Pennsylvania League, where he hit .236 with six home runs.
After missing the early part of the 1968 season while at college, Grieve reported to Salisbury in the Class-A Western Carolinas League. He started hot, hitting .429 with three home runs in his first 14 games. He was selected to the All-Star team, but broke a finger in practice on the morning of the game.6 He still earned a trip back to Burlington, hitting .296 with three home runs in nine games at the end of the season.
In 1969 Grieve jumped to Buffalo in the Triple-A International League, where he hit just .245 with 11 home runs. He spent the fall in the Florida Instructional League, where he also hit .245. But that was enough to earn Grieve an invitation to the Senators spring training for 1970, where he performed very well, hitting .365. On March 18 he reached base seven times on four hits, two of them doubles, and three walks. Despite being the standout rookie in camp, his manager brought him back to earth. "Where would we play him? Certainly not over Howard, Unser, or Lee Maye. The kid should play every day," manager Ted Williams said.7
Grieve understood, knowing he was still a young player. He was happy just with the training he had already received from Williams. "That man … he's just great. The biggest thing he has done for me is to get me mentally ready to hit."8
As expected, Grieve was sent to Triple-A Denver, where he hit .280 with 13 home runs in half a season, interrupted by military service. He caught a break when Senators outfielder Wayne Comer sprained his wrist and went on the disabled list. Grieve was recalled to replace him.
On July 4 Grieve played a night game in Denver, then had a sleepless night, having to catch a plane to New York. He arrived barely an hour before the 1 P.M. start of the first game of a doubleheader, and was put in the starting lineup for his major-league debut. He grounded to short, third, and second before being lifted for a pinch-hitter in the ninth. Grieve was later observed dozing on the bench during the second game.9
The following day Grieve got his first two major-league hits, both off Sam McDowell of the Cleveland Indians. On July 9 he hit his first major-league home run, off the Indians' Rick Austin. His three-hit day raised his average to .316, but it was all downhill from there. Playing in 47 of the Senators' last 84 games, Grieve hit just .198 with three home runs. This hot-or-cold pattern would continue throughout his career.
In 1971 Grieve was sent back to Denver for more seasoning. Despite breaking a finger in May, and missing time due to military commitments, he hit .272 with 19 home runs and brought himself back into the team's focus. The Bears won the American Association title, but while Grieve went 9-for-27 with seven RBIs, they lost the Little World Series to Rochester.
At the end of the 1970 season the Senators had been contacted by a Venezuelan team that hoped to sign Grieve for their winter season, but Williams said no. "Grieve is tired and should not even be playing in this league," Williams said.10 But after 1971 Grieve did head to Venezuela, and returned there several more times throughout his career. During the 1973-74 winter he hit .340 with nine home runs and 60 RBIs in Venezuela, prompting teammate Toby Harrah to say, "I thought Tom should have gotten the MVP award down there. … He was doing it all, both defensively and offensively."11
In 1972 Grieve was out of options, and stayed with the major-league club, which had relocated from Washington to become the Texas Rangers. "Our scouts have long considered him to have the potential to be a good hitter. … If you let him get away, and he happens to find himself, you could regret that move for a number of years," general manager Joe Burke said. In fact, Grieve wasted 1972 on the bench, getting just 158 plate appearances in 64 games, although he was with the team the whole season. "I certainly didn't accomplish anything worthwhile," he said. "I just hoped that somewhere along the line I would get a chance to play every day."12
Back in Venezuela for the winter, Grieve hit .309 with 10 home runs for Zulia, and attracted attention from the Rangers, with scouts reporting his improved performance. He got even less playing time in 1973, though, just 136 plate appearances. It took until July 27, when he hit a three-run shot against the Angels, for him to get not only his first home run but also his first RBIs of the season.
Up to then he had just 30 at-bats all year, but things changed in the last couple of months of the season. "When he got his chance after Rico (Carty) got hurt, he suddenly went up there swinging with authority. You can see the difference in him now," manager Whitey Herzog said.13 From July 27 to the end of the season, Grieve hit .333 with seven home runs. With that performance, Herzog suggested that Grieve had a chance to win the right-field position the following season.
Come the spring of 1974, Grieve had expectations. "I'm not coming to camp hoping for a chance to play this season. I'm expecting that chance this time," he said. He also noted that both new manager Billy Martin and owner Bob Short had told him he would have the chance to play, and that Short said that if he didn't, the club would look to trade him. "I really hope it doesn't come to that. I hope I can make it here, because I want to play here," Grieve said.14
Unfortunately for Grieve, he hurt his ankle in the first exhibition game and missed some time in the spring. He shook it off, though, and began the season with eight hits in his first three games. Hitting .323 through April, Grieve seemed to have cemented his spot in right, but he cooled off, falling all the way to .255 by season's end. He hit two home runs in the infamous 10-cent-beer night in Cleveland in June, but that was a rare highlight. In the second half he was back on the bench, getting just 65 plate appearances.
Finally, in August of 1975 new manager Frank Lucchesi gave Grieve a shot, and he had 100 plate appearances in a month for the first time in his career. "I want to throw him in there every day and see what he can do," Lucchesi said.15 Grieve responded by hitting .283 with seven home runs, and the thinking was that finally he would be a regular in 1976. But still questions surfaced. Though he thought he had a full-time job, trade rumors arose. Reportedly the Tigers asked for Grieve in return for Joe Coleman, and there was speculation about interest from the Indians.16
Grieve started 1976 on a tear, continuing his history of being a streaky hitter. He would have weeks or months in which he could hit anything, and follow up when "a Little Leaguer could get him out tossing a basketball."17 It had been assumed that the streaks were due to being off the bench so much, but it continued when he got regular time. "I don't like it, but it's always been that way and probably always will be," Grieve said. "If I understood what happens, maybe I could do something about it, but I have absolutely no idea."18 His manager agreed. "You just have to leave him in there when things aren't going well. … He can hit any pitcher alive, from either side, when he's hot," said Lucchesi.19
Grieve's ups and downs continued all year, and he finished at .255 with 20 home runs (leading the team) and 81 RBIs. Showing his level head, he said, "Those aren't the greatest statistics in the game, but for me and my ability, they're good enough."20 Despite his being named the club's player of the year, the rumors continued, with his trade value as high as it had ever been. But he stayed, although a pulled muscle in his rib cage limited him early in the season, a broken hand cost him six weeks in June and July, and a slump to .225 reduced his playing time even further.
The trade rumors intensified, and they finally came true at the winter meetings. Grieve was sent to the New York Mets as part of a four-team, 11-player deal.21 Even then the Rangers were reluctant to trade Grieve. On his arrival at the winter meetings, Rangers owner Brad Corbett had said there was no way that Grieve would be traded.22
The problem for Grieve was that the Mets had a glut of outfielders. Manager Joe Torre said he would like to keep six of them on the roster. Unfortunately for Grieve he ended up being the sixth man, so although he was with the team the whole season, he got just 110 plate appearances, the lowest total of his career so far. Of his 54 games, 27 were as a pinch-hitter (when he hit just .080). Opportunity lost, again.
At the end of 1978 the Mets traded Grieve and pitcher Kim Seaman to the St. Louis Cardinals for pitcher Pete Falcone. Still a spare part, Grieve spent a month on the Cardinals' bench before being unconditionally released, having gone 3-for-15 in limited duty with the team. Although other players didn't want to see him leave, Grieve said, "It was a pretty logical decision on their part."23
He returned to Texas, signing a minor-league deal with the Rangers' Triple-A Tucson team. Grieve hit .266 with 14 home runs there, including three in one game, but the writing was on the wall. He considered playing in Japan, but instead ended his playing career and joined the Rangers' front office.
Grieve spent 1980 as director of group sales for the Rangers, then was promoted to assistant farm director. At the end of 1982 Joe Klein was promoted to general manager, and Grieve moved up to farm director. In 1983 he became the first former first-round pick to make a first-round selection in the draft, when he chose Jeff Kunkel. (Kunkel's father, Bill, was a former major-league umpire who had once called Grieve out on strikes.24
On September 1, 1984, Klein resigned as general manager, and team President Mike Stone promoted Grieve. Klein had been unhappy that Stone had changed the structure of the club so that manager Doug Rader reported directly to him, instead of to Klein. Grieve didn't have a problem with it. "Obviously, I am comfortable with that arrangement, or I wouldn't have accepted the job," he said.25
Grieve at 36 became the youngest general manager in the major leagues, but that didn't faze him. "I'm very excited and thrilled by the opportunity," he said. "Quite frankly, this is better than facing Nolan Ryan." Stone gave him his full support. "Tom Grieve is the embodiment of our statement of purpose," he said.26 Grieve later said, "I don't care about being the youngest GM. I want to stick around to be the oldest."27
Grieve expressed his philosophy early on. He said he would not trade "one good player for a lot of mediocre ones. I'd rather trade one good one for another good one, given needs."28 On the other hand, he immediately went into the free-agent market and brought in several mediocre players. Describing the need to quickly build depth, Grieve said, "We had some things we had to do, and we didn't see any other way."29
The Rangers stumbled starting 1985, and with a 9-23 record in early May, Rader was fired. Bobby Valentine, a former Mets teammate of Grieve, succeeded him. The hiring included a switch back in the chain of command, with Valentine reporting directly to Grieve, instead of to Stone.
At the end of the year Grieve signaled a change in attitude, stating that the team needed to develop its own players instead of signing free agents. He said, "I can't say we won't be active at all, but we're not pursuing anybody at this time. … It's more practical to develop our young players."30 He began to focus on young pitching, gathering arms through trade and the draft. Grieve had recognized how far from being competitive the Rangers were.
Although the Rangers had quick success in 1986, finishing second in the American League West Division, they fell back to sixth the following two seasons, and the building continued. After 1987 Grieve said, "We'd like to improve our pitching, but I don't have any great ideas on how to do that."31
Grieve had some gambles, such as signing Steve Howe, a pitcher with a history of drug problems. Howe pitched decently for the Rangers at the end of 1987, but relapsed and the team terminated his contract. Grieve and the Rangers had defied Commissioner Peter Ueberroth in bringing up Howe, and the team got a $250,000 fine for doing so.32
By 1988 Grieve was starting to make more moves, and admitted that the pressure to win was beginning to build. "As the years go by, you have to place more emphasis on winning," he said. "You still want to develop talent, but it is a fact of life that you can't be in a rebuilding program forever."33 At the end of the season he gave shortstop Scott Fletcher the largest contract in franchise history, then a few days later went all in at the winter meetings.
In a string of trades and signings, Grieve remade the team, bringing in first baseman Rafael Palmeiro, second baseman Julio Franco, pitcher Jamie Moyer, and, surprising everyone, Nolan Ryan. "We had stayed pat for three years and we didn't show the improvement we wanted," Grieve said. "I'm confident we improved."34 "This is the one most important transaction the Texas Rangers have ever made," said Valentine of the Ryan signing.35
During the 1989 season, as the team struggled to keep up with the leaders, Grieve made another trade. Acquiring DH Harold Baines and infielder Fred Manrique from the Chicago White Sox, he gave up Fletcher along with two prospects, pitcher Wilson Alvarez and outfielder Sammy Sosa. As both prospects went on to stardom, this deal defined Grieve's time as GM for many years to come. Worse, it didn't help the team, which finished fourth that season and third the next two.
New owner George W. Bush believed in Grieve, though. "You can assume we're very pleased with their performance," Bush said, referring to contract extensions for both Grieve and Stone.36 Especially pleasing for Bush was the attendance figures, which passed two million for the first time in 1989. "What the fans are saying is that they agree with the path we're taking," Grieve said. "They're starting to see some results, and they're excited about the future."37
But Bush shook things up after the 1990 season, firing Stone and bringing in Tom Schieffer as president. Bush said neither Grieve or Valentine should fear for his job, but the writing was on the wall. The team was above .500 for three seasons in a row, 1989-91 (just the second time that had happened in franchise history), but their best record in that time was just 85-77. In July 1992, with the team in third place, 6½ games out, Valentine was fired, and Grieve gave Harrah the job for the rest of the season. They slumped after that, even though Grieve tried to spark things with another big trade, acquiring Jose Canseco from Oakland for Ruben Sierra, Jeff Russell, and Bobby Witt. The Rangers ended up going 32-44 under Harrah to finish 19 games out of first.
At that point Bush was still high on Grieve. "I've always felt good about Tom Grieve," he said. "He's a good man and a good, solid general manager."38 Grieve brought in Kevin Kennedy to manage in 1993. They contended, finishing second, and were in first place in their division – with a 52-62 record – when a strike ended the 1994 season. And that was it for Grieve: The day the strike began, the Rangers decided to make changes and fired him as general manager.
Grieve quickly got a change in career. In 1995 Schieffer suggested that he try broadcasting. He had done a couple of games in 1980 and decided to go ahead and do more.39 That season Grieve did 57 games as color analyst on the Rangers' Prime Sports cable-television broadcasts, beginning a long career in the booth. Over the years his role expanded; he spent more than two decades in the position, alongside numerous play-by-play partners. He became the public face of Rangers broadcasts, and earned the nickname "Mr. Ranger."
In 2008 Grieve announced that he had prostate cancer, but after surgery he returned to work just a couple of weeks later. In 2014 he let others take some of the road trips. Over the next few years he reduced his workload, down to about 65 games in 2017, while also appearing on some pre-and postgame shows, and making numerous appearances in the community for the team.
Grieve married Kathy Conry of Pittsfield in 1969. Their three children all went on to successful sporting careers. Daughter Katie played volleyball, in which she was all-state in high school then played at Auburn University, and later worked in the Rangers front office. Son Tim pitched at Texas Christian University and was selected in the 23rd round of the 1994 draft by the Kansas City Royals. He played several seasons in the minor leagues for the Royals and Arizona Diamondbacks, reaching as high as Double A. He then moved on to a scouting career, recently working for the Detroit Tigers.
Younger son Ben was drafted second overall in the 1994 draft by the Oakland A's, making him and Tom the only father-son combination to be first-round draft picks. Ben made his major-league debut in 1997. In 1998 he was the American League Rookie of the Year, and made the All-Star team. He went on to a nine-year career with Oakland, Tampa Bay, Milwaukee, and the Chicago Cubs.
Tom Grieve received numerous honors over the years. In 1985 he became one of the first three members of Pittsfield's newly formed Baseball Hall of Fame.40 In 1987 he was inducted into the Texas Baseball Hall of Fame. In 2010 he was inducted into the Texas Rangers Hall of Fame. In 2017 he was elected to the Western Massachusetts Baseball Hall of Fame.
On Opening Day in 2016 Grieve and Rangers coach Bobby Jones threw out the first pitch, each being honored for his 50th season in professional baseball. They had become friends while playing together at Geneva in 1967, and each spent most of their careers within the Rangers organization. During that Opening Day ceremony Grieve reflected on his life in the game. "When you're little you dream of being a player and when you're a player you just assume that you'll go back to school or get a job. … You don't have the slightest idea of what you're going to do," he said. "The longer you play, the more it's what you know and do. To be able to stay in it after all this time, there's no way you could see that coming."41
This biography was published in "1972 Texas Rangers: The Team that Couldn't Hit" (SABR, 2019), edited by Steve West and Bill Nowlin.
Notes
1 Author's recollection of numerous broadcasts.
2 John Thorn, Baseball in the Garden of Eden (New York: Simon & Schuster, 2011), 54-55.
3 The author recalls hearing this anecdote a number of times over the years.
4 Brian Sullivan, "Pittsfield's Own Ranger," Berkshire Eagle (Pittsfield, Massachusetts), October 27, 2010.
5 Bob Addie, "Senators Ink Kid Slugger," The Sporting News, September 3, 1966: 20.
6 "Class A Leagues," The Sporting News, July 27, 1968: 42.
7 Merrell Whittlesey, "Swift Unser Sharpens Bunting Skill," The Sporting News, April 4, 1970: 11.
8 Garry Brown, "The Morning Line," Springfield (Massachusetts) Union, April 3, 1970: 36.
9 Merrell Whittlesey, "Nats Add Sunday Punch on Rick's Pinch-Homers," The Sporting News, July 25, 1970: 21.
10 Merrell Whittlesey, "Nats to test Maddox at Third and in Left Field," The Sporting News, November 28, 1970: 44.
11 Randy Galloway, "Now or Never for Grieve in Drive for Ranger berth," The Sporting News, March 2, 1974: 30.
12 Randy Galloway, "Grieve Wins Ranger Applause with Hot Bat in Winter League," The Sporting News, February 24, 1973: 50.
13 Randy Galloway, "Grieve Locking Up Ranger Picket Post," The Sporting News, September 1, 1973: 13.
14 Randy Galloway, "Now or never."
15 Merle Heryford, "Grieve Shows Rangers He's Ready for Steady Job," The Sporting News, November 1, 1975: 21.
16 Randy Galloway, "Rangers Swamped with Offers for Toby Harrah," The Sporting News, November 8, 1975: 51.
17 Merle Heryford, "Tom Grieve's Batting Tale – Either Red Hot or Ice Cold," The Sporting News, June 12, 1976: 15.
18 Ibid.
19 Ibid.
20 Randy Galloway, "Rangers Shed No Tears for Grieve," The Sporting News, October 9, 1976: 12.
21 The full trade: The Texas Rangers sent Grieve and a player to be named later to the New York Mets. The Atlanta Braves sent Willie Montanez to the Mets. The Rangers sent Tommy Boggs, Adrian Devine, and Eddie Miller to the Braves. The Rangers sent Bert Blyleven to the Pittsburgh Pirates. The Pirates sent Nelson Norman and Al Oliver to the Rangers. The Mets sent Jon Matlack to the Rangers. The Mets sent John Milner to the Pirates. In March the Rangers sent Ken Henderson to the Mets as the player to be named later.
22 Randy Galloway, "Kid's Name Kills Ranger Trade Talks," The Sporting News, February 18, 1978: 62.
23 Rick Hummel, "Brock of Ages Like Reborn Redbird at Plate," The Sporting News, May 26, 1979: 15.
24 Peter Gammons, "Owners' Feud Costs Red Sox," The Sporting News, June 20, 1983: 15.
25 "Klein Resigns as Rangers G.M.," The Sporting News, September 10, 1984: 56.
26 "A.L. West," The Sporting News, September 17, 1984: 16.
27 "Insiders Say," The Sporting News, March 21, 1988: 9.
28 Peter Gammons, "Wanted: 'Managers in Industrial Sense,'" The Sporting News, October 22, 1984: 20.
29 Peter Gammons, "Is Texas Just Buying More Mediocrity?," The Sporting News, January 14, 1985: 51.
30 Jim Reeves, "Rangers Won't Pursue Free Agents," The Sporting News, November 25, 1985: 53.
31 "Rangers," The Sporting News, December 14, 1987: 57.
32 "Rangers to Appeal Fine," New York Times, September 17, 1987.
33 Phil Rogers, "Texas Saga: 8 Men Out," The Sporting News, July 4, 1988: 16.
34 Moss Klein, "Grieve Deals Rangers the Look of a Contender," The Sporting News, December 19, 1988: 47.
35 Phil Rogers, "Texas-Size Deals by Rangers," The Sporting News, December 19, 1988: 51.
36 "Rangers," The Sporting News, October 9, 1989: 22.
37 Phil Rogers, "No Flag, but Texas Fans Buy the Plan," The Sporting News, March 12, 1990: 14.
38 T.R. Sullivan, "Texas Rangers," The Sporting News, September 14, 1992: 28.
39 Barry Horn, "'Mr. Ranger' Tom Grieve Still a Fixture in Rangers' TV Booth – Not Bad for a Guy 'Who Had No Idea What to Do,'" Dallas Morning News, sportsday.dallasnews.com/texas-rangers/rangers/2016/03/11/hot-air-mr-ranger-tom-grieve-still-fixture-rangers-tv-booth-bad-guy-idea.
40 Peter Gammons, "It's Time to Appreciate Jays' Versatility," The Sporting News, August 12, 1985: 21.
41 John Henry, "Rangers Journal: Tom Grieve, Bobby Jones Celebrate 50 Years in Baseball," Fort Worth Star-Telegram, April 4, 2016.
Born
March 4, 1948 at Pittsfield, MA (USA)
If you can help us improve this player's biography, contact us.
https://sabr.org/sites/default/files/GrieveTom.jpg
600
800
admin
/wp-content/uploads/2020/02/sabr_logo.png
admin
2012-01-04 20:45:01
2012-01-04 20:45:01
Tom Grieve