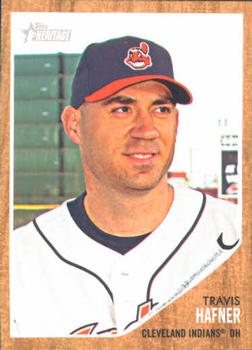 ---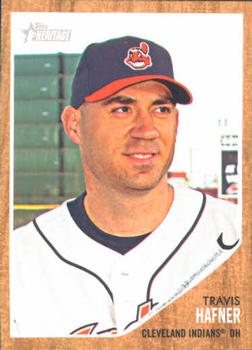 As a child, Travis Hafner loved baseball and loathed farm work. He often strolled to the tractor on his family's farm with baseball bat in tow. Once out in the field, he'd step out of the tractor cab and, in his mind, step into the batter's box. Hafner tossed rock after rock into the air and swung again and again with his bat, sending rocks soaring into the air. The Hafner farm was located in central North Dakota, a state that has produced the third-fewest major leaguers (as of 2019).1 But in those moments, Hafner was on the big stage.
"I was hitting rocks all the time, even when it was in the winter," Hafner recalled. "I'd get in trouble because they were rolling over them with the lawnmower. … It was fun just to go out and hit rocks and pretend you were in World Series games."2
Hafner never played in a World Series. But for a time, he was one of the game's most prolific power hitters. Between 2004 and 2006, Hafner ranked second only to Albert Pujols in OPS.
"He can hit the ball out of Yellowstone," said former Kansas City Royals pitching coach Bob McClure in 2007. "He has Reggie Jackson-type power with better plate discipline."3
Hafner was born on June 3, 1977, in Jamestown, North Dakota,4 to Terry and Bev Hafner. He was the younger of two boys. The Hafner farm was located three miles outside of Sykeston, which is home to 116 residents,5 a grain elevator, a café, a bar and a sign on the south end of town declaring it to be Hafner's hometown.6 It's among the small farming towns sprinkled throughout North Dakota, where agriculture is the leading revenue-producing industry.7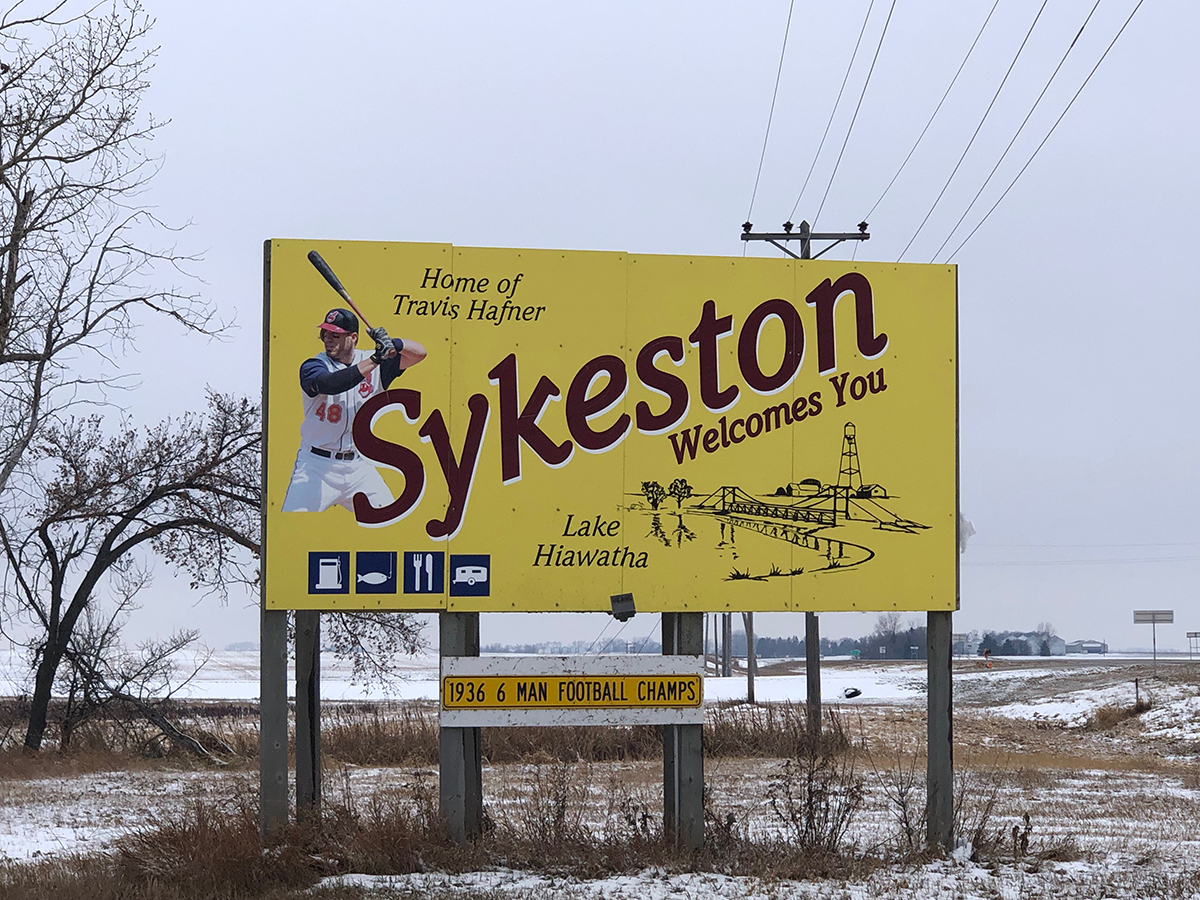 Hafner was a well-rounded athlete at Sykeston High School. He earned all-district honors in basketball twice and participated in the North Dakota state track and field championships in his junior and senior years.8
Sykeston was too small to field a high-school baseball team; Hafner was one of just eight students in his graduating class.9 Instead, Hafner played American Legion baseball for Carrington, a town of 2,000 residents about 15 miles east of Sykeston.
Hafner graduated from high school in 1995 and was set to play baseball and basketball at the NAIA level for the University of Jamestown. That summer he secured a spot in an Atlanta Braves tryout camp, which proved to be a turning point for his baseball career. The day before the camp, Hafner went 0-for-4 with a pair of strikeouts in a Legion game in Enderlin, North Dakota. As he drove through what he remembered as a "pretty brutal thunderstorm" to get to the Braves camp in Mandan, North Dakota, the dark clouds of doubt were just as ominous as the ones looming in the sky. Hafner remembered thinking to himself, "You went 0-for-4 with a couple strikeouts in a North Dakota Legion game. Why even waste time going to the Braves camp?"10
Instead, the camp proved to be a catapult for the next stage of Hafner's baseball career.
"That (camp) helped me a lot," Hafner said. "Just going to that tryout camp, and I did pretty well there. They gave me an option to sign a free-agent deal for not much money or gave me a list of (junior) colleges to attend."11
From that list, Hafner chose Cowley College, a community college in Arkansas City, Kansas.
"They were also the only school that did not offer me a starting position," Hafner said. "They told me I would have to earn it. There was something about having to prove myself that I found attractive."12
As a freshman in 1996, Hafner led Cowley to wins in 25 of its first 29 games on its way to a 51-13 record that ended with the school's first-ever appearance in the NJCAA College World Series.13 The Tigers were quickly eliminated, dropping a pair of games to Meramec College, but the Texas Rangers were impressed enough with Hafner to draft him in the 31st round of the 1996 amateur draft.
Rather than jump into the Rangers' minor-league system, Hafner returned to Cowley for his sophomore season in 1997. The Tigers returned to the NJCAA College World Series and won the program's first national championship, capping a 53-11 season with a 4-2 win over Seminole State College in the championship game. Hafner was the star in the title game, slugging a three-run home run en route to being named the JUCO World Series Most Valuable Player.14 It was an appropriate ending for Hafner, who drove in a school-record 82 RBIs in 1997 and was a third-team All-American.15
"He practiced every day like it was the seventh game of the World Series, and that is why he was so successful for us," said Cowley head coach Dave Burroughs, who is in the National Junior College Athletic Association Baseball Coaches Hall of Fame.16
Hafner jump-started his professional career immediately after the 1997 college season. "I went out and played and I had a pretty good instructional league," he said. "At that point, I was viewed as a hitter who had some power."17
In 1998, in his first full season in the minor leagues, Hafner played in 123 games for Class A Savannah. He split first-base duties with future big leaguer Carlos Peña and logged 24 appearances at third base and a game in the outfield.
While Peña moved up to High-A Port Charlotte in 1999, Hafner returned to Savannah. With first base all to himself, his career took off. Hafner led the South Atlantic League with 28 homers and 111 RBIs to go with a .292 average. His .546 slugging percentage and .933 OPS also led among players with at least 300 plate appearances.
Hafner moved up to Port Charlotte in 2000 and nearly won the slash-stat triple crown. His .346 batting average and .447 on-base percentage led the Florida State League, while his .580 slugging percentage finished second to teammate Kevin Mench. Hafner and Mench were formidable in the middle of the Port Charlotte lineup; Mench's 27 homers were best in the FSL, and Hafner's 22 homers were third. Mench and Hafner led the league in RBIs with 121 and 109, respectively.
Hafner was promoted again in 2001, this time to the Double-A Tulsa Drillers (Texas League). Wrist soreness limited him to 88 games and after the season he needed surgery to repair a broken hamate bone.18
In 2002 he was elevated to Triple-A Oklahoma City. But at age 25, he was still not ranked among the best prospects, let alone within the Rangers farm system. Hafner kept on slugging, batting .342 with 21 homers and 77 RBIs while leading the Pacific Coast League with a .463 on-base percentage as a regular at first base or designated hitter.
The Rangers took notice late in the season. On August 6 the Rangers determined that outfielder Todd Hollandsworth, who had been acquired a week earlier in a trade with Colorado, would need a stint on the disabled list after straining his left quadriceps muscle while running to first base. In Hollandsworth's place, the Rangers called up Hafner.19
That night, at Comerica Park in Detroit, Hafner debuted as a pinch-hitter for Michael Young with two outs in the top of the ninth inning against knuckleballer Steve Sparks, who was vying for a complete game. Hafner worked a full count before striking out swinging to cap an 8-2 win for the Tigers.20
"Tons of adrenaline, and then you're facing a knuckleballer," Hafner recalled. "I remember the bat feeling like the lightest it's felt in my life, and I was so pumped up. It was incredible."21
The next night Hafner was penciled in as the designated hitter, batting seventh. He collected his first two hits, including a game-tying RBI triple in the fourth inning, in a Rangers' 7-2 win against the Tigers. His only homer in his rookie year came a few days later, on August 11 in Cleveland, when he launched a two-run blast off Indians reliever Jason Phillips.22 Hafner was sent back to Oklahoma City in late August, but returned to the Rangers in mid-September.
Playing time was hard to come by on a Rangers team that scored runs in bunches. Texas had the third-highest payroll in baseball in 2002 with Alex Rodriguez, Rafael Palmeiro, Juan Gonzalez, and Ivan Rodriguez on the books.23 The offensive results were clear; Texas ranked second in slugging percentage and OPS that season. Despite the team's 72-90 record, there was little room in the lineup to develop a young slugger.
Meanwhile, the Indians were knocked from their AL Central perch by the upstart Minnesota Twins in 2002 and, in the offseason, lost their longtime power source, Jim Thome, to free agency. Coming off a career-high 52 homers, Thome signed a six-year contract with the Philadelphia Phillies for $85 million.24
Heading into his age-26 season, Hafner was traded to Cleveland along with right-hander Aaron Myette for catcher Einar Diaz and right-hander Ryan Drese.
"(Hafner has) worked hard to refine his swing, hone his strike-zone judgment, and hit the ball to all fields, not just over the fence," wrote John Sickels for ESPN.com after the trade. "He can still be fooled on occasion, but is good at making adjustments from at-bat to at-bat. Hafner destroys mediocre fastballs, and isn't an automatic out against breaking pitches. … His strike-zone judgment is very good. Hafner does not run well, and his defense is nothing special. But his bat clearly is."25
In 2003 Hafner made his first Opening Day roster. And on March 31 he was penciled into the lineup for the Indians' opener, getting three hits in a 6-5 loss to the Baltimore Orioles at Camden Yards.26 He dealt with wrist tendinitis early in the season. Then, with just a .206 average and only four homers in his first 30 games, he was placed on the disabled list with a broken toe.27 He found his swing when he returned to the Cleveland lineup in mid-July, batting .278 with 10 homers and 29 RBIs in 61 games.28
A highlight during his rookie season occurred August 14, 2003.29 While much of the East Coast, including Cleveland, went dark for up to two days due to a power failure. The Indians were wrapping up a four-game series against the Minnesota Twins at the Hubert H. Humphrey Metrodome, which was the closest major-league team to Hafner's hometown.
In the second inning Hafner jacked a solo homer off Twins right-hander Brad Radke over the right-field baggie to give the Indians a 1-0 lead.
In the fourth he added a check-swing double, with the ball caroming high off the Metrodome dirt in front of the plate, over the head of Radke, then bouncing over second base between the Twins infielders, with Hafner's head-first slide into second beating the throw by Twins center fielder Torii Hunter.
Hafner added a single in the seventh inning, bouncing the ball high off the plate and beating an errant throw by Radke at first base for an infield hit.
In the eighth inning Hafner lined a James Baldwin offering into the right-center gap. Hunter chased down the ball at the warning track, and while Hafner was rounding second base, fired a throw to second baseman Chris Gomez, whose relay couldn't beat Hafner at third base. It was the seventh cycle in franchise history. The Indians won 8-3.
"I needed the triple," Hafner said. "I remember the legs getting heavy, but I made it."30
Hafner's first season in Cleveland was also when he was given the nickname that he and Indians fans embraced.
"It was one afternoon in spring training when (Indians utility player) Bill Selby and I were talking," Hafner recalled. "When I was with Texas, I played against the Indians in Cleveland, and some of the guys on the Indians bench were talking and asking, 'What do you think of this Hafner kid? Well, he's a project.' Selby always called me 'Project.'"31
The name "Project" was soon combined with "Donkey," which was reportedly due to Hafner's running style.
"Pronk" was born.
From 2004 to 2006, Hafner embarked on a three-year stretch when he was among the game's best power threats. In 2004 Hafner batted .311 with 28 homers and 109 RBIs. In 2005 he went .305 with 33 homers and 108 RBIs while finishing fifth in the AL MVP voting. In 2006 he was eighth in AL MVP voting, batting .308 with career highs of 42 homers and 117 RBIs despite missing the final month of the season with a hand injury. His .659 slugging percentage and 1.097 OPS were tops in the AL.32
"He reminds me of Barney Rubble in a uniform," White Sox pitching coach Don Cooper said of the hulking 6-foot-3, 240-pound slugger after the 2006 season, "and I mean that in a complimentary way."33
Hafner's 2006 season was highlighted by a wild game on August 23 at Kauffman Stadium in Kansas City. Pronk hit a first-inning solo homer off Royals starter Jorge De La Rosa to pass Jamestown native Darin Erstad, then playing with the Los Angeles Angels, as the all-time home run leader among North Dakota natives. The Royals followed Hafner's blast with 10 runs in the bottom of the first. Cleveland slowly clawed its way back. The Indians scored four runs in the ninth to tie the game, 13-13, and, after the Royals went scoreless in the bottom of the ninth, they went into extra innings. In the top of the 10th, Hafner was intentionally walked and scored one of two Indians runs in the 15-13 victory.34
"Pronk is one of the top three hitters in the game," said Indians manager Eric Wedge at the time. "If not for that hand injury, he might have been the best of 2006." 35
Hafner belted 103 homers from 2004 to 2006.36 According to FanGraphs, he was the only player to top 40 percent in hard-hit percentage in each of those three seasons.37 He said his focus was always to go with the pitch and stay in the middle of the field.
"My strength was opposite-field gaps," Hafner said. "If you got something inside, you would pull it. That was my best chance to make hard contact … staying in the middle of the field.
"As teams started to pitch me inside more, I learned the proper way to hit the ball in." He added, "I was always at my best when I had the ability to drive the ball the other way. I guess if you don't have that ability you become very easy to pitch to."38
Hafner remained the fulcrum for an Indians team that enjoyed their best Pronk-led season in 2007. The Indians stormed through the AL Central, winning the division with a 96-66 record behind the bats of Hafner and Victor Martinez, the stellar all-around play of Grady Sizemore, and the superb pitching of CC Sabathia and Roberto Hernandez. Hafner's batting average dipped to .266, but he still managed 24 homers and 100 RBIs.
At the 2007 All-Star break, he was rewarded with a new six-year contract that included a four-year, $57 million contract extension and a 2013 team option.39 It was the richest contract in Indians history until Edwin Encarnacion signed a three-year, $60 million deal before the 2017 season.
The Indians opened the 2007 Division Series against the wild-card New York Yankees. Hafner homered in his first playoff game in helping to lead the Indians to a four-game series win and an AL Championship Series matchup with the Boston Red Sox.
"It was just really cool how well everyone got along," Hafner recalled. "Chemistry on the team was fantastic. We had really good defense. A really well-rounded team."40
Cleveland jumped out to a 3-1 series lead versus Boston, but the Red Sox stormed back, outscoring the Indians 30-5 in Games Five through Seven to win the pennant and, eventually, the World Series against the Colorado Rockies.41
It turned out to be Hafner's only playoff appearance. He called it the highlight of his career.
"Getting a chance to experience the playoffs and what that was like was pretty special," he said.42
The Indians were unable to build on their 2007 success, falling to 81-81 in 2008. Hafner suffered a strained right shoulder early in the year and was placed on the disabled list on May 30. He didn't return until September. He underwent offseason surgery to clean up the shoulder joint.43
Shoulder problems plagued Hafner for the rest of his career. From 2009 to 2012, he averaged 93 games played per season. In 2012 he missed more than a month with a torn meniscus in his knee, then went back on the disabled list with lower back inflammation.44 The injury-plagued 2012 season was his last in Cleveland, as the Indians declined their $13 million option on Hafner, ending his 10-season tenure with the Tribe.45
"Early in his career, he was one of the best and most feared hitters in the American League," Indians general manager Chris Antonetti said. "Unfortunately, the injuries prevented him from continuing to play at that level."46
The 35-year-old Hafner inked a one-year, $2 million with the New York Yankees for 2013.47 He arrived for spring training with the same frame he's had throughout his major league career, along with "ham-hock forearms and a linebacker's build."48
The Yankees hoped Hafner could shoulder the load at DH, but his shoulder didn't hold up. He got off to a hot start, hitting .318 with 6 homers and 17 RBIs through April. That included a home run on April 8 in Cleveland's home opener. Cleveland fans greeted Hafner during pregame introductions, leading to two tips of the hat from Hafner.49
But on April 29, Hafner was hit by a pitch from Houston Astros right-hander Lucas Harrell that caused tendinitis in his right shoulder. Rest and cortisone weren't enough to help him heal, and he landed on the disabled list for nearly the entire final two months of the season. He returned for the team's finale on September 29, going hitless in four at-bats in a 5-1 win at Houston in what was the final game of his career.
In 2014 Hafner was again a free agent. "I was only playing (again) if my shoulder felt 100 percent healthy," Hafner said that offseason. "I'll see how it feels next offseason or a couple months down the road. But there's probably a pretty good chance I'll be retired though."50
After his retirement, Pronk remained a fixture in Cleveland. He delivered the game ball to Thome, the man he was tasked with replacing in Cleveland during his playing days, prior to Game Seven of the 2016 World Series between the Chicago Cubs and Cleveland Indians at Progressive Field.51 The Cubs won 8-7 in 10 innings in what some consider one of the greatest World Series games of all time.52
Hafner threw out the first pitch before Game Three of the 2018 AL Division Series between the Indians and Houston Astros.53 He also put on a homer-hitting display as part of a 2014 ceremony to celebrate the reopening of renovated League Park, which was the Indians' primary home ballpark from 1901 to 1946.54
Hafner and his wife, Amy, have three children and as of 2019 resided in Tampa, Florida. He worked as a special assistant for the Indians, scouting both amateur and professional hitters while also working with the organization's minor leaguers. In his free time, he coaches his kids' little league teams.
Last revised: July 25, 2019
Acknowledgments
This biography was reviewed by Chris Rainey and Len Levin, and fact-checked by Alan Cohen.
Photo of Travis Hafner sign in Sykeston, North Dakota – courtesy of Travis Hafner himself.
Notes
1 BaseballReference.com.
2 Travis Hafner, telephone interview with author, November 15, 2018.
3 Frank Lidz. "Pronk of the Plains," Sports Illustrated, January 29, 2007. si.com/vault/2007/01/29/8399251/pronk-of-the-plains.
4 BaseballReference.com, baseball-reference.com/players/h/hafnetr01.shtml.
5 city-data.com, city-data.com/city/Sykeston-North-Dakota.html.
6 sykestonnd.com, sykestonnd.com/businesses.
7 North Dakota Wheat Commission, ndwheat.com/buyers/BasicFacts/.
8 North Dakota High School Coaches Association, ndhsca.com/dakotacoach/0708/07fall.pdf.
9 Albert Chen. "Young Slugger Sparks Revival in Cleveland's Travis Hafner," Sports Illustrated, August 2, 2004. si.com/vault/2004/08/02/8213366/young-slugger-sparks-revival-clevelands-travis-hafner.
10 Travis Hafner, telephone interview with author, February 5, 2019.
11 Travis Hafner, telephone interview with author, February 5, 2019.
12 CowleyTigers.com, cowleytigers.com/hof.aspx?hof=27&mobile=skip.
13 CowleyTigers.com, cowleytigers.com/documents/2018/6/13//baseball_results_by_year.pdf?id=1141.
14 CowleyTigers.com, cowleytigers.com/hof.aspx?hof=82&path=&kiosk.
15 Ibid.
16 CowleyTigers.com, cowleytigers.com/hof.aspx?hof=27&mobile=skip.
17 Travis Hafner, telephone interview with author, November 15, 2018.
18 ESPN.com, a.espncdn.com/mlb/spring2003/hafner.html.
19 UPI.com, "In Sports from United Press International," August 7, 2002. upi.com/In-Sports-from-United-Press-International/59541028692849/.
20 BaseballReference.com, baseball-reference.com/boxes/DET/DET200208060.shtml.
21 Travis Hafner, telephone interview with author, February 5, 2019.
22 BaseballReference.com, baseball-reference.com/boxes/DET/DET200208070.shtml.
23 TheBaseballCube.com, thebaseballcube.com/extra/payrolls/byTeam.asp?Y=2002&T=29.
24 ESPN.com, a.espncdn.com/mlb/news/2002/1202/1470010.html.
25 John Sickels. "Rookie Profile: Travis Hafner," ESPN.com, February 27, 2003. espn.com/mlb/spring2003/hafner.html.
26 BaseballReference.com, baseball-reference.com/boxes/BAL/BAL200303310.shtml.
27 Associated Press, July 16, 2003. vindy.com/news/2003/jul/16/tribe-puts-lawton-on-15-day-dl-hafner-recalled/?print.
28 BaseballReference.com.
29 Joseph Wancho, "August 14, 2003: Power Outage Pulls Plug on 55 Million, but Travis Hafner Generates Surge With His Cycle," SABR.org. sabr.org/gamesproj/game/august-14-2003-power-outage-pulls-plug-55-million-travis-hafner-generates-surge-his.
30 Travis Hafner, telephone interview with author, February 5, 2019.
31 Travis Hafner, telephone interview with author, November 15, 2018.
32 BaseballReference.com.
33 Lidz, "Pronk of the Plains."
34 Ibid.
35 Ibid.
36 BaseballReference.com.
37 Fangraphs.com.
38 Travis Hafner, telephone interview with author, February 5, 2019.
39 MLB.com, July 12, 2007. Paul Hoynes, "Hafner Will Sign Four-Year, $57 Million Extension with Indians on Thursday," Cleveland Plain Dealer, July 13, 2007. blog.cleveland.com/sports/2007/07/indians_expect_decision_on_haf.html; cleveland.indians.mlb.com/content/printer_friendly/cle/y2007/m07/d12/c2082765.jsp.
40 Travis Hafner, telephone interview with author, November 15, 2018.
41 BaseballReference.com.
42 Travis Hafner, telephone interview with author, November 15, 2018.
43 Jamie Turner, "Surgery Complete on Hafner's Shoulder," Cleveland Plain Dealer, October 15, 2008. https://www.cleveland.com/tribe/index.ssf/2008/10/surgery_complete_on_hafners_sh.html
44 Al Yellon, "Travis Hafner on Disabled List … Again," SBnation.com, August 9, 2012. sbnation.com/2012/8/9/3231375/travis-hafner-disabled-list-indians-news.
45 Paul Hoynes, "Cleveland Indians Exercise Ubaldo Jimenez's 2013 Option; Pass on Travis Hafner, Roberto Hernandez," Cleveland Plain Dealer, November 1, 2012. cleveland.com/tribe/index.ssf/2012/10/cleveland_indians_exercise_uba.html.
46 Ibid.
47 Andrew Marchand and Wallace Matthews, "Yankees Lock Up Travis Hafner," ESPN.com, February 1, 2013. espn.com/new-york/mlb/story/_/id/8902305/travis-hafner-signs-new-york-yankees.
48 Scott Cacciola, "The One-Tool Player," New York Times, February 22, 2013. nytimes.com/2013/02/22/sports/baseball/yankees-travis-hafner-has-just-one-task-swing.html.
49 Stephanie Storm. "Travis Hafner Returns with Yankees, Mars Indians Home Opener," Akron Beacon Journal, April 8, 2013. ohio.com/akron/sports/travis-hafner-returns-with-yankees-mars-indians-home-opener
50 Hayden Goethe. "ND Native Hafner's MLB Career Most Likely Finished," The Forum of Fargo-Moorhead, March 31, 2014: D1.
51 Alyson Footer. "Indians Legend Thome Gets Game7 First Pitch Honor," MLB.com, November 2, 2016. mlb.com/indians/news/jim-thome-throws-first-pitch-before-game-7/c-207933866.
52 Chris Landers. "There Have Been 39 World Series Game 7s, and We Ranked Them All," MLB.com, September 28, 2018. mlb.com/cut4/ranking-the-39-world-series-game-7s/c-260328338.
53 David Petkiewicz, "Former Tribe Great Travis Hafner Throws Out the First Pitch Before Game 3 of the ALDS," Cleveland Plain Dealer, October 8, 2018. cleveland.com/tribe/index.ssf/2018/10/former_tribe_great_travis_hafn.html.
54 Anthony Castrovince, "League Park Ready to Make a Big Comeback," MLB.com, August 22, 2014. mlb.com/news/renovated-league-park-in-cleveland-ready-to-open/c-90730424.
Born
June 3, 1977 at Jamestown, ND (USA)
If you can help us improve this player's biography, contact us.
https://sabr.org/sites/default/files/HafnerTravis_0.jpg
600
800
admin
/wp-content/uploads/2020/02/sabr_logo.png
admin
2019-07-25 15:23:08
2020-04-09 14:37:32
Travis Hafner