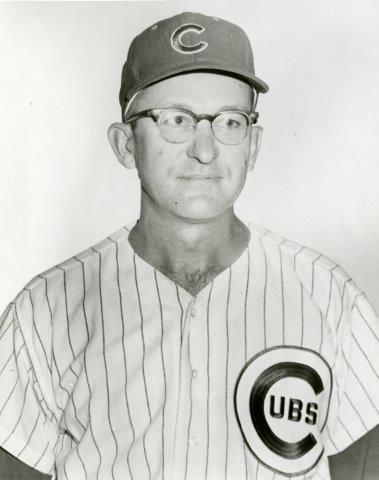 ---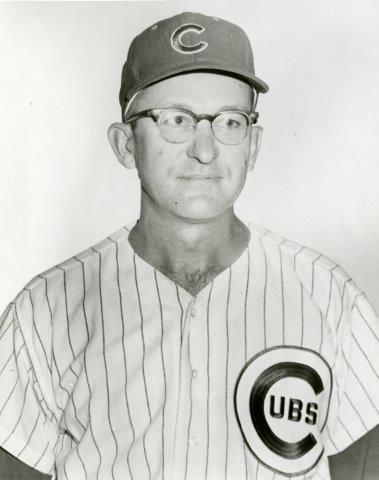 With a career in pro ball spanning 60 years, Vedie Himsl, "the Pride of Plevna," rose from a Montana border town to become a major league manager. A member of the "College of Coaches" dugout experiment with the 1961 Chicago Cubs, Himsl eventually became the Cubs' director of scouting for over a decade.
Avitus Bernard Himsl was born on April 2, 1917, the fourth of six children of Victor and Clara (Engels). Vedie's father, an Austrian national, moved the family to Plevna from St. Cloud, Minnesota in November 1913. The minuscule town, located in the southeast corner of Montana along US Highway 12, then had a population of around 200. Victor was a prominent local businessman – or perhaps better put, the town businessman – owning Plevna's lumberyard, implement dealership, and bank. He also represented Fallon County as a state legislator.
In his own words, Himsl grew up playing "cow pasture baseball."1 Young Vedie was pitching for the Plevna town team, sometimes referred to as the Indians, by the early age of 14. In late summer of 1931, at home against neighboring Baker, Vedie trotted in from right field in the sixth inning to finish out a lopsided loss. The Fallon County Times reporter noted, "Himsl shows promise of a real pitcher, and has excellent control at all times … [proving] to any ball-fan that [he] will hold his own with any pitcher around here in a very short time."2 Vedie was touched for nine hits and three earned runs, but struck out five Baker batters, including their #3 and #4 batters, grown men who were most likely sod-busting farmers. Himsl went o-fer on the day, but contributed an outfield assist.
Vedie's sporting exploits continued through his high school years. Coached by his older brother, Alois, Plevna's basketball boys won 23 consecutive home games starting in 1931. As a sophomore forward for the Cossacks, after a road trip through snow drifts (it took three hours to travel the 18 miles), Vedie scored 19 of Plevna's 39 points in the first half against Ismay3. In addition to being Plevna's 1934 valedictorian, Himsl was a four-year letter winner in football and basketball. He took over the role of quarterback midway through his freshman year after an upperclassman was accidentally shot. On the hardwood, he led the Purple and Gold to state championships his junior and senior years. The 6'1" Himsl was named center of the all-state tournament team his senior season.
Himsl showcased his athletic prowess the following four years at St. John's University in Collegeville, Minnesota. He majored in accounting and was named president of the letterman's club en route to earning 10 collegiate letters. In addition to basketball and baseball, quarterback Himsl played under SJU's legendary coach, George Durenberger – for whom the University's athletics complex is named. The 1936 Sagatagan yearbook called Himsl, "His home state's greatest gift to St. John's in more ways than three," and avowed, "His athletic ability knows no bounds."4 Those abilities translated to a batting average around .500, a 20-strikeout game (still a Johnnies school record), back-to-back conference baseball titles, and a pro contract.
But the gifted athlete's time at college wasn't all fun and games. On Saturday, September 25, 1937, tragedy struck SJU when an automobile loaded with football players and friends headed to the championship game struck the 19th car of an Omaha railway freighter. While three students were killed, junior quarterback Himsl and his co-captain, the right halfback, were spared. Vedie, asleep in the back seat, was thrown 50 feet from the vehicle, suffering a bad head injury and a nasty flesh wound on his calf. After 10 days of recuperation, Himsl felt well enough to attend the World Series between the New York Yankees and Giants, a swell gift from the university to its championship football team.
It was not two months later that Himsl was signed by Tigers scout Steve O'Rourke, who first saw Himsl on the mound for Little Falls of the O-T-W (Otter Tail, Todd, and Wadena counties) league in Minnesota – one of the state's oldest running semi-pro leagues. While with Little Falls in the summer of 1937, Himsl threw a no-hit, no-run game.
After an invitation to spring training at Beaumont, Texas Himsl was farmed out to the Class D Alexandria Aces of the Evangeline league. The 21-year-old's 18 wins were good for fourth best in the league. But these efforts were not justly rewarded by the Tigers, who failed to pay what they had quoted the young hurler – they offered $125 rather than $200. Himsl, a college-educated boy, took his grievance directly to commissioner Kenesaw Mountain Landis. Himsl recalled that Landis invited him to attend the major league meetings that winter in New Orleans. In a private meeting, the commissioner awarded the ballplayer his back pay, and perhaps more importantly, free agency. Himsl said of Landis, "He was very enjoyable, a wonderful man. He made me feel like I had known him for a long time. He treated me almost like an uncle."5
Himsl spent 1939-42 back in Minnesota pitching for the St. Paul Saints. "A control pitcher with a good curve ball,"6 he went 51-52 at the AA level. In his first season there, nearly six years younger than the average American Association ballplayer, Himsl appeared in 42 games, good for third amongst pitchers, starting 17 games and winning 10. Vedie Himsl's high water mark as a player came in July 1939, when 400 of his Collegeville fans boarded a train to watch him pitch for the Saints on Vedie Himsl Day. He twirled a four-hitter, added an RBI single, and belted his first career home run to help his own cause.
In 1940, he hurled 222 innings, winning 13 more games while walking just over two batters per nine innings. In 1941, Vedie had 16 complete games, again walking around two batters per nine, but his 15 losses were nearly the league's most. Himsl won 16 games in 1942, completing 24, while logging 253 innings.
World War II then swept Himsl and many other ballplayers into military duty. A Navy man until his discharge in 1946, Himsl didn't play much ball in his four years of service, but was back with the Saints for 27 games that summer, scratching out a single victory in 51 innings of work.
Himsl then joined the Cardinals organization, being named business manager of their Winston-Salem affiliate in 1947. It was an eventful tenure during which he presided over a police investigation following a night at Southside Park in which an out-of-town gambler made off with a substantial payday. There was also a near-riot in which several hundred fans stormed the field after an unfavorable umpire's interference call cost the locals a game. Their action cost the club a $500 fine. In late summer of 1947, Himsl hosted an open tryout for the defending world champs in his adopted home of Missoula, Montana. On hand to assist in scoping the talent of western Montana was former Giants pitcher Hugh East.
Himsl then spent a couple of years scouting in Chicago for the Redbirds before managing their Hamilton affiliate in the Pennsylvania-Ontario-New York (PONY) League in 1950-51. He was instrumental in developing Ken Boyer, moving the young pitcher to third base. Himsl also helped Stu Miller develop his straight change, a pitch that Dick Hall called "the best change-up ever."7 The Sporting News took it a step further, "Miller says that Vedie Himsl … taught him the change-up. Today's hitters know better. They know only Satan could have taught him such a deceitful pitch."8 Himsl successfully guided both teams to winning records, while also appearing in his last 11 professional games.
By 1952 Himsl's playing days were over. He had won 72 games in the minors, but his career in baseball was just beginning. The Cubs hired Himsl as a scout in 1952. He was assigned to scout a sprightly young shortstop named Ernie Banks, and a year later he signed Ernie's brother, Ben. By 1954 he had been named chief of the club's Midwestern efforts. In 1955, Himsl directed the Cubbies' minor league spring training camp, with a total of 175 prospects. In 1957, he was one of four men who skippered the Pulaski (Virginia) club in the short-season Appalachian League. By 1958, Himsl was named pitching instructor of the Cubs farm clubs, on the same day Rogers Hornsby was selected as batting coach.
In 1961 the Chicago Cubs hadn't had a winning season in 14 years, and it was time for a little unique baseball history. Owner Philip K. Wrigley employed what came to be called the "College of Coaches." Wrigley felt, "Managers are expendable. I believe there should be relief managers just like relief pitchers."9
The newspapers had fun with the idea from the start. An Associated Press headline from early April read, "Cubs' New Manager – Nine Coaches and IBM Machine."10 The Chicago Sun-Times ran an odds chart, akin to a horse racing daily form, wagering who the first manager would be. Himsl, the Cubs' pitching coach in 1960, but still the least known of the bunch, was the long shot at 100-1. Wrigley and the media didn't always see eye-to-eye, and it was the man from Plevna who was handed the reins to start the season – or as the Chicago Tribune's Ed Prell put it, "hired and at the same time given two weeks' notice."11 It may have been Himsl's seniority that won him the honor of being the first Head Coach in major league history, but the Sporting News wrote, "Vedie's work was judged so outstanding during the daily drills in Mesa."12 Yet it still caused quite a media stir when the announcement was made aboard a chartered flight between San Antonio and Dallas that Himsl would be the man. "Never were so many telephones used for such an extended time to report the 'who's Himsl?' stories."13
Cubs players weren't too keen on the idea either. Richie Ashburn and Don Zimmer were two of the most vocal detractors. But their frustrations were perhaps no better expressed than when catcher Sammy Taylor quipped at spring camp, "I can't even fart without one of the coaches hearing it."14
In their first 11 games of the 1961 season, the Cubs came out the gates at 5-6. Manager, or rather Head Coach, Himsl (who wore number 54) was quoted upon his departure, "Being human, I'd prefer to stay, but this is part of the plan to which we all agreed."15 The Sporting News added, "Himsl … was popular with both players and the press. He is a quiet, soft-spoken, Walter Alston type and was a big hit all the way around."16
Himsl's next two weeks found him managing with the San Antonio Missions and the Wenatchee Chiefs, before landing back with the Cubs for his next orbit of 17 games. A front page headline of the Sporting News on May 17 read "Players Hail Himsl's Return to Cubs." The paper stressed Himsl's "strong silent type" demeanor, organizational skills, and devotion to Wrigley's non-traditional vision. The Cubs responded by winning another five games. Himsl got one last chance with the big club in June for a four-game series with the rival Cardinals. The Cubs managed three losses and a tie.
Himsl's time at the helm of a major league ball club was non-traditional to say the least, but he did exhibit his keen eye for talent. He was credited with recognizing the abilities of a young Ron Santo, moving the third sacker to the clean-up spot when Banks got off to a slow start. Himsl also acknowledged the mental aspects of the game, mentoring what he called "temperamental poise" in young lefty pitcher Dick Ellsworth.17
Wrigley's unorthodox experiment continued through 1962, though Himsl was not one of the "head coaches" that season. His big league managerial record stood at 10-21-1, and those 32 games amounted to his only time as a big league skipper. He is one of only 108 men (as of 2017) to manage – but not play – at the major league level.
Himsl stayed on with the Cubs as pitching coach in 1962 and '63, when he helped in developing the most sophisticated pitch charting the Cubs had used to date.18 He managed in the Pacific Coast League with the 1964 Salt Lake Bees. He also helped develop young Cubbie talents – including Lou Brock, Danny Murphy, and Ken Hubbs – in the Arizona Instructional Leagues of 1962, 1964, and finally 1968. Himsl spent several years coordinating the Cubs winter program as business manager, before eventually getting back to scouting full-time. In 1965, Wrigley named Himsl assistant director of player procurement and development.
Vedie Himsl was appointed director of the Central Scouting Bureau of Major League Baseball in November of 1968 until it briefly dissolved in 1970. In 1972, Himsl took over as Director of Scouting for the Cubs, a position he held until 1985. He continued to scout local Chicago athletes on a more informal level until at least 1991.
Himsl married Kathryn Bloom in Chicago on October 13, 1956. Their union produced two boys, Donald and Thomas. Himsl last visited his boyhood home during Plevna's 75th anniversary celebration in 1984. Avitus Himsl died 18 days shy of his 87th birthday on March 15, 2004. He was cremated and buried in Saint Joseph Cemetery in River Grove, Illinois.
Acknowledgements
The author would like to extend special thanks to Skylar Browning for his contributions to this biography.
Rory Costello reviewed the manuscript, and Alan Cohen fact-checked it.
Sources
In preparing this biography, the author relied primarily upon online newspaper archives including The Sporting News offered at The Paper of Record, as well as the Library of Congress hosted Chronicling America newspapers, and the Montana Historical Society online archives, including: Dillon Examiner, Fallon County Times, Great Falls Tribune, Missoulian, and Plevna News. The author's book with fellow SABR member, Skylar Browning, Montana Baseball History, was also partially excerpted. Additional information was verified in the player's file at the Hall of Fame Museum and Library in Cooperstown. Census data was acquired from familysearch.org.
This biography was reviewed by Rory Costello and fact-checked by Alan Cohen.
Notes
Born
April 2, 1917 at Plevna, MT (USA)
Died
March 15, 2004 at Chicago, IL (USA)
If you can help us improve this player's biography, contact us.
https://sabr.org/sites/default/files/HimslVedie.jpg
600
800
admin
/wp-content/uploads/2020/02/sabr_logo.png
admin
2017-08-03 13:45:20
2021-09-24 07:40:38
Vedie Himsl