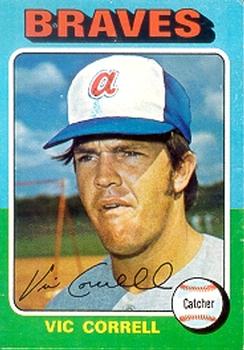 ---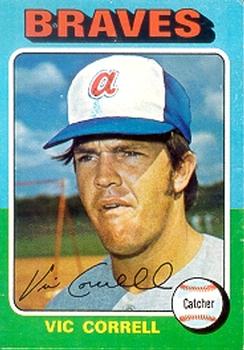 Vic Correll made his major-league debut for the Boston Red Sox in the last game of the 1972 season. It was October 4 in Detroit. The season was a very unusual one; the Red Sox finished just a half-game out of first place. Detroit won the pennant. On October 1, the Red Sox held a half-game lead over the Tigers even though both teams had 84 wins. There had been a players' strike before the season began and the season was delayed a number of games. The agreement was that rather than worry about each team playing exactly the same number of games, all teams would play out the schedule. The Sox were 84-69 and the Tigers (who had played one more game) were 84-69, leaving them with a .549 winning percentage behind Boston's .553. But the schedule also had both teams going head-to-head for the last three games of the season. Should one team win two of the three, that team would win the pennant.
More than 50,000 spectators packed Tiger Stadium on October 2 and October 3 to see Detroit take both games from Boston, 4-1 and 3-1. The pennant was decided.
There was still one final game on the schedule, and Vic Correll was the starting catcher, batting eighth, and catching Marty Pattin. The Red Sox won the game Correll was in, 4-1, and he had two base hits in four at-bats. He singled his first time up, facing Joe Coleman, and drove in Rick Miller, the second run for the Red Sox and thus the eventual game-winner. He scored the third run. After flying out in the third, he singled in the sixth and struck out in the top of the eighth. It was as close to the postseason as Correll ever got.
He had come to the Red Sox after six years of minor-league ball. His future held seven more years in the big leagues, all in the National League.
Victor Crosby Correll Jr. was born in Washington, D.C. on February 5, 1946. He was, according to the player questionnaire he completed for the National Baseball Hall of Fame in the late 1960s, of American Indian and Irish heritage. His father, Victor C. Correll, served in the United States Air Force for 30 years, retiring as a colonel. His mother, Irma Jo, was a homemaker.1
Vic moved around as a boy, attending elementary school on the base at Reese Air Force Base in Lubbock, Texas, and then McClenaghan High School in Florence, South Carolina, from which he graduated in 1964. A sister, Linda, was born in Tachikaina, Japan. Vic played baseball, basketball, and football in high school, and then received a full scholarship to play baseball in college at Georgia Southern College, where the team was National Association of Intercollegiate Athletics Regional Champs in 1967. He graduated from Georgia Southern with a B.S. in Recreation.
The year before, he had played semipro ball in Staunton, Virginia, of the Shenandoah Valley League, batting .254.
Selected in the ninth round of the June 6, 1967 draft, Correll was signed by Cleveland Indians scout Spurgeon "Spud" Chandler out of Georgia Southern. His first year of professional ball was for the Rock Hill (South Carolina) Indians in the Class A Western Carolinas League. He appeared in 60 games, batting .239 with four homers and 15 RBIs. At the very end of the season, on August 26, 1967, he married Cheryl Culpepper. As of an interview conducted in August 2018, the couple remain married and have three children.
In 1968, he played for Rock Hill again, a full season, appearing in 105 games. He hit .286 with 16 homers and 66 runs batted in. Both years—1967 and 1968—he was selected to play in the Western Carolinas League All-Star Game. He led all league catches in assists with 71.
Correll was promoted to Double A for the 1969 season, playing in Connecticut for the Eastern League's Waterbury Indians. He played in 94 games, but only hit .210 and drove in half as many (33) runs as the previous year. He was brought up to the big-league club after Duke Sims suffered a split finger in May—accruing 15 days of service time—but never appeared in a game for Cleveland.
In 1970, he spent another year in Double A, playing in the Southern League for the Savannah Indians. He tied for the league lead in games caught (116), but also in errors (17). He hit .229, with eight homers and 41 RBIs. The Indians brought him to spring training in 1971, but released him on April 5. Five days later, he signed as a free agent with the Chicago White Sox.
The White Sox sent him to North Carolina to catch for the Asheville Tourists of the Double A Dixie Association. He played in 113 games, where he hit .273 with a career-high 22 homers. He drove in 58 runs. The White Sox left him unprotected in the 1971 minor-league draft and in November he was selected by the Boston Red Sox.
During spring training 1972, Correll was a non-roster invitee, eventually assigned to catch for the Louisville Colonels, Boston's Triple A team in the International League. There was one bizarre incident where he was arrested in a Norfolk motel room for gambling (playing poker) with Stan Williams and Tony Torchia.2 Correll played in 137 of the team's 144 games, ranking third in RBIs with 65, and batting .271. He was named to the IL All-Star team, and he earned the mid-September callup that saw his debut on the last game of the major-league season.
A couple of years later, reflecting on his years in the minor leagues, he said, "It was 1970 before I played in a league with air conditioning."3
The Red Sox moved their Triple A entry in the International League to Pawtucket, Rhode Island in 1973 and that's where Correll was sent, playing under Darrell Johnson as he had in 1972. After breaking his right leg during a sliding drill at the very start of spring training, it's unsurprising that he didn't get in as many games (95) and by no means fared as well, only hitting for a .183 average, with 41 RBIs. Even after returning to play, the injury continued to hamper him throughout the year.4
On March 26, 1974, the Red Sox traded him to the Atlanta Braves for veteran utility player Chuck Goggin, who then ruptured a disc in spring training and only appeared briefly in two games for Boston.
Being based in Atlanta suited Correll, who made his home in Statesboro, Georgia, where he trained bird dogs at the Marsh Hunting Preserve during offseasons.
Correll played four seasons (1974 through 1977) for the Braves. He was the starting catcher in the game in which Hank Aaron hit his 715th home run. The Braves said they'd been trying to land him for two years.5
He was second to catcher Johnny Oates as the 1974 season began, though incoming manager Clyde King began platooning him. Not long afterwards, Correll had assumed the primary role. He played in 73 games in 1974 (.238, 29 RBIs) and in 103 games in 1975 (.215 with 11 homers and 39 RBIs.) One of his bigger thrills came on May 29, 1974. He was batting .095, but was called upon to pinch-hit in the bottom of the 11th in a scoreless game against the Phillies, and he drove in the winning run. On July 31, he hit a grand slam against the Giants, his first big-league home run. A little later in the year, on August 16, he hit a three-run homer off future Hall of Famer Steve Carlton.
Teammate, 20-game winner, and also a future Hall of Famer Phil Niekro credited Correll for a lot of his success: "Vic has done a great job of calling for me since he took over. He gives me a lot of confidence."6
Over the winter, Correll knew he pretty much had the catching job for 1975. He allowed, "I've had a little more peace of mind this winter."7 Running the hunting preserve, he was asked about training dogs and handling pitchers, and if there was any similarity. "Yes," he replied, "there is a similarity. You handle each dog and each pitcher differently."8
"I'm not a home run hitter," the 5-foot-10, 180-pound Correll said on May 20.9 He had hit eight home runs by that date, but quickly cooled off and hit only three more all season long. There was a strange moment in Atlanta on June 22 when Correll could be said to have broken up a no-hitter in a most unusual way. Pete Falcone of the San Francisco Giants had a no-hitter going for 7 2/3 innings, but then walked Correll. First baseman Willie Montanez of the Giants tapped Correll on his butt with his glove—twice, even after Correll told him to stop. Montanez said, "I can't let someone talk to me like that." Correll, for his part, said, "When he persisted, I swung, but I missed with my roundhouse." A fight broke out. Montanez was ejected. Falcone gave up a single to each of the next two batters, and later said, "I guess the fight really did break my concentration."10 Falcone did get a 5-2 win.
In 1976, Correll played in more games than any of the Braves' two other principal catchers, but the duties were pretty evenly split: 69, 61, and 54. In all, the Braves—who finished in sixth (last) place in the NL West—used five catchers over the course of the season. Correll hit .225 with five homers and 16 RBIs.
The 1977 Braves lost 101 games and finished last again. Biff Pocoroba caught in 100 games, Correll in 49. Correll again contributed 16 runs batted in, and two in particular stand out. On June 24 in Atlanta, the Padres had taken an 8-6 lead by scoring twice in the top of the 10th. In the bottom of the 10th, with a runner on first base and nobody out for the Braves, Correll was asked to pinch-hit. Facing Rollie Fingers, he hit a two-run homer and tied the game. The Braves won it later in the inning. It was the second home run Correll hit off a future Hall of Famer in 1977; on April 13, he'd hit one off Don Sutton. All in all for 1977, however, he only hit .208. Despite the low batting average, he did get on base—his on-base percentage was .314, the fourth year in a row he had topped .300. Correll only appeared in two September games and was reportedly on the trading block. After the season, he had knee surgery.
The following spring, before the 1978 season got underway, Correll was cut by the Braves, released on March 30. On April 9, he signed as a free agent with the Cincinnati Reds. Beginning in 1972, the Reds had finished first four times and finished second the other two years. Here was an opportunity to play for a winning ballclub.
There's no question that Johnny Bench would remain the first-string catcher. The "Little General" had been an All-Star for 10 years in a row and was still only 30 years old. Correll and Don Werner were his backups, Correll getting into a couple of more games (52) and hitting better, although he wasn't used as often. In August, he said he was pleased to be playing injury-free for the first time in years. Referring to the surgery he'd had in the offseason, he said, "I wish I'd had the operation 10 years ago."11 He added that he saw himself not so much as a backup but as playing alongside Johnny Bench, "working with the man I consider the best catcher that ever lived."12
He accumulated 115 plate appearances in 1978, and hit .238, but only drove in six and only scored nine times. Correll had spent early-season time in Triple A, playing in 33 games for Indianapolis before being called up to Cincinnati in mid-June when Bench suffered a lower-back strain.
In 1979, he posted similar stats. He saw a little more work in the batter's box (150 plate appearances, with a .233 batting average, 15 RBIs, and 14 runs scored), despite catching in five fewer games. The Reds finished first in the NL West but were swept in the NLCS by the Pirates. Correll was with the big-league team all year, and on the playoff roster, but did not appear in postseason play. It was the only opportunity he truly had to play postseason baseball.
In 1980, he was slow to sign, offered a raise but holding out for more.13 An Associated Press story saw the writing on the wall as to the future: "Vic Correll is expected to be Bench's backup again this year but the Reds catchers of the future increasingly look like Dave Van Gorder and Steve Christmas."14
Correll was signed to what was reported as a three-year contract on March 5. Two days later, he was out for most of the season. He saw little action in 1980, due to a torn Achilles tendon suffered on March 7. The March 10 surgery put him in a cast for a couple of months. He only played 14 games in Single A, on a rehab assignment with Tampa in August, and then was called back up to the major leagues in September. He appeared in only 10 games, three of them complete games. In the limited opportunity he had, he hit .421 (8-for-19) and drove in his final three runs as a major leaguer. All three were meaningful: he drove in the first run in a 2-1 victory over the Giants on September 23, and doubled in two runs in the top of the 10th inning to beat the Padres, 5-3, on September 25.
The Reds finished third. On October 24, they released Vic Correll and his playing days were done. After baseball, he says, "I went to work on several plantations down in South Georgia. Training dogs. Guiding. Taking people hunting."15 The work kept him busy for many years, but he currently lives in retirement in Perry, Georgia.
Last revised: October 2, 2018
Acknowledgments
This biography was reviewed by Joel Barnhart and fact-checked by Stephen Glotfelty.
Sources
In addition to the sources noted in this biography, the author also accessed Correll's player file from the National Baseball Hall of Fame, the Encyclopedia of Minor League Baseball, Retrosheet.org, and Baseball-Reference.com. Thanks to Rod Nelson of SABR's Scouts Committee.
Notes
1 Author interview with Vic Correll on August 25, 2018.
2 Jerry Lindquist, "At Random," Richmond Times Dispatch, June 27, 1972: 21.
3 Jesse Outlar, "The Happy Hunter," Atlanta Constitution, March 19, 1975: 1D.
4 August 25, 2018 interview.
5 Charlie Roberts, "Thrilled in the Bullpen," Atlanta Constitution, April 30, 1974: 1D.
6 Robert Eubanks, "Braves Going to Youth," Augusta Chronicle, October 6, 1974: 13.
7 Gene Ballard, "Lady Luck Smiles, Brings Correll Peace of Mind," Augusta Chronicle, February 16, 1975: 55.
8 Jesse Outlar.
9 Herschel NIssenson, "Braves' Correll Has Grand Slam," Lexington Leader (Lexington, Kentucky), May 21, 1975: 52.
10 "Falcone's No-Hit Bid Knocked Out By Fight," Evening Star (Washington, DC), June 23, 1975: 21.
11 "Reds' Correll Enjoys Backup Catcher Role," Advocate (Baton Rouge), August 16, 1979: 87.
12 Ibid. He was pleased at being signed by Cincinnati and noted that his son had taken all his Atlanta shirts and written "Ex" on them above where they read Atlanta.
13 Terry Kinney, "Reds, Correll Still Differ on His Worth," Lexington Leader, March 5, 1980: 24.
14 Associated Press, "Dodgers' Welch Admits Drinking Problem Treatmant." San Diego Union, March 5, 1980: 37.
15 August 25, 2018 interview.
Born
February 5, 1946 at Washington, DC (USA)
If you can help us improve this player's biography, contact us.
https://sabr.org/sites/default/files/CorrellVic.jpg
600
800
admin
/wp-content/uploads/2020/02/sabr_logo.png
admin
2018-10-02 12:35:54
2020-04-09 14:38:41
Vic Correll