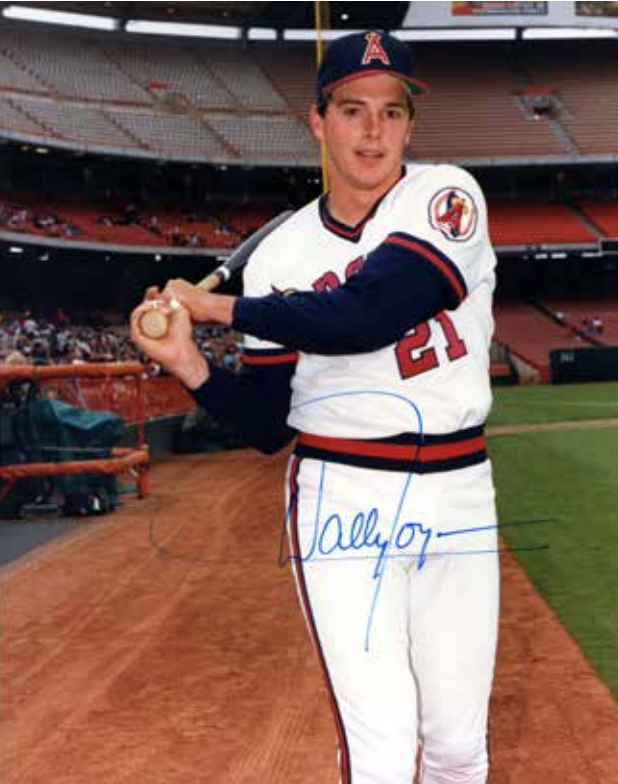 ---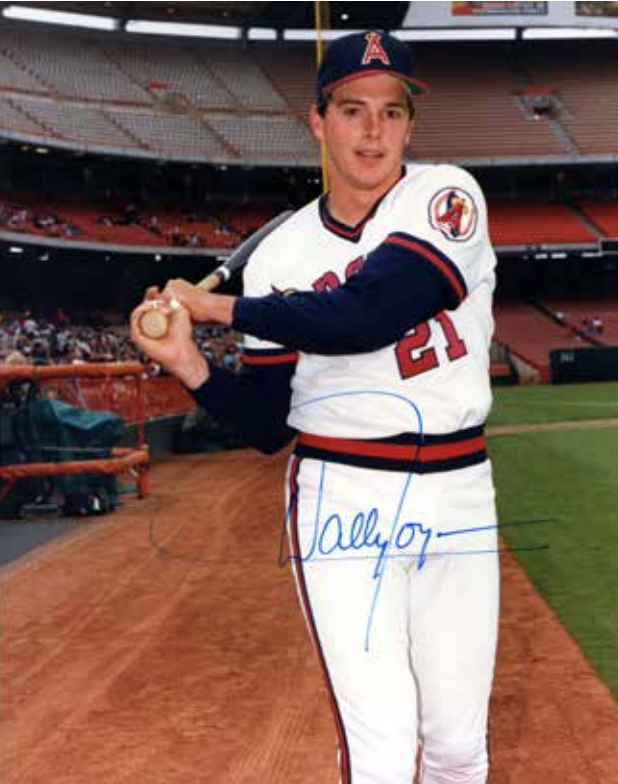 The 1983 film National Lampoon's Vacation introduced moviegoers around the world to Walley World, a fictitious Southern California amusement park billed as "America's favorite family fun place." The film depicts Clark Griswold, played by Chevy Chase, leading his family on a cross-country journey from the suburbs of Chicago to Walley World. Following an everything-that-can-go wrong-does-go-wrong plot, the quest to take his family to Walley World becomes an obsession for Clark. Three years later "Wally World" came to Anaheim in the form of a 23-year-old rookie first baseman named Wally Joyner.
Wallace Keith Joyner was born on June 16, 1962, in Atlanta. He was the youngest of five children born to Cliff and Karma (Fickes) Joyner. Cliff served in the Air Force for four years, then began his career as an air traffic controller for the Federal Aviation Administration. He worked for the Southern Regional Air Traffic Control Center in Hampton, Georgia, for 30 years.1 Karma was a faithful member of the Church of Jesus Christ of Latter-day Saints (LDS) who was an early-morning seminary and music teacher for youth in Atlanta.2
The fact that Wally survived childhood was somewhat miraculous in itself. He was born with orange skin, the result of an Rh factor that forced him to have two complete blood transfusions during his first 24 hours of life.3 At the age of 9 he contracted a kidney disease that caused a dangerous backup of fluids and bacteria that resulted in his gaining 15 pounds overnight. Had his parents waited a day longer to seek medical attention, doctors said, he would have died of heart failure.4
After overcoming these early-childhood health challenges, Wally attended and graduated from Redan High School in Stone Mountain, Georgia, the same school that produced major-league infielder Brandon Phillips. During his senior year, 1980, Joyner was honored as the Georgia High School Player of the Year. He went 5-0 with a 1.40 ERA as a pitcher and when he wasn't on the mound he drove in a Georgia high-school record 44 runs.5
A devout Mormon, Joyner chose to attend Brigham Young University in Provo, Utah. He majored in business administration and was a mainstay on the Cougars baseball teams from 1981 to 1983. As an 18-year-old freshman in 1981, Joyner hit .333 with 10 home runs and 48 RBIs. The left-handed-hitting first baseman followed that with an even better sophomore season, when he hit .445 with 10 home runs and 63 RBIs. As he entered his junior year in 1983, great things were expected of Joyner and the Cougars, and neither disappointed.
In addition to Joyner the 1983 BYU baseball team featured five other future major-league players: Rick Aguilera, Cory Snyder, Scott Nielsen, Gary Cooper, and Colby Ward.6 The team compiled a 54-11 record and entered the NCAA Regionals as the nation's top-ranked team. Joyner hit his 23rd home run of the year in an opening-round game against Arizona State, but the Cougars lost to the Sun Devils, who rode freshman Barry Bonds' seventh home run of the season to victory. The next day the Cougars were eliminated from the tournament when they lost to Fresno State. In 64 games that season, Joyner hit .462, scored 89 runs, belted 23 home runs and drove in 95 runs on his way to earning second team All-American honors.7 On June 6 the California Angels selected him in the third round of the 1983 draft.
After signing on June 16, the first baseman began his professional baseball career with the Peoria (Illinois) Suns of the Class-A Midwest League. Joining the Suns at midseason, Joyner appeared in 54 games and batted .328 with 3 home runs and 33 RBIs. Despite having a roster that included future major leaguers Mark McLemore, Devon White, Bob Kipper, Pat Clements, and Urbano Lugo, the Suns finished 54-85, last place in the circuit's South Division.
The next spring Joyner was promoted and spent the entire 1984 season the Waterbury (Connecticut) Angels of the Eastern League. Appearing in 134 games, he led the Double-A Angels in batting average, home runs, and RBIs (.317/12/72) as the team finished in second place with a 76-64 record. His performance at Waterbury earned him a promotion to the Triple-A Pacific Coast League's Edmonton Trappers for the 1985 season. With Edmonton he hit .283 with 12 homers and 73 RBIs.
With the retirement of Angels first baseman Rod Carew after the 1985 season, Joyner appeared to have the inside track on the job for 1986. During the winter he dedicated himself to getting stronger while he played winter ball in Puerto Rico. He added 10 pounds of muscle to a physique that in college had drawn comparisons to a bowling pin, and won the Puerto Rican League triple crown with a .356 average, 14 homers, and 48 RBIs in 54 games.8 This solidified Joyner as Carew's heir-apparent.
Joyner enjoyed a solid spring and was rewarded with the everyday first-base job out of spring training. He made his major-league debut on April 8, 1986, against the Seattle Mariners at the Kingdome in Seattle and went 1-for-5. He recorded his first major-league hit in the top of the seventh inning when he doubled to deep center off right-hander Mike Moore. The next night he hit his first major-league home run, a two-run shot in the third inning off Mark Langston. By the end of April Joyner was batting .333 with 6 home runs and 16 RBIs.
When the Angels returned to Anaheim Stadium in early May, Wally World had officially come to Anaheim. Sports Illustrated reporter Craig Neff recorded the event. "One fan draped a WALLY WORLD sign over the terrace-level railing in right field, another started a Walleee! cheer, and that was it. An age of good, clean fun had begun."9
Wally World continued to grow in popularity not only in Anaheim but also nationwide. On July 15, 1986, Joyner was the American League's starting first baseman in the All-Star Game, played at the Houston Astrodome. It was the first time fans had voted a rookie into the starting lineup for the midsummer classic. Batting fifth, Joyner faced Dwight Gooden to lead off the top of the second inning. The sweet-swinging left-handed first baseman sent a short pop fly to shallow left field that was gloved by Ozzie Smith. This was Joyner's only plate appearance of the game and, surprisingly, he never played in another All-Star Game.
Joyner's early success at the major-league level was complemented by his reputation as modest, polite, and unassuming rookie. That season, Angels broadcaster Ron Fairly commented, "He's such a good, all-American kid. You'd want to stand next to him in a rainstorm because you know lightning won't hit him."10 Divine intervention may explain how Joyner was not seriously injured in a knife-throwing incident at Yankee Stadium later that season.
The incident occurred on August 26. The Angels had just wrapped up a two-game series against the Yankees in New York and Joyner was walking off the field with winning pitcher Mike Witt, who had shut out the Yankees on four hits. As the two approached the dugout, Joyner was hit on the left forearm by a knife that was thrown from the stands. "I thought it was a comb or something somebody threw from the second row. Then I looked down, and it was this big knife. The thing had about a 5-inch blade on it."11 Fortunately for Joyner, the knife only grazed his forearm.
By the end of the 1986 season Wally World was a fixture in the Angels lineup and a fan favorite. He played in 154 games that season and finished with a .290 average, 22 home runs, and 100 RBIs in leading the Angels to the AL West division title. In many years these numbers would have been good enough to easily win the Rookie of the Year award, but not this year. He was edged out by the Oakland A's Jose Canseco for AL Rookie of the Year honors. Interestingly, Joyner finished eighth in the AL MVP balloting, while Canseco finished a distant 20th.
Joyner and the Angels met the Boston Red Sox in the 1986 ALCS. The series started on a high note for both Joyner and the Angels. The first baseman batted .455 with a home run, two doubles, and two RBIs in the series' first three games as the Angels jumped out to a two-games-to-one series lead. However, the 24-year-old rookie was hospitalized before Game Four with an inflamed right leg.12 The Angels won the game, and it was hoped Joyner would return for Game Five. As it turned out, Joyner spent the remainder of the series in the hospital and the Angels, despite being only one strike away from the World Series, failed to close out the Red Sox in Game Five. The Red Sox rallied to the take the series in seven games and Joyner would not wear an Angels uniform in another postseason game.
There was no sophomore jinx for Joyner. In fact, 1987 was the best offensive season of his career. In 149 games he hit .285 and amassed career highs in runs scored (100), home runs (34), and RBIs (117). The effort garnered him enough votes to place 13th in the MVP balloting. The individual highlight of his season came on October 3 when he belted three solo round-trippers against the Cleveland Indians in a 12-5 victory in Anaheim. The first baseman took Ken Schrom deep in the first and third innings and added his third of the day off Sammy Stewart in the sixth inning.
While Joyner was able to replicate his personal success of 1986, the Angels were unable to recover from the disappointment of the previous fall. The team fell to 75-87 and finished tied for last in the AL West. Nonetheless, reflecting back on his career, Joyner said, "Those first two years were my favorite two years I ever had."13
Although his first two seasons belied Joyner's claim that he was not a power hitter, from 1988 to 1991 he settled back into being a productive gap hitter who entertained Angels fans with his elegant play at first base.14 While he hit only 13 home runs in 1988, he still managed to hit .295 and drive in 85 runs. In 1989 he played in a career-high 159 games and hit .282 with 16 home runs and 79 RBIs. Joyner suffered the first major injury of his career in 1990. An injured knee ended his season after just 83 games and resulted in an uncharacteristic .268 batting average. The next season he demonstrated that he was once again healthy and rebounded to his old form. His .301 average, 21 home runs, and 96 RBIs positioned him well to test free agency.
Joyner's departure from the Angels after the 1991 season was somewhat unexpected, particularly in light of the fact that he rejected a four-year contract worth nearly $16 million and signed a one-year, $4.2 million agreement with the Kansas City Royals.15 It was common knowledge that he and Jackie Autry, the club's executive vice president and the wife of owner Gene Autry, had a strained relationship during the first baseman's tenure with the Angels. Ultimately, Joyner put his principles above his market value and Wally World left Southern California for Kansas City.
Joyner spent four relatively productive years in Kansas City. Despite hitting .269 in his first season with the Royals, from 1992 to 1995 he hit .293 and averaged 30 doubles per season. In 1994 he led the team in batting with a .311 average despite being limited to 97 games by a nagging shoulder injury and the players strike that ended the season on August 12, 1994.16 He followed that with a .310 average the following year. He also had his best year defensively in 1995, leading all American League first basemen with a career-high .998 fielding percentage.
During his time with the Royals, Joyner made his first foray into film when he made a cameo appearance in the 1994 baseball film Little Big League. The plot featured a 12-year-old kid from a wealthy family who inherits the Minnesota Twins from his grandfather. The boy, with all the credentials of a 12-year-old baseball-crazed boy, goes on a power trip, installing himself as general manager, field manager, and first-base coach. Joyner was one of about a dozen ballplayers who appeared in the movie, including Carlos Baerga, Dave Magadan, Rafael Palmeiro, Randy Johnson, and Ken Griffey Jr.17 Joyner even had a line in the movie. After a base hit by Twins first baseman Lou Collins (played by Timothy Busfield), Joyner turns to him and asks, "Man, do we ever get you out?"
On December 21, 1995, Joyner was traded to the San Diego Padres for utilityman Bip Roberts and right-handed pitching prospect Bryan Wolff. Although his most productive offensive years were behind him, Joyner was a prominent member of two of the best teams in Padres history. He contributed both clutch offense and steady defensive play at first. Padres infielders, including third baseman Ken Caminiti and shortstop Chris Gomez, who often threw from difficult positions across the infield, knew Joyner would corral any wild throws.18
In his four seasons with the Padres (1996-1999), Joyner hit a combined .291. In 1996 he appeared in 121 games and hit .277 with 8 home runs and 65 RBIs. He also had a NL-leading .997 fielding percentage in helping the Padres to the West division title, the team's first since 1984. The Padres were swept in three games by the St. Louis Cardinals in the 1996 NLDS. Joyner went 1-for-9 in the series, managing only an infield single in Game One.
In 1997 Joyner hit a career high .327 while again leading NL first sackers in fielding percentage (.996) as the Padres fell to fourth place in the NL West with a 76-86 record. Joyner continued his steady hitting in 1998 and finished with a .298 average with 12 homers and 80 RBIs as the Padres won a franchise-record 98 games and their second NL West title in three years.
The Padres dispatched the Houston Astros in the NLDS three games to one. Joyner shared time at first with Jim Leyritz and went 1-for-6 with a two-run, eighth-inning home run that added to the final margin of victory in the Padres' 6-1 series-clinching Game Four win. The Padres then faced the Atlanta Braves in the NLCS. Joyner went 5-for-16 with a pair of RBIs to help the Friars advance in six games. After 13 major-league seasons, Joyner was headed to the World Series.
The 1998 World Series was an anticlimactic end to the Padres' season. The American League champion New York Yankees swept the Padres in four games. Joyner, like many of his teammates, struggled throughout the Series and went 0-for-8.
In a November 2005 interview with ESPN The Magazine, Joyner revealed that he had briefly used steroids during 1998. At age 36, as his career was beginning to decline, Joyner admitted that he asked Caminiti to help him obtain steroids. Caminiti, who was just two years removed from his 1996 MVP season, supplied Joyner with pills. Joyner claimed he took only three pills before he threw the rest away.19 He later said his admission of steroid use was to set the record straight for the sake of his family.
Joyner played one final season with the Padres in 1999. With his skills clearly diminishing, he managed to hit only .248 with 5 home runs and 43 RBIs. On December 22 that year the Padres traded Joyner, Reggie Sanders, and Quilvio Veras to the Atlanta Braves in return for Bret Boone, Ryan Klesko, and Jason Shiell. The trade allowed Joyner to play for the hometown team he rooted for as a child.
In 1999 Joyner appeared in his second film, The Darwin Conspiracy. The made for TV sci-fi film depicted a self-serving government scientist who discovers a superior form of DNA in an ancient Ice Man and injects it into the mentally impaired brother of a colleague, with the hopes of selling the product to a drug manufacturer. Those close to the research team up to stop the government from using the untested scientific advancement on others.20 Joyner played himself in the film.
Joyner hit .281 with 5 home runs and 32 RBIs for the Braves and once again found himself back in the playoffs when Atlanta won its ninth consecutive NL West title. Coming off the bench as a pinch-hitter in all three games of the 2000 NLDS against the St. Louis Cardinals, Joyner went 1-for-3, a single in Game One, as the Braves were swept. After the season, Joyner filed for free agency and on January 25, 2001, he signed a one-year deal with the Anaheim Angels.
In 2001 Wally World returned to where it all had begun 15 years earlier. Joyner started the 2001 season slowly and was hitting under.200 through the end of April. On June 14 he appeared in his final major-league game when he pinch-hit for Mark Lukasiewicz in the top of the fifth inning at Pac Bell Park in San Francisco. Joyner delivered a RBI single off the Giants' Ryan Vogelsong, bringing his season totals to .243 with 3 home runs and 14 RBIs. Two days later he was released, ending his 16-year major-league career. He finished with a .289 average, 204 home runs, and 1,106 RBIs. Despite his .994 career fielding percentage and leading the league in fielding percentage four times, Joyner never won a Gold Glove.
After retiring as a player, Joyner became more active in films and filmmaking, investing and appearing in films marketed to members of the LDS community. His most critically acclaimed work was the 2002 romantic comedy The Singles Ward. The screenplay, written by himself and John Moyer, is about a congregation of college-age Latter-day Saints in a typical singles ward — an institution sometimes thought of as a "marriage mill."21 Joyner also starred in the film and played the role of Brother Angel (a reference to his time with the California and Anaheim Angels). In the film, Brother Angel (Joyner) performs a stand-up comedy routine lampooning the Mormon lifestyle.
In 2003, Joyner played Brother Jensen in the movie R.M.22 The film is a comedy that portrays the life of Jared Phelps, a returning LDS missionary who believes he has everything all worked out before going on his mission. His mission president promised him that he would be blessed for his service. His girlfriend promised to wait for him. His boss promised that he could have his old job back, and he had already submitted his application to BYU. Upon his return from missionary service, nothing is as he thought. His girlfriend dumps him. He loses his job, and he isn't accepted to BYU.
In 2004, Joyner also appeared in The Home Teacher, another comedy film geared toward LDS audiences. The film is about LDS home teacher Stocky Greg. Greg is a passionate football fan who rounds up his family from their respective church meetings and rushes home just in time to make the kickoff of the Sunday afternoon Vikings game. He has just planted himself in front of his massive television screen when Nelson, his home-teaching companion, calls to inform him that he has set an appointment to visit the Mori family in 15 minutes. Mormon males serving as home teachers are admonished to visit with their assigned families once a month to bring them a spiritual message and provide help as necessary. Nelson, a nerdy "letter of the law" kind of Mormon who will not even purchase gas on a Sunday, is intent on making this visit on the final day of the month despite Greg's efforts to get back to his football game.23 Joyner played the character of Donald Terry.
Joyner made his last appearance in a motion picture in 2007. He again played the role of Brother Angel in The Singles 2nd Ward, the sequel to The Singles Ward. The movie is a continuation of the dating highs and lows and prenuptial misadventures of LDS singles.24
Joyner also remained active in baseball as a coach and instructor. From 2003 to 2007 he was a roving minor-league hitting instructor for the Padres. On July 31, 2007, he was hired by Padres to replace Merv Rettenmund as the team's hitting coach. He held that position until September 2008 when due to a number of factors, including the team's low rankings in batting categories and a difference in philosophy in regard to hitting, he stepped down. From 2008 to 2012 Joyner worked as the lead hitting instructor for MLB International's Elite-level development programs in Italy and Brazil.25 On October 15, 2012, he was hired by the Philadelphia Phillies as assistant hitting coach. After manager Charlie Manuel was fired in 2013, Joyner became the first-base coach under interim manager Ryne Sandberg. In November 2013, he joined Brad Ausmus's staff as hitting coach for the Detroit Tigers, a position he held until he resigned at the end of the 2016 season.
As of 2017 Joyner resided in Mapleton, Utah, with his wife, Lesly, a former BYU gymnast whom he married on March 12, 1983, and their four children. He was the vice president of strategic development for Onset Financial. He was also actively involved in Padre Associates, an environmental-services company in Southern California, and Xocai Chocolate.
Last revised: March 1, 2018
This biography originally appeared in "From Spring Training to Screen Test: Baseball Players Turned Actors" (SABR, 2018), edited by Rob Edelman and Bill Nowlin.
Photo Caption
Wally Joyner, a "good, all-American kid," has appeared in Little Big League, among other films.
Notes
1 Clifford Mervyn Joyner. Retrieved from https://findagrave.com/cgi-bin/fg.cgi?page=gr&GSln=Joyner&GSiman=1&GScid=109343&GRid=8516077&.
2 Karma Leona Joyner. Retrieved from https://walkersanderson.com/obituaries/Karma-Leoan-Joyner/Payson-UT/1396471.
3 Craig Neff, "The Wonderful World of Wally," Sports Illustrated, May 26, 1986: 31.
4 Ibid.
5 "Wally Joyner." Retrieved from byucougars.com/athlete/m-baseball/wally-joyner.
6 Ralph R. Zobell, Reunion of 1983 Cougars Ranked #1, retrieved from byucougars.com/m-baseball/reunion-1983-cougars-ranked-no-1.
7 Ibid.
8 Craig Neff, 29.
9 Neff, 28.
10 Neff, 31.
11 "Knife-Throwing Incident Puzzling," New York Times, August 28, 1986. Retrieved from https://nytimes.com/1986/08/28/sports/knife-throwing-incident-puzzling.html.
12 "The Best and Tightest: Revisit the 1986 ALCS," retrieved from https://espn.com/page2/s/1986/revisit/alcs.html.
13 Wally Joyner Video. Retrieved from video.search.yahoo.com/search/video?fr=yfp-t&p=Wally+Joyner#id=4&vid=4e5bee6596e9e61a297389d09a55db86&action=click.
14 "The 100 Greatest Angels: #20 Wally Joyner," Retrieved from https://halosheaven.com/2006/2/8/32353/36909.
15 Helene Elliot, "Popular Wally Joyner Is an Angel No More: Baseball: He Rejects a 4-Year, Nearly $16-million offer in favor of 1-year, $4.2-Million Pact With Kansas City," Los Angeles Times, December 10, 1991. Retrieved from https://articles.latimes.com/1991-12-10/news/mn-200_1_baseman-wally-joyner.
16 "Joyner on DL." Deseret News (Salt Lake City), July 3, 1994. Retrieved from https://deseretnews.com/article/362371/JOYNER-ON-DL.html.
17 Max Rieper, "Best Performance in a Motion Picture by a Kansas City Royals Player: February 26, 2016," Retrieved from royalsreview.com/2016/2/26/10963876/best-performance-in-a-motion-picture-by-a-kansas-city-royals-player.
18 Bill Center, "Wally Joyner, Andy Green Join My Padres' Top 100: Veteran 1B, Rookie Manager With Club at Key Times," January 16, 2017. Retrieved from padres.mlblogs.com/wally-joyner-andy-green-join-my-padres-top-100-cdb8b24eed6e.
19 "Steroid Investigation: Who Knew and When?" Retrieved from https://espn.com/mlb/news/story?id=2217361.
20 "The Darwin Conspiracy." Retrieved from https://hollywood.com/tv/the-darwin-conspiracy-59453379/.
21 "The Singles Ward." Retrieved from https://hollywood.com/movies/singles-ward-59281718/.
22 R.M. is an LDS abbreviation for returned missionary.
23 "The Home Teachers." Retrieved from https://imdb.com/title/tt0377071/fullcredits?ref_=tt_cl_sm#cast.
24 "The Singles 2nd Ward." Retrieved from https://imdb.com/title/tt1109520/?ref_=nm_flmg_act_1.
25 Ryan Lawrence, "Wally Joyner Joins Phillies Coaching Staff," Philadelphia Inquirer. October 15, 2012. Retrieved from https://philly.com/philly/blogs/phillies/174254131.html.
Born
June 16, 1962 at Atlanta, GA (USA)
If you can help us improve this player's biography, contact us.
https://sabr.org/sites/default/files/Screen%20Shot%202018-12-04%20at%2012.56.50%20PM.png
600
800
admin
/wp-content/uploads/2020/02/sabr_logo.png
admin
2017-12-04 12:55:12
2020-04-09 14:40:29
Wally Joyner