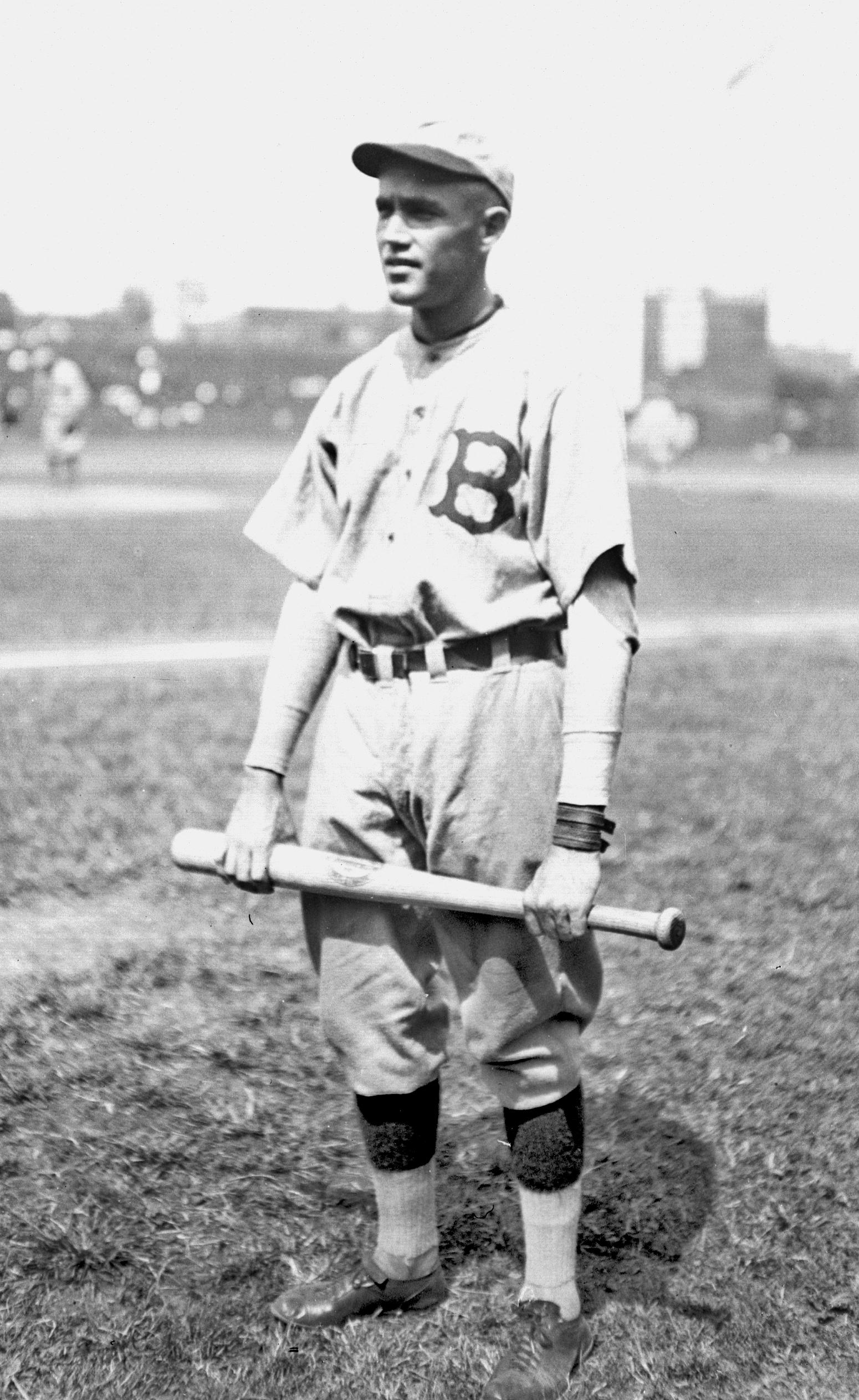 ---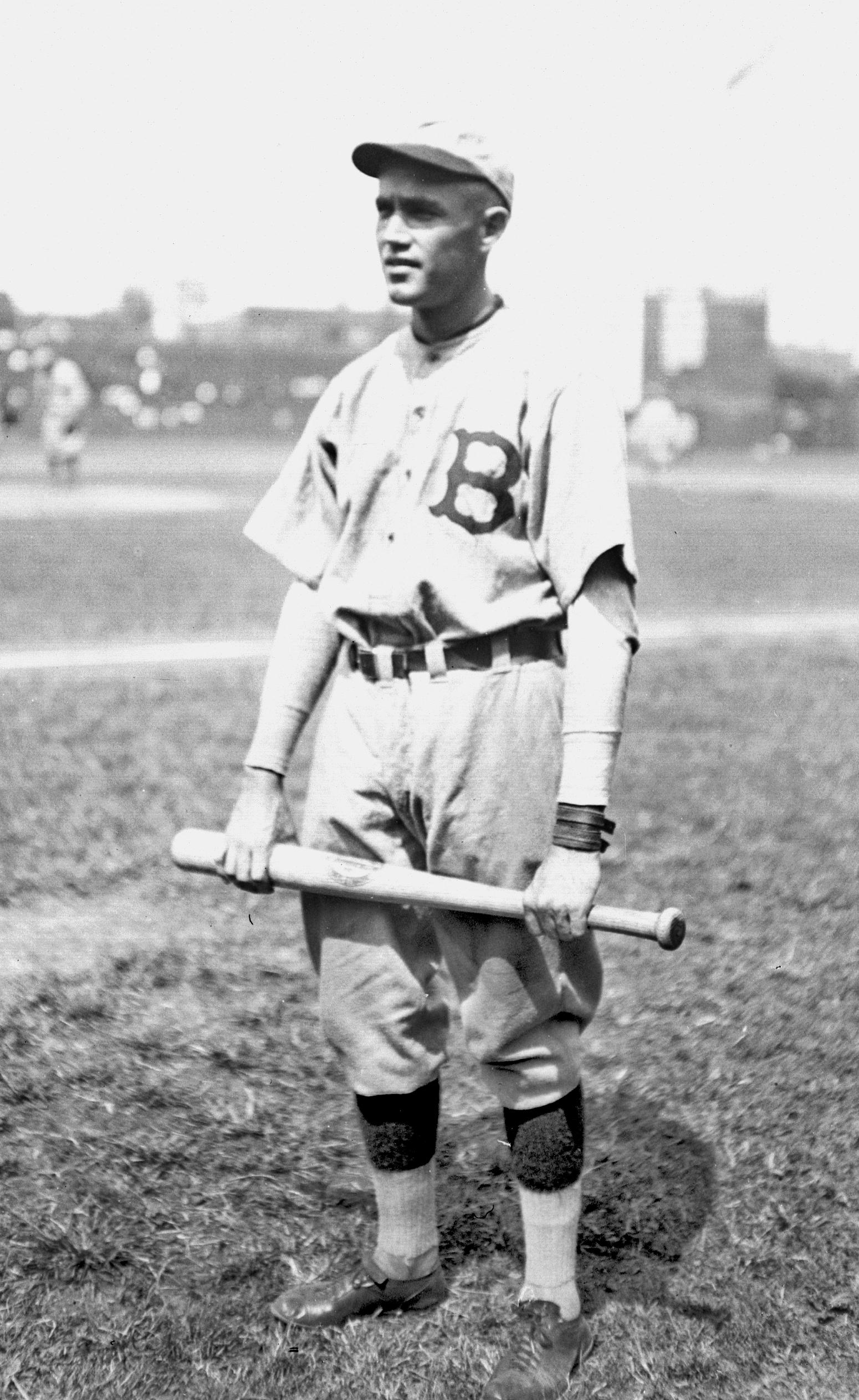 While he would have a more substantial role playing for three other teams during his eight-season major league career, Walter Barbare appeared in only 13 games for the 1918 Boston Red Sox. He joined the Red Sox in June after playing the first part of the season with New Orleans of the Southern Association, and he finished the season with Jersey City of the International League. As a consequence, Barbare did not play in the 1918 World Series.
That 1918 season was Barbare's least productive in the major leagues. He batted only .172 with five hits in 29 at-bats, no home runs, two runs batted in, and one stolen base. Barbare played 11 games at third base, where he joined George Cochran, Jack Coffey, Jack Stansbury, and Fred Thomas as players who attempted to fill the position for the 1918 Red Sox.
Walter Lawrence Barbare was born on August 11, 1891, in Greenville, South Carolina, and began his professional career with the Greenville Spinners, playing third base, accumulating 413 at-bats and batting .230 with its Carolina Association team in 1912. In 1913, he played third for Asheville in the North Carolina League, batting .273. He made his major league debut at the age of 23 on September 17, 1914, with the Cleveland Naps, and he soon established himself as a versatile utility infielder. He had begun the year with the New Orleans Pelicans, playing exclusively at shortstop, and building up a .296 average in 150 games. As soon as the Southern Association season was completed, Barbare joined Cleveland, playing short and tripling in the only run in the Naps' 8-1 loss to the Red Sox in his very first game. "Dinty" Barbare hit .308 in the 15 major league games he played in 1914.
He was courted by the Chicago Federal League team, but was under contract to Cleveland and didn't receive an offer sufficient to bolt. Barbare, who batted and threw right-handed, struggled during the 1915 and 1916 seasons with the Cleveland team, which was renamed the Indians in 1915. In 77 games in 1915, he batted only .191. In the two seasons, he drove in a total of 14 runs while playing in 90 games. He initiated a triple play with a spectacular catch on July 24, 1915. After playing half his team's games at third in 1915, Barbare was a backup to Bill Wambsganss in 1916, and saw action in only 13 late-season games, with a .229 average.
At 6 feet even, weighing 185 pounds, and with very long arms, Barbare could be described as lanky. While he did bat .260 and accumulate 462 hits in his 500-game major league career, Barbare never hit for power. The only home run of his career came off Lee Meadows on September 11, 1919. Barbare batted in more than 30 runs in a season only three times as a major leaguer, and he never stole more than 11 bases in a season.
In a letter dated December 8, 1915, Franklin Rostock of the Cincinnati Post recommended Barbare to August Herrmann, president of the Cincinnati Reds:
"I received your analysis of Walter Barbare's playing record," said Rostock. "You say that I will notice that his per centage is very low and that he also appears to be a slow man, having stolen only three bases in 77 games [in 1915]. That is the very reason I recommend this player to you, paradoxical as it may seem.
"I saw Barbare play and know he is a real ball player, and, because of the poor record he made last season, I figured the Cleveland club might ask waivers on him and send him to a lower league. Of course, if Barbare had batted .280 last season, this matter would not be considered…
"Barbare can be used at either third or short, and that is why I recommend him.
"Barbare is only a kid and, with proper handling, should develop into a high class ball player. His habits are absolutely clean, and, if he is given a chance, I feel he will surely make good."
But despite Rostock's efforts, the Reds never did acquire Barbare, and his offensive struggles led him back to the minor leagues. Barbare played in 122 games with Little Rock of the Southern Association in 1916 in addition to 13 September games at the major league level with Cleveland. The next year, he began the season playing 21 games with Milwaukee of the American Association, hitting just .163, but the New Orleans Pelicans of the Southern Association traded for him in early May to bolster their defense at shortstop; he played in 123 games with New Orleans, batting .246.
In 1918, Barbare played short for the Pels again, batting a solid .283 in 70 games before the Southern Association closed its season in late June during the war-shortened campaign. After clinching the pennant, New Orleans announced on June 25 the sale of Barbare, along with infielders Jack Stansbury and Harvey "Red" Bluhm, to the Red Sox.
When the Sox left for Chicago on a road trip on July 24, Barbare (who had played 13 games in the month) wasn't with them. Suffering from a "stone bruise," he'd been left behind in Boston and the Sox picked up Eusebio Gonzalez as they passed through Springfield, Massachusetts on their way west. It was the end of Barbare's major league season, as he played for Jersey City late in the year.
New Orleans still held his contract, but in a late September (Rule V) draft Barbare was selected by the Pittsburgh Pirates. He got his first extended playing time in Pittsburgh, and batted better than .270 in each of his two seasons there, hitting .273 in 1919 and .274 while playing three infield positions in 1920, a season limited by the broken jaw he suffered. After two fairly productive years in Pittsburgh, Barbare was traded on January 23, 1921, by the Pirates to the Boston Braves along with Fred Nicholson, Billy Southworth, and $15,000 in return for future Hall of Famer Rabbit Maranville.
As he turned 30, Barbare enjoyed his greatest success in the major leagues as a member of the Braves. He set career highs in almost every offensive category in 1921 while playing as the team's regular shortstop: Barbare batted .302 with 166 hits and 49 runs batted in. A solid bunter, Barbare also had 26 sacrifice hits during that season. One of his career highlights took place on April 26, 1921. In a game at Philadelphia, Barbare went 5-for-5 and scored two runs while batting second in the lineup during a 10-6 Braves win. The next year, which would be Barbare's last in the major leagues, he played part time with the Braves and collected 86 hits while batting in 40 runs. He had a hit in his final major league game, getting a single at the Polo Grounds on October 1, 1922, against the New York Giants. On December 14, 1922, Barbare was purchased by Toledo of the American Association for a reported $7,500, and he never played again in the major leagues.
For the 1923 Mud Hens, Barbare played third base and second base, batting .288. He was sold to the Memphis Chicks in April 1924, and appeared in 74 games, batting .319. Come 1925, he began the year playing for Memphis but was sold to Knoxville of the Sally League in mid-June after batting .315 in 51 games. Barbare served as player-manager for the Smokies, appearing in another 51 games and hitting .317.
He managed Jackson, Mississippi, in the Cotton States League in 1926, hitting .296 while playing 65 games at second base, managed them again in 1927. By early 1930, he was found umpiring college baseball in Clemson, South Carolina. He was hired to manage Talladega of the Georgia-Alabama League that year, and put himself into 19 games, batting .277. They were his last in organized ball.
Barbare played extensively in the industrial leagues of his native South Carolina, including some post-season play for Judson Mills in 1924; Lyman in 1926; and Brandon in 1928.
In his post-professional years, Barbare umpired in the Piedmont League, the Mississippi Valley League, and the South Atlantic League, where he was umpire-in-chief in 1939 according to the plaque installed in the Greenville Baseball Hall of Fame at the time of his September 7, 1993 induction. He coached high school baseball and basketball, and the baseball team at Presbyterian College in Clinton, SC in 1950. Barbare lived in Traveler's Rest, South Carolina, before moving to a nursing home in his birthplace of Greenville, where he died on October 28, 1965, at the age of 74 after a five-month illness. He is buried at Graceland Cemetery in Greenville, South Carolina.
Sources
Barbare's bio and World Series information on baseballreference.com, retrosheet.org, historicbaseball.com, 1918redsox.com, baseball-almanac.com, and baseballlibrary.com.
Letter from Franklin Rostock to August Herrmann in Barbare's Hall of Fame file.
Minor league data on Barbare from player's Hall of Fame file.
Obituary dated November 13, 1965, from Barbare's Hall of Fame file.
Communications from Arlene Marcley of the Shoeless Joe Jackson Museum, Greenville, South Carolina.
Born
August 11, 1891 at Greenville, SC (USA)
Died
October 28, 1965 at Greenville, SC (USA)
If you can help us improve this player's biography, contact us.
http://bioproj.sabr.org/bp_ftp/images3/BarbareWalter.jpg
600
800
admin
/wp-content/uploads/2020/02/sabr_logo.png
admin
2012-01-04 20:45:25
2012-01-04 20:45:25
Walter Barbare