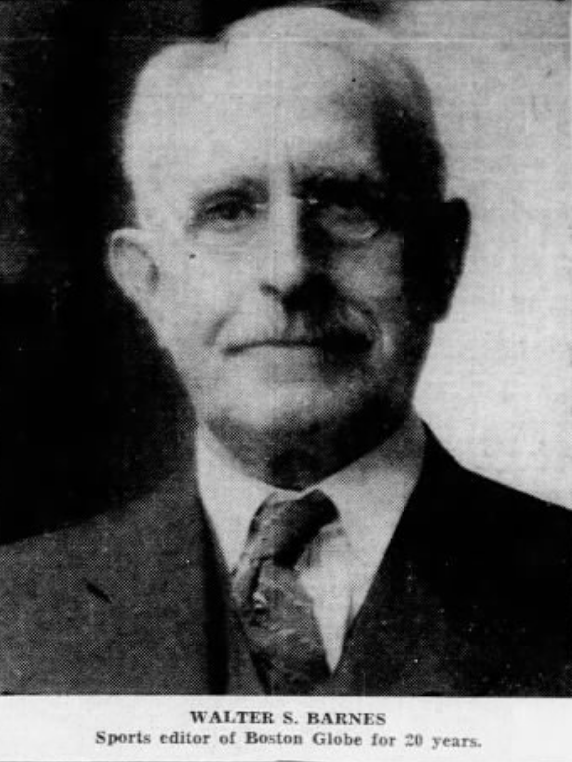 ---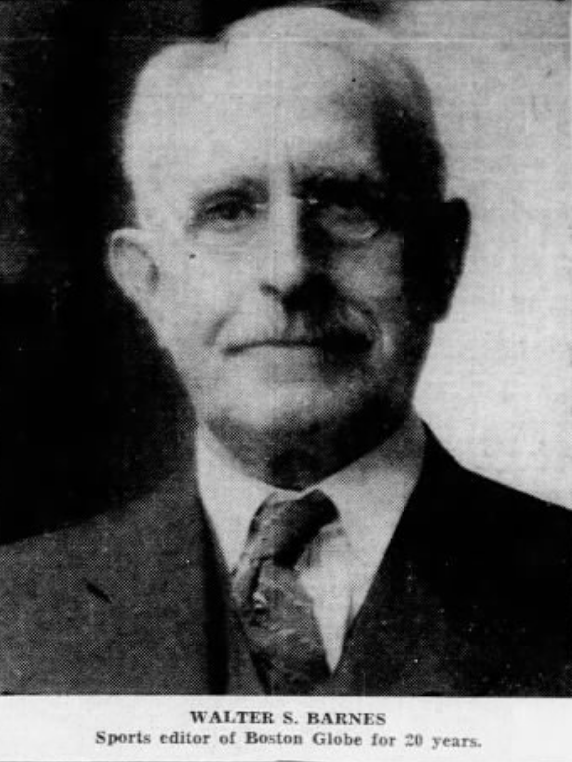 For 50 years, from 1889 to 1940, Walter Barnes was a sportswriter and editor in Boston, where he covered the city's two major-league baseball teams, the Red Sox and Braves. Barnes is best known as the sports editor of the Boston Globe from 1910 to 1933.
Walter Saunders Barnes Jr. was born on November 26, 1860, in Boston, the oldest child of Walter Sr. and Melissa (Aldrich) Barnes.1 Walter's father, who owned a paper-box manufacturer, moved the family in 1863 to the town of Somerville, an early middle-class suburb north of Boston, where he and his wife raised four children.2 Initially, young Walter grew up in a house on Vernon Street in Somerville, but by 1880 his prosperous father had moved the family into a larger house at 140 Highland Avenue.3
Educated in the Somerville public schools, Barnes graduated from Somerville High School on July 1, 1879, one of 15 students in the college-preparatory course among a total of 34 graduating students.4 He attended Somerville High School for an extra, postgraduate year to prepare for the required entrance exam at Harvard College.5
Barnes was admitted to Harvard College, located in neighboring Cambridge, and graduated in June 1884.6 He played center field on an undistinguished freshman baseball team in the spring of 1881, going 0-for-4 in his team's 15-2 loss in the annual Harvard-Yale freshman game.7 During his college years, he was a frequent spectator at the South End Grounds to watch the home games of the Boston team in the National League, a habit he once said began in 1871 when his father took him to ballgames in the early years of professional baseball in Boston.
Before becoming a newspaper reporter, Barnes worked five years as a traveling salesman for a book publisher.8 In 1889 he began working for the Boston Post newspaper, where he did general reporting, and in 1891 moved to the Boston Journal to be the night desk editor.9 In 1892 Barnes became the sports editor at the Journal, where, according to one contemporary observer, he transformed the department into "one recognized everywhere as authoritative, and highly prized for the fair and able manner in which all branches of sport are treated."10
During his early years at the Boston Journal, Barnes had the good fortune to report the games of the Boston team that won the National League pennant four times between 1892 and 1898. He also served as official scorer at the team's home games. Barnes was a no-nonsense reporter. His game accounts were said to be "the most detailed by any Boston reporter."11 His writing style was characterized as being "an entertaining, yet conservative and original manner … not given to meteoric flights of speech."12
Boston became a two-team city in 1901, with a team in the new American League in addition to the established National League team. With eight newspapers competing for reader attention in Boston, Barnes was considered one of the "Big Three" baseball writers in Boston, along with Jake Morse at the Herald and Tim Murnane at the Globe.13 Major-league baseball was now played in Boston nearly every day of the week for half the year (except Sunday, which was prohibited by law in Massachusetts), due to the interlocking nature of the two teams' schedules.
In 1904 Barnes ran a subscription campaign in the Boston Journal to raise $300 for a trophy to honor Jimmy Collins, the third baseman (and fan favorite) of the Boston Americans, which won its second straight American League championship. In early October, Collins was presented with a silver loving cup that was inscribed: "This cup subscribed to through the Boston Journal is intended as an evidence of the admiration of the Boston public for a great third baseman, a great captain and a good fellow."14
On August 16, 1905, Barnes, a 44-year-old bachelor, married Hulda Oliver, a 37-year-old nurse who worked at a Boston hospital.15 They remained married for 30 years and had no children. Barnes and his wife initially lived in Brookline, but gradually they moved out to the suburbs of Boston; by 1911 they lived in Wellesley and by 1917 they were in Natick, about 20 miles west of Boston.16 They resided in Natick for nearly two decades, until she died in 1935.17
After working for 15 years at the Boston Journal, Barnes moved to the Boston Herald in November of 1906 to be its sports editor.18 At the venerable Journal, things did not look rosy, business-wise; the paper would be put up for sale in 1911 and eventually merged into the Herald in 1917. The new editor of the Herald, William Haskell, was an old college chum of Barnes from their days at Harvard College in the Class of 1884. Haskell was both publisher and editor of the Herald, having become the newspaper's majority owner soon after buying out his father's minority ownership position in 1904.19
What seemed like a shrewd move for Barnes to advance his newspaper career quickly degenerated. In early 1907 Haskell fired Morse, the Herald's veteran sportswriter. "After a connection of twenty-three years with the Herald, I naturally expected to die in the harness in that institution, but one can never tell," Morse reported two decades later to his Harvard College classmates in the Class of 1881. "Changes in management bring about changes in personnel; so it was a case of pull up your stakes and go [at] it."20 Morse's misfortune at losing his job turned out to be fortuitous for baseball fans (and present-day historians), as Morse created Baseball Magazine, which debuted in May of 1908.
Barnes was a charter member of the Baseball Writers' Association of America, when it was organized in 1908, and held membership card number 1.21 He was the first president of the Boston chapter and an active supporter throughout his newspaper career.
As Barnes struggled to rebuild the Herald sports staff following the departure of Morse, the Herald lost money under the leadership of Haskell. In 1908 the Herald borrowed $1.7 million to keep the newspaper operating.22 Haskell soon reduced the price of the paper to one cent, trying to stimulate demand during the economic depression, and then suspended the paper's evening edition to cut costs.23 In July of 1910 the Herald went into bankruptcy and in late October was sold to new owners.24
In September of 1910, Barnes found new employment in the midst of the Herald's bankruptcy proceedings.25 He went to work at the Boston Globe, where William D. Sullivan, who was both city editor and sports editor, hired Barnes to be that newspaper's fully dedicated sports editor.26 Barnes and Sullivan had grown up together in Somerville (in the same graduating class at Somerville High School) and both were alumni of Harvard College (Sullivan graduating a year ahead of Barnes).
"Sullivan relinquished the second title in 1910 because both the Globe and sports were booming. It was too much for one man to handle, even such a capable one as Sully," the Boston Globe wrote in 1972 about how Barnes arrived at the Globe. "What he desperately needed was a built-in sports editor of experience to hand the sports department over to, and he wasn't long in his search. Walter S. Barnes was at the Herald."27
The Globe was the fourth Boston newspaper that Barnes worked for, following his stints at the Post, Journal, and Herald. The move to the Globe worked out much better than had his move to the Herald, as the Globe thrived under its ownership by the Taylor family. Barnes was sports editor at the Globe for 23 years until his retirement in 1933. Under the nom de plume of Sportsman, he wrote a regular column for the Globe entitled "Live Tips and Topics," a collection of commentary on a variety of athletic events.
Boston newspapers had a voracious appetite for baseball coverage from 1912 to 1918, as the Red Sox (the renamed Americans) won four pennants in the American League while the Braves (the renamed Nationals) won the 1914 flag in the National League. One of the biggest challenges for Barnes was orchestrating the transition of baseball coverage from Tim Murnane, who had been the Globe's baseball writer since 1889, to a younger writer. Barnes exercised grace and humanity in handling the Murnane transition.
In 1911 Murnane followed his usual schedule to cover the home games of the Red Sox and Braves, which alternated between the two teams given their interlocking schedules, with some discretion to cover road games when important (otherwise, the road games were reported by a correspondent in that city). When the Red Sox won the pennant in 1912, however, Murnane was often dispatched to cover their road games, requiring another writer to cover the Braves home games. After reporting on baseball for more than 20 years, the 60-year-old Murnane was getting weary of the grind.
For the 1913 season, Barnes split the baseball coverage by team, with Murnane covering the Red Sox and James O'Leary covering the Braves, so that each writer could cover both home and road games as needed. This arrangement lasted through the 1915 season. Barnes tapped Edward Martin to be the heir-apparent to Murnane, as the two men shared the Red Sox coverage during the 1916 season. When Murnane died in February of 1917, Martin assumed the mantle of Red Sox writer, while O'Leary continued as the Braves writer. The dual-beat system lasted for two years, until Martin unexpectedly died in the influenza epidemic in October of 1918.28
"When a close and valued associate passes away, words become so inadequate. Edward Martin was an exceptional man to work with," Barnes wrote in a memorial to Martin. "In his brief career as a baseball writer he became widely and favorably known. He had an encyclopedic knowledge of players and their records and of games and leading incidents of them."29
For the 1919 season, Barnes returned to the original concept of having one man cover all baseball in Boston, by tapping O'Leary to cover both teams. Given the lackluster play of both teams during the 1920s, O'Leary didn't need to travel to many road games. As the ultimate successor to Murnane, O'Leary led the Globe's baseball coverage for two decades.
During the 1920s Barnes slowly expanded beyond the Globe's staple sports coverage of professional baseball and amateur college and high-school athletics. For the 1920 Olympic Games in Antwerp, Belgium, Barnes dispatched John Hallahan, the track specialist he had hired in 1914, to Europe to provide on-site coverage of this world sporting event. Hallahan also became the Globe's specialist in professional ice hockey, when the Boston Bruins became the first American team in the National Hockey League during the 1924-25 season. Hallahan covered the Bruins' run at the Stanley Cup in 1927 and their winning of the Cup in 1929.
The Globe had less enthusiasm for professional basketball and football as they emerged in the 1920s, given the strong support among the paper's readers for the college game in these two sports. Barnes provided merely pro forma reports on the Boston Whirlwinds, which competed in the American Basketball League in the 1925-26 season, and the Boston Bulldogs, the local entry in the American Football League in 1926 and the National Football League in 1929.
Having O'Leary on the baseball beat became especially important in mid-decade when radio station WNAC began to regularly broadcast the home games of the Braves in 1926 and the Red Sox in 1927. Baseball reporting became a seven-days-a-week job in 1929 when Sunday baseball games became legal under Massachusetts law, causing O'Leary to be in the press box at Braves Field every Sunday during the baseball season (both teams played Sunday games there until 1932).
Barnes hired two young men who became lions of the Boston newspaper business. Dave Egan joined the Globe in 1926 and Victor Jones in 1928. Their hiring initiated an intramural contest to succeed the aging Barnes as sports editor.30 Barnes worked Egan into the baseball beat in 1932, during a particularly horrendous season when the Red Sox lost 111 games. However, when Egan was not promoted to sports editor when Barnes retired, he left the Globe to work at the Boston Record, where he infamously tormented Ted Williams with his stinging rebukes of the Red Sox star. Jones succeeded Barnes as sport editor in 1933.31 He later was promoted to various management positions focused on the entire newspaper, first as night editor, then managing editor, and last as executive editor.
When Barnes retired as sports editor in 1933, he assumed the title of sports editor emeritus and continued to write his "Live Tips and Topics" column during his retirement years.32 A favorite topic of his during the 1930s was the newly created Baseball Hall of Fame in Cooperstown. He devoted numerous columns to his thoughts about the ballplayers who should be enshrined there.
Barnes was one of a select group of veteran writers in 1936 who were entrusted with selecting the first group of nineteenth-century players to be inducted into the Hall of Fame. Barnes advocated for George Wright, Ross Barnes (no relation), and Cap Anson, and was likely the one writer who voted for long-forgotten Boston pitcher Tommy Bond in that year's election.33 Although none of the candidates favored by Barnes received the required 75 percent vote in 1936, Wright and Anson were both enshrined within a few years.
An official Old-Timers Committee to select nineteenth-century honorees was established in 1939, consisting of Bob Quinn, president of the Boston Braves, and three others (two executives and one writer).34 Quinn later wrote that Barnes was supposed to be a member of the Old-Timers Committee, given his long history of spectatorship and reporting of nineteenth-century games.35 However, Barnes likely demurred given his fading health, so Sid Mercer, a New York sportswriter, was tapped for the committee instead of Barnes.
Walter S. Barnes Jr. died on February 13, 1940, in Brookline, Massachusetts, and is buried in the Barnes family plot at Woodlawn Cemetery in Wellesley.36
Upon his death, the Boston Globe printed numerous tributes to Barnes, a man universally acclaimed as possessing supreme integrity. The "Live Tips and Topics" column made one final appearance, written by the sports staff and filled with their sentiment: "a real gentleman in every sense of the word"; "reprimands always a gentle counsel"; "a nice man, never a harsh word for anyone"; "sunny disposition, always courteous, no shady stories or profanity."37
"This world has produced no satisfactory substitute for character," wrote Jones, who succeeded Barnes as sports editor. "A man who wrote sports had to know his business and be sure of his facts," Jones wrote, so Barnes wrote with "an experienced, judicious fairness and impartiality," not with "the apt adjective, flowery style, the phony drama" of sportswriting in the 1930s.38
"Mr. Barnes was one of the greatest gentlemen I have known," wrote Egan, the man passed over for sports editor. "He stood for tolerance and kindness and fairness, and his sweet character has been reflected for more than a half century on the sports pages in Boston, chiefly in the Globe. He lived quietly and died quietly, but his influence will go on for years in the writing of the men he molded."39
In 1946 Barnes was posthumously recognized by the Baseball Hall of Fame as one of the 39 nonplayers (including 12 writers) named to the Honor Rolls of Baseball.40
Acknowledgments
This biography was reviewed by Len Levin and fact-checked by Rod Nelson.
Notes
1 Birth records for Boston in 1860 in the Massachusetts State Archives (Volume 134, Page 100).
2 Federal census records for 1870 and 1880 for Walter S. Barnes Sr., Somerville, Middlesex County, Massachusetts.
3 Somerville Directory, 1871, 1874, 1879, 1881, and 1883. The house at 140 Highland Street still stands and is listed on the National Register of Historic Places.
4 Annual Report of the City of Somerville, 1879.
5 Annual Report of the City of Somerville, 1880.
6 "Harvard College Class of 1884 Secretary's Report," graduation, 1884.
7 "Yale Freshmen 15, Harvard Freshmen 2," Boston Globe, May 22, 1881.
8 "Harvard College Class of 1884 Secretary's Report," third anniversary, 1887; Somerville Directory, 1889.
9 "Harvard College Class of 1884 Report of the Secretary," twentieth anniversary, 1904.
10 George Tuohey, A History of the Boston Base Ball Club (Boston: M.F. Quinn, 1897), 234.
11 Glenn Stout, ed., Impossible Dreams: A Red Sox Collection (Boston: Houghton Mifflin, 2003), 16.
12 Tuohey, A History of the Boston Base Ball Club, 233.
13 Donna Halper, "Following the Boston Americans in 1901," New Century, New Team: The Boston Americans, edited by Bill Nowlin (Phoenix: SABR, 2013), 42.
14 Charlie Bevis, Jimmy Collins (Jefferson, North Carolina: McFarland, 2012), 135.
15 Marriage records for Boston in 1905 in the Massachusetts State Archives (Volume 557, Page 169); "Barnes – Oliver," Boston Globe, August 17, 1905.
16 Brookline Directory, 1907; Wellesley Directory, 1911 and 1913; Natick Directory, 1917.
17 Federal census records for 1920 and 1930 for Walter S. Barnes, West Central Street, Natick, Middlesex County, Massachusetts; "Mrs. Hulda J. Barnes," Boston Globe, September 23, 1935.
18 "Harvard College Class of 1884 Report of the Secretary," twenty-fifth anniversary, 1909.
19 "Boston Herald's Editor Retires," New York Times, October 5, 1906; "Boston Herald Changes," New York Times, April 26, 1904. Haskell became sole owner in 1908.
20 "Harvard College Class of 1881 Report of the Secretary," fiftieth anniversary, 1931.
21 Paul Shannon, "W.S. Barnes, No. 1 Card-Holder in BBWA[A], 50 Years a Scribe," The Sporting News, January 19, 1939.
22 "Boston Herald Sells Bonds," New York Times, May 2, 1908.
23 "Herald Traveler Fifth to Fall in Boston Newspaper War," Boston Globe, June 19, 1972.
24 "Receiver for Boston Herald," New York Times, July 8, 1910; "Sale of Boston Herald," New York Times, October 29, 1910.
25 Articles by Barnes first appeared in the Boston Globe in early October of 1910, with his first "Live Tips and Topics" column on October 3 and a bylined article, "Lynn's Driving Club Is Thriving," on October 9.
26 Jerry Nason, "The W.D. Sullivan Years, 1884-1910," Boston Globe, March 13, 1972.
27 Jerry Nason, "The Barnes Years, 1910-1933," Boston Globe, March 14, 1972.
28 "Pneumonia Claims Edward F. Martin," Boston Globe, October 5, 1918.
29 Sportsman, "Live Tips and Topics," Boston Globe, October 5, 1918.
30 Jerry Nason, "The Barnes Years: A Changing Time," Boston Globe, March 15, 1972.
31 Jerry Nason, "The Victor O. Jones Years, '34-'41," Boston Globe, March 16, 1972.
32 "Walter S. Barnes Jr.'s Funeral Will Be Today," Boston Globe, February 15, 1940.
33 Walter Barnes, "Baseball Had Real Stars in Early Days," Boston Globe, January 5, 1936.
34 Bill James, The Politics of Glory: How Baseball's Hall of Fame Really Works (New York: Macmillan, 1994), 39.
35 "A Practical Plan for Hall of Fame," The Sporting News, February 5, 1942.
36 "Sports Writer for 40 Years: Walter S. Barnes of Boston Globe Dead," Boston Globe, February 14, 1940.
37 Sportsman, "Live Tips and Topics," Boston Globe, February 14, 1940.
38 Victor Jones, "The Mold Is Broken; Only One Walter; Lost to Sports World," Boston Globe, February 14, 1940.
39 "Tributes to Walter Barnes," Boston Globe, February 14, 1940.
40 "Committee Names 11 More for Game's Hall of Fame," The Sporting News, May 2, 1946. The Honor Rolls of Baseball were discontinued at the Baseball Hall of Fame in 1953.
Born
November 26, 1860 at Boston, MA (US)
Died
February 13, 1940 at Brookline, MA (US)
If you can help us improve this player's biography, contact us.
https://sabr.org/sites/default/files/BarnesWalter.png
600
800
admin
/wp-content/uploads/2020/02/sabr_logo.png
admin
2018-10-02 14:25:20
2020-04-09 14:38:41
Walter Barnes