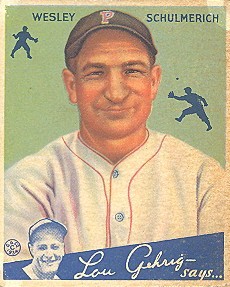 ---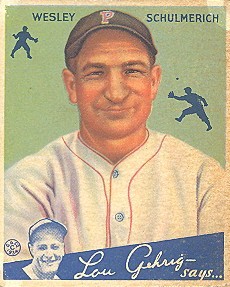 Wes Schulmerich, a much-loved sports figure in his native Oregon, had an eventful and colorful fourteen-year professional baseball career and a long life filled with sports and laughter. A large, boisterous man, as his baseball days wound down, the laughter often came first.
Edward Wesley Schulmerich was born August 21, 1901, in Hillsboro, Oregon, about fifteen miles west of Portland. His German parents, William and the former Annie Schmidt, raised four boys and three girls on a 400-acre farm just outside of town.
Like most boys of the time, he played a lot of sandlot football and baseball. He attended Hillsboro High School for two years before dropping out. After two years toiling on the farm, in 1921 Wes was recruited to play football for Columbia Prep (now the University of Portland, but then offering both high school and junior college classes), where he finished his high school education in 1923. He was older than most high school students (ages 21 and 22), and a full-grown man at 5'11" and 200 pounds, allowing him to dominate the competition.
With his football services in demand throughout the country (for six decades he kept a letter from Knute Rockne recruiting him to play for Notre Dame), Schulmerich chose to stay close to home, accepting a football scholarship from Oregon Agricultural College (now Oregon State University) in Corvallis.
At OAC, he played football and baseball and ran track. In the fall, he was a fullback, linebacker, and placekicker, earning the nickname "Ironhorse," and garnering All-Coast honors his last two years. Now fully 210 pounds, as big as most linemen of the era, he was known for carrying two or three defenders on punishing runs. Wes later claimed that he was a better defensive player, and that he had preferred to dole out the punishment himself.
In the spring, he played the outfield and hit well over .300 for three years, peaking at .459 for a 13-5 squad his senior year. Despite his size, Schulmerich ran the 100-yard dash in 10.5 seconds for the track team. A member of the Phi Delta Theta fraternity, Wes graduated in 1927 with a bachelor's degree in business.
At first he had no aspirations to play professional sports, declining an offer of $100 per game to play for the National Football League's Frankford (Pennsylvania) Yellow Jackets. When his college baseball coach, Ralph Coleman, found him a job playing semi-pro ball for the Clarks club in the Butte Mining League, Wes decided he'd spend the summer relaxing and playing a little ball. After starring for a couple of months, his manager told Coleman that he was too good for the league, that he was ready for faster company. Accordingly, Coleman helped get him a contract with the Pacific Coast League's Los Angeles Angels. He played the last month of the PCL season and hit .322 in thirty-one games.
A right-hander at bat and in the field, Wes was surprisingly fleet-footed at this stage of his career and rated as a fine fielder with a strong and accurate throwing arm. In 1928, he played center field and batted leadoff for the Angels. He hit .317 with 19 home runs and 96 RBI, a fine rookie year, but not star numbers in the PCL of that era. The following year, Jigger Statz rejoined the Angels after spending two years with the Brooklyn Dodgers. Statz, who spent a minor league record nineteen years with the Angels, was a better centerfielder and leadoff man than Schulmerich, and relegated Wes to the fourth outfielder behind Statz, Earl Webb and Wally Berger. He managed 462 at-bats in the long PCL season, with 19 home runs, 77 RBI and a .328 average.
With Berger and Webb moving up to the major leagues, Schulmerich became the left fielder in 1930, and had his best professional season. In 189 games, he hit .380 with 28 home runs and 130 RBI. At the end of the season he was purchased by the Boston Braves, allowing him to be reunited with his friend Berger, who had enjoyed a great rookie year in Boston.
By this time, Schulmerich had gotten married. Cecile Hobro was in a sorority with Wes's sister, who urged Wes to look her up when he was playing in San Francisco. He finally did, and they were married in 1929. Cecile was a big baseball fan herself, following Wes's career and avidly watching the sport on television until the end of her life.
Wes and Cecile generally spent their off-seasons in Oregon, allowing Wes to engage in his lifelong passions: fishing, hunting and boating. He was an accomplished outdoorsman who loved being on a river. It was not just recreation-his expeditions could feed the family for most of the winter. He also won many fishing trophies in his retirement years.
Wes was prone to some good-natured horsing around. Austen Lake, in the Boston Transcript during Wes's first spring training, wrote: "Schulmerich, with his twisted, half-serious grin, plays too rough for the rest of the neighbor's children. Ever since the day he clamped a headlock on one of the high-priced recruits and almost administered a permanent 'tin ear,' the boys have been willing to laugh at his jokes and pass up the rough stuff." Reportedly, Wes turned down an offer from "Carnation Lou" Darrow to become a professional wrestler.
Throughout his life, stories about Schulmerich often described his raucous laugh, his loud voice, and his aggressive horseplay. For all that, there is no record of any fighting, or even arguing with umpires. His size was always part of his "act," but not something he used to push people around. Wes made friends wherever he went.
As a National League rookie, Wes drew positive reviews for his range in the field and his strong throwing arm. Wes hit .309 with two home runs in ninety-five games, essentially platooning with Lance Richbourg in right field. According to Harold Kaese, the fans of Boston took a liking to Schulmerich, "the bowlegged Dutchman with the tremendous physique, the generous nose, and a willingness to pass the time of day with sociable customers."
Wielding a forty-one ounce bat, Schulmerich stood close to the plate and hit to all fields. He regressed after a strong rookie year, falling to .260 in 1932. He was hitting just .247 on June 15, 1933 when he was traded to Philadelphia with Fritz Knoth for Pinky Whitney and Hal Lee.
Baker Bowl was much more to his liking, and Wes hit .334 with eight home runs (all at home) over the last ninety-seven games of the season, playing as the everyday left fielder. While crediting the use of a lighter bat (thirty-six ounces), Schulmerich also gave kudos to his manager, Burt Shotton, who played Wes every day and allowed him to blossom. For the 1933 season, Wes hit .318, which was fifth best in the league. He received a $1000 raise, to $6000, for the 1934 season.
Although not a defensive star (he later claimed that his teammate Chuck Klein was one of the best defensive players he ever saw), he rated himself a fair outfielder. Commenting to Clifford Osgood of Baseball Magazine in 1934, he said: "Ground balls don't get by me often. I manage to stop them, but at times they have the annoying habit of hitting me in the midriff and bouncing off my anatomy for disheartening yardage. By the time I retrieve the ball on these occasions, the batter may have gained exclusive rights to an extra base." As was the habit of the day, Osgood was likely responsible for flowering up Wes's words a bit.
For the 1934 season, Jimmie Wilson replaced Shotton as Philadelphia manager, and early in the season Schulmerich was traded to the Cincinnati Reds. He played semi-regularly for Bob O'Farrell, but when Charlie Dressen took over in mid-season, Wes was not given much playing time. Schulmerich told Eugene Murdock, in an interview conducted forty years later, that he and Dressen did not get along.
Although his weight continued to be listed as 210 or 215 pounds, he may have been carrying too many pounds by the mid-1930s. He was called "chunky" as early as 1931, but in 1934, Baseball Magazine would report: "When he plants his brogans beneath a table and picks up a knife and fork his stay is measured only by the amount of food at hand." Schulmerich responded, "To operate a big ship, one needs plenty of fuel." He apparently still had good foot speed, and was "hard and fit." Nevertheless, pictures taken of him in the 1930s show a man getting larger every year. In addition, although Wes's career was just getting started, he didn't debut until he was twenty-nine years old, and was thirty-three at the end of the 1934 campaign.
In 1935 Wes was farmed out to Toronto of the International League, where he hit .298 with 17 home runs in 148 games. The next year it was back to Los Angeles, where he hit .301 as the regular right fielder. At Schulmerich's request, the Angels traded him before the 1937 season to the Portland Beavers, who played fifteen miles from his home.
By this time Wes had become somewhat of a clown, entertaining the spectators and the opposing team with various routines, and once he started playing fairly sporadically, as in Portland, the clown act took over his career. When asked by Eugene Murdock what his act consisted of, Wes replied: "I made a damned fool of myself, that's about all it amounted to." During an early season game he had been entertaining the crowd when a ball hit down the right field line went off his glove. When the fans hooted at him, he laughed back at them. The play ended up costing the Beavers the game, and Schulmerich was released. He later told the Corvallis Gazette-Times, "When I got to the clubhouse after the game, my check was waiting for me. They didn't appreciate my laughing about that."
He was soon enticed to become the player-manager at Lewiston, Idaho, in the Western International League. When Wes took over, the team had lost thirteen straight games, and they lost the first thirteen under Wes, extending their losing streak to twenty-six games. He continued to clown, but also won the league's triple crown (28 home runs, 117 RBI, .367 average), and his team was very popular even when they were losing.
In 1938, the team was shifted to Bellingham, and Schulmerich was replaced as manager. Wes spent half the year there and half in Spokane, also in the Western International League, dropping to .294 with 13 home runs. His act now involved a lot of elaborate pantomime: imitating Helen Wills Moody playing tennis; fishing in a boat and falling overboard; getting water poured on him, etc. Another part of his routine involved getting aggressively hauled off the field by a cop, disappearing underneath the grandstand and later reappearing with the policeman's clothes on.
He returned to Spokane in 1939 for forty-five games, before moving on that same year to Twin Falls, Idaho, of the Pioneer League, where he hit .407 in 72 games. In 1940, he retired as an active player, and got a job working for Shell Oil, but he still got out on the road to do his act, appearing at minor league ballparks throughout the northwest for a couple more years. During an otherwise uneventful ball game, Wes might climb the backstop and hang down begging the fans to throw him peanuts. He also appeared in a few games for Twin Falls in 1941.
He and Cecile bought a fishing resort in Beaver, a small town on the Oregon coast, where Wes was a guide on the Nestucca River for many years. From 1942 through 1945, he served in the United States Navy, attaining the rank of lieutenant commander. After the war, he was a county commissioner for Tillamook County for eleven years. In 1958 he and Cecile purchased the Albany Golf Course, which he sold for enough profit to retire in 1960. They lived in North Albany the rest of their lives.
Over the last forty years of Schulmerich's life, he was a legendary fan of the Oregon State athletic teams. He and Cecile attended nearly all of the Beaver home games in football, baseball and both men's and women's basketball, as well as the home track meets. They also drove up and down the West Coast to watch the teams play on the road.
As Cecile told the Gazette-Times in 1983, "We don't miss much. The Beavers are Wes's life. Oregon State is more important to us than anything in our lives, except for our family." As usual, he made his presence known. Jack Riley, the baseball coach, commented: "When he's not here, you know it. He has this booming voice that is very distinctive." Dee Andros, the former athletic director later said, "He didn't come to criticize, he came to have fun."
As Cecile recalled, "Wes still gets a lot of mail. Baseball has been good to him." Wes loved entertaining his friends with stories of his baseball days. He remembered having quite a bit of success against Dizzy Dean, especially in 1933, but great difficulty with Carl Hubbell. He remained good friends with Wally Berger, and the two often visited each other's homes. Once he had retired in 1960, his travels with the Oregon State baseball and football teams allowed him to visit old friends. When he spoke with Eugene Murdock in 1978, he had recently returned from a trip with the baseball team and had seen Frankie Crosetti and Glenn Wright in California.
In 1980 Schulmerich was part of the first class inducted into the Oregon Sports Hall of Fame. In May 1983 the Oregon State baseball team staged a "Wes Schulmerich Day," honoring Wes and his wife Cecile. He was inducted into the OSU Sports Hall of Fame in 1991.
In September 1984 Sports Illustrated featured Schulmerich in a story about "vintage fans," focusing on several old college football loyalists. At the time, Wes (with his "booming laugh that sounds like an eruption from Mount St. Helens") and his best friend, Charles Tharp, had not missed a Beaver home football game in 62 years. Besides football, they had also attended the 1968 Summer Olympics in Mexico City, hunted moose in Alaska, and trekked the Australian outback. One thing they would not do is visit Eugene (forty-five miles away) to watch the rival Oregon Ducks. "Wes and I don't like them, and they don't like us," said Tharp.
By the late 1970s, Schulmerich had developed cancer, and his health was in slow decline for many years. Even when he was sick from chemotherapy, he still managed to attend Beaver athletic events regularly, still holding court, still the center of his group of friends. With his favorite football team in the midst of some very tough times, Wes vowed to hang on until they won three games in a season. He did not make it, losing his battle to cancer on June 26, 1985. His beloved wife Cecile and two daughters, Betty Muessig and Cecile Hosterman, survived him.
Wes Schulmerich always considered himself an accidental baseball player. He never intended to make it his career, but kept finding himself moving up the ladder. His advanced age likely contributed to his shortened career, but he made sure to have as much fun as he could while it was winding down.
Sources
In preparing this biography I had the help of Kip Carlson, of Oregon State University, for information on Schulmerich's sports career at OSU, and Dick Beverage, who provided insight into his PCL years. The late Eugene Murdock interviewed Schulmerich in 1978, and I was able to borrow an audio tape of his interview from his collection stored at the Cleveland Public Library. Thanks very much to the friendly staff that approved my request.
I also used the following:
Bloodgood, Clifford, "The Strong Man of the Phillies," Baseball Magazine, May, 1934.
Edmonston, George P. Jr., "Ironhorse," Corvallis Gazette-Times, November 18, 1999.
Gault, Ray, "Beaver Backers Say Their Team Better," Corvallis Gazette-Times, September 1, 1984
.
Hammerickson, Randy, "The Show Goes on for Schulmerich," Corvallis Gazette-Times, May 20, 1983.
Kaese, Harold, The Boston Braves, Putnam, 1948.
Lake, Austen, "W. Shulmerich Raw Product in Refining Stage," Boston Transcript, March 16, 1931.
Lake, Austen, "Schulmerich Is Cinderella of Boston Braves," Boston Transcript, May 8, 1931.
Johnson, Speed, Who's Who in Baseball, 1933.
Lidz, Frank, "Oh, That Old College Spirit," Sports Illustrated, September 5, 1984.
Obituary, Corvallis Gazette-Times, June 27, 1985.
Full Name
Edward Wesley Schulmerich
Born
August 21, 1901 at Hillsboro, OR (USA)
Died
June 26, 1985 at Corvallis, OR (USA)
If you can help us improve this player's biography, contact us.
http://bioproj.sabr.org/bp_ftp/images2/SchulmerichWes.jpg
600
800
admin
/wp-content/uploads/2020/02/sabr_logo.png
admin
2012-01-04 20:46:29
2012-01-04 20:46:29
Wes Schulmerich