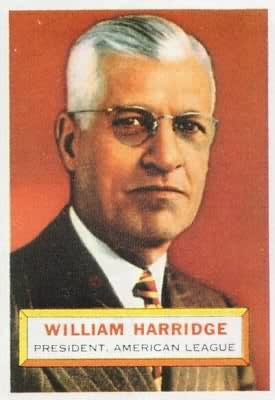 ---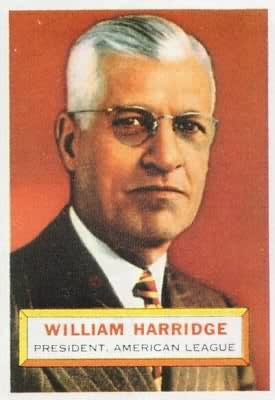 Though he claimed never to have played the game of baseball, nor to have watched a game before the age of 30, Will Harridge's 59 years of service to the American League earned him a plaque in the Baseball Hall of Fame. He served as league president for 27 years, as long as Ban Johnson, for whom he worked as a secretary for many years. The two men could hardly have been more different.
William Harridge was born in Chicago on October 16, 1881. His parents David and Barbara had already married when they emigrated from England to Chicago's South Side in 1875, and they raised four children in their new homeland. David worked whenever he could at a variety of trades, though the family never had much money. Will, who was never called anything else, knew that he would need to earn an income as soon as he was able. Upon graduation from Hyde Park High School, he got a job as an office boy for the Wabash Railroad. Unable to take time off, he took business classes at night, and gradually took on more responsibility.
By the time Harridge was in his mid-20s, he was put in charge of arranging bookings for sports groups and theatrical companies. One of his clients was baseball's American League, which was headquartered in Chicago and used the Wabash to transport its umpiring staff. Harridge's work so impressed league president Ban Johnson, that he hired him away. One day in December 1911, Harridge's boss at the Wabash called him to his desk and told he was through with the railroad. Harridge was stunned, but recovered when he learned that Ban Johnson wanted him as his personal secretary, and that he was raising his salary from $90 per month to $50 per week. Six months earlier, Harridge had married Miss Maude Hunter of Decatur, and the two had purchased a home in nearby Wilmette. The raise would come in handy.
What made his new job daunting was that Harridge knew nothing of the world he was entering. He had never played the game, or expressed any interest in attending a game. Johnson did not care. He wanted a man who could manage Johnson's correspondence and files, and manage the office. This Harridge did, quietly and anonymously, until the end of Johnson's reign.
Working for Ban Johnson, as Johnson's biographer wrote, "was not easy."1 The league offices were in the famous Fisher Building on South Dearborn Street. Ban Johnson had transformed the AL into a major league in 1901, and mostly ran his clubs with an iron first for the league's first 20 years. Johnson worked hard, and he demanded the same from his staff. If he needed something, he might scream at Harridge to get it for him. Harridge feared Johnson for a while, but he did his job so well the two could work together. During Harridge's years as Johnson's secretary, Johnson had to deal with many ownership and player problems, a struggle with a third major league (the Federal League), the First World War, and a gambling scandal. Harridge's role in this turmoil was merely to run the day-to-day business of the league.
In 1921 the two major leagues hired Judge Kenesaw Landis as its first commissioner, and Johnson quickly resented Landis's power and Johnson's lessened authority. By the mid-1920s the two were publicly feuding, and the AL owners were prepared to remove Johnson to spare the league further embarrassment. In early 1927 the owners forced Johnson to take a leave of absence, and named Harridge league secretary. When Johnson returned two months later, he refused to speak with Harridge for weeks at a time, eventually accusing his longtime employee of misplacing ten dollars from petty cash. Johnson told him he was fired. The league owners told Johnson that he could not fire Harridge, as he now worked for them. The league rented Harridge a separate office on the same floor of the building, and Harridge conducted league business from there until October 17, when Johnson finally accepted the league's demand that he resign.
The American League hired Ernest Barnard, who had been the president of the Cleveland Indians for the previous five years, as the league's second president, and kept Harridge on as league secretary. In early 1928 the league offices moved from their longtime location on South Dearborn to the Straus Building on South Michigan Avenue across from Grant Park. The next few years were much calmer for Harridge, as Barnard quietly ran the league while getting along splendidly with league owners and Judge Landis. In March 1931, while visiting spring training camps, Barnard suddenly became ill, and died on March 27 at the Mayo Clinic. (Coincidentally, Ban Johnson died the next day.) Harridge was immediately named interim league president.
"I nominate Will Harridge for president and treasurer," said St. Louis owner Phil Ball at a special league meeting on May 27. "I hope he is not elected, for, if he is, we are going to lose a darn good secretary."2 Harridge was given a three-year contract. He kept the presidency for nearly 27 years.
"I feel honored in being chosen to follow B.B. Johnson and E.S. Barnard as president of the American League," said Harridge upon taking office. "Each did wonders for the organization and for baseball in general. I hope I will be able to carry on their ideals. We must realize that conditions are constantly changing, and we must adapt ourselves to the situation as it exists today or may exist next year."3 Little did people know, he would seldom say so much ever again.
As Harridge had been working in the league office for 20 years, his transition to the presidency was smooth. Harridge's job was to manage the affairs of the league, but, unlike Johnson, he did so at the behest of the league owners who paid his salary. His office controlled the umpiring staff and the league schedule, and had to mete out punishment to players, umpires, and management personnel on occasion. Harridge generally did all of this, again in sharp contrast to Johnson, with minimal fanfare or publicity.
It was said that Harridge had no hobbies other than "work and bridge." In 1930 Barnard had insisted he take his first summer vacation after 19 years in the office, and also that he take up golf. Apparently he liked to drive a car, which he could do on his commute to and from Wilmette, and on weekends with his wife Maude and their only child, William Jr.
Harridge often said that his toughest decision was made in 1932, just one year into the job. In a game between the Yankees and Senators on July 4, Washington outfielder Carl Reynolds collided with Yankee catcher Bill Dickey on a play at home plate, scoring when Dickey dropped the ball. While Reynolds was happily jogging towards the dugout, Dickey chased after him and broke his jaw with one punch. Observers wondered how Harridge would deal with Dickey, the star catcher on the league's dominant franchise. Harridge fined him $1,000 and suspended him for 30 days, which enraged Yankee owner Jacob Ruppert. "He didn't talk to me for almost a year," remembered Harridge. "But the following winter he was elected vice-president [of the AL] and he gradually softened up and became one of my best friends."4
Earlier that same season he had fined George Moriarty, one of his league umpires, for his part in a fight with the Chicago White Sox. Harridge claimed to have fined or suspended Jimmie Dykes, manager and player for the Athletics and White Sox, 57 times. Dykes apparently never held a grudge, nor did Harridge.
Harridge played a role in the creation of the annual All-Star Game. It was the brainchild of Arch Ward, the sports editor of the Chicago Tribune, who sprung the idea to Harridge over dinner in the winter of 1933. Harridge lobbied his league owners, who agreed to a one-time event. The success of the first game, in Comiskey Park that July, led to its becoming an annual affair. Harridge was a strong partisan for his league, and took the game seriously. He later called the 1941 All-Star in Detroit, won by a Ted Williams home run in the ninth inning, as his greatest thrill in baseball. In the winners' dressing room later, Harridge hugged Williams. "I'd have kissed him," said the taciturn Harridge, "if there had not been so many people around."5
Though Harridge earned a reputation for being fair and forgiving, in at least one incident he was neither. One day in 1945, new commissioner Happy Chandler walked into the umpires' dressing room in Washington, and asked the group how they were doing. Ernie Stewart told Chandler everything was fine, though the umpires could use a little more money. Chandler, naively overstepping his role, asked Stewart to talk to the other umpires and let him know if there were any other problems. Harridge got wind of the story, apparently determined that there was a nefarious plot afoot, and promptly fired Stewart. Chandler explained the misunderstanding, but Harridge was having none of it—he told Chandler to butt out of the league's business, and Stewart never worked as an umpire again.
Harridge made perhaps his most famous ruling in 1951, concerning the playing status of a dwarf named Eddie Gaedel. St. Louis Browns owner Bill Veeck, always on the lookout for a publicity stunt, signed Gaedel to a player contract and had him bat in a game on August 19. Gaedel, 3-feet-7 inches tall, not surprisingly walked on four straight pitches. The next day, Harridge voided Gaedel's contract, saying that Veeck was making a mockery of the game by employing an obviously unqualified player.
During the 1950s, Harridge and the American League had to deal with more serious problems. After 50 years of stability, the league allowed the relocations of the St. Louis Browns to Baltimore in 1954 and the Philadelphia Athletics to Kansas City tin 1955. In the latter case especially, Harridge was criticized for approving the sale before completely exploring potential interest in Philadelphia. By the end of the 1950s, the American League had suffered as the National League placed two teams in growing markets in California and got the jump on signing black superstars in the wake of Jackie Robinson's integration of the game. In addition, the New York Yankees won the American League pennant nearly every year, usually easily, while the NL had several exciting pennant races.
In May 1956 Harridge marked his 25-year anniversary as league president. Although he claims never having seen a game prior to working for the league in 1911, by 1956 he said he was watching 75 games per year in Chicago or elsewhere. There was talk by then that he might retire, talk complicated by confusions over his age. Stories in October 1956 claimed he was celebrating his 71st birthday (it was really his 75th). His latest contract was expiring in another year, but he made it clear he was not interested in leaving. "If my health remains good and if the club owners are generous enough to offer me another contract, I certainly would think about accepting it."6 In December he signed another ten-year contract. A month earlier, Harridge had lost his beloved wife Maude to a long illness.
Harridge finally resigned in December 1958, having served more than 27 years in the top job. Articles at the time of his departure were full of praise. (He had also lost another year of age, as all the tributes said he was 72 years old, rather than his actual 77.) "With the many problems facing baseball," he said, "I feel they are entitled to a younger man," Harridge said.7 Harridge was replaced by Red Sox general manager Joe Cronin, who moved the league offices to Boston, after 58 years in Chicago. Harridge was named to the newly created post of American League Chairman of the Board, and maintained his office and secretary. He continued to be invited to all league meetings and be sent all official league correspondence.
Harridge's son William Jr., a Chicago surgeon, died of cancer in January 1971. Harridge failed quickly after that, and died in an Evanston nursing home on April 9, 1971, at age 89. The following year he was elected to the Baseball Hall of Fame by the Committee on Veterans.
Acknowledgements
Thanks to Lloyd Davis, Clifford Blau, Stephen Boren, and Bill Mortell.
Notes
1
Eugene Murdock,
Ban Johnson
(Greenwood Press, 1982), 61.
2 Harold (Speed) Johnson, Who's Who in Baseball (Buxton, 1933), 26.
3 Johnson, Who's Who.
4 Edgar Munzel, "Harridge Dead; President of A.L. for 27 Years," The Sporting News, April 24, 1971.
5 Munzell, "Harridge Dead."
6 "Harridge, 71, Hopeful of Keeping League Job," New York Times, October 17, 1956.
7 "AL Chief Harridge Quits," San Francisco Examiner, December 4, 1958.
Born
October 16, 1881 at Chicago, IL (US)
Died
April 9, 1971 at Evanston, IL (US)
If you can help us improve this player's biography, contact us.
http://bioproj.sabr.org/bp_ftp/images5/HarridgeWill.jpg
600
800
admin
/wp-content/uploads/2020/02/sabr_logo.png
admin
2012-01-29 20:43:50
2012-01-29 20:43:50
Will Harridge