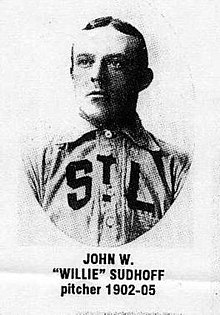 ---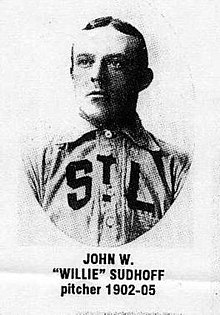 Blond-headed Wee Willie Sudhoff, although short in stature, was a solid, if mostly unspectacular, pitcher who spent all or parts of 10 seasons in the major leagues. He was the first Missouri-born player to appear for both the National League's St. Louis Cardinals and the American League's St. Louis Browns. The bulk of his career was spent on those two teams, but he also played for the woeful 1899 Cleveland Spiders and the 1906 Washington Senators. The diminutive right-hander relied primarily on curves and change of speed as he didn't have particularly great pace on his fastball. As the St. Louis Post-Dispatch wrote during the prime of his career, "The dinky delivery fools them all, with its ability to speed them over, float them up, and deliver 'snakes,' shoots and benders of all tantalizing sorts."1 At 5-feet-7, he really wasn't that small for his time — but when an alliterative nickname is applied, it often sticks.
John William Sudhoff was born on September 17, 1874, in St. Louis to Gerhard Heinrich and Catharine Maria Elizabeth (Barth) Sudhoff. He was the sixth of eight children born between 1859 and 1878. A German immigrant who arrived in St. Louis in the 1850s, Gerhard ran a grocery store on 2629 Gamble Street in St. Louis, two buildings west of the family home.
Records of Willie's childhood are sparse. A brief report in the Post-Dispatch in 1887 shows him as the pitcher for the Little Bushongs, an under-13 youth team in St. Louis named for Doc Bushong, a catcher for the American Association St. Louis Browns. The item in the paper noted that the Bushongs were looking for other under-13 teams to play.2 His first known year in an official baseball uniform was in 1892, when he played for the Ben Twinklers, documented in a grainy photo in the St. Louis Republic.3 After he finished with amateurs, he honed his pitching skills for a semipro team in Waterloo, Illinois, a town about 24 miles from St. Louis.
The 1897 season saw Sudhoff pitching for the Little Colonels of Paducah, Kentucky, in the Central League. That league collapsed financially in late July and Sudhoff returned to St. Louis. He pitched a few games for the semipro A.B.C.s and caught the eye of local baseball expert Frank Pears, who recommended him to St. Louis Browns owner Chris Von der Ahe.4 The Browns were in need of everything, sitting in last place in the 12-team league with a 25-68 record. Sudhoff pitched in an exhibition game against Connie Mack's Western League Milwaukee club and was good enough to accompany the team for their long road trip. After another exhibition start, he made his National League debut pitching in relief. On August 20 Browns starter Red Donahue pitched one inning against Brooklyn, giving up seven runs. Sudhoff came in and pitched the rest of the game, giving up another six runs but getting his first base hit. He ended the year 2-7 but with a league-average ERA of 4.47 in nine starts and two relief appearances.
In the late 1890s the St. Louis Browns were truly terrible. They suffered from a lack of good players and poor management. One example of the management problem was revealed when Von der Ahe went through four managers in 1897, including 14 games when he took the helm himself, "leading" the team to a 2-12 record. So for 1898, having an average pitcher was a huge improvement. Sudhoff started 38 games, finishing 35 of them while pitching three times in relief. His ERA was 4.34, worse than league average but better than the team's. His record of 11 wins and 27 losses was bad, but within the context of a last-place 39-111 team that finished 63½ games behind the Boston Beaneaters. It wasn't easy playing for such a terrible team and Sudhoff and fellow pitcher Brewery Jack Taylor did get in trouble for lack of motivation. The St. Louis Post Dispatch reported, "Sudhoff, one of the pitchers of the St. Louis club, is in open rebellion and Taylor is sulking. Both were fined a small sum recently, Sudhoff for not reporting to morning practice."5
Before the 1899 season, the Browns were sold at public auction after Von der Ahe declared bankruptcy. Frank and Stanley Robison, who already owned the National League Cleveland Spiders, bought the team. There were no rules at the time preventing the practice of owning multiple teams. The Robisons decided that St. Louis was the better baseball market and moved all their best players there. Under this arrangement, Sudhoff was sent to Cleveland to start the 1899 season. He pitched poorly in Cleveland for a terrible team but when St. Louis needed some pitching reinforcement, Sudhoff was transferred there in early June. His record in the remainder of 1899 for a good Perfectos (as the Browns were rebranded) team was 12-10 with a league-average ERA of 4.04. (He was 3-8 with a 6.98 ERA for Cleveland.) St. Louis ended up fifth in the 12-team league with an 84-67 record.
The 1900 season brought big changes in baseball. The National League disbanded four teams and passed rules against syndicate ownership. The Robison brothers' Cleveland franchise was one of the disbanded teams. This led to a glut of players and the St. Louis Cardinals (rebranded again) picked up John McGraw and Wilbert Robinson. The two players weren't interested in moving so far away from their New York homes and business, and the team as a whole didn't perform well. Sudhoff had an excellent season when he was pitching but was inexplicably not used regularly on the mound. His ERA was the best on the team but he spent 12 games in the outfield and seven games at third base while starting only 14 games on the mound. His season-long batting average was .189 so he wasn't the best choice for the field. He was also loaned to an East St. Louis, Illinois, semipro team for a short period early in the season to stay sharp.
Sudhoff married Bertha Wilker in 1900 and he was an attentive newlywed. A gossip item in the St. Louis Republic tittered, "Blond William Sudhoff, the marionette twirler with the saffron thatch and 'Fritz in Ireland' face … is downtown most every day, a very devoted slave and cavalier to young Mrs. Sudhoff, whom he stole away and married last spring."6 They settled in a two-story brownstone (since demolished) at 2108 Penrose Street in north St. Louis. They would have four children between 1901 and 1910 (Emmett, Evelyn, Willene, and Harry).
Sudhoff did not have a good season in 1901 but his fans felt his teammates weren't supporting him. The Post-Dispatch in July and August of 1901 reported this idea on multiple occasions. For example, columnist J.E. Wray wrote, "'They're laying down on you Willie,' shouted a voice from the grandstand. … [I]n the press stand and among those who are supposed to be 'in the know,' the consensus of opinion was that the nameless spectator's opinion was correct."7 Notably, in another story Sudhoff denied that his teammates were laying down. SABR's David Nemec speculates that one possible reason for the lack of team effort for Sudhoff was that he told management about other players' indiscretions.8
Results from the 1901 season don't support the contention that Sudhoff's team didn't support him. His mediocre 3.52 ERA (10 percent below league average) was coupled with a good record (17 wins against 11 losses) so the run support he received was better than average. Also, the number of unearned runs scored against him was not abnormally high. The Cardinals were a good team, finishing 12 games above .500 and fourth in the eight-team league. The local rooters had reason for optimism in 1902, but there were more changes in baseball that would sink those hopes.
The American League Milwaukee Brewers were purchased by local businessman Robert Hedges and relocated to the larger market of St. Louis for the 1902 season. Hedges ran his team like a business, renaming them the Browns to capitalize on the positive history of the name from the 1880s and going after known players to immediately solidify a fan base. This provided an opportunity for the Cardinals players to seek greener pastures and more money. Position players Bobby Wallace, Jesse Burkett, Dick Padden, and Emmet Heidrick and pitchers Jack Powell and Sudhoff all jumped from the Cardinals to the Browns. With this move, Sudhoff became the first Missouri-born player to play for both the AL Browns and the NL Cardinals. He had a good season for a very good team. The Browns finished second in the American League behind only the Philadelphia Athletics and Sudhoff pitched a full season with a 2.86 ERA, 20 percent better than league average. On September 1 Sudhoff held the Athletics to one run in winning the first game of a doubleheader. The team also won the second game, moving to a half-game behind Philadelphia. However, that proved to be their high-water mark. Sudhoff went 4-3 down the stretch while his team was 13-10. Philadelphia finished with a flourish, five games ahead of St. Louis.
The Browns as a team regressed in 1903 but Sudhoff had his best season in the major leagues. Pitching all season, he started 35 games, completing 30 of them, and came on in relief three more times. He tossed five shutouts and ended the season 21-15. A season highlight was a game against Rube Waddell in front of a Sunday crowd of 21,000 in St. Louis. The St. Louis Republic noted, "Further interest attached to the game from rumors that Sudhoff had wagered a large sum on himself against Waddell."9 If the confident Sudhoff did bet on himself, he won, beating Waddell 2-1 while limiting the Athletics lineup to five hits. He hurled a six-hit shutout against the Chicago White Sox on September 12 while reaching base safely three times. The Browns were competitive early, a half-game behind on June 2, but by the end of the season they were in sixth place, 26½ games behind the Boston Americans. In late August Cleveland and the Browns were on a train headed to St. Louis when the train derailed. The only noted injury was to Sudhoff, who got a strained wrist and cut hand that caused him to miss one start.10
Before the 1904 season, Sudhoff threatened a holdout over a $400-a-year salary difference. He and the Browns came to an agreement just before the Cardinals-Browns exhibition series in early April. He pitched the opener of the preseason series and won an ugly 12-8 game. This foreshadowed Sudhoff's 1904 season. He couldn't get back into form and his ERA ended up at 3.76, 1.49 runs higher than in 1903. His record fell to 8-15 and the Browns ended up worse again than the previous year.
Sudhoff wasn't above making a bet on the horses, and sometimes successfully. As the St. Louis Republic reported in mid-April, "'Wee' Willie Sudhoff spent his holiday at the Fair Grounds yesterday, and as a result, is some $400 richer today. The 'Wee' had $20 on Princess Me, a 20-to-1 shot, which won her race handily."11 Sudhoff did pitch better late in the season, raising hopes that he was getting back into shape and would be back to his normal self in 1905.
Sudhoff didn't get healthy in the offseason. He was plagued by a sore arm early and had to use a new pitch in exhibition games before the 1905 regular season. "Despite the handicap of a sore arm, 'Willie' made the Cleveland team of giants dance to his pitching like marionettes, and no one doubts who saw him shut out the Lajoieites that this new slant is another snare and invention of the pitcher to entangle the batter," commented the Post-Dispatch.12
While Sudhoff's ERA did improve to 2.99 (still about 15 percent worse than league average), his Browns continued their drop, falling to last in the American league, losing 99 of their 153 games played. Sudhoff's record was 10-20. There were rumors during the season that he'd be released to the American Association if he cleared waivers, but he stayed with the Browns all season. On an offday in late August, Sudhoff and friend and fellow Browns pitcher Harry Howell pitched against each other during a Knights of Columbus organization picnic in St. Louis. Imagine that happening in the modern game! During the American League winter meetings, he was traded to the Washington Senators for left-handed starter Beany Jacobson.13
Sudhoff felt he still had something left. In an interview with the Post-Dispatch he confidently stated, "Why should I get out of the game so long as the public and the managers will stand for me? I'm still a young fellow."14 The Washington Post was not as optimistic: "The Washington baseball club has traded Pitcher Jacobson for Pitcher Sudhoff, of the St. Louis Browns. Jacobson was a failure last season. Sudhoff was a great pitcher in his day but is believed to be going back."15
The Washington paper proved to be correct. While Jacobson was average in a tail-end role (he pitched 155 innings, fifth of the six pitchers on the team), Sudhoff had nothing left. The sore-armed twirler started five games and relieved in four others but managed a total of just 19⅔ innings with a bloated 9.15 ERA. That was a far cry from the pitcher who completed 199 of his 239 major-league starts. He even failed in a start against his former team, giving up three runs in two innings against the Browns before being removed. His best game was a three-inning relief appearance in early May against the Yankees. He allowed one unearned run and batted safely twice. But the game was already lost by the time he entered. In late June, during a trip to St. Louis, the Senators sold Sudhoff's contract to the Kansas City Blues of the American Association but he never played for them, hoping for a clean release and chance to play in the major leagues again.
Sudhoff played outlaw semipro ball in and around St. Louis during the remainder of 1906, since he was still claimed by Kansas City and Washington. As late as November of that year, Montreal expressed interest in him — but, in an apparently spiteful act, Washington kept him on its reserve list. He was prohibited from signing for an affiliated team and went back to the outlaw leagues. In June 1908 Sudhoff signed with Topeka in the Western Association but apparently never played for the team. That closed out his baseball career.
Sudhoff went to work for the St. Louis city water department as an oiler. His life ended prematurely. On July 24, 1913, the Paducah (Kentucky) Sun-Democrat reported that Sudhoff was committed to the city sanitarium for being violently insane. "The strength of two policemen was required to transfer Sudhoff from his home to the hospital," the paper said.16 Newspapers at the time reported that his condition was related either to the train wreck suffered while with the Browns or to a beaning he received. He remained in the sanitarium until his death on May 25, 1917, from dementia paralytica. This condition, and his insanity, likely resulted from an advanced case of syphilis, and not a physical injury related to baseball. He was buried in a family plot in Bethany Cemetery in Wellston, Missouri, with his parents, two siblings, his wife, and two of their children.
Acknowledgments
This biography was reviewed by Rory Costello and Len Levin and fact-checked by Kevin Larkin.
Sources
In addition to the sources cited in the notes, the author also accessed Baseball-Reference.com, Ancestry.com, and Newspapers.com.
Notes
1 "Foxy Tigers Get Tails Twisted," St. Louis Post-Dispatch, August 3, 1903: 6.
2 "The Little Diamond," St. Louis Post-Dispatch, June 16, 1887: 5.
3 "When Wee Willie Sudhoff First Donned a Baseball Uniform," St. Louis Republic, September 20, 1903: 24.
4 Ibid.
5 "Mutiny in the Camp," St. Louis Post-Dispatch, September 9, 1898: 5.
6 "Gossip of the Baseball Players," St. Louis Republic, November 20, 1900: 7.
7 J.E. Wray, "Chicago Fans Insist Cardinals Didn't Try,'" St. Louis Post-Dispatch, August 2, 1901: 6.
8 David Nemec, Major League Baseball Profiles 1871-1900, Volume I (Lincoln: University of Nebraska Press, 2011), 180.
9 "Sudhoff Beats Waddell; Athletics Twice Defeated," St. Louis Republic, August 17, 1903: 4.
10 "Wreck Injuries Keep Sudhoff Out," St. Louis Post-Dispatch, August 30, 1903: 10.
11 "Swander Departs Unlamented," St. Louis Republic, April 22, 1904: 5.
12 "'Wee Willie' Has the Clevelands Guessing …," St. Louis Post-Dispatch, April 20, 1905: 18.
13 "Wee Willie Will Wend to Washington," St. Louis Post-Dispatch, November 29, 1905: 6.
14 "Sudhoff Thinks Well of Himself," St. Louis Post-Dispatch, December 11, 1905: 12.
15 "Jacobsen[sic] for Sudhoff," Washington Post, December 2, 1905: 2.
16 "Willie Sudhoff," Paducah (Kentucky) Sun-Democrat, July 24, 1913: 2.
Born
September 17, 1874 at St. Louis, MO (USA)
Died
May 25, 1917 at St. Louis, MO (USA)
If you can help us improve this player's biography, contact us.
https://sabr.org/sites/default/files/SudhoffWillie.jpg
600
800
admin
/wp-content/uploads/2020/02/sabr_logo.png
admin
2019-08-27 13:03:23
2020-04-09 14:37:31
Willie Sudhoff