Ted Williams Chapter meeting recap – 8/30/2018
San Diego Ted Williams Chapter Celebrates Williams' 100th Birthday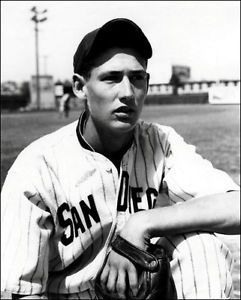 More than 60 members and guests attended the San Diego Ted Williams Chapter's special regional meeting on Thursday, August 30, 2018, at San Diego Central Library's Sullivan Family Baseball Research Center. The purpose of the meeting was to celebrate the 100th birthday of Ted Williams, who was born in San Diego on August 30, 1918.
Chapter President Tom Larwin presided over the meeting and noted that the presentations would focus on the connections of Williams with San Diego. He was a star in high school, then joined the Pacific Coast League Padres as a 17-year-old in June 1936. Williams also played the 1937 season with Padres before going to Minneapolis in 1938 and, eventually Boston in 1939. Throughout his adult life he would often return to San Diego keeping in contact with his neighborhood pals and high school teammates.
One of Williams' best neighborhood friends was Wilbert Wiley, whose daughter attended the meeting. She brought with her a glove that Williams gave her father in late 1938. Williams had told Wiley that it was the glove he used throughout his three minor league seasons. In addition, there were several relatives in attendance from the Williams and Venzor (Ted's mother's maiden name) families.
The initial presentation was from Dennis Donley, a retired former librarian from Hoover High School, who spoke on Williams' three years at Hoover. Donley pointed out that Williams was recognized as a good hitter all three years even then most newspaper reports touted his prowess as a pitcher.
The next presentation was provided by the chapter's past president, Dan Boyle, who covered Williams' professional debut with the Pacific Coast League's San Diego Padres. Boyle noted that numerous scouts had expressed interest in Williams but the home town Padres owner Bill Lane won out by getting approval from Ted's parents. Williams signed a contract in late June 1936 while still in high school (he was slated to graduate in January 1937).
Local baseball historian Bill Swank followed with a summary of Williams' 1937 season with the Padres. Considering that he was an 18-year old player it was very good offensive performance with 23 home runs and a .291 batting average. Swank also showed a series of five color photos showing Williams' swing pattern in sequence. The photos were taken in October 1941 — his .406 year — while he was at Lane Field in San Diego for a couple of postseason exhibition games.
Jim Smith recounted four reminisces of Williams: (1) with Frank Shellenback (his first manager in pro ball), (2) with Earl Keller (a San Diego beat writer who started at the same time Williams joined the Padres), (3) with Tony Gwynn (another batting champion, and San Diego icon, who wore the same number 19 as Williams did while with San Diego in 1936-37), and (4) lastly, when he was with Williams in what would be his last appearance in San Diego at Petco Park in March 2000.
Our last speaker was the foremost expert on Williams, SABR Director Bill Nowlin. Bill provided a summary of various aspects of Williams' life molded from his time growing up in San Diego. A Q&A session followed and the meeting concluded with a Ted Williams Trivia Contest.
— Tom Larwin
https://sabr.org/wp-content/uploads/2020/03/research-collection4_350x300.jpg
300
350
admin
/wp-content/uploads/2020/02/sabr_logo.png
admin
2018-09-06 17:52:46
2018-09-06 17:52:46
Ted Williams Chapter meeting recap – 8/30/2018