Editor's note: During our Stay Home With SABR initiative, enjoy these light-hearted Dispatches From the Mudville Bureau by Joanne Hulbert of SABR's Boston Chapter to stay engaged with baseball until the games return. Check out what's new and keep up with all the news in the Boston Chapter on Facebook at BostonSABR or on Instagram at @sabrboston.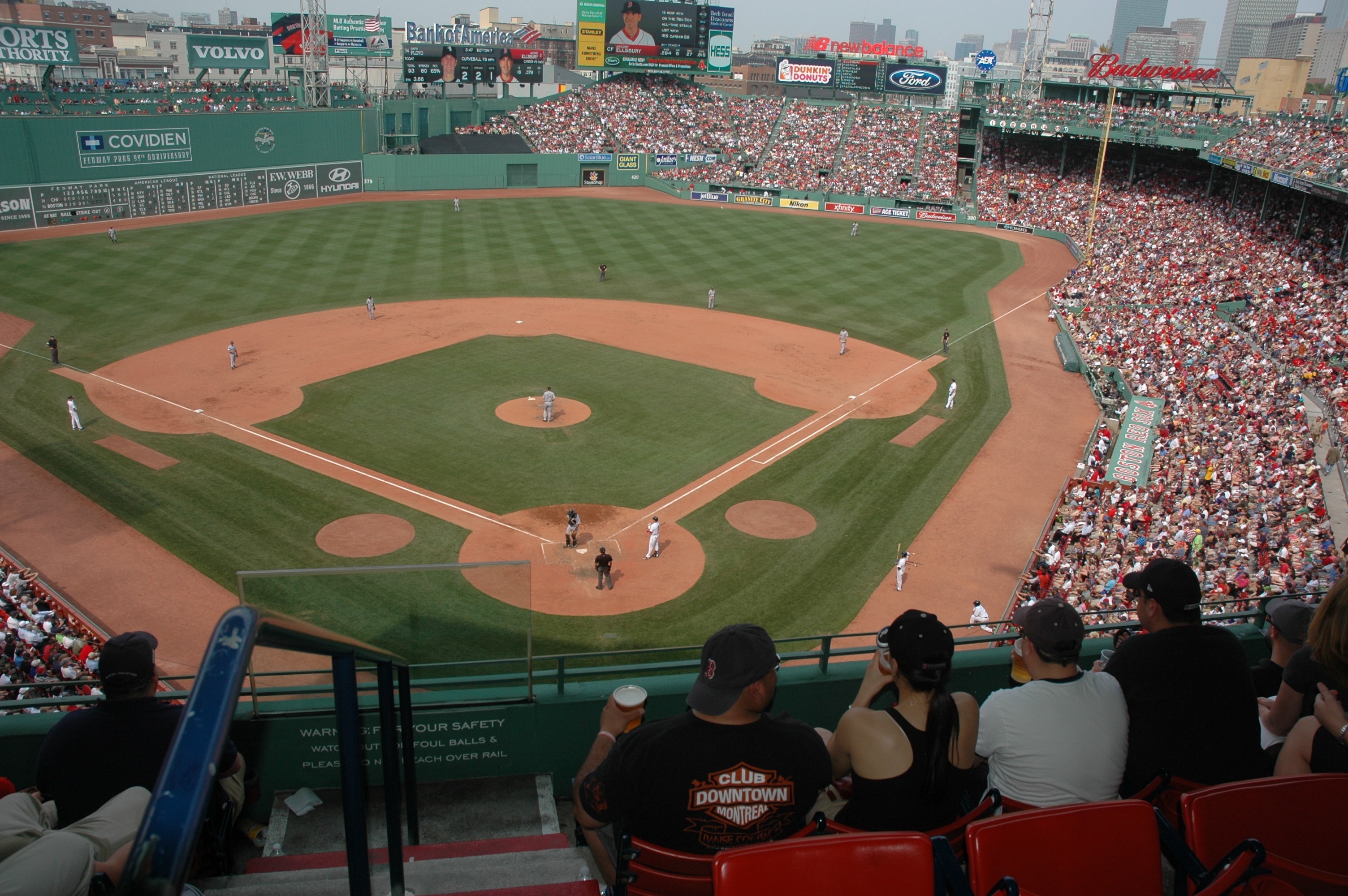 To view earlier entries from this series, click on a link below:
JULY 10, 2020 — the Boston Red Sox are at their second "Spring Training – at a time when we should have been hearing about the All-Star Game. Instead, we await some kind of baseball season be it one like the average school child is experiencing, or, some other alternative. July is a time when baseball was in full swing from the time the game was organized as a team sport, and every July there was much to report about the progress of the season.
On July 10, 1850, there were fleeting reports of ball games played at Fourth of July celebrations, although reporting was vague. Most accounts included reports of guns blazing and bands playing. Field sports were mentioned, but more newspaper columns were devoted to such dire topics as whether children ought to be allowed to dance. Oh! Such wicked exertions preying upon young minds!
Luckily, by 1860, concerns about dancing were somewhat alleviated, and base ball appeared in newspapers columns recording games played, clubs organized, and physical exertion now an acceptable activity.
A CHALLENGE
At a meeting of the GRANITE BASE BALL CLUB, of Lynn, held this evening, it was unanimously voted to challenge the OUTALANCHET BASE BALL CLUB to play a match game according to the Rules of the Massachusetts Association of Base Ball Players, within thirty days from date. – Boston Herald, July 14, 1860:2.
July 10, 1870 – there was no baseball played around Boston – except for any unlawful event held beyond the eyes of the law – because July 10, 1870 was a Sunday. Newspapers reported that people spent time sailing in the harbor and walking on the Common. The Boston Ice Company advertized their product at 50 cents for 100 pounds and six dollars per ton. Boston's population in 1870 was 220,750. Boston's "faithful guardians of the night and day" will begin their vacations on August 1, old officers getting two weeks and new ones half that time. And Miss M. has retired from the stage.
July 10, 1880 – "Beaten at Last! The Worcesters Apply the Whitewash to the Bostons." The twenty-first game on the Boston grounds that season was played between the home nine and Worcester in the presence of a small number of people who witnessed a fine exhibition of baseball playing. Feature of the game was a most remarkable seventh inning ever played on the grounds as only four balls were pitched to decide it. Final score – Worcester 3, Boston 0.
July 10, 1888 – In the 21st century, Red Sox fans were often creatively expressed their disrespect for rival players and none received more than A-Rod. Today's fans did not invent the fine art of hurling vitriol or ridicule, for nineteenth century fans had already refined the art of shouts, chants, songs and poetry, and they saved their best renditions for Adrian Anson. Although there was a growing rivalry with New York over baseball and other unimaginable slights, Boston fans also looked forward to the arrival of the Chicagos and their first baseman. No need for rehearsals, the cranks were always ready.
July 10, 1880 – The Chicagos were back in Boston. Lack of base hitting, some outrageous errors, a few bad decisions and plenty of Chicago luck was all that was needed for a Boston loss. Score: 6 to 1. Chicago's first baseman, Cap Anson, was rather disappointed in the outcome of the series, as he was feeling bad about not winning all three games played and had to settle for one win only. "Very modest, indeed," commented the reporter.
When Anson started out as a professional with the Forest City club he was a big country lout. He was then described by the Philadelphia Times, as a "kicker" and he developed a reputation for many baby-ish pranks on and off the field. From these the Chicago first baseman received the nickname "Baby," which stuck to him ever since. He hated that nickname but could not afford to say so. …..Mr. Anson humorously referred to the nickname of "Baby," so common in Boston, and said he didn't think any the worse of Boston people for that, and he was not at all thin-skinned, "but I can tell you," he said, "that the more I am called "Baby" the closer I think my game is being watched, and the harder I strive to win from you."
July 10, 1900 – At St. Louis, the Bostons faced defeat at the hands of Bertie Jones, a tall, slender striping from Colorado who added another shout-out game to his record. No one Boston player reached third base, and only two got as far as second. There was something to cheer about. The crowd cheered for three long minutes after a sensational play by
Hermon Long who caught a ball hit by Lou Criger. Long rushed over and stuck out his left hand just in time to stop the ball, while on a full run with his head but a foot or two off the ground. He shifted the ball from his left hand to his right, and accurately passed it to Fred Tenney before Criger could touch the base. It was seen as a play far out of the ordinary for the times. Despite spectacular plays it was all for naught. Score: St. Louis 3, Boston 0.
With Baby Anson it was always something. In an August 31, 1893 game in Boston it was just like old times to see "Baby" Anson at his usual old kicking game. Hugh Duffy stepped up to the bat with a big pine bat marked "1492," and when Hugh pointed the bat in Anson's general direction on first base, he protested to Umpire Jack Flynn, at one time a Chicago pitcher, who would not give in to his protest, The Baby asked for a new umpire, and took a seat on the Boston bench while Flynn walked around the home plate with a borrowed gold watch and chain. The Boston owners saw the Baby's tantrum continue and asked that the game go on in order not to disappoint the fans. Anson based his objection to the pine bat on Rule 13: "The bat must be made wholly of hard wood, except the handle." During the game Duffy was presented with a bouquet of flowers by his friends on the center field bleachers, and "Baby" found a large cabbage flower when he approached home plate. Bosotn 7, Chicago 0.
July 10, 1910 was a Sunday, therefore, no baseball games in Boston. There were other issues to contend with. The headline in the Boston Journal: "White Plague Test Declined by Fitz. Mayor Not Afraid, But Feels It Would Be Invasion of Others' Rights." Mayor Fitzgerald made it clear that he had no intention of submitting himself to an examination for tuberculosis as an example to city employees as was suggested by Edward F. McSweeney, chairman of the trustees of the Consumptive Hospital. The Mayor denied that he was afraid he wouldn't pass the test, but because he believed the effect of such action would amount to an invasion of the rights of those individuals who might not desire such an examination, but would feel compelled to submit to it.
"I played five fast innings of baseball and knocked out a home run within two weeks," said the mayor last night, "and I'm satisfied I'm all right; but instead of following Mr. McSweeney's suggestion I shall refer the matter to the Board of Health and to the Chamber of Commersce committee, and when I have their replies, I shall give the matter further consideration. The Mayor also offered: "Another side of the question is the immense expense involved and whether such expense would be justified by the probable results.  
— Boston Globe, July 5, 1917
Baseball as He Found It
July 10, 1920 – Yesterday Manager Ed Barrow of the Red Sox cut open an American League baseball and found a rubber center as large as a golf ball. The winding was done with cotton instead of woolen yarn. Formerly the inner rubber ball was solid but this one has a cork center and is three times the size of the former inner ball. Ed is now inclined to think that the ball has a whole lot to do with the big amount of hitting in the league. Incidentally, the covers of the ball this year will stand little wear. The Sox used nearly 100 dozen of them to date, and before the end of the season the bill for baseballs is likely to be very close to $2500. – the Boston Globe, Saturday, July 10, 1920:7.
Random Baseball Note: "CAPITAL PRISONER GETS HOME-RUN HIT. George Rollins Captains Nine at Charles Street Jail." Although awaiting sentence in connection with the murder of the Dorcehster grocery store manager, George Rollins captained a baseball team in a game among the inmates of the Charles Streeet jail yesterday and batted out the longest hit of the prisoners' baseball season. The ball landed far in the outfield of the jail yard, nearly hitting John J. McDonald, who was watching the contest from an easy chair still convalescent from being shot in the spine in Roxbury by a policeman. The hit was good for a home run, but Rollins, dazzled by the sun, thought the fielder had caught the ball on the bound and consequently advanced no further than first base. He made this hit off Ray Sanunders, captain of the other team, who, although he has only one arm, the left one, and has only four fingers remaining, pitched a good game. Rollins's team won by the score of 4 to 3. – Boston Herald, July 19, 1920:9.
Happy Birthday to Jalen Beeks, born July 10, 1993, left handed pitcher, just arrived at Fenway Park in time for the pandemic. Sixty feet six inches should provide enough social distancing unless an irate batter charges the mound.
Happy birthday to Hall of Famer Andre Dawson, born July 10, 1954, and lest the youngest among us have forgotten, Dawson was with the Red Sox in 1993 and 1994.
Happy birthday to George Dickey, born July 10, 1915, younger brother of HOF Bill Dickey, a catcher and pinch hitter with the Boston Red Sox in 1935 and 1936.
And happy birthday to John Michaels, who we all may have forgotten, born July 10, 1907, left-handed pitcher in 1932 with the Boston Red Sox, one win, six losses. One year, one win, that was all.
Reporting from the Mudville Bureau of the Boston Chapter, where the weather is getting even warmer over the past couple of days, and wear your mask! We hear that Eduardo Rodriguez tested positive for the Covid virus – get well soon, Eduardo!
— Joanne Hulbert
JULY 3, 2020 — Social distancing and the wearing of masks continues. The Boston Chapter has adjusted to the new way of existing. Numbers are decreasing here in the ER, but the threat still looms and is worse in other parts of the country. At work, we have several travel nurses from Texas, Alabama and Arizona — perhaps their experience in Massachusetts is boot camp for them, as they will likely return to the hot spots later this summer. One of the nurses from Texas is a Red Sox fan — he also respects the Rangers — but one of his first tourist trips to Boston included a walk around Fenway Park and a stop at Twins for a standard issue — blue with red B — Red Sox ballcap. The sacred ground of our green cathedral attracts baseball fans from all over the world. He laments that he may not get to a game while here.
Fenway Park's draw reminds me of an Opening Day several years ago, as I was waiting in line to enter the Park, I struck up a conversation with a young man from Germany. He had been an exchange student in the Boston area decades ago, and had been inoculated with the Red Sox fever and never recovered. Each year, he makes the trip back to Boston to receive his annual "Saulkx" vaccine. I hope he is faring well this year, and can wait until next year.
The Boston Globe reported on July 3, 1918 a bit of ominous news from Washington D. C., where the day before the Red Sox faced pitcher Harry Harper in a 3 to 0 shutout. He struck out Ruth twice in succession. "Ruth Nursing Sore Hand, Fails to Drive in Any Runs" whispered the headline.
Harry Hooper — keep your Harrys straight — was the only Red Sox player to make it to third base, three others reached second. Sox pitcher Joe Bush was not up to his usual level. Heinie Wagner, Boston's second baseman, one of only three games he appeared in during 1918, and had not been in the lineup since 1916, would soon prove once again a player ready to the rescue.
So what was up? Why the concern for Babe Ruth not hitting that day? Reports floated around that the Babe had injured his hand in Philadelphia by sliding to a base and that it had been bothering him ever since. Perhaps, it was speculated, that was why he couldn't get a good grip on the bat that day in Washington. Or, was there more to it?
More headlines now screamed from the Boston Post on July 4, 1918:
BABE RUTH QUITS RED SOX TEAM
Says He Will Enter Bethlehem Steel Plant
FRAZEE WILL FIGHT TO HOLD PITCHER
Boston Owner Vows He Will Stop Contract Breaking
Sportswriter Paul Shannon delivered the news on July 3 that Babe Ruth had quit the team and had shuffled off to Baltimore. Frazee vowed he would take the case to the federal courts if need be, and bring a civil damage lawsuit against Bethlehem Steel if they attempted to sign Ruth, and vowed he would take every cent he had invested in baseball to bring Ruth to his senses and put a stop to those who contemplated jumping a contract!
Ruth's teammates were not sympathetic, and accused the star player of an inflated head caused by too much advertising and his effectiveness was impaired by altogether too much babying. The Babe had been given permission to travel to Baltimore on the day off at Washington but did not return as expected. Manager Barrow , though very displeased that he was non est, kept his mouth shut for now.
Apparently what had happened at that Washington game on July 3, after the Babe struck out the second time and returned to the bench in a fit of temper, Barrow criticized him for hitting at bad balls. Angry words were exchanged and Ruth left the game. Jack Stansbury took his place in center field. The excuse was made that the Babe was suffering from an upset stomach, and the star player went to Baltimore.
He was found there in Baltimore right back of the bar at his own café there by he who was sent to track him down. Ruth was sore, sore with Barrow because he felt that he was being badly treated. Perhaps coaxing, and perhaps a little boost in salary might cause the sensation of Boston's season to decide that he should not spoil his wonderful home run record — Frazee, Barrow and all the fans in Boston were hoping.
The Babe announced he was determined to play in the industrial league for the Chester plant of Bethlehem Steel. He told Paul Shannon, "Just say I don't know what I'll do. The whole fuss was started over a play on the field. I hit at the first ball, and he said something about it being a bum play. Then we had some words, and I thought he called me a bum and I threatened to punch him. He told me that would cost me $500, and then I made a few more remarks and left the club." — Boston Post, July 4, 1918:13.
Babe made it clear he would not pay the $500 fine and he said he was not the greenhorn he once was and knew he was quite the attraction worth a significant amount of money to Frazee.
So, what happened? We know the Babe returned to the Red Sox. His return was swift, and could be measured in hours instead of days. Frazee did not need to file an injunction, nor did he have to drag him back to the team in chains. On July 4, the Babe agreed to return to the Red Sox and rejoined the team at Philadelphia in an afternoon game on July 4, in left field, where he struck out twice. He made a big hit with the bleacher crowd in the 30-cent section greeting him with language that the reporter deemed unprintable and that the Babe ignored.
How do you convince your star player to return after a blowout with the manager? Straight up threats and coercion were of little use. Both sides were dominated by inflated egos. Harry Frazee sent veteran second baseman Heinie Wagner to Baltimore to speak with Ruth and lay out for him the possible consequences of his abrupt departure from the team. Whatever Wagner did, the mission was accomplished and the Babe returned with Wagner and was ready to play in the afternoon game of the doubleheader on July 4 at Philadelphia. Between the games, there was another flare-up between Ruth and Barrow when an apology was demanded from the Babe, and he again threatened to leave. Somehow, cooler heads prevailed and the rest is a part of history. Babe Ruth set out to improve his home run record, he went on to complete the season with the Red Sox much to the relief of Frazee, Barrow and fans, and he played a dominant role helping Boston win the World Series in 1918. Ed Barrow had to believe that the Babe was too important an asset to keep on the bench or lose to Bethlehem Steel. Although Ruth had been a pitcher during his early years, he found that playing a position other than on the mound gave him more opportunity for at bats to improve his home run record which stood at 11 on July 4.
Sportswriters, fans and team owners and managers were equally fascinated by Babe Ruth's pursuit of the home run record. He was five homeruns shy of the American league record, made by Socks Seybold in 1902. Ruth had appeared in 44 games up to this point and if he stuck with the team he could easily break the single season record of 24 set by Philadelphia outfielder Clifford Carlton Gavvy "Cactus" Cravath in 1915. It was noted that in almost every instance a player who led his league in home runs made most of them in his home ball park. Such was not the case with Ruth so far in 1918. He did all of his home runs in New York, Washington, Detroit, Cleveland and St. Louis. He had not hit one in Boston, Chicago, nor Philadelphia. His record to date included three in New York, three in Washington , three in Detroit, one in Cleveland and one in St. Louis, where in 1916 he held the record for the longest hit ever made, sending the ball over the right field fence and all the way to Grand Avenue. He also held the record at Fenway Park driving the ball farther than any player had in the six years of the park's short history. Everyone was obsessed with Babe Ruth and his home run record, an obsession that captivated fans during a time of war and the impending influenza epidemic that would eventually divert everyone's attention in another direction.
Perhaps we can give credit to Ed Barrow for figuring this out, but we can also give credit to Charles "Heinie" Wagner for his successful negotiating skills in rescuing a key element of the Red Sox team. There were many factors that led the Red Sox to the World Series in 1918, but history might have turned out differently if not for a certain player stepping up to the proverbial plate.
Thank you for the history:
Boston Globe, July 3, 1918:4.
Boston Post, July 4, 1918:1.
Philadelphia Public Ledger, July 5, 1918:14.
Boston Sunday Post, July 7, 1918:28.
Three sketches — Ruth is Back! Boston Post, July 13, 1918.
Random Historical Note: Catcher Walter Tragesser of the Braves has enlisted in the Naval Reserves and will leave tomorrow, with Kelly, Powell and Rehg, for Newport. Tragesser failed to pass the physical examination for entrance in the Army because of a crooked finger on his right hand. — Boston Globe, July 4, 1918:4.
Random Historical Note 2: To the majority of Britons the Fourth of July has meant no more than October 1, Trafalgar Day does to Americans. In British history the American Revolution is merely an incident in which George III and George Washington figure more or less prominently. Up to two years ago the biggest celebration of the Fourth of July in England was held at the American embassy, where the stars and stripes were displayed and ice cream and lemonade were served to Americans who came to shake the ambassador's hand. Today George V is "warming up" daily in the court yard of Buckingham Palace, American Red Cross women have been working overtime making baseball uniforms, and British orators are delving into American history. The YMCA huts are being decorated with bunting, while British stores are doing a rushing business in flags. Theatrical folks and song writers have been preparing special bills and even some Britons have had the hardihood to tackle "The Star Spangled Banner." July 4, 1918 promises to be a big day in British history. there are more Americans in Briton today than even during the rosy pre-war times when the land was invaded by tourists. Thousands of American boys are in camp. All of them will not see the King pitch the first ball at the Army-Navy game here, but wherever they are they are going to have the opportunity to celebrate Independence Day as nearly as possible as they would do if they were at home. By his example the King has let his subjects know that he wanted the Americans in the British Isles to feel at home on Independence Day, and when Britons lay themselves out to be hospitable their guests are in for a royal time. Some 20,000 are expected to cheer when the King passes out the ball. Canadians and Australians who are pals with the Americans will go in with the English in helping the Yanks celebrate. There will be no time for homesickness this Independence Day. — Boston Post, July 4, 1918:6.
Happy birthday to:
Danny Heep, born July 3, 1957, outfielder, pinch hitter, first baseman with Boston Red Sox in 1989-90.
Frank Tanana, born 1953, pitcher with the Red Sox in 1981.
Buddy Rosar, born 1914, a Red Sox catcher in 1950-51.
And lest we forget, Nig Cuppy (born George Joseph Koppe, in 1869), pitcher and outfielder for the Boston Nationals in 1900, and joined the Boston Americans in 1901:
Cuppy said he was glad to be back to a Boston team. He thinks he was treated badly by [Boston Nationals] manager Selee last season.
"I will have a catcher in Criger this year," said Cuppy, "who will not keep telling Selee that I have crossed him in signs every time he has a passed ball."
This was a knock at Bill Clarke. Cuppy says he will amend his style and pitch without the long-time waits. Cuppy claims to be in first-class shape, but will not be worked until the weather is good and warm. — Boston Globe, April 3, 1901:8.
And on July 4, happy birthday to Brendan Donnelly, born 1971, a pitcher for the Red Sox in 2007.
Reporting from the Mudville Bureau of the Boston Chapter, where the weather was once warm for a couple of days, but this week there's cool, cloudy, torrential rain "showers," with occasional wicked thunder and lightning, and the prospect of improvement not likely. Heck, we are still supposed to practice six feet (and maybe add six inches too) of distancing, self-quarantine and we're wearing masks that would mess up a facial tan anyway.
— Joanne Hulbert
JUNE 26, 2020 — Wicked! The word first appears in the English language in the 13th century, according to the Merriam-Webster dictionary along with pitcher and crank. Each word would eventually be given new meanings in the extensive baseball lexicon.  
The first appearance of wicked baseball can be found in an 1868 guide in a story about Charley Mills, a catcher who eventually played for the New York Mutuals in 1871-72: "When sure of his man on the bases, Charley throws a wicked ball." — "Notable Collection of Baseball Data," Anaconda (Montana) Standard, July 31, 1921:8.
The "wicked" ball was not evil, as the standard definition defines the word as something vile, or demonic. Instead, "wicked" in baseball terms, came to define something wonderful. Just as "pitcher" and "crank" acquired new definitions, the baseball dictionary is filled with adoptions, as anyone who opens The Dickson Baseball Dictionary can read. Some words faded away, others have stuck around.                           
Wicked is one of those words, and it stuck around Boston longer than other places and was widely used to describe all manner of glorious feats and exceptional prowess.
"Herman Long is the one man who will be most pleased to have Tucker again at first, for Tom has saved him many an error by picking Herman's wicked throws out of the dirt, and from in front of the runner." — Boston Daily Advertiser, November 19, 1895:8.
"Pat M'Cauley has made 78 assists this season. A wise chap suggests that Mac has had more chances to throw out runners because more have reached the bases off the [Worcester] Riddles than any other club. This is wicked." — Worcester Daily Spy, July 21, 1903:3.
Hooper made a wicked three-base hit over the right fielder's head in the third inning, scoring Sam Jones, who had walked." — Boston Herald, July 21, 1918:12.
"Earl Wilson was still wild but wicked." — Curt Gowdy, Boston Record American, July 8, 1962:75.
But can [Tony Conigliaro] also pitch? He hasn't tried since he played American Legion ball in 1962," Sal [Conigliaro] said. "I honestly don't know if he's got the goods, but when he pitched for St. Mary's High in Lynn he had a wicked fast ball, a wicked curve and a wicked slider. He'd befuddle the batters with his curve ball. He pitched no-hitters and one-hitters and he pitched against kids like Danny Murphy and his team won the Catholic conference." — Tim Horgan, "Tony Needs A Miracle, Says Dad" – Boston Herald, April 14, 1968:8.
"Wicked" started out as many baseball words had as slang, but then eventually gained some modicum of acceptance and was embraced by many, such as fans – previously known as cranks – in Boston. Early baseball writing and reporting enjoyed a literary civil war, with the anti-slang faction battling the purveyors of colloquial wickedness. There were many battlefronts.
HARVARD TIES THE CAN TO SLANG
Horrors! In 1915, when faculty at this prestigious university found their students describing their exploits in baseball terms not found in the OED, they swung in to action – they attempted to ban baseball slang. They soon found it would have been easier to ban baseball, for they soon found that the national game was resplendent with picturesque and romantic words that inspired writers and readers alike. The battle was on.
"For the game of baseball; resplendent as are its virtues and powerful as are its charms, is, after all, justified chiefly by the picturesque and romantic literature which it inspires. There are in existence sound citizens who attend baseball games as infrequently as they attend, say, husking bees or bull fights. But there is not one of them who cannot, if he will, take pleasure in the amazing verbal dexterity of the men who for months find daily new and entertaining variants for "Mr. Dusenbury hit the ball into left field.
"Recently there came to the shores of this country an English journalist, Cecil Chesterton, who never had seen – and never has seen, up to the time of writing – a game of baseball. Yet Mr. Chesterton found in the sporting pages of American metropolitan newspapers a strange and subtle delight. Avidly he read, without the slightest idea of its significance, such baseball news as was published during his stay in the United States. To repeat to him such a phrase as "the southpaw bunted the spheroid" was to earn his gratitude. For he, like every connoisseur of words, appreciated what is really the poetry of the baseball game – which is totally different from its mere history." – Boston Herald, May 9, 1915:22.
The faculty naysayers lost the battle, and the purveyors of baseball poetical slang won the war. There were other battle fronts, and William Randolph Hearst, who attended Harvard and should have known better than to take this battle on in 1901, was reported to have given out the mandate that the San Francisco Examiner pages must in the future be free from slang. The story goes that the baseball reporter turned pale when he read the notice.
"A baseball story without slang? It can't be done," he cried. But he set out to adhere to the command, made a stop at the nearest café and "imbibed copious draughts of the fluid which gives men power to do impossible things" and then set out for the ball park. He returned with his copy, handed it to the city editor who read something like this: "Mr. Nordyke was the first man to approach the thing which is known as the home plate. He held a wooden stick in his hand with which he desired to strike a ball which was thrown toward him by a member of the opposing side, called the pitcher. He did not attempt to strike the first ball, because as it neared him it turned to the right. This is called a curve. He tried to strike the ball the next time it was thrown, but missed it. The third time it was thrown he struck it a forcible blow, causing it to soar though the air for a great distance, but one of the men from the other side caught it with is hands."

"Sanctified blue blazes! What's this?" asked the city editor.

The baseball reporter pointed to the notice regarding slang. "I am the only man who ever did a baseball story without it," he said triumphantly, "but I can't keep it up long." His feet slid from under him and he fell exhausted to the floor.

Henceforth the sporting department of the Examiner will be permitted to use slang with discretion.

– Springfield (MA) Republican, November 17, 1901:17.
The early defenders of baseball slang bequeathed to us a great gift. They saved a national pastime treasure. And contributed countless words to the American lexicon. Baseball slang is not as noticeable today since much of that slang has become acceptable even by readers of the OED. Writers never lost their edge when it came to describing a baseball game, and we can take a few lessons from the old pros, reminisce, and debate why they don't write them now like they used to.
DEACON BARROWS
The following breezy writeup of Barton's game at Derby Line a week ago Saturday appeared in the Stanstead (Vermont) Journal.
"Again last Saturday the Frontier Baseball Team saw its shadow and returned to it former hibernation. Barton performed the operation without administering an anesthetic, consequently there as some noise from the patient, notwithstanding the well-known skill of the surgeon. Evidently the locals left their four leafed clovers and horse-shoes at home, for luck was absent, the visitors alone having it. That is the history of the game; someone must lose if another wins. We are not going to waste time, paper and ink explaining how it was done, but must say that Barton played a great fielding game, for example we drove a pretty one over the third garden, apparently safe by yards and furlongs, but Barton's giraffe, Dana, who has an arm and a paw that reminds us of a scoop net on a ten-foot bamboo, and said appliance is always in the way when a likely and truly possible ball comes within a hundred feet, in the case we are talking about, said hand performed its function beautifully, but not for us. Deacon Barrows worked his sunny haw! haw! to our confusion. Uncle Gardyne played the first bag as if it contained one of mother's best suet puddings, his foot was always in it, and his mitt was as sure as a yale lock. The visitors outfield was as far from a vision as the shingle of our childhood, which was one of life's stern realities, it was like the cordion of Thermopyle, an impassable barrier. Mr. Webster who tossed the berries to the "Deacon" was the greatest sprinter on the team, but he couldn't twirl with "Archie." About our part of the game, well, Archie had 13 of those items that help in a pinch, but the score was 10 to 2, we paid only 20 cents on the dollar, score talks."
— Orleans (Barton, VT) County Monitor, June 28, 1911.
For readers in a slight state of confusion – a translation: "the shingle of our childhood: refers to shingle – a rough, gravel surface of a playing field that was certainly painful when landing upon it and the "cordion of Thermopyle" was a cordon of soldiers, a line of troops that cordoned off an area, impenetrable to the offense as it happened at the battle of Thermopylae. The use of classical references was a frequently used literary resource for early baseball writers.
Today, there's little slang to be found compared to a century ago. Perhaps writers today would suffer the slings and arrows of copy editors and a host of ghosts from bygone Harvardian faculty. But it does not mean that we cannot celebrate the masterpieces of the past and imagine what it would be like if the slam-bang slang had persisted.
When the Omahas sailed into the Quincys and demonstrated to the Swamp Angels that they didn't know the rudiments of base ball, the base ball writer of the Quincy Herald went down to his office and wrote this prose poem of the game:
"The glass-armed toy soldiers of this town were fed to the pigs yesterday by the cadaverous Indian grave-robbers from Omaha. The flabby one-lunged Rubens who represent the Gem City in the reckless rush for the baseball pennant had their shins toasted by the basilikeyed cattle drivers from the west. They stood around with gaping eyeballs like a hen on a hot nail, and suffered the grizzly yaps of Omaha to run the bases until their necks were long with thirst. Hickey had more errors than "Colin's Financial School," and led the rheumatic procession to the morgue. The Quincys were full of straw and scrap iron. They couldn't hit a brick wagon with a pick-axe and ran bases like pall-bearers at a funeral. If three base-hits were growing on the back of every man's neck they couldn't reach 'em with a feather duster. It looked as if the Amalgamated Union of South American Hoodoos was in session for work in the thirty-third degree. The geezers stood about and whistled for help, and were so weak they couldn't lift a glass of beer if it had been all foam. Everything was yellow, rocky and whangbasted, like a stigtossed full of doodlegammon. The game was whiskered and frostbitten. The Omahogs were bad enough, but the Quincy Brown Sox had their fins sewed up until they couldn't hold a crazy quilt unless it was tied around their necks.
Roast the scar-eyed crocodiles, anyhow.
— Daily Nonpareil (Council Bluffs, Iowa), May 31, 1895, p. 4.
The Nonpareil reporter eloquently commented: "To be a base ball reporter on a newspaper nowadays needs no particular knowledge of the game. What is required is an unusual felicity at invective and an ability to misuse English so that the original meaning of the words will be obscured.
Boston Daily Globe, September 20, 1916:7
The Last Word comes from Trenton, New Jersey: "As for ourselves, we are rather amused than incensed over the linguistic innovations of the creative geniuses who nowadays guide the destinies of the sporting page, and to our indignant friend of conservative habits we offer this comforting thought – that while the newspaper reports may seem mere verbal barbarisms, the game is still the same as in days of yore, and the best way to enjoy its stimulating thrills is to visit the grounds and see it played." — Trenton Evening Times, May 23, 1909:6.
Happy birthday to Greg Blosser, born 1971, Red Sox left fielder and pinch hitter in 1993-94. Happy birthday to Mike Myers, Red Sox left-handed pitcher, born 1969. And happy birthday to Jim Henry, born 1916, Red Sox pitcher 1936-39. They all share a birthday with Derek Jeter, born 1974.
Random Historical Baseball Note #1: "Saturday, June 26, 1920 – YANKS BOMBARD RED SOX YET BABE HITS NO HOMER- Rip Collins, Texas Ranger, Lets Barrowmen Down with Lone Double by Eddie Foster – Tale is 14-0. . . . Every mother's son of the Yanks made one or more runs today and one or more hits. The Boston outfielders, Hooper, Schang and Menosky, were all chasing hits. But the Sabbath means nothing but more chasing." — Boston Herald, June 27, 1920:14.
Random Historical Baseball Note #2: "Last Saturday at Elmira the New York State Reformatory baseball team beat the Kennedy Valve Works team, 5 to 2. It was the box score that was distinctive, showing two-base hits by 26233, 26437, 26091. The Reformatory boys didn't make any double plays, but it would have been highly impersonal to read '26030 to 26437 to 26045.' " — Franklin P. Adams, The Colyum, Boston Journal, September 8, 1916:6.
And One Last Random Note: "In spite of all efforts to wheedle them out of first place, it begins to look as if the Red Sox have brought their knitting …" — Salt Lake Telegram, pg. 38, September 24, 1916.
(Slang Quiz – can you identify the slang phrase, and, the definition?)
Reporting from the Mudville Bureau of the Boston Chapter, where we are seeing more relaxing of the quarantine rules, and we are still wearing masks, where the weather has now turned to that which is reminiscent of baseball games, hot dogs, a Sam Adams and a seat in the bleachers, the Boston Chapter is keeping baseball alive.
— Joanne Hulbert
JUNE 19, 2020 — There's more to report about good balls, bad balls – beyond the bullet ball that was never heard from again after 1858. We can wax poetic nonetheless about a seemingly simple sphere.
The ball is the center and circumference of baseball. Around it is built the national pastime, and without it there would be no use for bats, grounds or diamonds. All these are at hand and can be reached by merely whittling the limb of a tree, placing stones or driving pegs for bases and selecting an open field. But it requires intelligence and skill to produce a ball. It is the artistic component part of the game, the others being furnished raw by Nature. The ball is the symbol of the grand old sport, and the idol all fans adore. It is the source of action of the game and never dies. (Springfield (MA) Republican, November 21, 1915:25.)
Balls were at first hand-made, from readily available materials. Many horsehides – often remnants from shoe and harness making – contributed to the cause, and yarn for winding could be had from any mother's knitting basket, and a small stone would suffice for a center. As seen with the Massachusetts game the official requirements were sketchy and allowed art and creativity intervene.
RULES and REGULATIONS of the game of BASE BALL, adopted by the "Massachusetts Association of Base Ball Players," held in Dedham, May 13, 1858.
1st. The ball must weigh not less than two, nor more than two and three-quarters ounces, avoirdupois. It must measure not less than six and a half, nor more than eight and a half inches in circumference, and must be covered with leather.
The Knickerbocker Club game rules in 1845 were remiss in addressing the construction of the ball – how very trusting they were of their membersip! Rule the 9th stated: "The ball must be pitched, not thrown, for the bat.
As history has told us, the first baseballs were of the "lemon-peel style" with the cover sewn with a sturdy string, bringing the four flaps together. There was a problem with that type of construction as players soon found out.
Wood County Reporter, Wisconsin Rapids, WI. November 26, 1908:7.
STORY OF THE BASEBALL COVER
Rhode Island Lad Said to Have Invented Modern Casing
Who invented the baseball cover? What genius was it who conceived the nation of inclosing a sphere in an envelope of so peculiar a cut as that which for years now has been a distinctive feature of the missile used in the great American game? In baseball in early days the leather was cut in four pieces, and the rough seams were like so many slits in the skin of an orange. Maybe nobody ever seriously wondered who was responsible for the change, but the Providence Journal claims to have discovered the man. He hit upon the idea when a schoolboy, he says, and his invention was taken up and adopted by the late Harry Wright and his brother George. Here is his story:
"I resided at Stoughton and was attending school at the time I invented the baseball cover in use to-day. My father was manufacturing boots at the time, and I had access to all the leather. I used to cover the balls we schoolboys used in playing the old 'round-ball' game. Of which the main features of excitement consisted in 'tucking out' by throwing the ball at or toward the batter while in transit from base to base, and he needed to be an athlete, contortionist and general invisibilist to dodge those balls that were thrown straight from the shoulder.
In covering the balls according to the old form, I found the corners would give out first, and quick at that that, and when we threw a ball at an opponent we couldn't inflict a black and blue mark on him to emphasize the victory, for the wind would get into the ragged flaps of the broken corners and retard its flight.
"So one day in school, when the teacher was not looking and those were rare intervals, for he had several pairs of sharp eyes located in unexpected spots about his head, I took a piece of brown paper and inside of five minutes I devised the present form of cover to baseballs. Had I known its value, a fortune was mine, but still I have the rich reflection that it has afforded a pleasure to the work, for the game would be a tame affair without that desirable geometric form of cover." — Springfield (MA) Republican, January 15, 1905: 12.
There have been several "inventors of the figure-eight baseball cover" and this was just one of the contenders for that title. There is no original U.S. Patent for the design – just as well, most of the romance about the baseball remains intact.
The U.S. Patent office lists 27,652 baseball related patents. I admit I quit after scanning through 250, and looked at the "Grand Slam Bean Bag Baseball" from 2018. Therefore, we shall be satisfied with believing the baseball as we know it, is not restricted by an original patent for the figure-eight covering, just as that schoolboy from Stoughton said, and he also remained anonymous.
Happy birthday to Tom McCarthy — right handed pitcher, with the Red Sox in 1985, and two years with the Chicago White Sox. Drafted by Boston in the 7th round of the 1979 MLB June Amateur Draft from Plymouth-Carver High School.
Random Historical Note (with thanks to Richard Hershberger for bringing us this bit of Boston history to our attention: "Messrs. William Sullivan and John G. Coffin have petitioned the Councils of Boston for the use of a piece of public ground, for two years, for the establishment of a Gymnastic School–a measure of doubtful propriety, we apprehend.  If a boy wants to play; let him play but do not spoil the fun by dictating the modus operandi – a game of base ball, or foot ball, is worth a dozen gymnasiums, where the eye of surveillance is to check the flow of animal spirits."  (United States Gazette (Philadelphia) March 28, 1826)
Reporting from the Mudville Bureau of the Boston Chapter, where we are seeing some relaxing of the quarantine rules, and we are still wearing masks – except when we are eating – which is the excuse why Bill Nowlin and I are not wearing masks at the Ballpark Dining at McCoy Stadium on Friday, June 12, 2020, home — at least for a little while longer – of the AAA Pawtucket Red Sox. We sat at shortstop, enjoyed food, great weather, would have been a great day for a ballgame, but was a chance to take us out to the ballpark despite no balls and bats in motion!
— Joanne Hulbert
JUNE 12, 2020 — The start of the summer season calls for a short list of summer reading recommendations. The books on baseball are too numerous to list, and I wouldn't attempt such an arduous feat here. Here's a few new books as well as some time-honored classics.
Way back when, many baseball novels were written with young readers in mind, books that would encourage good deeds, good manners and good morality. The books  were similar to many written with religious themes that encouraged good behavior. Fortunately, baseball books moved up to adult readers, and none too soon. Today, you can find baseball books that still promote good deeds and kind thoughts – but there are books that can also lead us down base paths less primrose.
For example, All the Stars Came Out That Night by Kevin King, published in 2006, did not always emphasize good deeds (but there are some), good manners (sometimes, not always) and not all was good morality (that was a relief). The story did provide a great escape.  As it states on the back cover — "Babe vs Satch, contempt vs conscience." And, thankfully, a book well written.
While in self-quarantine, a reader of baseball literature ought to reward themselves and indulge in something recently published. I recently picked up a copy of The Cactus League, by Emily Nemens. And horrors! A baseball book written by a woman who apparently knows something about the game and can hold her own on the pages! I hope she can otherwise convince anyone who had clung to the idea that women don't know the game — an attitude that has hung around for a long time — that the attitude is three strikes and out.
Ancient Attitude: Woman's sphere is the home; man's sphere is the base ball. — (Pittsburgh Chronicle.) Boston Globe, April 19, 1887: 8.
Another book, K: A History of Baseball in Ten Pitches by Tyler Kepner is part memoir, part history of pitches, and neither overwhelms the other. I expected a good rendering of the knuckleball, but I learned more about the screwball. Worth the time spent on the book, worthwhile as a summer read — you get entertainment and education all in one.
I heard the review of The Wax Pack by Brad Balukjian recently on Only A Game and thought it might be something similar to what we do as SABR biographers but with an added layer of insight. The author used a pack of baseball cards from 1986 and set out to track down each of the players on those cards. There are many parallels with what we do when we track down players, living or dead as the author experienced. He wanted to get up close and personal with as many of the players as possible. Some were happy to meet with him, some declined. There's also a trip to a factory that manufactures the cards.
Also, there are all the classics we are well aware of, and my final recommendation is to urge all readers to be sure they have read The Glory of Their Times, A False Spring, and to spend the rest of your self-quarantine time memorizing Casey at the Bat. Don't lie, you have the time, and we who have read those books and know the poem by heart can tell if you are faking it.
Happy Birthday to Damon Buford, born June 12, 1970. He played for Boston, his fourth of five teams, in 1998 (86 games) and 1999 (91 games). Center fielder, BR, TR.  Also he played in the Cape Cod League 1989-90 for Cotuit. Read about the league: The Last Best League: One Summer, One Season, One Dream by James M. Collins.
Happy birthday to Edgar Smith born June 12, 1862 and played for Providence in 1883 and 1885, a pitcher, first baseman and right fielder.
Random Baseball Literary Note: A Capital Tale of Baseball and School Life. A thrilling and wholesome story of schoolboy life is "Strike Three," by William Heylinger, published by Appleton ($1.25). It is the fourth of Mr. Heylinger's series of stories of "St Mary's Academy," and it deals particularly with baseball and the rivalry of two fine fellows for a scholarship which one of them needs in order to put him through school, and which the other does not, but is, at first, nonetheless anxious to obtain since his father has taxed him with devoting too much time to sports and too little time to his studies.
If anything, the story has rather too much baseball and is not a truly proportioned picture of schoolboy life, and yet for the same reason, it may not prove any the less appealing to the boy reader, to whom too much baseball is a rank impossibility, and a contradiction in terms. At all events, the story has much good, wholesome sentiment and manliness in it. It is illustrated in colors. — Springfield Republican, December 6, 1913: 21.
Another Random Baseball Note: "RESCUE BABY FROM FIRE BY 2-STORY CATCH – Heroic Brockton Baseball Player Clambers Into Burning House and Tosses Child to Fellow-Player Who Is Waiting Below." — To the fact that Fred Carey and John Boshell, two young Brockton men, were excellent baseball players the infant child of Mr. and Mrs. Antonio Sutkas owes its life. The Sutkas family, who are Polanders, live in the upper portion of a house at 21 River street owned by Jeremiah Sullivan. In the lower story is a family of Syrians.
Carey was passing the house this afternoon when he saw smoke pouring from the upper story windows. He notified the inmates and the two families began a hurried exit. When their numerous progeny were gathered outside they counted noses and found that the youngest Sutkas was missing. Carey made his way to the upper story and in a smoke-filled room found the infant nearly suffocated. Leaning from the window he held the child clear of the building and tossed it lightly to Boshell, who was standing below. He caught the child carefully, amid the cheers of the crowd. While responding to the alarm a horse attached to Ladder 3 fell and was badly cut, the accident being due to the harness breaking. The house was considerably damaged. — Boston Journal, September 16, 1907: 4.
Lest we forget the notable persons in this heart-rending story, the baby's name was Charles Sutkas. In 1930, Charles was still living in Brockton with his father and his occupation was night watchman in a movie theater. Neither Charles, Fred Carey nor John Boshell made it to the big leagues. Boshell, who was 15 at the time of his heroic exploit in 1907, was living in Brockton in 1930, divorced from Minnie, residing in a boarding house and working as a laborer for the city highway department. No information on Fred Carey was found.
Reporting from the Boston Chapter, the Mudville Bureau — where there is actually a modicum of joy left and a huge pile of back-logged books to read
— Joanne Hulbert
JUNE 5, 2020 — Time to take a trip in the way-back machine! Baseball fans would all like to think the game is always on the side of honesty, integrity and transparency, but recent events have reminded us that artful dodging of rules, sleight of hand, creativity such as the hidden baseball trick and suspicions of scandal have been part of the game since the beginning. The Black Sox Scandal, Bobby Thomson's Shot Heard 'Round the World, players accused of gambling on their own team, sign stealing, and a myriad of corners cut along the baselines. Some were rumors of skullduggery too difficult to confirm.
For example, there were allegations after the 1912 World Series in Boston that something wasn't quite right about the base path from second to third, that the sand on the path was soft, causing a runner to slow down slightly while the home team knew how to avoid it. So, was baseball a game that inspired creative minds, or has the game quietly indulged in it from the very beginning?
In the beginning of so-called organized baseball, there were more than two major forms of baseball. In the 1850s there was the New York game, and in Boston, there was the Massachusetts game. Each had codified their own rules by then, and although there were major similarities, there were also some big differences. Although the game played today is mostly the New York game of old, a few rules from Boston, such as the high fly out and overhand pitching found their way into the game as played today.
As for the Massachusetts game of base ball, the rules were set at the Dedham Convention, in April of 1858. The first official game played by those new rules, was held on Boston Common, on May 31, 1858, a game between the Olympic Club of Boston and the Winthrop Club of Holliston, a "country club" with a reputation for, let us say, enthusiasm on the field and their expertise at hitting the ball "behind" — which was legal — but was a well-known specialty of that team. The report of that game in the Boston Herald of June 1, 1858, described an event that drew "between two to three thousand people, and for the better accommodation of the players, lines were drawn enclosing two or three acres of the parade ground." Reports stated that the Olympic Club "for some cause or other did not play near as well as they have on several occasions, but they bore their defeat manfully, and glad to report, that the very best of feeling still existed between the two Clubs." After 33 innings the final score was Winthrops 100, Olympics 27. Indeed.
"Instead of throwing to the baseman, to cut off a runner, as is now done, the ball was thrown directly at the runner himself; a moving object, however, is not so easy to hit and many misses were made as well as bull's eyes. I remember Harry Forbush of the Olympics in a hard-fought game with a Holliston club, which was one of the best in the State, following up a base runner, but a little afraid to throw at him for fear of a miss, the man being ready to "duck at the flash," so he feinted and the man dropped like lightning upon his stomach, whereupon Harry, who was now nearly over him, grinned with triumph and let him have it as tight as he could throw. The fellow squirmed a little, but nothing could be said. The close rivalry between the clubs no doubt put a little unnecessary ginger into Forbush's arm; but that was the game."
— James D'Wolf Lovett, "Old Boston Boys and The Games They Played," 1906: 129.
As was the custom of the time, the two clubs adjourned to Bacon's Saloon for dinner and camaraderie. The Winthrops remained in Boston until the next day, and returned home by train feeling victorious and triumphant. No comment was made about the obviously lopsided score that was reached so quickly in an afternoon game of just a few hours, from 2 PM to 5:40 PM. In 1860, a game played by the same rules in Worcester where the intended score of 100 tallies was expected in order to win the game was never reached in 6 days of play. So, what happened?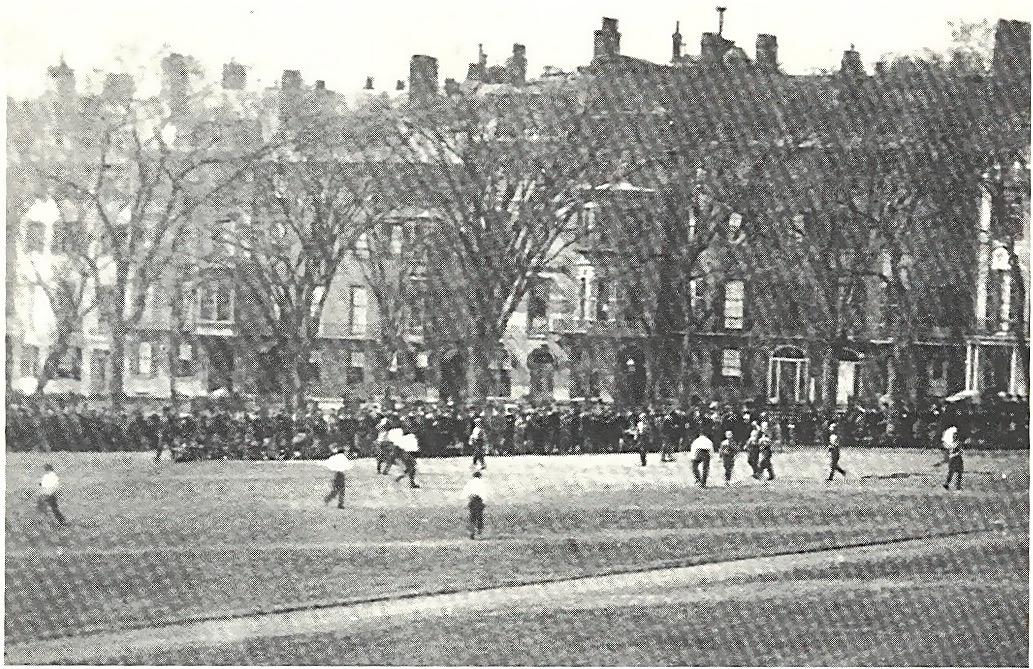 Boston Common, date unknown, purported to be the only photo of a Massachusetts game of baseball. Beacon Street in the background, and a large group of spectators have gathered for the game.
The Olympic Club did not complain — at least not publicly. They did lament that three of their best players were not in the game which affected them significantly. It was not until 1905 that the probable cause of the lopsided score was revealed after most of the participants were dead or had let bygones be buried, too. The Boston Journal of February 27, 1905 reported "'Tri-Mountain' Tells More Interesting Facts of Early Baseball History in Boston" revealed what happened in that May 31, 1858 game on Boston Common. Sleight of hand, creative bending of the rules, and outright skullduggery! Rule Number One as set down by the Dedham Convention of 1858, stated "the ball must weigh not less than 2, nor more than 2-3/4 ounces avoirdupois. It must measure not less than 6-1/2 nor more than 8-1/2 inches in circumference, and must be covered with leather."
But the rules did not specify what should be inside the ball. The Journal article finally revealed what transpired: "It was understood that balls for this game were to be made of rubber and yarn, but in the absence of this particular mention the visitors produced a ball of minimum weight made of yarn wound as loosely as possible over a bullet to secure the proper size, and insisted on using it. The bats provided by the home club were of little use with such a ball, but the guests had been equal to all contingencies and brought flat sticks, not for striking the ball to the foreground, but to touch it merely and direct it from its course to the rear. Heavy gloves had to be used with such a ball, for bare hands could not hold it and it would twist more fingers and do more injury than the ball of the national game. The immense company of spectators did not see the game that they were accustomed to, and many left the grounds disappointed, declaring it a fizzle. That the bullet ball was made for the occasion and for points was evident. Whenever this game was afterward mentioned in the presence of anyone who took part in it, there was a show of fingers as "relics" of that game."
After the game the Olympics entertained their guests and escorted them to the depot the next day, but that was the last of the bullet ball, it was never heard of again.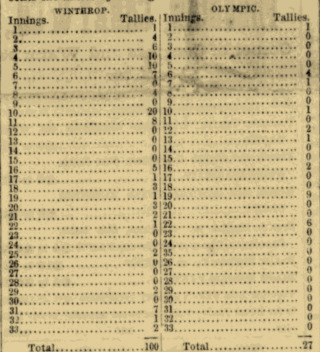 Is there something about baseball that inspires such antics? Does baseball allow, encourage, or promote creative impulses? The Olympics showed great restraint — at least in public — by not immediately calling out the Winthrops. Ah, to have been a fly on the wall at Bacon's Saloon on that night! And even today, allegations of unfair play are also not revealed immediately, but instead stew into a brew that bubbles over months, or as in the example of the Olympics and Winthrops, years later.
Random Historical Note: The Handkerchief Trick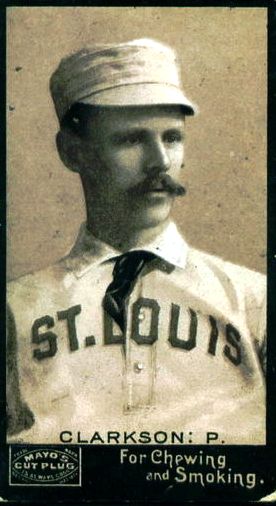 A silk handkerchief, spotlessly white and neatly tucked in the breast pocket of his uniform, was as invariably a part of John Clarkson's make-up when he went into the pitcher's box as were his cap and shoes.
On a sultry afternoon when he was playing in Pittsburg a big, red-faced, slouchy-appearing batter came up to the plate. As Clarkson drew his immaculate handkerchief from his pocket and rubbed the moisture from his eyes the batter called out:
"What department store do you clerk in?"
Clarkson's answer was his famous slow teaser, at which the batter made a futile lunge. Again the handkerchief was put in play and this time Clarkson wound an inshoot around the batter's neck. The big batter was furious. He drew his moisture-laden sleeve across his eyes and squared off for the next one. Clarkson for the third time touched the handkerchief lightly to his eyes, tucked the dainty bit of silk back in his pocket and then shot a swift one into Zimmer's hands.
"Three strikes!" the umpire howled.
"You might try the handkerchief plan," remarked Clarkson soothingly, as the batter flung his stick toward the bench. "It's ever so much better than your shirt sleeve for brightening up your batting eye."
— St. Louis Republic, December 25, 1904: 3.
John Clarkson, pitcher: born 7/1/1861, Cambridge MA; died 2/4/1909, Belmont MA; Played 12 years, from 1882 at Worcester MA, 1884-1887 with Chicago, 1888-1892 with Boston, and Cleveland 1892-1894.
Happy birthday to Beany Jacobson, born June 5, 1881. He pitched two games with the Boston Red Sox in 1907. It is sincerely hoped that his nickname does not explain his short baseball career in Boston and elsewhere.
"…….with the exception of Jacobson, the new pitcher, every one of the Boston men showed up well. Jacobson lacked speed, had nothing but a slow, show-case curve that a freight train could bump, and only that Unglaub wisely removed him from the box after he had passed a man to second in the 10th inning, the game might never have gone to the length that it did." — Paul H. Shannon, "Providence Beats Americans, 3-2." Boston Post, June 14, 1907.
Jacobson fared no better in his second appearance on June 24, 1907 against the New York Highlanders.
Reporting from the Boston Chapter, the Mudville Bureau, where we await the return of baseball, in some form or another, in some place or another.
This is the Eleventh Dispatch since March 27. I started posting these stories with the intent of lasting until the time of the convention in Baltimore, but then, that was canceled. So, what to do? Continue until the end of July? Or continue on to some other unknown time. After all, a baseball game has no time limit. Perhaps 25 or 50 dispatches would be sufficient, but there is no end to the stories found while wandering around in newspapers and by chasing down hints pitched to me by readers. I started writing when quarantine and self-distancing went into effect, and I found diverting my attention away from what we are still dealing with daily in the ER where I work, has been a cathartic for me, and I appreciate all the readers who will allow me to continue indulging in this diversion.
— Joanne Hulbert
MAY 29, 2020 — I received my copy of Memories and Dreams, the Baseball Hall of Fame's Summer 2020 magazine, which included an article, "Early Retirement: History of Retired Numbers Dates Back to 'Lou Gehrig Day' at Yankee Stadium." The previous Mudville Dispatch of May 22 began the story of retired Red Sox numbers, particularly of 9–4–1–8, and due to some greatly appreciated feedback from several readers, I am able to expand the story, and add a note of intrigue for those baseball numerologists lurking in the shadows.
There is more to the story about 9–4–1–8 and Boston baseball history. Thanks to Bob Brady, our keeper of all the history for the Boston Braves, he has enlightened me to other connections to these digits. He forwarded to me a photo of the Braves displaying those same numbers to celebrate 1948, the year they went to the World Series against the Cleveland Indians.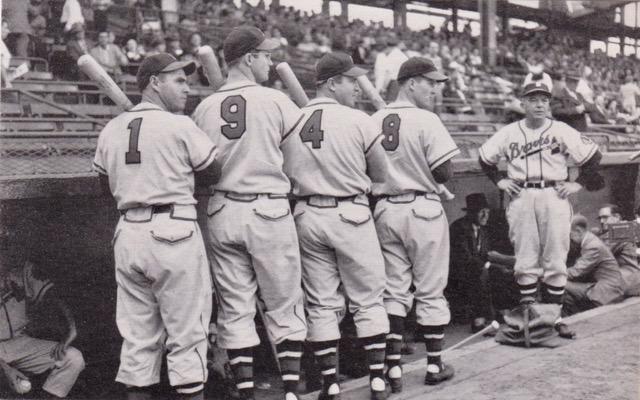 THIS IS OUR YEAR, declares Manager Billy Southworth of the Braves as he points to the right combination of numbers on the backs of four of his champion warriors. Left to right, Tommy Holmes (1), Earl Torgeson (9), Jeff Heath (4) and Connie Ryan (8). Boston Herald, September 29, 1948: 19.
The year 1948 was glorious for the Boston Braves, despite losing the World Series to the Indians in six games. The Red Sox took their season right down to the wire, to a playoff game with the Indians, and if they had won it, there would have been a city World Series in Boston. Boston's sports writers and ticket scalpers were salivating on Jersey Street. The photo showing the four players and their uniform numbers could not have predicted what would happen when the Red Sox in 1984 retired some of their numbers.
Numbers first appeared on Red Sox uniforms in 1931. Many players wore these numbers before they landed on the backs of the most famous among them. Number 9, the number forever Ted Williams' numeral, was worn by John Smith and Charley Berry in 1931, Number 4 was first worn by Rabbit Warstler, number 1 by Bill Sweeney and then Urbane Pickering, and number 8, made permanently his by Yaz, was worn by Pat Creeden and then by Urbane Pickering — who seems to have enjoyed a change of pace — or was subject to the whim of the person doling out the numbers, as it wasn't always the request of the player that placed it on their uniform. But as luck — or some other mysterious force — the first four numbers retired by the Red Sox were 9, 4, 1, and 8. And, there is something intriguing about that as well.
All their uniform numbers were retired in years that contained only any of those digits — 9, 4, 1, 8.
And still, there are the other numbers. Carlton Fisk's number 27 came next, and I hoped to find something that might tie into this numbers game. I looked him up. Carlton Fisk was born on December 26, 1947. Heck, why couldn't his mother have lasted just 5 more days?
Random Historical Notes
"The Braves management has not intimated at any time that Ryan would be traded. There has been so much talk, however, that the modest second sacker has been upset. He has not made any attempt to lease an apartment in Boston this summer because he didn't want to run the risk of being stuck with a lease if he should be traded." — Boston Herald, April 11, 1948: 100.
"Sain, Torgeson to Be At Jordan's Saturday": Johnny Sain and Earl Torgeson of the Braves will appear at an autograph party to be sponsored next Saturday morning by Jordan Marsh Company in connection with the appearance of "The Boston Braves" the 77-year informal history of the Tribe written by Harold Kaese. — Boston Herald, April 11, 1948: 100.
When Japanese soldiers in Pacific jungles wanted to draw position-revealing night fire from American soldiers during the second World War — long after Ruth had ended his baseball career — they shouted: "Babe Ruth eats mud." It was the greatest insult they could think of. The Babe's most noticeable quality was bigness. He set the big records in baseball. He hit the most home runs, got the biggest salary, struck out the most times, batted in the most runs, ate the biggest meals and had the biggest stomach-aches. — Boston Traveler, August 17, 1948: 46.
Red Sox Birthdays
May 29 – none to report
May 30 – Manny Ramirez (1972)
May 31 – Andrew Bailey (1984), Jake Peavy (1981), Dave Roberts (1972), Jose Malave (1971), Tim Van Egmond (1969)
Thank you, to Bob Brady for his advice and sending me in the right direction on writing this Dispatch.
Thank you to Red Sox by the Numbers by Bill Nowlin and Matthew Silverman for the valuable information their book provided.
Reporting from the Boston Chapter, the Mudville Bureau — where there is pickup baseball and softball being played right now in hidden corners of the town, just like it was on Sundays one hundred years ago. The catchers are wearing masks
— Joanne Hulbert
MAY 22, 2020 — We are still here at the Boston Chapter, while the quarantine in Massachusetts is gently lifting, we continue to sport our face masks — many now displaying loyalties to our local sports teams — looks like the Red Sox vs Patriots are running even in the polls. It brought to mind another survey that was much more interesting back when Fenway Park was where we once spent our time. There are the numbers — those shown on the ubiquitous shirts we all have a drawer-full, waiting to return to Fenway Park on our backs again.
THE NUMBERS
The earliest year that numbers officially appeared on uniforms was 1907, and it only gradually became the rule more than the exception. Numbers on uniforms helped spectators identify the players. Now, we wear those numbers on our shirts, displaying our approval of the players, making a connection via a jersey, t-shirt or uniform replica. What else can those shirts and numbers tell us? Well, watching the crowd at Fenway Park provides a view. What shirts, which numbers stand out and stand the test of time?
Fenway Park – Opening Day, 2014 – Big Papi! You still have our backs!
There are players who stay in our memories long after they have left the team, or retired. Some numbers are taken up by other players after them. One of the best shirts I saw was on a fan who walked along the concourse before the game had started, wearing a shirt that featured the number 5, with Garciaparra emblazoned above. The wearer had carefully kept a running list of each of the shortstops who succeeded Nomar, and as each player moved on, he neatly crossed out the name and replaced it with the next player who came along — a record of the passage of players.
There are shirts with the number 9. Ted Williams will always be 9, as will other players be remembered by their retired number. And the number 42 will appear on all the uniforms of the players to celebrate Jackie Robinson Day.
As I gaze out at the gathering crowd, I notice the numbers. Ortiz's 34 will stand the test of time. Many fans still wear 15 for Pedroia, 45 for Pedro. Of course, as new players come along, so do their shirts which get worn by fans, seemingly as a visual gauge of their rising popularity. An employee over at Twins told me that they do not automatically order up shirts when a new player arrives. They also wait to see who sticks around. He did say that you could order up a certain number of shirts bearing the name and number of a new arrival earlier than that – if you are willing to put up the money for the whole lot. A couple players, he said, have done that. Most players, by hard work and endurance manage to land a shirt with their name and number, and some, like Ted Williams and El Tiante will occupy their own hall of fame via textiles. I still have — and wear — a No. 10 Jose Iglesias shirt, I wonder if I possess the only one left in Boston. Likewise, I treasure a 1997 Garciaparra (5, old style), a Bronson Arroyo (61) and a Rocco Baldelli (5), a true rarity, that raises eyebrows whenever I wear it … "He played for the Sox? When?"
The adoption of numbers was not a smooth process. Some baseball magnates were slow to adopt the numbering system concerned that it might reduce the sale of score cards. Long after others finally identified their players with numbers Connie Mack made his Athletes play at Shibe Park without numbers, but the players looked half dressed when they took to the field without an identifying mark and spectators noticed. Players also noticed, as the number became indelibly printed not only on their backs, but also in the minds of fans. — Boston Herald, August 1, 1942: 11.
"Everyone has a number; watch out that someone doesn't "get yours!" Oh, in many cases, the numbers are figurative, although numerologists claim figures affect our lives. Well, they certainly play a large part in several sports. Famous athletes, who have splashed the American sporting print with lasting color wore famous numerals. For instance, who will forget '77' in association with Red Grange, the Galloping Ghost of the gridiron? And number 9 caused many a pitcher to shudder and shake like a jitterbug given a hotfoot. Ted Williams, of course carried that numeral on his uniform." — Tap Goodenough, "Nos. Affect Many Sorts, Fans Also," Boston American, May 9, 1953: 8.
Fenway Park, June 20, 2010. Red Sox vs L.A. Dodgers: The Return of Manny Ramirez.
The Red Sox retired several uniform numbers. The original order reminded us of a significant date in Red Sox history:
9 – 4 – 1 – 8
The date so written was the day before the start of the World Series in 1918, the last World Series win for the Red Sox before 2004. At one time, the numbers were taken down in order to re-paint the area above the right field grandstand where they were placed and to add Fisk's 27 in 2000, and the numbers were put in place in numerical order. Someone had not done their homework. But it was noticed, perhaps by a diehard Boston baseball historian, and the numbers were eventually returned to their rightful cryptic order in 2012. The task of working out the rest of the retired numbers — Pesky's 6, Rice's 14, Boggs' 26 and Fisk's 27, Martinez's 45, and Ortiz's 34 shall be left to the numerologists.
Fenway Park, September 28, 2008.
Fenway Park, June 13, 2012.
Big crowd at Fenway, 1912 World Series.
Today, Fenway Park when filled with fans is a sea of red, green and a smattering of dark blue. Such is the palette there on any game day. It wasn't always like that, and it has been relatively recent that we see the crowd that way. Even in the 1960s and 1970s few fans are seen in photos wearing shirts or baseball caps. Early photos of Fenway park and all parks for that matter, back in the 19th and early 20th century did not benefit from color photography as most everyone was wearing black, grey or white with a sea of bowlers and straw hats on heads, with only an occasional break caused by a woman's hat usually festooned with flowers and feathers and notorious for obscuring another fan's view. No t-shirts, no ball caps there.
He's got a glove and a toe plate, too;
And mebbe he needs that prayer;
Those lamps of his they sure pierce you through
An' that part in his hair's still there;
He's got that way that you mebbe likes,
A uniform an' the ball,
But outside of that an' a set of spikes
He ain't got nothin' at all.
— R.E. McMillin, "Hickory Blossoms," Boston Herald, April 18, 1913
"A serious study of Red on a Sea of Green"
Random Historical Note: "It was long after other colleges put numbers on the backs of their football players that Harvard teams adopted them. For years, few spectators at the stadium knew who was carrying the ball or catching forward passes for the crimson." — Boston Herald, August 1, 1942: 11.
St. Louis, October 8, 1918: "A hero one day and a ham the next properly applies to baseball players. If the report is true that George Sisler, first sacker of the Browns, turned down a commission as second lieutenant with a salary of $1700 a year in the chemical warfare division because he had to buy his own uniform, he will be as popular with St. Louis fans as Spanish influenza." Boston Herald and Journal, October 9, 1918.
— Joanne Hulbert
MAY 15, 2020 — In deep-sea dredging many curious and unlooked-for things are brought to the surface, some of great value to the toiling scientist alone, others of interest to many; but by far the greater part of the "haul" is tossed back again into the depths, where, no doubt, it will rest undisturbed forever. — James D'Wolf Lovett, Old Boston Boys and the Games They Played. 1906: 1.
And so goes the digging into baseball history. James D'Wolf Lovett knew of what he spoke of. As a base ball player in Boston, he witnessed from within the rise of base ball that soon became baseball on his home field. Historians have been digging in those baseball fields ever since, searching for origin stories and recording the accomplishments of countless characters who made the game of baseball what it is today. Along the way, some of those characters and their histories are lost, or, are hiding just beneath the surface, ready to be dug up and disturbed.
O'Connor at the Bat — continued from last week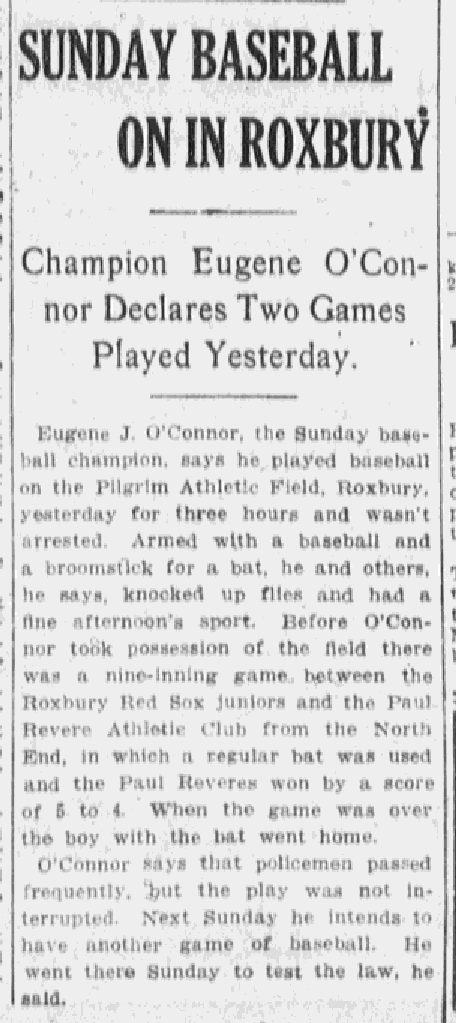 We left our hero, Eugene J. O'Connor Jr., at the courthouse, requesting a continuance of his case in order to secure a bill of particulars from Sergt. Hennessey. Nevertheless, the particulars were of no help for his defense and he was fined $25, but he hoped to reverse the decision if the case came up in Superior Court. He was undaunted, and in 1911, O'Connor's baseball "season" began in earnest. His interest was advocating for Sunday baseball specifically for the league of boys' baseball clubs in Boston. He had no interest in battling for the Braves nor the Red Sox, but intended to open up public parks. Baseball on Sunday, as played around the Boston neighborhoods was becoming less of a political issue, and police were gradually looking away instead of arresting mere children playing games. But that did not stop O'Connor from continuing his fight to eliminate once and for all, the official prohibition of baseball on Boston parks. A petition containing more than
25,000 signatures was presented to Governor Eugene Foss asking that the law be repealed state-wide and that O'Connor be given a license for an amateur game to be played on June 4. The request was not granted.
In 1912, O'Connor accelerated his baseball protests. On June 16, he organized two games on the Pilgrim Athletic Field in the Roxbury neighborhood with the intention to test the Sunday law, and the games were observed by policemen who frequently passed by the field but did not interrupt nor intervene. The reprieve would not be long-lasting. On Monday, October 21, 1912, a Boston Journal headline reported: "Hard-Hearted Policeman Arrests 'Gene' of Sunday Baseball Fame." Perhaps what called attention to him this time was that he took his "game" to the Boston Common, right downtown, for all to see if they happened to be out strolling around the Common on Sunday afternoon. The very idea!
The report bears repeating because of the poetic way the writer described the scene: "Gene, with a bat in one hand and a rather stained baseball in the other, spent about 5 minutes on the Common yesterday afternoon. Two little urchins volunteered to join in the game, keeping one eye on the baseball and the other to the windward looking for cops. O'Connor, for good measure, had just cracked out a fly to deep center when he saw two youngsters tracking across the Common like a couple of jack rabbits across a prairie. Their little heads were bent back, and their arms and legs were flashing back and forth like piston rods " . . . they were not tracking the fly ball, they had just seen a cop.
Officer Gallop (yes, that was apparently his name) did not gallop after the boys, but turned his attention to O'Connor who, it was described, was "in turn looking far away toward the horizon, where two little streaks of dust indicated where the two urchins has last been visible. Gallop tapped O'Connor on the shoulder and asked, "You aren't playing ball, are you?"
The story continued, as alleged by the Boston Journal, suggested that O'Connor could have made a flippant comment, such as he was "teaching some barbed wire how to fence, or that he was going to the jeweler's to buy a goldfish, but instead, he merely answered, "Yes," and proceeded to pick up the ball, and banged it out across the Common. The first fungo had been a breach of the law, and the second constituted a pair of misdemeanors. Officer Gallop informed Eugene J. O'Connor, known famously as the Father of Sunday Baseball, that he was under arrest, took him to the stationhouse, and charged him with a violation of the Sunday law.
In court later that week, O'Connor reiterated his intent to overturn the Sunday law and wanted to take the issue to a jury of citizens, who he felt were strongly in favor of repealing the law, but he had been unable to get a trial in Superior Court. He said, "I want this test to go before a jury of American citizens who will decide whether it should be against the law for a workingman to get exercise on Sunday by playing ball decently and quietly. The law does not prosecute for playing cricket or golf, but when a man wants to play the really national game rather than a Scotch or an English game he is arrested."
He was right. Baseball had been singled out as being raucous, prone to gambling and other sins while other games and activities were carried on unmolested by the long arm of the law. O'Connor's civil disobedience, in the minds of many the best use thereof since Thoreau, would cause less serious consternation with those concerned with law and order. Gradually, cities and towns relaxed the Sunday laws locally, giving O'Connor less reason to foment protest demonstrations, and policemen found better ways to spend their time than arresting ball tossers in parks. In 1920, a law allowing amateur sports on Sunday was passed and signed into law by Governor Calvin Coolidge, and implementation was left to the local cities and towns. Not all cities and towns allowed it, some did not well into the 1930s. The Braves and Red Sox stood by while the culture wars played out, and in November 1928, the Sunday Law came up for a vote in the state legislature. Of course, throughout the year, there had been loud voices in opposition to the proposed law, but on November 6, 1928, the bill was passed by a large vote solidly in favor. Now, even the Braves and Red sox could play on Sundays. George H. Ruth, now a "prominent New York baseball man," weighed in about the law when he visited Boston in November, 1928.
"I've played a lot of baseball in this state," said the Babe, "and it did not surprise me in the least to see how the bill went over. Of course I was delighted to see that it went over with a bang, but it was no more than could be expected in this state. The people here are real sportsmen and when a thing like the Sunday sports bill was put up to a popular vote, there was no doubt that it would pass. Boston especially should benefit by the bill. Many fans who ordinarily do not get a chance to see the big league teams play will be out at the ball parks now. As for myself, I always like to play in Boston, and getting that extra day here in town suits me perfectly."
— Boston Herald, November 17, 1928: 18
The bill had been passed without a word nor tip of the baseball cap to Eugene J. O'Connor. He had gone on with his life and left the work of the bill passage to the politicians of Massachusetts, with John H. Logue, an undertaker by trade and the state legislator who was crowned the "Father of the Sunday Baseball Law." Logue did have a personal connection to baseball. As a young man he played baseball in the New England league and never lost interest in the sport. He was a close friend of Braves president Robert Quinn and of Rabbit Maranville.
But there was no Eugene J. O'Connor at home plate to toss out a ceremonial pitch on a Sunday afternoon. In 1920, O'Connor was living in a lodging house in Plymouth, working as a writer for the Textile Journal with a local woolen mill. In 1930 he was back living in Boston and working in the outdoor advertising field as a "letterer." O'Connor's family ties were also baseball-centric. He was the brother-in-law of Jack Dooley of Boston Winter League and Royal Rooter fame, and was the uncle of Lib Dooley, prominent longtime Red Sox fan.
In 1952, O'Connor was living in a boarding house in Jamaica Plain near the former site of his baseball fame, and just a few days before his 80th birthday, he fell from a third story window, and died shortly after at Boston City Hospital. News of his tragic death was published in the Boston newspapers that had once recounted his baseball exploits. Who wrote the final lines about his life is unknown. Therein it said, Eugene J. O'Connor, Jr., had served in the Spanish American War and the First World War. Also, he was the first sports editor of the Boston American, had played with the old Boston Brotherhood Club, the Boston Nationals, St. Louis Browns and in the Boston Club of the old United States League.
Sadly, you can look it up and he does not appear in any baseball reference source — unless he played under an assumed name, which seems highly unlikely, given his penchant for publicity. Also, he consistently listed himself as a non-veteran in each U.S. Census. Might it have been he who enhanced his image, or did someone else write the glowing remembrance as they thought it was? No one can tell, but we will not take away from him his brave work in defense of baseball for the masses of Boston, Mass., and their right to play ball on Sunday in Boston.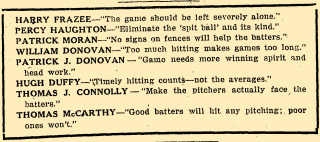 — Boston Globe, February 4, 1917: 32.
Historical Note
Now the Harvard Crimson blasts the Blue Laws relative to sports on the Lord's Day. The laws are Blue, and doubtless that's enough for the Crimson. — Boston Journal, June 11, 1917: 11.
On May 15: Happy birthday to Josh Beckett, Alex Verdugo and Steve Yerkes — who played in the first game at Boston's Fenway Park, on April 20, 1912, in which he had 5 hits, including 2 doubles. Alex Verdugo is still waiting for his first game with the Red Sox at Fenway.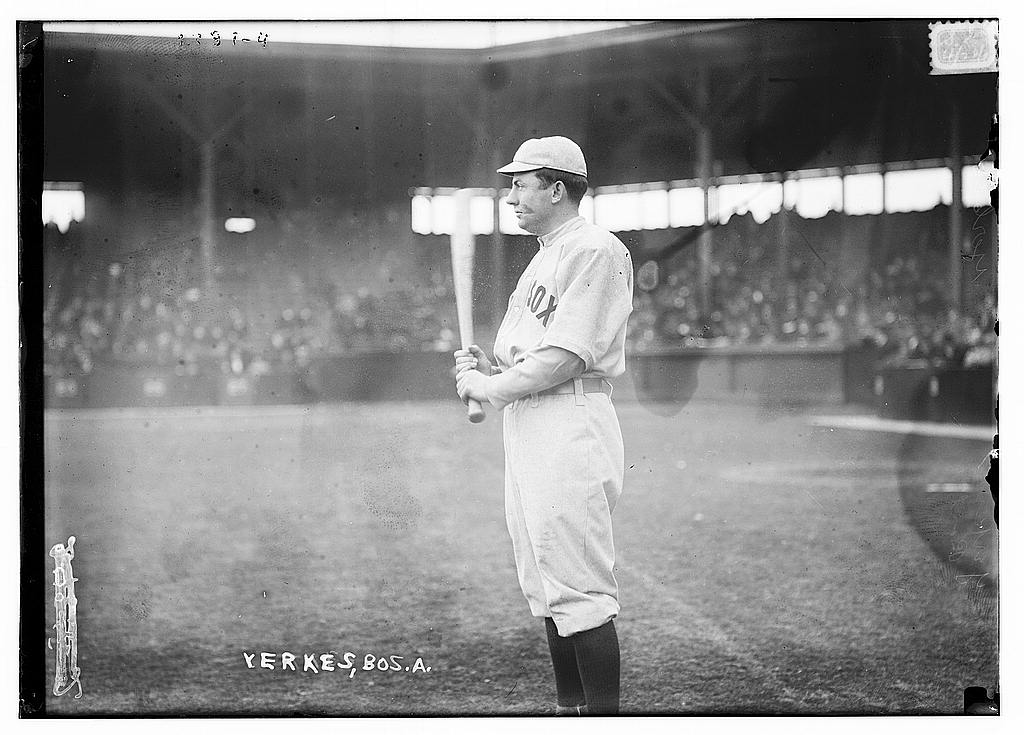 There is one law for any game;
For each, who knows his day of fame,
The dusk shall come to quench the flame.
 
For I remember well the day
That I first saw Steve Yerkes play
And hold a minor leaguer's sway.
I saw the welcome that he got
For driving hits across the lot
Or blocking grounders that were hot.
 
I saw him shift without a skid,
I saw him make his daily bid
And thought "Well, here's a likely kid."
Time moved along, until at last
I saw him in the Red Sox cast,
Then sweeping upward in a blast.
 
I watched him then upon the job
Of beating Johnson, Collins, Cobb
And others of the Stellar Mob.
I saw him as he bounded through
The drifts of fame that seek the few
Who see World Series dreams come true.
 
I heard the cheering call once more
That I had heard gray years before,
As Steve whaled in the winning score.
I saw him in his glory when
He held his own — I turned — and then
I found he'd drifted back again.
 
The circle moves in endless flight —
First down — then up — and then Good Night —
A gray ghost fading from the fight.
There is one law for any game;
For each, who knows his day of fame.
The dusk shall come to quench the flame.
— Grantland Rice, The Sport Light
Boston Globe, June 14, 1916: 8
MAY 8, 2020 — For centuries, ever since the Arbella unloaded its human cargo of pious Puritans on to the peninsula that became Boston in 1630, Sundays in Boston were a day of rest enforced by law, and ancient laws proved difficult to repeal. Nearly three centuries would pass before that pesky blue law prohibiting baseball playing as well as other sports and seemingly innocuous activities on the Sabbath would be finally struck out on a high fly to oblivion. There were many who fought for repeal and just as many who resisted it.
Of course, there was base ball playing on Sundays. The games were played on fields remote from the eyes of the local constables with many games getting away with it while the local law looking the other way, and occasionally games were played in open defiance of the law. Arrests were made even if there was no organized game involved, just a ball tossing duo in a park would be enough to conjure up an arrest. Age was no limit, as child and adult were equally in danger.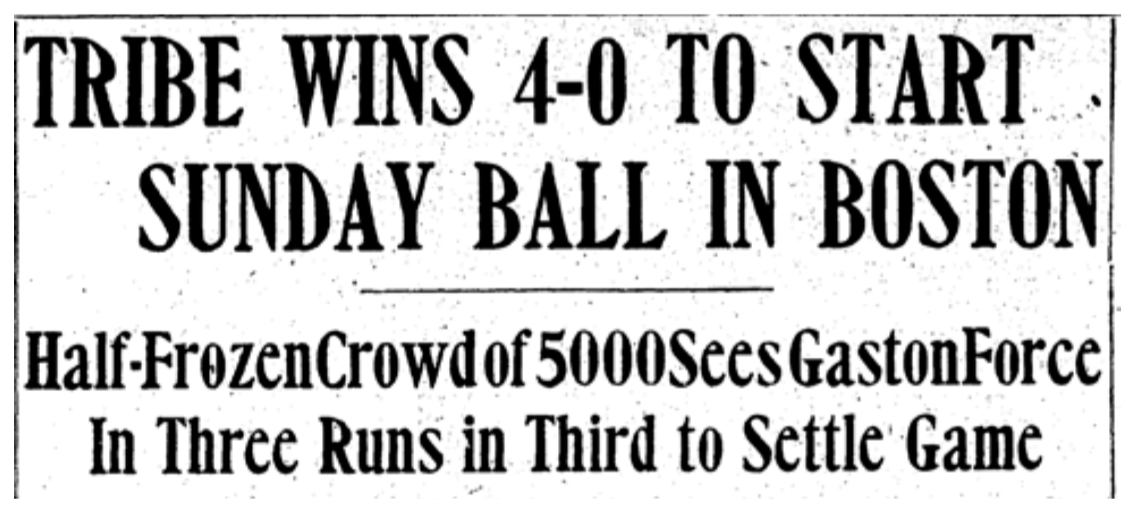 Lynn, Massachusetts — It was the largest Police Court list of the season this morning, there being 39 cases. Of these, nine baseball players were summoned to the bar for playing ball on Sunday in North Saugus. Eight paid costs of $6.35 each and one at $5.03. There were 20 cases of drunkenness. — Boston Journal, April 23, 1888: 1.
And yet, who would rise up to defend baseball playing on Sunday? There were many — politicians, prominent citizens including a few Brahmins, the vast majority of boys in Massachusetts, even a few liberal-minded ministers were willing to step up to the plate. But laws are not easy to change, especially one entrenched so deeply in the bones and marrow of the citizens of the Commonwealth of Massachusetts. Eventually time and fate would mercifully push forth a crusader, a martyr to the cause — or would he be something else?
O'CONNOR AT THE BAT
Eugene J. O'Connor was his name. Born in Boston on November 14, 1872, he took on the cause of Sunday baseball with an unusual amount of dedication. He was a journalist of some sort, had reportedly been a sportswriter for the Boston Journal and the Boston American, although his times there are sketchy as he had no by-line. He began his hands-on career in baseball and dominated the headlines in other Boston newspapers with his public display of baseball — simply batting a ball — at Foss Park in Jamaica Plain on Sunday, September 18, 1910. He had put the word out that a baseball game was to be played there that day, and more than 1,000 people were there to see a game — or more likely to see what would happen next. Capt. Joseph Harriman, the Boston police officer making the arrest on the spot, reported that O'Connor appeared in a baseball suit and began batting the ball around the field stating he intended to test the law. The complaint charged O'Connor with "indulging in a sport, game and play in violation of the Sunday law." William R. Scharton, counsel for O'Connor, argued for a motion to dismiss the charge, that there was no means of meeting the complaint, and asked if playing with a bat and ball constituted one or all of these offences. The motion was denied.
The first witness was Captain Harriman. He described going to Foss Field on Sunday and encountered O'Connor who told him he was intending to play ball. Harriman warned O'Connor he would be violating the law, but O'Connor proceeded openly, defiantly batting the ball. Captain Harriman turned to Sergeant Hennessy — who accompanied him with a detail of men — and asked him, "Did you see a game of baseball Sunday?"
"No I saw no regular game," Hennessy answered.
"Did you see one man bat a ball?"
"Yes."
"All of the elements in the complaint have to be proved," said Atty. Scharton, "and they have not been proved. All the government has shown is that O'Connor batted a ball. If your honor is going to say that the mere batting of a ball constitutes a baseball game you are putting yourself back to the Puritan days, and you will have to arrest every child that plays on Sunday in its back yard.
"This test case was prevented by the vigilance of Capt. Harriman and his officers. The test was to have been made and a game was to have been played. There were 18 men there to play a game, but Capt. Harriman prevented the test case by preventing a game before a game was played."
Judge Perrins agreed that a match game had not been played.
"Are you going to slander the game of baseball by claiming that O'Connor played baseball?" asked Atty. Scharton. "He could be convicted for doing unnecessary work, but not for playing baseball.
"Captain Harriman knew that O'Connor was on private grounds. The fact that the police prevented the playing of a match game makes it impossible to prosecute this defendant. If the police had allowed the game to have been played, I would then have made a test case of it, and have appealed to a higher court and not taken the time of this court. There was no game, and no attempt therefore to violate the law. It is a technical question to decide, that is all. The question is, was there a game, and could the defendant take part in something that was not?"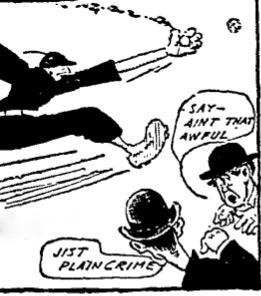 — Boston Daily Globe, May 23, 1906: 8.
Judge Perrins, after reviewing the evidence, said: "The statute is broad and there is no doubt in my mind there was a violation of the law, and a flagrant violation. The defendant was notified by the police that he could not play a game and he persisted in his intention. I think it was a flagrant violation of the law, and —"
Before Judge Perrins had time to pass sentence on the defendant, Atty. Scharton rose and requested a continuance of the case for sentence so that sureties to furnish the necessary bond could be presented. Judge Perrins granted the request. O'Connor had been released in bonds of $100 soon after his arrest on Sunday afternoon.
— Boston Herald, September 24, 1910: 3.
Historical Note
Wednesday, May 8, 1901: First home game at the Huntington Avenue Grounds, Boston Americans 12, Philadelphia Athletics 4. It was a game of "firsts" from first at bat, first hit, first out, the first everything that became the history of the Boston Americans, and ultimately the Boston Red Sox.
A Random Note From Baseball History
"A Fit Candidate" — Cabrera, the infielder purchased by Boston from New Britain, is not a Spanish-Cuban. He is a Guanache, a descendant of the ancient Berbers or Arabs who invaded the Canary Islands 3000 years ago, before the Romans came. With a pedigree like that Cabrera ought to be eligible to join the Eagles. — Boston Sunday Post, September 17, 1911: 19.
Well, that's a relief …
Alfredo Cabrera appeared in one game, two at-bats for the St. Louis Cardinals on May 16, 1913. A cup of coffee. You can look it up.
And as Yogi Berra so eloquently said, "It ain't over, til it's over." Stay tuned until next week for the continuing story of "O'Connor at the Bat."
— Joanne Hulbert
May 1, 2020 — Baseball has been played on Elysian Field in Hoboken, on every cow pasture from Maine to California, all the sandlots in cities or town, on the Civil War battlefields once the smoke from cannon fire cleared. And there is one location that has seen baseball upon its hallowed ground ever since it had been cleared to accommodate cows, militia, city celebrations and gatherings. The land has witnessed the occupation of British troops, was the site of public hangings of pirates and traitors. One activity has endured all this time: baseball. And, indeed there's still two ballfields upon this land even to this day, and they are still located right there at the corner of Boylston and Charles Street. The commentary on the map states that "a city election of 1869 was largely responsible for the maintenance of this field."
HISTORICAL BOSTON COMMON
Donahue's Magazine
A tour of the Common is a day's outing in itself, there are so many points of interest in the "Centry Field" of the past. Never was there a wiser town order than that passed in 1640, reserving the Common as an open ground or field. In 1634, four years after the settlement of the town, it had been set apart for a "training field" and for the use of "cattell." Who could foretell the myriad uses to which it would be put in the years to come? Here were assembled part of the forces that captured Louisburg, and on this spot were recruited the troops that scaled the heights of Abraham and took Quebec. It was the scene of stirring events in the American Revolution, being a fortified British camp during the siege.
What an array of notables could be marshaled within its borders if all who walked its ways could be brought together — colonial men of affairs; British officers; the French general, Lafayette, whose memory endures in the mall named in his honor; patriots like Gov. John Hancock, in his richly embroidered scarlet coat and ruffles of finest linen; and that other "outlaw," Samuel Adams, styled by the ministry "the chief of the Revolution." He was "sagacious," as well as brave, we are told, and it is related of him that one day when he walked in the Common with John Adams he paused, opposite the Hancock mansion, to say, "I have done a very good thing for our cause in the course of the past week by enlisting the master of that house in it. He is well disposed and has great riches, and we can give him consequence to enjoy them." Picture this statesman pacing along under the trees in this "red cloak, gray tie-wig and cocked hat!" 
— Springfield (MA) Republican, August 21, 1907: 14.
At Fenway Park, the name John Hancock is emblazoned atop the electronic scoreboard, a rendition of his signature on the Declaration of Independence. I should think that if he were to see that, he would burst the buttons on "his richly embroidered scarlet coat and ruffles of finest linen." And yet, John, keep your ego in check and bear in mind that Samuel Adams Boston Lager is served at every game.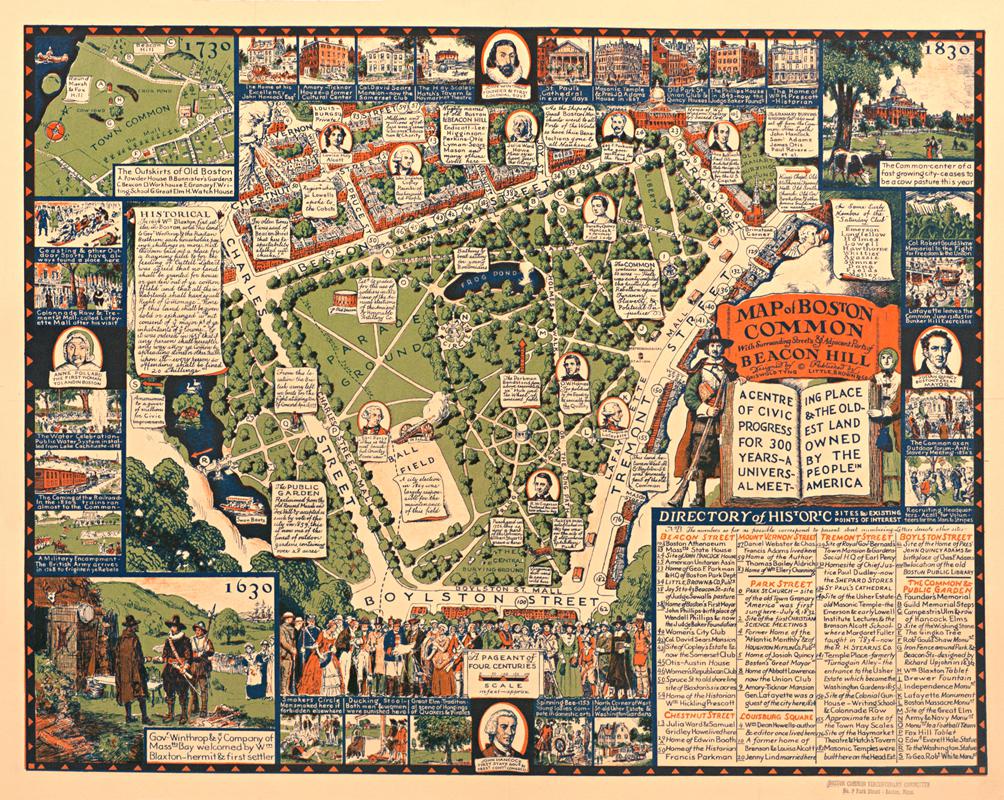 Boston Common Tercentenary Committee, No. 9, Park Street, Boston, Mass. 1930
(Click image to enlarge)

AN INCIDENT OF PATRIOTS DAY
All are familiar with the story of the Boston boys of the revolutionary period whose coasting sport on the Common was interfered with by Sir William Howe's soldiers. They went to headquarters and protested like little patriots, and their protest was effectual. Another incident happening on Boston Common yesterday was, but with a difference, a reminder of that bit of history which is so often repeated with pride. It was Patriots' day, the anniversary of the Lexington and Concord fighting. A few boys, mere youngsters, coming, perhaps, from the North end or West end, where playing grounds are not sufficient, began a game of ball on the parade ground of the Common. It was their proper way of celebrating the bright holiday. The game was well begun, and the lads were enjoying it as lads do, suspecting no wrong. Suddenly, they espied making for them on a run from the direction of the Frog pond two pompous and ponderous policemen, uniformed as faultlessly as British soldiers and eager to do brave service for their native, or perhaps only their adopted, country. When this peril was discovered, the lads, all but the smallest, hastily gathered up the garments they had thrown off and decamped in lively style, as if conscious that a policeman is more dreadful than a soldier. One little fellow, delayed by some misfortune, was overtaken and captured. We believe he was not taken to the station, but he got a terrible warning. Oh, it was a fine sight for the spectators. The game was prevented, the grass was preserved; but the patriotic boys, what of them?
— Boston Herald, April 21, 1903: 6.
What crime had the boys committed? Oh, a very serious one indeed. They were not guilty of trampling the grass, nor playing upon a spot prohibited for such activity. The crime was not ballplaying on a holiday. Indeed in the past, boys had been arrested for doing just what they were doing, and had been hauled off and arrested, even at the tender age of 14 — or less. Apparently these boys were lucky to get away — most of them anyway. No, this was not the crime. What these brazen youths had done was to play a game of baseball — on Sunday.
— Joanne Hulbert
APRIL 24, 2020 — April is National Poetry Month, and it would be remiss of us if we overlooked that fact. Poetry plays a significant role in baseball history, literature and was an integral part of sports reporting in the nineteenth and the first few decades of the twentieth century. The great writers of baseball often included poetry in their newspaper columns. Grantland Rice, Ring Lardner, Hugh E. Keough, Damon Runyon, and Boston's own Ralph McMillin are just a few of the prominent writers who used poetry to enhance their baseball reporting. Therefore, we honor their legacy, and celebrate April with an offering of baseball verse.
— Joanne Hulbert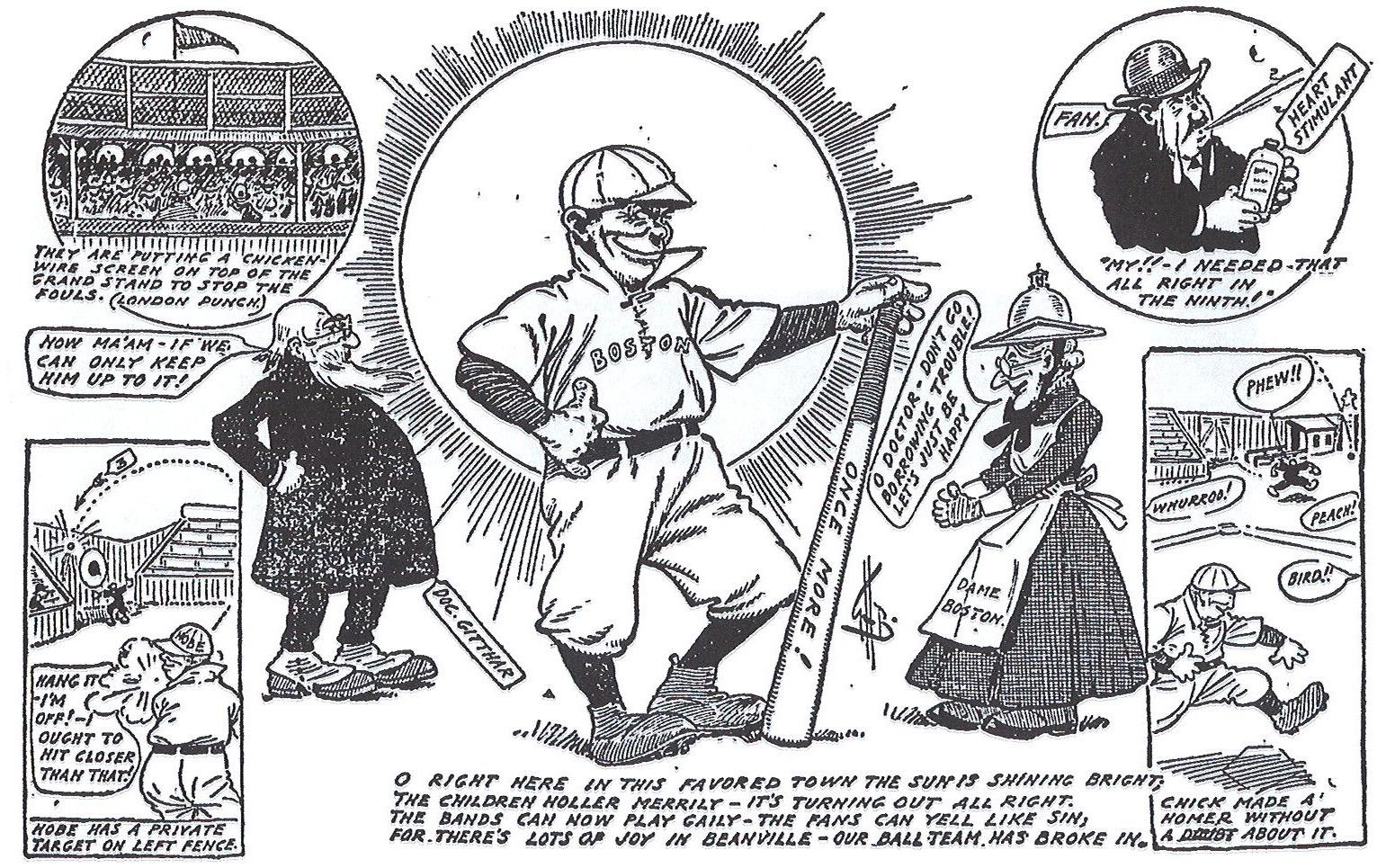 Boston Herald, May 12, 1907
HONORABLE SCARS
They were seated in the grandstand, three old soldiers bent and gray,
Watching New York play the Red Sox on a hot and stuffy day.
"Feels like rain," said Comrade Davis. When my shoulder hurts like sin,
I can bet there'll be a rainstorm and I mostly always win.
That old joint got smashed at Shiloh when it stopped a minie ball,
I can move the arm a little – but that's all!"
"Guess you're right about the rainstorm," said the grizzled Veteran Brown;
"Both my feet feel like your shoulder when the rain gets coming down.
Both my feet got nicked at Shiloh, where your shoulder blade was drilled,
And a bullet plowed my temple – lucky thing I wasn't killed.
And again, at old Antietam, this here ear was half blown off,
And the half that's left feels shaky every time I sneeze or cough."
Comrade Leeds looked on and listened in the cool and shady stand,
Then he showed three crooked fingers on a rather crooked hand,
"Take a flash at that," he murmured, with a sort of pensive air,
"That's the only mark I carry, but I'm proud to know it's there.
I was never hurt in battle, though I knew War's sighs and tears –
Them is baseball fingers, comrades, and they've been there fifty years!"
— William Kirk Boston American, pg. S5, July 2, 1911
MANHATTAN VS. SMOKY JOE
Of all sad words from tongue or pen
The saddest are "Wood pitched again";
Sadder than any throbbing note
That old Doc Chopin ever wrote;
Aye, sadder in its somber skit
Than life's worse message – "Please remit."
Wood Pitched Again – tell me no more
The ultimate – the final score;
Waste no vain words in praise or blame,
Explaining which side copped the game;
Who blew the works – who had the stuff –
Wood Pitched – that's bally well enough.
Wood pitched Again – O bitter phrase –
O blighting echo of the days;
Sadder than any New York cop,
Or "could you slip me five, old top?"
Aye, in each dreary Harlem flat
Sadder than "Baker at the bat."
O Death, where is thy sting like this?
O Grave, where is thy serpent's kiss?
O Baker, Bender, Coombs and Plank,
You look like money in the bank,
Compared to this last scratch of pen –
"Wood pitched again."
— Boston Traveler and Evening Herald, October 12, 1912
THE BOSTON OBSESSION
I asked the corner butcherman how much his sirloins were,
He stood awhile in sober thought and said, "I'll tell you sir;
"If Rudolph works for Boston and Bender for the Macks,
I figure that the Braves will stop them Mackman in their tracks."
I stopped a robust copper and inquired the time of day;
He drew his ticker from his coat and then I heard him say:
"The Giants have no pitchers, the Cardinals have blew –
I never figured Hank O'Day a manager, did you?"
I asked a tall conductor if his car went to Revere,
He stopped a moment by my seat and whispered in my ear:
"This Eddie Plank's a tough one, but I've got it doped, at that,
That his crossfire's made to order for the Rabbit's battle bat."
I asked a handsome waiter if he'd bring a bill-of-fare;
He pondered deep the while he ran his fingers through his hair;
"George Tyler worked on Sunday," was all I heard him say,
"I think you'll find that Curveless Bill is due to start today."
I meet my fellow beings on the highways and the by –
I'd fain inquire about the war – I get the icy eye;
A thousand questions pass my lips, each breath a wasted word,
For all my fellow men can say is, "Stallings is a bird."
— R.E. McMillin, The Sporting News, Sept. 17, 1914, pg. 4
CHARLES RIVER
Charles River, scene of so many thrilling episodes in 1776, flows past the back fence of the Braves' new field. McKenery and Williams of the Cincinnati Reds were inspecting the historic stream with great interest the other day, according to Bill Phelon.
"So this is the place," said Mr. McKenery, "where the British crossed over in boats for their attack on Bunker Hill, Lord Howe in the foremost boat! Isn't it wonderful to think about?"
"Gee whiz," quoth Mr. Williams, "but how I wish I could have been there!"
"On the heights of Bunker Hill, with Stark, and Prescott and Warren?" asked Mr. McKenery.
"Naw," explained Mr. Williams, "along with General Howe, doing service for my country."
"How so?" queried Mr. McKenery. "Would you have fought for the British?"
"Nix, nix," grinned Mr. Williams. "But I could have rocked the boat."
— The Sporting News, September 16, 1915, pg. 4
END OF A PERFECT DAY
Miami, Fla., March 12 – Somewhere in the Everglade stillness, the sun that's a flaming red, like the stripes on the shirt of Sherwood, or Maurice Shannon's head, is sinking alone in its glory, in its customary way, and your correspondent is singing, "The End of a Perfect Day." For the pelicans' bills are folded, with never a please remit, and Gowdy is back from the ocean and sure that he made a hit. The quail are asleep in the jungle, the fish are asleep in the deep, but Somers has white duck pants on and never a thought of sleep.
Your Braves have won you a pennant, they have battled with gory ire, and the halls of the league have echoed with the roar of their verbal fire, but never have you once discovered the bunch in its Sunday best, down here in the fairy flower land by the Biscayne winds caressed. Take it from me, you Hubbites, the chief to the newest rook, they have motored and sailed and golfed it, like a bunch from a fashion book. They have searched for the alligator in the marches behind the town, and, believe me, they looked like Brummells, from Stallings, the chieftain, down.
The damage is not yet counted, the toll of Miami hearts, but its seven to one for certain that a bundle of Cupid's darts have started the Braves' direction – there isn't another chance, for who could resist the glimmer of Somers' white duck pants?
And maybe it's snowing in Boston, and maybe the winds are chill, and the ice is thick on the sidewalks from Hyde Park to Beacon Hill, but we at our hard-worked type mill are making the daily hay, and, believe me, kid, we are singing "The End of A Perfect Day."
— R.E. McMillin, Boston American, March 13, 1916, pg. 9
SPRING PLANTING IN BOSTON
Some plant the gay and festive bean,
Some sink the luscious corn,
And some potatoes plant, I wean,
And labor e'er the morn.
But busier than all I know
The Boston farmers till their medders,
In hail and rain and cold and snow,
To raise a crop of double headers.
— R.E. McMillin, "The Luck and the Look of It," Boston American, April 21, 1917
WISHES
How many hopeless wishes have sprung from hearts forlorn! The hungry little Irish boy asked but three grains of corn. Hale only wished another life to give his country dear. A horse that galloped faster was the wish of Paul Revere. Lord Byron wished to free old Greece, a noble wish at that, and Jason wished the Golden Fleece was hanging in his flat. Some of us wish for social fame, some wish for gems to wear, some wish they knew a poker game entirely on the square. Napoleon wished to rule the world, the lowland and the highland, but from his high horse he was hurled to brood upon the island. Lord Nelson wished to rule the wave when but a young lieutenant – and all the Boston rooters crave another Red Sox pennant!
— William F. Kirk, "Strolls Through Sportville," Boston American, June 30, 1917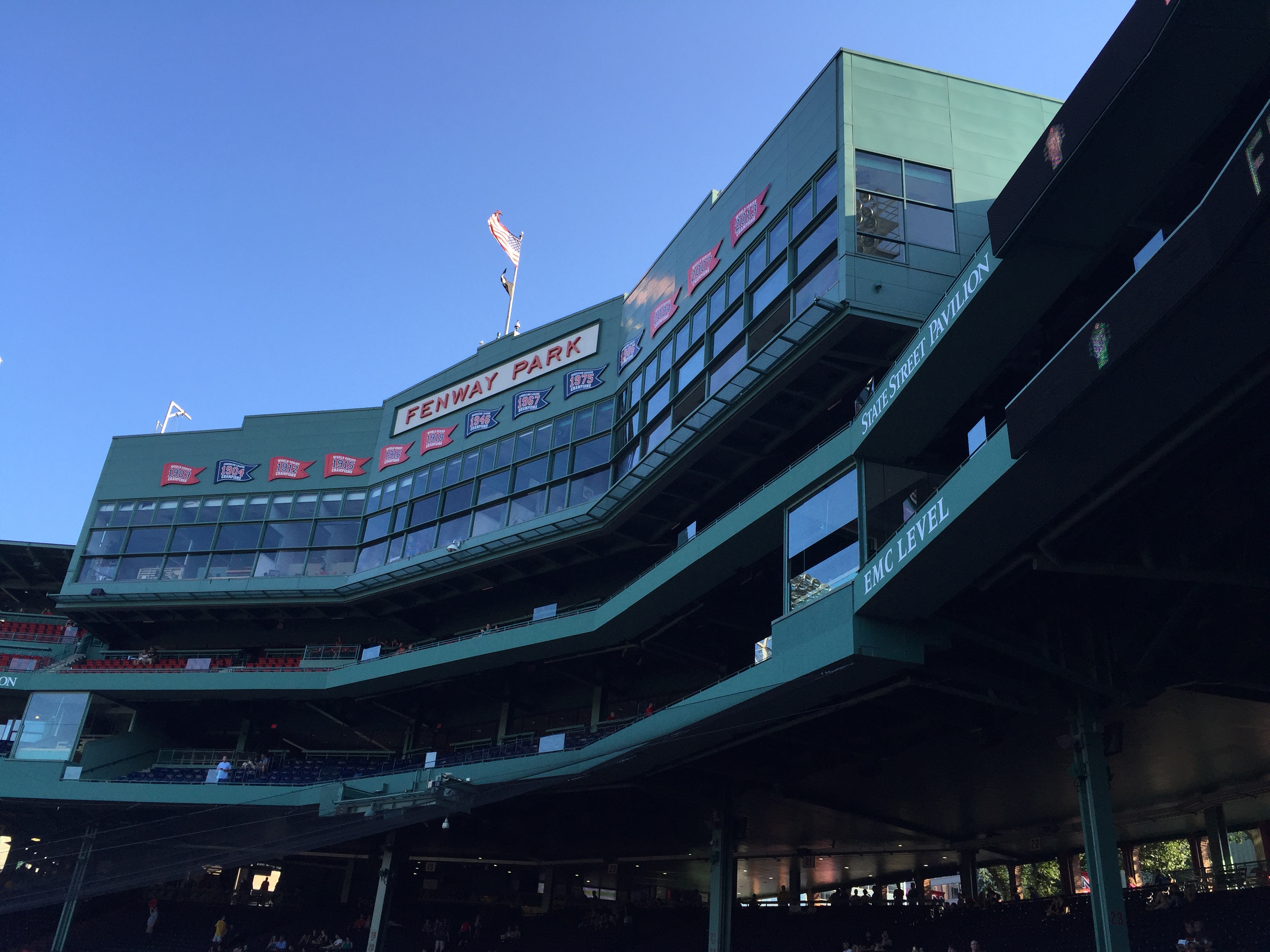 APRIL 17, 2020 — There is one game on the American League baseball schedule that starts before noon and is always played at home. The Boston Red Sox have held the Patriots' Day tradition for more years than most fans remember. Why Boston has had this tradition began long before there was such a thing as professional baseball, and the tradition has endured long after the reasons became hidden in ancient baseball history. On April 11, 1894, Massachusetts Governor Frederick T. Greenidge issued a proclamation making April 19 a legal holiday. He said:
"This is a day rich with historical and significant events which are precious in the eyes of patriots. It may well be called "Patriots day." On this day, in 1775, at Lexington and Concord, was begun the great War of the Revolution; on this day, in 1783, just eight years after, the cessation of the war and the triumph of independence was formally proclaimed; and on this day, in 1861, the first [Massachusetts] blood was shed in the War for the Union [at Baltimore].

This day is grand with the memoirs of a mighty struggle which in one instance brought liberty and in the other brought union to the country. It is fitting, therefore, that the day should be celebrated as the anniversary of the birth of liberty and union.

Let the day be dedicated, then, to solemn, religious and patriotic services, which may adequately express our deep sense of the trials and tribulations of the patriots of the earlier and of the latter day, and also, especially our gratitude to Almighty God, who crowned the heroic struggle of the founders and preservers of our country with victory and peace."
There was one thing Governor Greenidge did not mention in his proclamation, for he was replacing a holiday that had become obsolete in Massachusetts — Fast Day — and by 1894 had begun to be called "Farce Day." For time immemorial, the first Tuesday of April, known as Fast Day, had rewarded citizens with a day off from work and was ostensibly meant for the citizens to continue the high-minded pursuits outlined in the governor's proclamation. That certainly had been the original intent of Fast Day — a day annually proclaimed by a long line of Massachusetts governors as a day for "fasting, humiliation and prayer."
And for a long time, these three orders were adhered to, until somewhere near the middle of the nineteenth century, something changed. No longer were the people interested in attending a church service on a Thursday in order to hear religious messages often mixed with political views coming from the church pulpits of Massachusetts, certainly not on an early spring day when the weather just might become warmer, sunnier and outdoor activities might entice people to the beaches, fields, parks and other venues of recreation, and at about this time, baseball was becoming a popular sport for players and spectators. Indeed, baseball had ties to Fast Day even earlier, as Henry David Thoreau mentioned that on Fast Day, base ball was played in his youth, as a welcome out-of-doors activity. And so baseball replaced the "fasting, humiliation and prayer" of the official proclamation, and all souls emerging from the darkness and cold of winter emerged on to the base ball playing fields, wherever they may be.
Massachusetts is to get rid of Fast day at last. Some other formal means of proclaiming the baseball season must be found. — New York Sun, 1894.
And so it was done. Baseball was ready and able to dominate the new holiday on April 19, 1895 and here in Boston, it has remained inextricably tied to the day. Since Boston had two teams, the American and National league teams alternated years, and for decades to come, there was a morning game and an afternoon game, spreading out the baseball offerings to accommodate cranks who expected baseball on the holiday. Occasionally weather, or if the day fell on a Sunday, disappointed those eager for the traditional way that the holiday had been celebrated. Soon another athletic event joined in. The Boston Marathon 's debut in 1897 did not upset the day, but instead, added to the general acceptance that April 19 was a day for athletics and other outdoor activities, not for political nor religious events.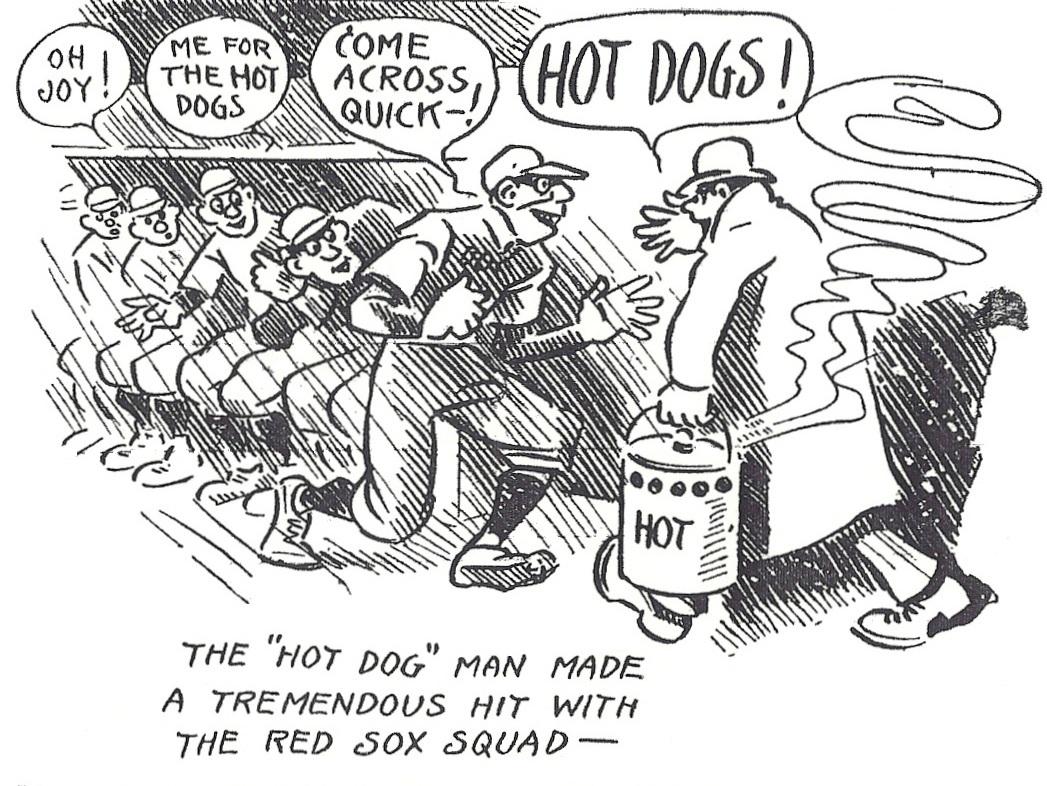 Boston Post cartoon, April 9, 1912 
The Boston Americans and the Beaneaters worked out an arrangement agreeable to both teams, alternating years on April 19, initially with an "extended" double-header, a game in the morning and a game later in the afternoon. In 1902, the Boston Americans played their doubleheader, morning and afternoon, while the Beaneaters played one game in the afternoon — three games in one day! Would that be enough baseball for Bostonians? Actually, it wasn't. In 1903, the Boston Americans hosted the Philadelphia Athletics in morning and afternoon games, and the Beaneaters hosted the Phillies for their morning and afternoon games. Four major-league games on one day in one city! Was that enough even for a Boston baseball crank?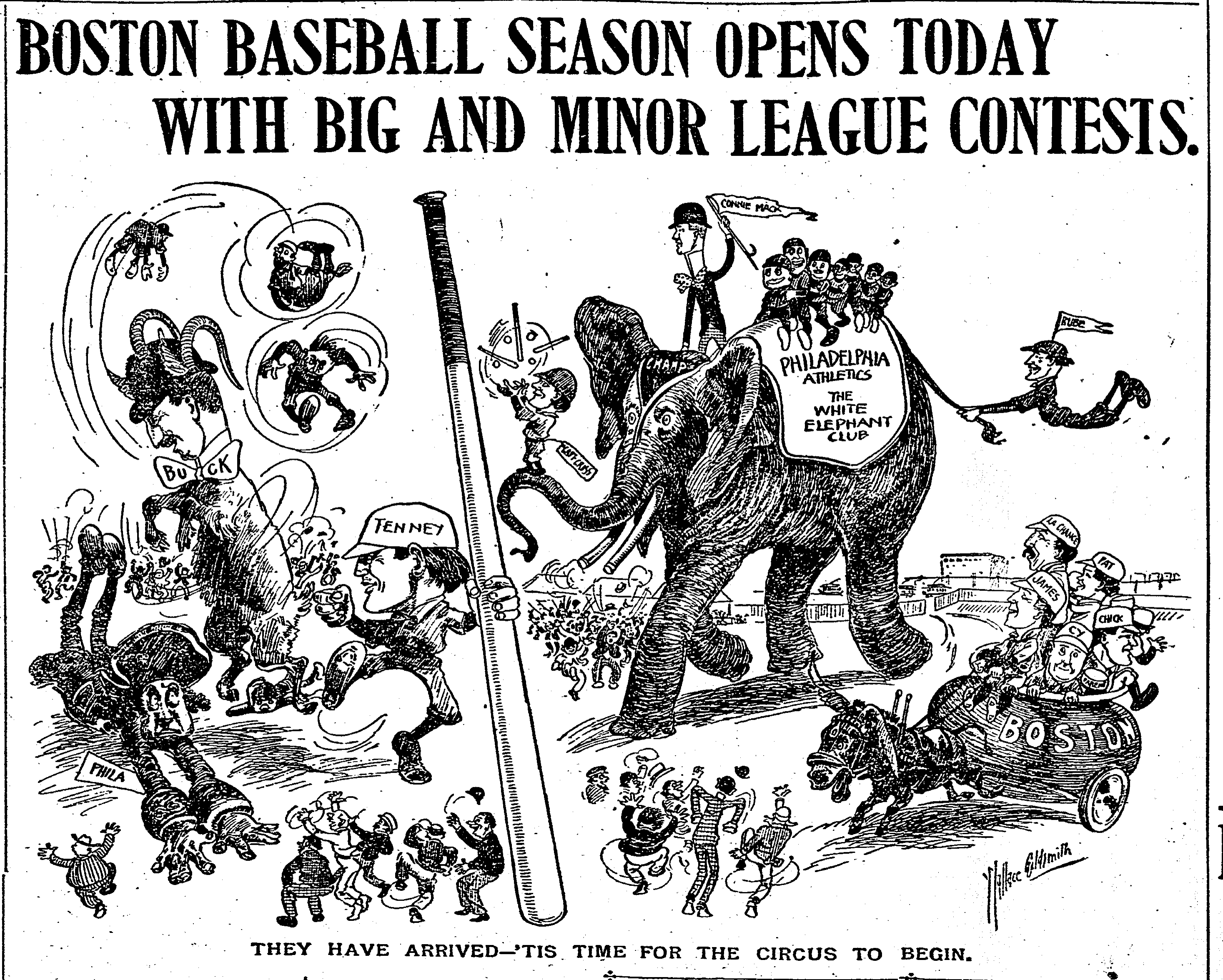 Boston Herald cartoon, April 20, 1903
The tradition hung on with little change until the Braves left Boston, and the Red Sox seemed to be off-kilter until they again found their Patriots Day bearings in 1960. The team's record on Patriots Day through 2019 is 70-53. Ever since, the Red Sox have played the Patriots Day game starting at 11:05 AM, whichever day is now designated on the calendar, and the Boston Marathon passes by in Kenmore Square while the game is on. Those lucky to be sitting in the left field upper deck can watch the game and catch a glimpse of the marathon runners heading for Boylston Street. Fans in Boston have never had it so good, so good, so good. Well, except for 1903.
In other news:
There are 53 baseball players born on April 19. From Nat Hicks in 1845 to Bryan Garcia in 1995. Check out Baseball-Reference.com for the complete list. Most notably for Boston are Rick Miller and Jackie Bradley Jr.
For more on baseball and Patriots Day, check out Bill Nowlin's chapter "Patriots Day Games" in his book Red Sox Threads.
Boston Chapter members are keeping busy on several fronts:
Bill Nowlin continues adding biographies of Red Sox players to the SABR BioProject:
Check out what's new and keep up with all the news at Boston Chapter on Facebook: BostonSABR. Also, follow us on Instagram at @sabrboston.
Thank you to Bill Nowlin for his statistical assistance.
— Joanne Hulbert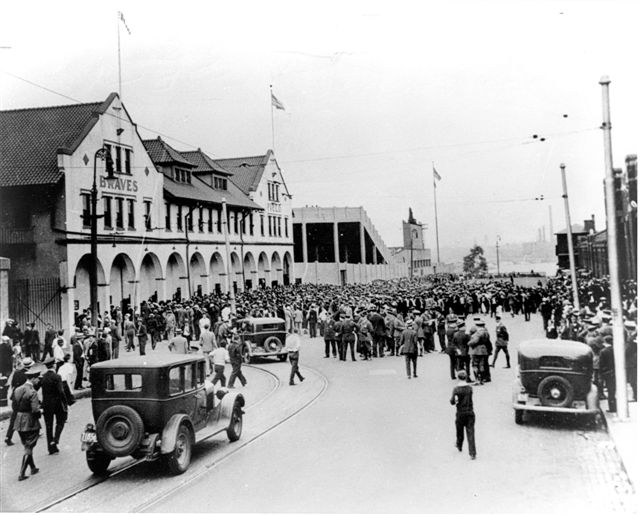 APRIL 2, 2020 — Today would have been Opening Day at Fenway Park. The temperature outside is 45 degrees, windy, cloudy skies with rain now falling where the festivities were scheduled to start at 2:05 PM. How fitting. History has other plans for us.
Back in Boston, the 1916 season opened with big wins in the initial games for the Red Sox and the Braves. At Braves Field, to inaugurate the first full season of their new ballpark, new Braves president Percy D. Haughton announced a novel way to celebrate Opening Day. Haughton ordered six "mammoth" gas balloons that would be released just before the start of the game. These balloons "will be caught by the breezes to be swept upward and onward — in which direction or just how far no one knows. But the balloons are gauged to go different distances. The finders of the balloons will, upon presentation of the orders attached to each receive a much coveted treasure of tickets — 25 for the upcoming season — at Braves Field." 
The balloons would be variable in power in order that they would drop so that no one section at Braves Field would be able to hoard all the tickets. One of the balloons, for example, would carry the envelope so attached only about three miles before the gas ran out, thus dropping it into the hands of a lucky fan, who would chase the balloon to its landing site and its reward. Other balloons were predicted to travel much farther, the expected distance  not expected to be more than 20 miles.
So how did it go? The balloons were set loose and after floating just beyond the reach of all the fans within Braves Field, when they floated above the shelter of the stands the breeze carried them off and up. And finally they disappeared "in the general direction of Liverpool, England." A bystander out by Boston Harbor reported that a hundred tugboat captains set out full speed ahead as soon as the tri-colored balloons appeared overhead. Two days later, the Boston Herald followed up with the news that none of the free pass balloons had yet been heard from. Either that or they were filled, some speculated, with some kind of non-descend-able gas.
A few Opening Days have been postponed for reasons mainly having to do with the weather. On April 11, 1917 at Braves Field, the Boston Herald reported "all the snow was removed from Braves Field at 6 o'clock last night. Today the stands will be cleared and the field dried and ironed with gasoline and rollers. There seems little likelihood that the opening will be postponed again. It will come off tomorrow at 3:30, with all the frills originally planned for today, unless there is another blizzard."
— Joanne Hulbert
jhulbert49@gmail.com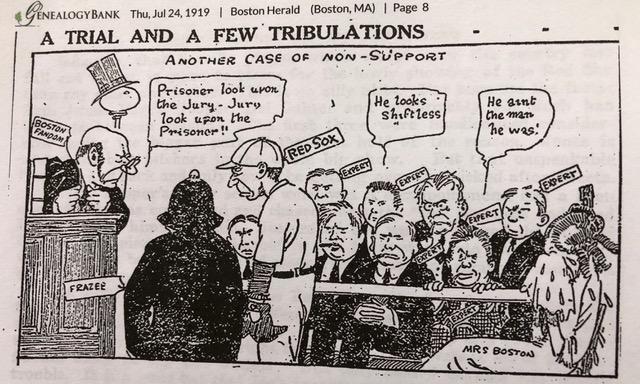 MARCH 31, 2020 —  During trying times in American history, baseball has come to the rescue, providing a welcome diversion, giving solace to the masses confronting enemies human and microscopic. Today is no exception. As I stare at my Opening Day ticket, wondering if or when it will ever pass through the turnstile at Fenway Park, I recall that baseball hit snags in 1918 as well, and wars have curtailed it or affected its impact on our lives. News from SABR Chapters and meeting recaps may be decreased, so, in the spirit of heralding to members that baseball will endure and will not be defeated by a microscopic interference, we must carry on, we can still celebrate baseball despite the empty ball parks, and quarantined fans. We cannot say that it has "never been quite like this before." But we can say that we can turn to baseball and find that modicum of solace.
I take on the task of offering the first Dispatch from the Boston Chapter, from the Mudville Bureau — where there is still some joy here. I will attempt to keep up with the task, between working ER shifts and Town Forest maintenance walks — something I can still do as the wilderness allows for adequate distancing. I hope to inspire others from the Boston Chapter — from the Newtonville Bureau, from the Cambridge Bureau, from the Mission Hill Bureau, from the Natick Bureau, from the Worcester Bureau, or from all points on land or at sea, to consider contributing a Dispatch to add to the Regional Chapter News on This Week in SABR.
So here goes: One of my favorite pastimes is surfing newspaper archive sites, adding a random term to baseball in the keywords section. Invariably, I end up finding some interesting history. I did so recently adding "influenza" with baseball for the years 1918-1919, and came up with a not so surprising number of hits in Massachusetts papers. Now, Boston, having won the World Series in 1918, was riding high going into the 1919 season. But a few things had changed. The song "Tessie" had faded in popularity and would not be resurrected until July 2004 — hmmmm, go figure. Babe Ruth was becoming increasingly disgruntled and his behavior difficult to control. Harry Frazee was still wedded to the Red Sox, for better or worse. Could all of these — excuses — contributed to the formation of "The Curse?" After 1918, and for 86 years forward, the annual cry that was often repeated in July in Boston was, "What's the matter with the Red Sox?" Could that mournful lament actually have begun way back in 1919? And might have an accursed microscopic culprit contributed to 86 years of Red Sox history? Enquiring minds might want to know, or, at least entertain the fantastical, wicked possibility.
STARS SLOWED UP BY INFLUENZA

Influenza, that horrific plague which swept over the country last fall and winter, is more to blame for the lowly showing of the Red Sox than any other one factor. This is no silly alibi. For here are the facts: Sam Jones, Harry Hooper, Del Gainer and presumably Joe Bush had influenza between seasons. The first three were handicapped considerably during the bigger part of the first half of the season. Jones is one of the best pitchers in the whole big show. But that unspeakable "flu" put him back and only now is he getting over the wicked after-effects. 

Harry Hooper's early season work was a disappointment, and a keen one. But he has conquered and chased away the "flu" slowness and tired feeling and is himself again. Just recall the way he played the outfield for the champions the weeks before the team went into the West! It was up to his best standards of other years; and that means it could not be improved upon. 

Joe Bush's bad arm cost the Red Sox at least a dozen games, for that is a fair estimate of the difference between an ordinary pitcher and the kind Bullet Joe is when right. The baseball world had every reason to believe that Joe would be right this year. There were a lot of mild influenza cases during the winter. But they passed on and left behind trouble. It is a good bet that Joe's trouble started with the "flu."
— Bert Whitman, "Influenza Among Red Sox Stars Chief Reason for Champions' Failure," Boston Herald, July 24, 1919: 8.
Whatever the cause, whatever the reason, the Red Sox posted a losing 66-71 record in 1919. Jones may have been one of the best pitchers, but finished the season 12-20 with a 3.75 ERA. Bush only threw seven innings in 1919. Hooper played in 128 games, batting .267 — perhaps fully recovered, the future Hall of Famer hit .312 in 1920. Gainer had been on the 1915 and 1916 world championship teams, but enlisted and spent 1918 in the Navy. In 1919, he got into 47 games while batting .237.
— Joanne Hulbert
jhulbert49@gmail.com
https://sabr.org/wp-content/uploads/2020/03/research-collection4_350x300.jpg
300
350
admin
/wp-content/uploads/2020/02/sabr_logo.png
admin
2020-06-25 00:00:10
2020-07-09 17:11:59
Stay Home With SABR: Dispatches from the Boston Chapter