Editor's note: During our Stay Home With SABR initiative, enjoy these light-hearted Dispatches From the Mudville Bureau by Joanne Hulbert of SABR's Boston Chapter to stay engaged with baseball until the games return. Check out what's new and keep up with all the news in the Boston Chapter on Facebook at BostonSABR or on Instagram at @sabrboston.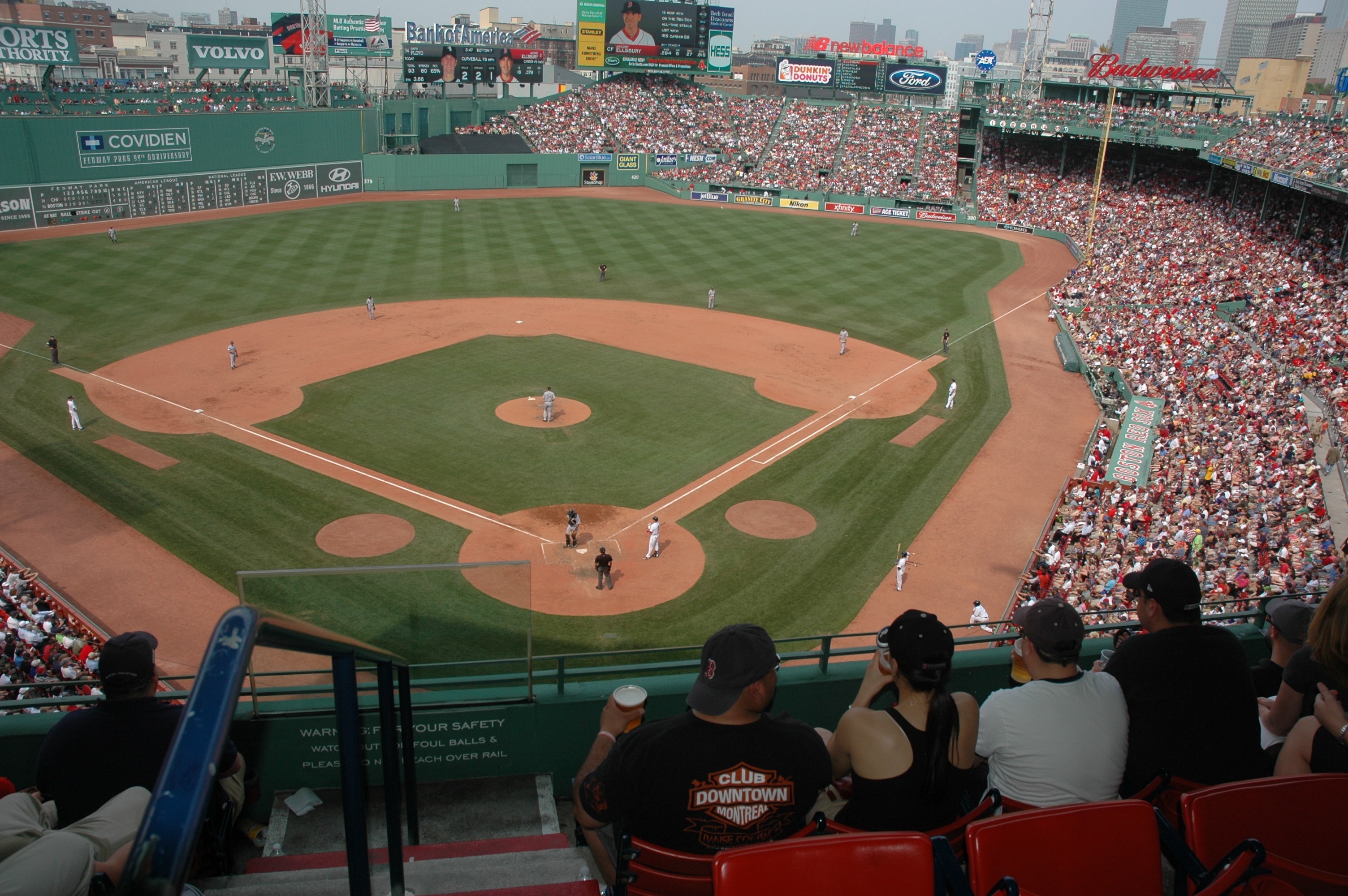 Click here to view all 2020 entries in this series. Click on a link below to scroll down to a post from 2021:
---
JANUARY 15, 2021 — The baseball page of the Boston Globe's Sunday edition of January 10 reminded readers of the Mookie Betts trade of one year ago.  Trading an iconic and much-loved Red Sox player upset many fans, reminding us once again of the often heartless aspect of the business of baseball. There have been other similar trades and fan upheaval in Boston's baseball history. One writer, the Boston Herald's Burt Whitman, expressed the same sentiment one hundred years ago.
*****
SALE OF BIG LEAGUERS SHOULD BE ELIMINATED ALONG WITH MOGUL GUSH
"The have put a muzzle on the baseball magnates, and now let us hope that they stop selling  big league players from one big league to another. Silly, almost childish, public quarrels among the magnates hurt public interest in baseball as much as, if not more than, the White Sox crookedness scandal. But this selling of stars from one team to another will kill the professional game as sure as shootin', if allowed to continue.
SHAME TO HURT FAN PRIDE
"Take the case of Boston and Babe Ruth. He was the whole thing here in 1919. He was to Washington street and Greater Boston what he became to Broadway and Greater New York last year. Only with the difference that he was discovered here. He was sold to the Yankees by Frazee between seasons. It was a slap in the face of Boston fanatics and enthusiasts. It did not make so much difference if the Red Sox were knocked out of the first division. What did count was that this sale hurt their inmost feelings and cold blanketed their highest enthusiasms.
"After the Ruth sale nothing has much mattered in big league baseball to a lot of good fans in this city. The biggest asset in the pro game is confidence and enthusiasm and both these priceless things were shattered when Ruth was handed over to the Yanks.
"Boston is dying, so far as big league baseball enthusiasm and confidence are concerned. Of course, if a winning team should come along this year every thing would be forgiven and forgotten. That is the way of the world, particularly when it wants to be entertained and amused and thrilled. But at the present writing it does not look like a first division team for the Hub, let alone a pennant contender.
"Boston fans got the thumbs down through a sale – the Ruth sale. The same thing will happen in other cities if the rich New York clubs are allowed to buy players. If Hornsby goes from St. Louis or if Groh goes from Cincinnati the wail will be loud and long. It will die down after a time, but the enthusiasm and the confidence of the fans will be hurt sorely and big league ball will have received another black eye." – Boston Herald, January 18, 1921:6.
*****
CHICK DAVIES GETS BIG LEAGUE SALARY WITHOUT GIVING UP HIS BUSINESS
By Burt Whitman
"Consider the case of Chick Davies of Peabody, all you baseball magnates. It is worth your attention and shows one of the things with which you must contend, probably more so in the coming season than every before. Lloyd G. Davies is a natural athlete and just as naturally a good hitter. He starred all over the place for Peabody High and was a chum of Stuffy McInnis. Naturally, then, he went to the old Athletics. He was primarily a pitcher, but was good for the outfield when he was not in the box. He was with the A's six years ago when they were licked four straight in the world series by the Braves. He did not get a full share, only a fractional part.
BUSY SUMMER FOR CHICK
"He became a little disappointed and a trifle discouraged at the way he was going in the big league game. He could not get a big salary from the A's.  And eventually he decided to get out of the grind of pro ball and did. He decided that he could pick up a good lot of money pitching semi-pro around eastern Massachusetts.
"He combined these semi-pro games with business. Right now it has taken the line of an elastic belt. He is doing well. But the particularly interesting part is the way he picked up so many semi-pro games of ball to pitch last simmer. He worked in 59 of them, and the chances are that he averaged at least $75 a game, which gives him a salary during the baseball season of $300.
"Pretty good business, this playing ball at odd times, usually Saturdays, Sundays and holidays, and piling up a total like that and yet keep busy with a regular business. It gives the baseball men something to think about. It shows just how sound the game of baseball is outside the big leagues and that the average good player is not absolutely compelled to hook up with an American or a National league team to make his salt and sugar.
"Many high-class, ambitious young men have this objection to big league ball. "After the brief time that I'm in it, I'll come out without any business and have to start way down, at the bottom of the line."
"Davies is an inspiration, then, to the independent young athlete of rare baseball attainments. And he gives the magnates something over which to think. Also, he gives the impression that the talk about the big leagues being a combination in restraint of trade, and that no player of real ability can make money unless he is in with the combine, is a lot of junk. And it is a sign that baseball really is the national game when a young man can go out, ignore the major and the strong minor leagues and do what Davies has done." – Boston Herald, January 15, 1921:7.
*****
"Frank Burton "Burt" Whitman, sports editor of the Boston Herald for 31 years, died at St. Louis after suddenly stricken while in the press box during a Red Sox-Browns game. A former president of the Baseball Writers' Association of America, he collapsed during the 13th inning after complaining of a "terrible headache." He was rushed to the hospital where he died of a cerebral hemorrhage at age 62. Respected by baseball writers and players as the Number One of Boston sports writers, Whitman's accounts of Red Sox and Braves games had been sports masterpieces for years. His clear and concise reporting of the contests indicated a deep knowledge of the lives and habits of the players and of the whole history of the game." — Boston Herald, May 9, 1949:1.
"We know that sports fans everywhere were shocked to learn of the untimely death of our Burt Whitman, who passed away early last night in St. Louis. Burt had been Sports Editor of The Herald since 1917 and during those 32 years won the admiration and respect of athletic notables, both great and small, throughout the nation. We feel fortunate that we were able to be associated with such a recognized sports authority and a grand gentleman for so many years and feel sure that the end came just as he would have wanted it – while watching his favorite sport – baseball."  – Bob Dunbar, Boston Herald, May 9, 1949:10.
*****
TED CALLS HERALD TO EXPRESS REGRETS
"Ted Williams made a personal phone call from St. Louis to The Herald Sports Department last night to express his deepest regret over the sudden passing of Burt Whitman, the late Sports Editor of The Herald.
"The two had been close friends ever since the slugging Red Sox outfielder broke into the major leagues in 1938 and many times it was Whitman who took Williams aside and counseled him when things were not running too smoothly. Ted called the St. John's Hospital in St. Louis when he learned that Whitman had been rushed there in an ambulance and then broke down and cried when he received the news that Burt had passed away." –Boston Herald, May 9, 1949:10.
*****
Not So Random Baseball Cartoon
The Boston Herald commemorated the one year anniversary of Babe Ruth's sale to the Yankees. The fans' memories still ran deep.
Boston Herald, January 6, 1921:10.
*****
Random Sports Item
"The Longwood Cricket Club announced on January 18, 1921 that they would be moving their clubhouse to Hammond Street, Chestnut Hill."
*****
RECIPE – Lost in Translation?
From Crowding the Plate, Favorite Recipes of the Boston Red Sox, 2001. Pedro Martinez submitted his recipe for Lemon Chicken With Rice (Arroz Con Pollo Lemon). There's something lost in translation. In the English version it calls for "4 limes, juiced." The Spanish version: "4 taza de juego de lemon." It is up to you, the cook, apparently.
4 boneless chicken breasts
4 limes, juiced
1 whole garlic, mashed
¼ bottle soy sauce
½ tsp. oregano
1 cup oil
1 tsp. sugar
1 pound cooked white rice
Marinate chicken in lime juice for 15 minutes. Add oregano, soy sauce and garlic to chicken. In a frying pan heat oil and sugar until brown. Add chicken and cook for 20 minutes. Apply lime marinade gradually during cooking time to keep chicken moist. Serve over rice.
Spanish language lesson: Lemon = limon. Lime = lima.
*****
Happy birthdays
Wayne Gomes, born 1973, pitcher, with the Red Sox 2002, 20 games
Luis Alvarado, born 1949, shortstop, second & third baseman, with Boston 1968-70
Tom Oliver, born 1903, center fielder, with Boston 1930-1933
Reporting from the Mudville bureau of the Boston Chapter – the world of baseball has allowed an albeit small crack in the ceiling. New minor-league coach Bianca Smith is understandably, and deservedly, getting a lot of attention for becoming the first Black woman to land a coaching job with a big league organization. She will be based in Fort Myers, and will be working with position players. Great news! Congratulations, and we wish her the greatest success.
— Joanne Hulbert
---
JANUARY 8, 1921 — There's always been a rivalry between Boston and New York. Competition between the two cities began before anyone took to ball parks to settle their perceived differences. Boston – the Hub of the Universe! Take that, New York! – considered itself superior intellectually, culturally, and nurtured an in-bred attitude of self-righteousness that irritated – and often amused – New Yorkers. Gotham! That den of iniquity where all things criminal and grimy festered! The stories about New York found in Boston papers glorified dark tales of  all sorts of sin and depravity and confirmed Bostonians of their superiority over the wickedness of New York. But it certainly did sell newspapers.
Baseball only added to the rivalry. When the Knickerbockers established the "New York Game" at Elysian Fields, Boston was playing by the Massachusetts Game rules on Boston Common. The dominance of Gotham's game would deepened the divide, although there are a few vestiges of Boston's game that survived. Overhand pitching and the high fly out were standard for Boston before New York's modern game relinquished the one bound out.  Also, even local cuisine weighed in on the issue.
ONE CHOWDER DENOUNCED
"What passes for clam chowder in New York is not chowder. It is soup, and poor soup. It is soup without pride of race or strength. Usually it is watery, as if prepared originally as a swimming pool for living clams. Tomatoes you will always find therein. You cannot tell a New York clam chowder by the clams, but you can always identify it by the tomatoes. If you order clam chowder and get something that resembles a cross between tomato soup and chicken gumbo, say nothing that you will  be sorry for. Eat what you get, or not, as your hunger demands and your fastidiousness permits. You are face to face with that evil, misnamed concoction, a New York clam chowder. If you find a clam therein, or a section of a clam, let it alone. It is not the kind of clam which enters into the real clam chowder of these shores. It is large, tough and aged, chopped with a hatchet into little bits, and used sparingly, but not sparingly enough. The best way to eat a New York clam chowder is to throw it out of a window or send it back." – Boston Journal, July 27, 1909.
New York was not going to remain silent. From time to time, just to keep Boston alert, they sent out a tease.
GOTHAM CHIDES HUB FOR LACK OF PRIDE
"In the Boston Post of Tuesday morning Paul H . Shannon, the baseball editor, wrote a story in which he commented on the way the New York teams were buying players right and left in order to land pennants.
GOTHAM'S POINT OF VIEW
"Here is the way Daniels in the New York Herald comments on this story:
"Up in Boston a baseball writer the other day came through with a blast to the effect that everything was not on the up and up in the major leagues – that the Yankees and the Giants were getting strangle holds on the pennants. The acquisition of Dugan would just about hand the flag to the Yankees, he averred. That may be true, and then again it may not. If the Yankees get Dugan they will have to give up some pretty able ball players. There will be nothing ever resembling a half guarantee that Dugan will continue to hit or that the Yankees will finish even as good as third again. Baseball is a peculiar game, and the best laid plans of men in it aft gang agley*. As for the Giants, how crooked are things when $250,000 will not buy them an infielder?
"Howsomever, it is decidedly mischievous to cast any aspersions at the grand old game, particularly at this time. If Boston does not like the way things are going with its major league clubs why does it not show some civic pride, and pride in its own teams, and see that they are owned in Boston? Why does it permit both the Braves and the Red Sox to be run from offices in New York?" — Boston Post, January 8, 1921:10.
*Language lesson: "aft gang agley." Scottish : "often go wrong" – from the poem "To a Mouse" by Robert Burns, 1785.
*****
LAUNCH OUTLAW LEAGUE
Continental Baseball Organization Formed by Andy Lawson
"Yesterday a new baseball league was organized in Boston by George Herman Lawson of Boston, more familiarly known as "Andy" Lawson and organizer of the old United States league and various other leagues of years ago. The new league, which Mr. Lawson admits is an "outlaw organization," will be known as the Continental Baseball league with offices at 27 School Street, Boston, Mass.
FIVE STATES NAMED
"At the first meeting held at the club's headquarters yesterday it was reported that Massachusetts, New York, New Jersey, Maryland, Indiana and possibly Ontario, and possibly other states, had given assurances that they would enter the new organization. Fred Lundy of Boston was given the Massachusetts franchise.
"President Lawson stated that there was no question about the success of the new baseball league. He also stated that he is contemplating the purchase of the Red Sox team of the American league, and in the event of Harry Frazee not wanting to sell the Red Sox the Continental Baseball league would organize an independent team. Already he has looked over suitable sites with the idea of constructing baseball parks, one of the sites being near the Elevated station at Forest Hills. It is also the intention of Mr. Lawson to secure the best available big league stars.
 "I am going to New York at once," said Mr.  Lawson, "where I will be in conference with some of New York's biggest theatrical men, who are interested in the new project.  It is also his plan to have as nearly as possible each state team composed of players from that state. Of course, he will not recognize the national agreement. The Continental baseball league was incorporated with $60,000, it was announced at the State House. The owners were given as Mr. Lawson, J.M. Barry and George M. Riley, all Boston men.  The next meeting of the league will be held at the Astor House in New York on January 21." – Boston Post, January 5, 1921:27.
*****
Thomas Whelan: One game, one at bat, one strikeout, one walk, four putouts, on August 13, 1920:
"McQuillan fielded his position in grand style, making one phenomenal assist to third. Walter Holke contributed the glaring fielding gem when he raced over to the grand stand and grabbed Long Cy Williams' foul with two Phils on the bases and two out Holke got a shaking up, bumping against the concrete base of the stand and gave way for the remainder of the first contest. His withdrawal made it possible for First Baseman Whalen (sic), a former Worcester Academy and Lynn athlete, to make his debut as a Brave. He handled himself well afield and although he fanned on his initial trip to bat he drew a pass in the eighth." – Frank Gaffney, Boston Post, August 14, 1920:6.
WHALEN TO GET A REAL TRYOUT
"Johnny Evers promises to provide Tommy Whalen (sic) with a real tryout with the Cubs next Spring. He did not get much of a chance last season at Braves Field, but "Sportsman" recalls one day when he certainly looked mighty good." – Boston Evening Globe, January 8, 1921:7.
*****
Boston Sunday Herald, January 3, 1915:32.
*****
Random Baseball Item
"No one regrets the passing of Dick Rudolph more than Fred Mitchell, manager of the Braves, who was the "right eye" in the glorious year of 1914. Speaking of Rudolph yesterday, Mitchell said: "Dick used to want to go home over week-ends and on one Thursday, after beating Cincinnati 4 to 2, he was refused by George Stallings. "If I beat them tomorrow, may I go home?" Dick asked, and on being given consent, he defeated the Reds 3 to 0, the next day, allowed them three hits and had his suit case all packed. He was a great pitcher." – Bob Dunbar, Boston Herald, January 8, 1921:7.
Heavens, Bob! Upon reading the story, I checked out Dick Rudolph in Total Baseball, thinking, good grief! Rudolph had died, what with that "passing of Dick Rudolph" remark. But he had not. Although he did not play in 1921, he did return to the Braves from 1922 until 1927. Rudolph died on October 20, 1949.
*****
Another Random Baseball Item
"Gee, here's Branch Rickey with an announcement that the St Louis Cardinals refused to allow Rogers Hornsby to go, even for $300,000 cash and four players besides. This is better press-agent stuff than two "Babe" Ruth sales." — "Live Tips and Topics'" by "Sportsman," Boston Evening Globe, January 8, 1921:7.
*****
Happy Birthdays
Geremi Gonzalez, born 1975, pitcher, with Boston 2005
Mike Cameron, born 1973, center fielder, with Boston 2010, 2011
Willie Tasby, born 1933, center fielder, with Boston 1960
Jim Busby, born 1927, center fielder, with Boston 1959, 1960
Jackie Tobin, born 1921, third baseman, second baseman, with Boston 1945. Born 100 years ago on January 8. Read his SABR BioProject article by Bill Nowlin.
*****
Reporting from the Mudville Bureau of the Boston Chapter, where we are hearing that Gov. Charlie Baker says mass COVID vaccination sites will likely be available to the general public. Baker announced that the Commonwealth plans to make the regional state-run sites – capable of administering 2,000 vaccine doses a day. Multiple news outlets recently reported that Fenway Park, Gillette Stadium and the Big E fairgrounds are among the locations the officials plan to use. Although Baker has yet to officially confirm the locations, it is a heartwarming thought that we may be able to attend something at Fenway sometime around April.
— Joanne Hulbert
---
JANUARY 1, 2021 — SABR HQ has taken the week off, and This Week in SABR will return on January 8, 2021. This week's email post will be entirely print, as usual, but an edition will be posted on the 8th, with photos and illustrations available there.  In keeping with my interest in featuring personalities who reside at the periphery of baseball history, but who contributed a great deal to the game's history – and there are many in that category – this week I met Neal O'Hara, who began writing for the Boston Post as campus correspondent while at Harvard until he graduated in 1915.
Although Neal R. O'Hara began his newspaper career writing about sports, it soon became apparent that he excelled as the staff humor and gossip columnist. Here, he could indulge in a wide range of subject matter, sports, politics and society's foibles from women suffrage to Mayflower ancestry and well beyond the usual matters that were of interest to readers. He also won fame as an author of the play "Sixes and Sevens" – an amateur production featured at the Colonial Theater in April 1922. The play featured a cast and chorus of 78 – and dancing ponies.
In 1924 he left the Boston Post and joined the Boston Traveler staff. "One day it's wit he writes. The next day satire. Not to mention humor, wise cracks, parody and burlesque." Neal was good at everything he tackled – master of ceremonies at a Boston Pops concert, after dinner speaker in a hundred clubs, script writer for Clover Club of Boston of satires and sketches, movie writer, columnist, guest commentator on the radio on WBZ in 1924, author of two books, script writer to the World Series press box where he used to turn out smooth prose that could make the dullest of baseball games sound like a carnival of sport. Neal O'Hara acquired many friends among the rich and famous, and knew the ranges of interest of his audience very well.
*****
"William Jennings Bryan once got in the way of the O'Hara wit. That happened when Neal was covering a Republican National Convention in Chicago, and found himself seated in the press section between Bryan and Will Rogers.
"I suppose you're covering the humorous aspects," said Bryan crustily. "If I see anything funny, I'll let you know."
"Neal and Rogers similarly agreed to keep Bryan informed – if they saw anything serious." – Boston Traveler, October 4, 1962:5.
*****
UMPS MUST FILL OUT QUESTIONNAIRES SAME AS THE OTHER FIGHTERS
By Neal R. O'Hara
"They made the draftees sign questionnaires before they'd blow 'em to inoculation, and now the umpires are next. No major league ump can fight this season until he's filled out his queries fuller than a chest protector. The big league exams for the umps are as follows:
Full name (only one answer required)
What are your favorite flowers besides lilies?
Are you a member of the Lambs Club or have you ever been in any other fight?
Do you believe in tipping waiters more than 10 cents?
Do you believe in tipping them less?
Have you always led a peaceable life or do you know Johnny Evers?
Who is your favorite author in addition to the guy that writes your checks?
How long have you been blind?
Have you ever umpired before 10,000 people or is your experience confined to St. Louis?
Are you afraid of Connie Mack's ball players?
Is anyone afraid of Connie Mack's ball players?
Is baseball your favorite game next to poker?
Do you consider a bag of Braves Field peanuts dangerous, providing you do not eat them?
Can you pronounce Ping Bodie's real name?
Do you know anybody that can? (Reward offered for his answer.)
What do you do in the winter season?
Doesn't your wife get tired of seeing you around?
Did you ever buy a world's series ticket from Rube Marquard?
Have you ever been to Bonesetter Reese for your head?
What city has the best pop bottle artillery next to Brooklyn?
Can you read?
In case of accident, have you any protection except a flask of brandy?
Have you ever ridden to Chicago?
Have you ever been ridden anywhere else?
Are you a friend of Ban Johnson's? If so, state who are his other two friends?
Have you ever been in a minor league except when umpiring in Boston?
What is your salary?
Is your wife satisfied with it?
— Boston Post, January 1, 1921:8.
*****
NEW YEAR'S GREETINGS TO THE FANS FROM BOSTON BASEBALL PRESIDENTS
By Percy D. Houghton:
"Happy New Year. Let me at this time wish all you fans a full measure of health, happiness and prosperity during the coming year, and I want to add that I thoroughly appreciate the loyal support and good feeling that has been accorded the Braves by the Boston public. Boston fans have a country-wide reputation of being loyal and this fact has been substantiated on hundreds of occasions by the wonderful attendances at the games here. The outlook for 1917 is bright, and with Manager Stallings at the helm and each individual working hard for the success of the team it is with a feeling of confidence I greet you this New Year's day. I want to assure the Boston baseball public that the management of the Braves will leave no stone unturned in effort to produce a club of championship caliber – the sort of team the city of Boston justly merits. At the conclusion of the 1917 season I believe Boston will have seen one of the biggest years in baseball history.
"By Harry H. Frazee:
Happy New Year from H.H.Frazee. On behalf of the Boston Red Sox I want to thank the fans for their loyal support to the Red Sox in the past and hope that the same good feeling will prevail in the future. I further wish to assure the Boston fans that everything that can be done to maintain the high standard set by Mr. Lannin in the past will be done in the future. We have great hopes of inducing Mr. Carrigan to once more assume the leadership of the world's champions, and I hope to be able to make this announcement as one of the first of the New Year to the Red Sox fans." – Boston Journal, January 1, 1917.
*****
Boston Herald, January 1, 1920:1.
*****
The old year's gone the destined way of time and all mortality,
With all its good and all its bad, its woe and comicality,
With all its love and hate and strife, its loafing and its laboring,
Its placid victories of peace, its warriors fiercely savoring;
We've left it all behind us and we're not at all regretting it,
The old year's very, very, dead, so let us be forgetting it!
But now the new year claims the stage – and what shall be our attitude?
Shall fellowship have larger room, shall love have greater latitude?
Will YOU make life a sweeter thing, the world a place more lyrical
With laughter and with joyous song; or selfish and satirical?
Will you go grumbling thorough the days with sullen thoughts and smouldering,
Or trample through the crowded ways your fellows roughly shouldering?
The Old Year's finished, ended, done! To speak of it is vanity!
How will you serve throughout the NEW – for Gold or for Humanity?
— Berton Braley, Wilkes-Barre Times-Leader, January 1, 1914:10.
*****
Boston Post, January 29, 1921:8.
*****
BABE RUTH SHOULD WORRY IF HE PUTS ON AVOIRDUPOIS
"If Babe Ruth is still worth his weight in gold, he assays at a higher valuation this springtime. The Babe is reported as carrying more beef than one of Armour's refrigerator cars. The only thing he's reduced this spring has been his income tax.  Ruppert and Huston are so worried about his bulky condition they have O.K.'d the plans for a $2,000,000 park.
"Babe should weigh something less than 200 pounds with his bunions naked. That's when he lams 'em at his best. But the Bambatterer is no sacrifice bunter even when he hits the scales at speculator's prices. Flesh may show up a guy after he's reached his original quota, but here's an item to be remembered in Babe's case: When our hero hoists the cordovan over the fence, there is no necessity for making the circuit in 20 seconds flat. A home run over the bleachers is legal so long as you lope o'er the base paths before the ump suspends on account of darkness.
"Mr. Ruth is a chap that cares not for scale statistics so long as he rates as the Abou Ben Adhem of the home run guild. It makes no diff to that baby whether his belt buckle is in the correct or wrong posture so long as the right field fence is in its customary place. Call it indifference if you will, but Babe refuses to froth at trifles. When flapjacks get into his system, a pound amounts to 16 ounces. But when his ashen baton meets the horsehide apple, that's when a pound amounts to four bases.
"So don't worry if Babe has an awful surplus. A bank is safest when it's in the same fix. And Samson was at his best when his hair was eight pounds overweight."
— Neal R. O'Hara, Boston Post, April 1, 1921:24.
*****
Note: Abu Ben Adhem, was a poem written by Leigh Hunt in 1834, a short, fable-like poem that suggests people can best express love for God by simply loving their fellow human beings. By the power of Google, you can look it up.
*****
THE WINTER LEAGUE
When spring comes dancing down the lea
   As lightly as a rabbit
Each sporting sheet I chance to see
   Most eagerly I grab it;
I read the dope from A to Z;
   It is, in fact, a habit.
But, oh, this blooming winter league
Infuses me with vast fatigue.
I know that sporting news is scant
   Upon this well known planet,
But all this winter baseball cant –
   There should be laws to ban it;
It makes me rave, it makes me rant;
   Why can't the writers can it?
But, no – they make us blindly grope
Through reams and reams and reams of dope!
When play begins I'm always there
     Upon the bleachers squirmin',
But till that time I do not care
     How Tinker fares with Herrman;
Let magnates loudly rare and tear;
     My attitude I'm firm in;
This pother fills me with fatigue –
Please take away your winter league!
— Berton Braley, January 1, 1914.
*****
Random Baseball Item
"TOSS CUSHIONS AT BALL GAME – Dodger-Yank Contest Breaks Up in Near Riot – The baseball game today between the New York Americans and the Brooklyn Nationals was broken up by the fans in the ninth inning, with New York leading by a score of 7 to 5. With two men down in the first half of the ninth, Wheat of Brooklyn took a "break" shot at one of Ferguson's groove balls, driving it into the overflow crowd in right field. Under ground rules, Umpire George Moriarty ruled it a two-base hit, but the crowd apparently did not understand, and when Wheat was sent back to second a pillow barrage was laid down, after which a battle between those on the ground and those in the bleachers broke out. Policemen figuring that there was no law against cushion throwing, watchfully waited. Umpire Moriarty, when one of the cushions caught him on the jaw, called the game." — Boston Post, April 1, 1921:11.
*****
Not So Random Baseball Item
"BASEBALL WAR SURE – American League Decides to Fight National. Will Break Agreement in Force Since 1896. Competing Teams in Seven of national League Cities. – Chicago, December 31, 1899 – Prospects of a base ball war of real purport developed here today when, at a secret meeting of the American league magnates, it was decided to wage war on the National league during the coming season, and to break the agreement existing since 1896, and to place competing teams in seven National league cities. The points spoken of are Boston, Philadelphia, New York and St. Louis or Chicago." — Boston Herald, January 1, 1900:2.
*****
Random Sports Item
"Birmingham, England, May 21, 1890. – Our American newspapers are very fond of dwelling on the subject of the great development of baseball in comparison with all other games, but they never mention the wonderful hold football, as it is played today in England, has on the majority of sport-loving Englishmen. The present game of football, with its beautiful scientific points, bears as much resemblance to the game of the same name of 50 years ago as the present game of baseball bears to rounders. The origin of the game dates back to the time when it was the custom to throw a leather ball into the market place at St. Albans (one of the oldest town in England), and one class of people tried to carry it to one side of the street and another class to another. Of course this was rather a crude game, and there were no rules and no restrictions as to the number of players on each side, the game generally ended in a free fight.
"The public schools of England, such as Rugby, Harrow, Eton and old Westminster; then began to play the game, but each school had its own set of rules, and the result was that very few interchange matches could be played on account of each school wanting to adhere to its own particular style of play." — Pittsburgh Dispatch, June 1, 1890:16.
*****
Random Sports Item for the Girls
"NEW WALKING RECORD MADE BY LITTLE GIRL — Panama, December 31, 1921 – A new record for women pedestrians in Panama has been established by Alma Mann, 12, who walked through the Canal Zone from ocean to ocean, a distance of approximately 50 miles, in 16 hours and 26 minutes. Actual walking time, an average of about three miles an hours. Miss Mann, who is the youngest girl to undertake the feat, also holds the Canal Zone women's championships for high and fancy diving and swimming." – Springfield (MA) Republican, January 1, 1922:4.
*****
Happy birthdays
Al Stokes, born 1900, catcher, with Boston 1925-26
Frank Fuller, born 1894, second base, pinch runner, shortstop, with Boston 1923
Hack Miller, born 1894, left fielder, with Boston 1918 (12 games)
Jeremiah J. (Miah) Murray, born 1865, catcher, first base, with Providence (NL) 1884. Born Boston, died Boston 1/11/1922. Buried Holyhood Cemetery.
 Bill McGunnigle, born 1855, died 1899, right fielder, pitcher, with Worcester 1880: one game, four at bats.
Reporting from the Mudville Bureau of the Boston Chapter – the big baseball news this moment is the re-naming of the Cleveland Indians. I am interested in how this might turn out. Should Cleveland look to recent history, pick something contemporary? Or shall they reach back into history?
Now, baseball teams have clever names honoring footwear, fish, birds, snakes, priests, sailors and pirates, among other things. No team in history embraced an insect – until Cleveland adopted the spider. How unique, historically-minded and also this might be a chance to redeem the unfortunate history that the name conjures up in Cleveland- that is, for the few people who know about this bit of baseball history. I could say that the Cleveland Spiders would put a sting on the field, but that would be inaccurate – spiders bite. Just think of the readily available songs, the chants that could be heard!
Somehow, the fans may work in that drum in the outfield seats, and the concessions will switch from faux Native American trinkets to all things arachnophiliac (and a new nickname for Cleveland baseball fans!) And what is a group of spiders named? – A cluster, or a clutter. There's some literary opportunities! One corporate roadblock – or maybe a mutually advantageous marketing venture – Arachnophilia is a web page development and general programming tool. There you go – a built-in sponsor.  Just think of the possibilities.
— Joanne Hulbert
https://sabr.org/wp-content/uploads/2020/03/research-collection4_350x300.jpg
300
350
admin
/wp-content/uploads/2020/02/sabr_logo.png
admin
2021-01-15 00:00:10
2021-01-15 02:28:20
Stay Home With SABR: Dispatches from the Boston Chapter