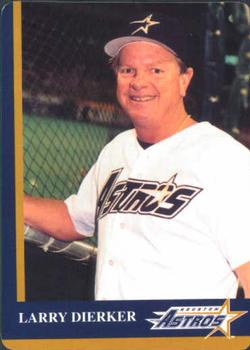 April 1, 1997: Larry Dierker wins managerial debut with Astros
---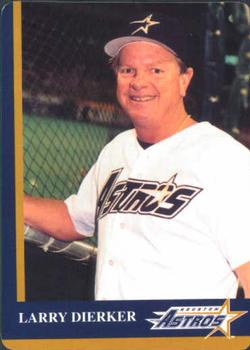 After the Houston Astros finished in second place in the NL Central Division for a third consecutive season in 1996, they hired Larry Dierker, the former Astros pitcher-turned-broadcaster, to replace hyper-intense Terry Collins as their new manager. Dierker's hire was met with laughter and derision throughout the media and by a number of baseball insiders, since he had never managed or coached at any level. However, the Astros' brain trust — owner Drayton McLane, president Tal Smith, and general manager Gerry Hunsicker — believed that the insights Dierker had provided as the team's radio commentator over the past 18 years could translate into strategic success on the field. Dierker quickly gained the support of his players, something Collins had lost. As first baseman Jeff Bagwell put it, "Dierker's a good baseball man, and he's going to be fine."1
Most outsiders doubted Bagwell's words, and they deemed it appropriate that Dierker's managerial debut would fall on April Fools' Day. Dierker put his situation in perspective when he asserted that the worst thing that could happen is that "I won't be very good at it and I'll get fired … [then] I'm back in the (broadcast) booth somewhere or I take my pension."2 Dierker had made sure to surround himself with knowledgeable coaches, most notably former Astros manager Bill Virdon, to reduce the likelihood of making too many rookie managerial mistakes. Though it was uncertain how he would fare over the course of a full season, his immediate prospects were not helped by the fact that the Astros were facing 1996 NL Cy Young Award winner John Smoltz and the defending NL champion Atlanta Braves on Opening Day, April 1, 1997.
In an attempt to make Dierker feel at ease, his former broadcasting crew — with the exception of the ever-professional Milo Hamilton — all donned Hawaiian shirts for a pregame photo they took with the new skipper. Dierker had worn Hawaiian shirts for years because, as he said, "You never see a guy in a Hawaiian shirt having a bad time."3 Though he could no longer wear his former attire-of-choice during games, Dierker still appeared to be having a good time as he ran down the line and slapped hands with all of his players and coaches when his name was announced during the pregame introductions.
Once the game got under way, the 44,618 fans, the largest Opening Day crowd in Astros history, watched Shane Reynolds begin the season in style by striking out the first two Braves hitters, Kenny Lofton and Mark Lemke. He then got in a jam by allowing a base hit to Chipper Jones and a double to Fred McGriff, a situation that resulted in Dierker's first managerial decision that counted. As Dierker later recalled, "[Catcher] Brad Ausmus looked over to see if I wanted to walk Ryan Klesko. I shook my head no, and Shane retired him on a soft groundball."4 It was a case of "so far, so good" for both Dierker and Reynolds.
The Astros jumped on Smoltz immediately with back-to-back singles by leadoff batter Craig Biggio and Pat Listach, and both runners advanced an extra base when left fielder Klesko booted Listach's hit. Bagwell came to bat and hit a sharp grounder to third base that left Jones with no play anywhere other than at first base. Biggio came home on the play to give the Astros a 1-0 lead, but that was all Smoltz would allow for the time.
Jones tied the game with a two-out, line-drive home run to center field in the top of the third inning. A fan threw the home-run ball back onto the field, which sparked some overzealous and ill-advised behavior. The first 30,000 people who had entered the Astrodome had received souvenir baseballs that contained printed information about Dierker's four Opening-Day starts as an Astros pitcher. Now, 50 or so fans threw their baseballs onto the field, endangering the players and resulting in a delay of several minutes as groundskeepers retrieved the balls.
After order was restored and Reynolds retired McGriff for the Braves' third out, the Astros set to work to recapture the lead in the bottom of the third inning. Ausmus led off with a single, and pitcher Reynolds put down a sacrifice bunt that advanced Ausmus to second base. After Biggio singled, Listach's sacrifice fly scored Ausmus to give the Astros a 2-1 lead that held up as the final score.
Sean Berry tried to add to the Astros' run total in the fourth when he swung for the fences and hit a hard drive to center field, but Kenny Lofton caught up to it for a long out. Later, Lofton robbed Luis Gonzalez of extra bases in the seventh inning with a spectacular catch against the wall. On that occasion, for the second time in the game, play had to be stopped after a fan threw his souvenir baseball onto the field and hit Lofton in the back with it. Lofton was okay, but the Astros' promotional department likely regretted that it had passed out the baseballs before the game rather than afterward.
In spite of the interruptions, the focus remained on the duel between Reynolds and Smoltz. Reynolds proved to be a worthy adversary for the Cy Young Award winner as he held the Braves to one run, and he ended his day by striking out two of the final three batters he faced — Jones and Klesko — in the eighth inning. Reynolds pitched so well that the only other major decision Dierker had to make was to take him out of the game after the eighth, and that was not a difficult choice since Reynolds had thrown 122 pitches.
Billy Wagner, who had earned the closer's role after an impressive rookie season in 1996, put an exclamation point on the game in the ninth inning by striking out the final two Braves batters, Jeff Blauser and pinch-hitter Mike Mordecai. When it was over, Dierker's managerial record stood at 1-0. He kept the ball that was the last out of the game and the scorecards from both dugouts as mementos of his successful Opening Day debut.
Everyone who was associated with the Astros in any way raved about both the team and its new manager. "Nobody's talking about Bud Selig and Don Fehr," McLane declared, referring to Major League Baseball's recently signed labor pact that finally ended the strife from the 1994 players' strike. "They're excited about the Astros. People are excited about Larry Dierker, too."5 McLane's enthusiasm was echoed by an Astros season-ticket holder who said, "Larry Dierker is one of us. … I know he makes me feel like a kid again."6
More important to the Astros' prospects for the 1997 season was the fact that Dierker had elicited the same emotions from his players. Center fielder Derek Bell said, "When he went down the line shaking everyone's hand, that was awesome. That set the tone. That was just another example of how he's not just our manager, he's one of the guys."7
Dierker himself downplayed the significance of his first victory. Even in retrospect, after his managing days had ended, he said merely, "This made me 5-0 in openers, but I had no delusions of grandeur. We never won the pennant when I won on Opening Day as a pitcher and this win didn't assure us of anything."8
He also recalled that he had been surrounded by reporters after the game and seemed satisfied to note that "except for a few national correspondents who were there to cover the debut of the freak show manager, the media seemed happy, almost festive."9 The reactions of the media, fans, and players demonstrated that Dierker had gone from joke to genius in the stroke of a single victory, a transformation that would be confirmed when the Astros finished the 1997 season as NL Central Division champions.
This article appears in "Dome Sweet Dome: History and Highlights from 35 Years of the Houston Astrodome" (SABR, 2017), edited by Gregory H. Wolf. To read more articles from this book at the SABR Games Project, click here.
Notes
1 Carlton Thompson, "Dierker Feels First-Game Jitters," Houston Chronicle, April 2, 1997.
2 Bob Nightengale, "Astros Respond to Laid-Back Larry," The Sporting News, May 5, 1997, 20.
3 Ed Fowler, "If the Hawaiian Shirt Fits, Wear It," Houston Chronicle, April 2, 1997.
4 Larry Dierker, This Ain't Brain Surgery (Lincoln: University of Nebraska Press, 2003), 64.
5 David Barron, "Giving the Team a Hand," Houston Chronicle, April 2, 1997.
6 Ibid.
7 Thompson.
8 Dierker, 66.
9 Ibid.
Additional Stats
Houston Astros 2
Atlanta Braves 1
---
Astrodome
Houston, TX
Box Score + PBP:
Corrections? Additions?
If you can help us improve this game story, contact us.
Tags
https://sabr.org/sites/default/files/DierkerLarry-mgr.jpg
600
800
admin
/wp-content/uploads/2020/02/sabr_logo.png
admin
2018-09-26 13:12:42
2020-04-17 10:23:55
April 1, 1997: Larry Dierker wins managerial debut with Astros