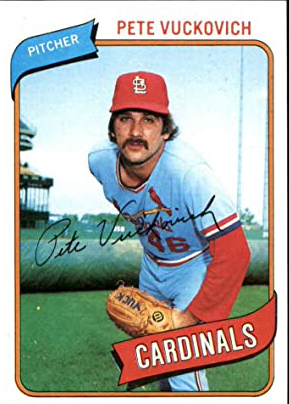 April 10, 1980: Cardinals' Vuckovich shuts out defending champion Pirates on Opening Day
---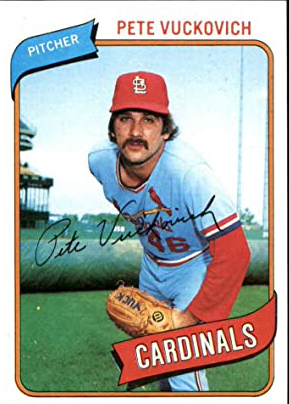 For the first time in major-league history, two reigning MVPs from the previous season would play in the same regular-season Opening Day game.1 National League President Chub Feeney presented Keith Hernandez the National League MVP plaque during pregame ceremonies while his co-MVP, 39-year-old Pirates slugger Willie Stargell, looked on. The award was shared for the first and, as of 2020, the only time in major-league history, each receiving 216 votes. "Pops" Stargell would receive his plaque the following Monday in front of the hometown Pirate fans.
Perfect weather lured a crowd of 43,867.2 One mini-controversy was about who would throw out the first pitch. The Cardinals had already lined up future Hall of Famer Lou Brock, who was in his first year of retirement after spending the last 15½ years in left field for the Cardinals. However, it was an election year. A representative of the Carter-Mondale presidential campaign inquired on behalf of Rosalynn Carter, President Jimmy Carter's wife. Solving the dilemma, Brock said, "I asked her to throw the ball out with me." One news story commented, "Brock and Rosalynn Carter awkwardly shoveled the same first pitch to (Ted) Simmons."3
Cardinals manager Ken Boyer chose Pete Vuckovich (15-9, 3.59 ERA in 1979) to take on the 1979 World Series champion Pirates. Pittsburgh manager Chuck Tanner started Bert Blyleven, coming off a complete-game win in Game Three of the NLCS and the winner of World Series Game Five with four shutout innings of relief.
One-out groundball double plays helped both starters in the first inning. Dave Parker hit into a 4-6-3 after Tim Foli was hit by a pitch. In the Cardinals half, Ken Oberkfell walked and Bill Madlock started a 5-4-3 double play off the bat of Hernandez.
Vuckovich set down the Pirates in order in the top of the second, striking out Stargell for the first out.
Bobby Bonds, making his first plate appearance as a Cardinal, drew a walk from Blyleven in the bottom of the second. Bonds had been obtained in a December trade to replace Brock in left field.4 Tom Barnidge of the St. Louis Post-Dispatch wrote, "He became the only visitor to all four bases in the second inning. If the Redbirds hadn't obtained Bonds in the offseason, they might still be on the field."5 George Hendrick doubled inside the third-base line, as Bonds circled the bases to score the only run of the day. "I enjoy running the bases. I like to gamble, so I was glad to see (third-base coach Jack) Krol sending me. It was going to take two perfect throws to get me," said Bonds.6 Meanwhile Hendrick advanced to third on the throw home. Tony Scott bounced back to Blyleven, who tossed to first for the second out. On the throw Hendrick went for home but was tagged out by catcher Ed Ott in a collision at home plate on the throw from Stargell, ending the inning.
Pitching continued to dominate the game through the next three innings. Only one ball left the infield against Vuckovich, a fly ball to center field by John Milner. Vuckovich had allowed no hits, struck out five (Stargell twice), and got eight groundball outs in the first five innings. In the Cardinals fifth, Ken Reitz singled with two outs but Vuckovich struck out to end the inning. With one out in the top of the sixth, Phil Garner singled to break up Vuckovich's no-hitter. Mike Easler, pinch-hitting for Blyleven, hit into a double play on a one-hopper to second. "If there had been no one on base. I would have let Blyleven bat," said Tanner.7
Omar Moreno walked to lead off the seventh inning and became the first Pirate to reach third base. He stole second base, and Parker's fly ball to right advanced him to third. But Stargell grounded back to the pitcher for the third out. Pittsburgh's Madlock singled in the eighth, but was left stranded at first.
Enrique Romo, who had taken over for Blyleven in the sixth, faced the minimum nine batters in his three innings of work. His only blemish was a single to center field by Reitz with one out in the bottom of the eighth. With Reitz on first, Boyer let Vuckovich bat with the 1-0 lead; He responded by hitting a line drive but shortstop Foli grabbed it and doubled up the slow-footed Reitz off first base. The Cardinals led 1-0 going into a tension-filled ninth.
"For those who call baseball boring, Thursday's ninth inning should be made required viewing," wrote the St. Louis Post-Dispatch's Rick Hummel.8 The defending World Series champs weren't going without a fight. Lee Lacy pinch-hit for Romo and singled to center field. Moreno followed with his second walk of the game. Charley Feeney wrote, "The crowd in the ninth appeared to lose their vocal cords when the first two Bucs got on base."9 Both runners advanced on a wild pitch. Tim Foli was up; his seventh-inning K was the first time he had struck out since 197 plate appearances earlier, on August 18, 1979.10 But Vuckovich struck him out again, the pitcher's seventh strikeout victim. One out.
With Mark Littell and Don Hood warming up in the bullpen, manager Boyer made a trip to the mound. "I wanted to relax him. I wanted to remind him that there was a big job to be done," Boyer said later. Vuckovich told his manager: "This is my game. I want it. I'll get it."11 Three more pitches and Parker was struck out swinging, as the crowd roared. "The pitches were looking good and then the ball would break away. He kept me off balance," said Parker. "Then he came in with the high rider."12 The next batter, co-MVP Stargell, took a breaking pitch for strike one. He then swung at a pitch in the dirt that skipped away from Simmons. "I went to sleep. He was so right there with his slider all day. The ball hit the dirt but I could have blocked it," said Simmons.13 As the runners edged off second and third,14 Vuckovich threw three straight balls to Stargell, bringing the count to 3-and-2. Vuckovich then threw a nasty breaking pitch; Stargell swung and missed, losing his bat in the process. Strike three, game over. With runners on second and third and nobody out, Vuckovich had buckled down and struck out the side.
Cardinals catcher Simmons summed up the game aptly: "This is the way they play ball in September. There was a whole lot of tension out there."15
The first battle of dueling MVPs turned into a fizzle. Hernandez was 0-for-3 with three groundouts, one a double play. Stargell went 0-for-4, striking out three times, including that final one to end the game.
Stargell had a hard time staying on the field during the 1980 season. He missed more than a week early in the season after being hit on the hand by a pitch. On July 10 he was placed on the disabled list with a pulled hamstring. A second trip to the DL with a knee injury ended his season. Playing in 67 games, he hit 11 home runs and batted .262. Hernandez had a typical season for him, earning his third Gold Glove Award and a second trip to the All-Star Game. He led the National League in runs scored, hit 16 homers, drove in 99 runs, and batted .321 with a league-leading .408 on-base percentage.
The game took just 1 hour and 51 minutes to complete with the crowd shouting, "Vuke, Vuke, Vuke."16During his three-hit shutout (nine strikeouts, two walks), Vuckovich "was overwhelming at times."17 He finished the season 12-9 over 222⅓ innings, with a 3.40 ERA. Blyleven, a future Hall of Famer, took the loss while giving up only two hits, one of them a costly double driving in the only run of the game.
Before heading home for their World Series banner-raising on Monday, the Pirates went on to win the final three games of the series, leaving town a half-game in front of their cross-state rival Phillies.
The Cardinals fell into last place two games back of Pittsburgh. The Pirates remained in first place through the first week of June, falling out of first on June 8 after splitting a doubleheader with the Mets. On that same day Montreal swept a doubleheader against St. Louis and moved into first place. Ruck Hummel wrote, "As the last-place Cardinals fell 12½ games behind, Boyer was fired between games.18 Meanwhile, back in St. Louis, Whitey Herzog was being named manager at a press conference at Grant's Farm, the home of Cardinals Owner August A. Busch Jr.19
The Pirates, Expos, and Phillies all jockeyed for first place throughout the year, before Pittsburgh faded in September with 10-17 record. They finished in third place, eight games behind the Phillies, who won the World Series. The Cardinals ended the season 17 games in back of the Phillies.
Sources

In addition to the sources cited in the Notes, the author used the Baseball-Reference.com, and Retrosheet.org websites for box score and player statistics.
https://www.baseball-reference.com/boxes/SLN/SLN198004100.shtml
https://www.retrosheet.org/boxesetc/1980/B04100SLN1980.htm
Notes
1 Stargell and Hernandez appeared in six more games together in 1980. The next time two MVPs from the last season played in the same game was June 8, 2001, when 2000 NL MVP Jeff Kent of the San Francisco Giants and 2000 AL MVP Jason Giambi of the Oakland Athletics played in a game at Oakland's Network Associates Coliseum.
2 "N.L. Box Scores," The Sporting News, April 26, 1980: 32.
3 "Redbird Notes," St. Louis Post-Dispatch, April 11, 1980: 4B.
4 December 7, 1979: Bobby Bonds traded by Cleveland Indians to St. Louis Cardinals for John Denny and Jerry Mumphrey.
5 Tom Barnidge, "Hitting Heroes Are Few; Cards Find One Is Enough," St. Louis Post-Dispatch, April 11, 1980: 2B.
6 Barnidge.
7 "Notes," Pittsburgh Post-Gazette, April 11, 1980: 11.
8 Rick Hummel, "Vuckovich Relieves Cardinals' Tension," St. Louis Post-Dispatch, April 11, 1980: 1B.
9 Charley Feeney, "Vuckovich Steals Show as Bucs Lose Opener," Pittsburgh Post-Gazette, April 11, 1980: 10.
10 In 1979 Tim Foli struck out only 14 times in 532 regular-season at-bats, making him the toughest batter to strike out in the majors. In 42 postseason 1979 at-bats, he didn't strike out at all.
11 Feeney.
12 Cal Fussman, "'Vuke' Gets Early Cy Young Vote," St. Louis Post-Dispatch, April 11, 1980: 2B.
13 Hummel, "Vuckovich Relieves Cardinals' Tension": 4B.
14 baseball-reference.com and retrosheet.org, Both have Vuckovich throwing a wild pitch while
Foli batted in the ninth inning. Both the St. Louis Post-Dispatch and Pittsburgh Post-Gazette reported that the wild pitch was thrown during Stargell's at-bat.
15 Hummel "Vuckovich Relieves Cardinals' Tension": 1B.
16 Hummel "Vuckovich Relieves Cardinals' Tension": 1B.
17 Feeney, "Vuckovich Tops Bucs in Opener," Pittsburgh Post-Gazette, April 11, 1980: 11.
18 The Cardinals went through Jack Krol (one game), and Whitey Herzog (73games) before closing out the season with Red Schoendienst as their fourth manager in 1980.
19 Hummel, "Boyer Out – Can Herzog Revive Redbirds?" The Sporting News, June 21, 1980: 10.
Additional Stats
St. Louis Cardinals 1
Pittsburgh Pirates 0
---
Busch Stadium
St. Louis, MO
Box Score + PBP:
Corrections? Additions?
If you can help us improve this game story, contact us.
Tags
https://sabr.org/sites/default/files/Vuckovich-Pete-STL.jpg
600
800
sabr
/wp-content/uploads/2020/02/sabr_logo.png
sabr
2020-03-31 18:02:27
2020-06-22 16:14:09
April 10, 1980: Cardinals' Vuckovich shuts out defending champion Pirates on Opening Day