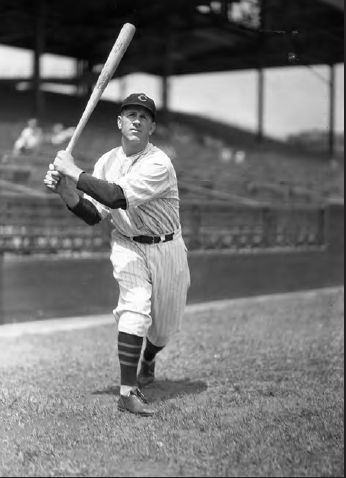 April 12, 1927: Cubs wallop defending champion Cardinals on Opening Day
---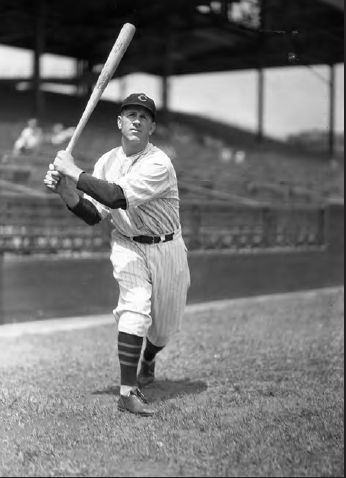 In the early part of 1927, the Midwest was bursting with anticipation as the baseball season segued from projections to facts delivered by daily sports accounts. By mid-April, pitching matchups, game summaries, and season standings would replace the "dreary box-scoreless winter" to provide "something in the newspapers." Even an umpire might expect applause for one day with fans feeling "mighty peart" as the new campaign stepped off.1
In Chicago, the ballpark just west of Lake Michigan on Addison Street had undergone another name change before its 14th season of operation took shape with the site being rechristened as Wrigley Field. Originally named Weeghman Park in 1914, its identifier was followed by North Side Ball Park, Federal League Ball Park, Whales Park, and Cubs Park.2 Despite cloudy and cold weather conditions on April 12, an above-capacity crowd was expected to squeeze into the venue by 3 P.M. to watch right-hander Charlie Root and their Cubs take on the defending World Series champion St. Louis Cardinals.
Chicago manager Joe McCarthy directed his team through a workout the day before the opener.3 Two months earlier, Marse Joe had said his squad should contend for the National League pennant after finishing fourth at 82-72 in 1926.4 New Cardinals skipper Bob O'Farrell planned to start former Cub (and 1926 World Series hero) Grover Cleveland "Pete" Alexander. O'Farrell would defer to southpaw Bill Sherdel should Alexander decide that his right arm could not answer the bell.5
St. Louis fans were excited for the new season, and still rejoicing about the '26 World Series triumph over Babe Ruth and the New York Yankees. A sports-section cartoon in the St. Louis Post-Dispatch, captioned "A.W.O.L.," portrayed an empty business desk with the wall clock chiming three bells.6 The St. Louis Star, in a bordered box on its lead sports page, asked readers not to call the paper for game results, because its telephone trunk line would be unable to handle the extra congestion.7
McCarthy was in his second year at the Cubs' helm. Besides O'Farrell, seven new major-league managers would be tasked with improving their clubs' previous season. The Cleveland Indians, Chicago White Sox, Detroit Tigers, St. Louis Browns, and Boston Red Sox signed new mentors in the American League, while the Pittsburgh Pirates and Philadelphia Phillies did likewise in the senior circuit.8 O'Farrell was a playing manager like his predecessor, Rogers Hornsby. Despite winning the Cardinals' first world championship in 1926, Hornsby had been astonishingly traded by owner Sam Breadon, to the New York Giants in December in a deal that was prompted by a personality and salary dispute.9
With Baseball Commissioner Kenesaw Mountain Landis seated nearby,10 Cubs owner William Wrigley Jr. was all smiles standing at the box-seat rail when Chicago Mayor William Hale "Big Bill" Thompson tossed out the first ball of the season. Hats, gloves, and overcoats made up the grandstand apparel for the chilly afternoon.11 Because of the overflow crowd, especially in the outfield, ground rules would be implemented by umpires Bill Klem, Frank Wilson, and Beans Reardon. O'Farrell had Alexander and Sherdel warm up together before the 40-year-old Aleck, after a long conference with the manager and coach Bill McKechnie, convinced them that he would be okay.12
After Klem shouted "Play Ball!" Root fired a pitch and Taylor Douthit lined a ground-rule double down the right-field line. Any other day Douthit might have had a triple; however, two bases was the limit when the ball went into the crowd. Billy Southworth smacked a hard grounder to shortstop Jimmy Cooney, who fired to third baseman Riggs Stephenson to nab Douthit. Root had Southworth picked off first but threw wild and Southworth advanced to second. Frankie Frisch flied out to center, but slugger Jim Bottomley walked, and Les Bell knocked home Southworth with a double. Bell drove in 100 runs in 1926 (along with six postseason RBIs), so he was picking up where he left off. Root settled down and struck out Chick Hafey to retire the side.
Alexander, a longtime Cubs pitcher, had already been booed and cheered mightily by the Chicago faithful. He retired the first two batters, Sparky Adams and Cliff Heathcote, in the bottom of the first, but a Cubs newcomer, outfielder Earl Webb, blasted a home run to right field completely out of the park to tie the score, 1-1, and the partisan crowd roared its approval.13 Although Webb had hit very well during spring training at Catalina Island, the 29-year-old left-handed-hitting rookie might not have been in the lineup had lefty Sherdel been the St. Louis starter.14
The Cubs missed a scoring chance in the second inning when Stephenson was thrown out after rounding third base too far on an infield hit by Mike Gonzalez. Root opened the third with a ground-rule double and advanced a base as Adams legged out a bunt. With the bases loaded, Hack Wilson barely beat out a potential inning-ending twin killing, allowing Root to score.15 Stephenson's single plated Adams, and Charlie Grimm crashed a three-run homer to climax the five-run assault and provide Chicago with a 6-1 advantage.
Root fetched a bit of bulldog determination in the top of the fourth with a pair of strikeouts for his first 1-2-3 inning. The tobacco-juice-spitting 28-year-old hurler was suitably nicknamed "Chinski" for throwing high and inside to hitters. For batters wary of where the pitch was going, his curve (described by Root as a "wrinkle ball") effectively confounded hitters.16
Alexander held the Cubs during the fourth, and was lifted for a pinch-hitter the next inning, as Root set the Cardinals down again for nine in a row. In Alexander's four innings he gave up six earned runs on six hits, one walk and no strikeouts. Herman "Hi" Bell relieved for St. Louis, and pitched around a walk. Frisch and Bottomley opened the St. Louis sixth with singles, but Root fanned Les Bell and Hafey. A passed ball by Gonzalez moved St. Louis runners up and the Cardinals were a clutch safety away from making it close. Root would have none of that though, as he struck out O'Farrell.
Chicago attempted to add to its lead in the sixth, but second baseman Frisch pegged out Stephenson trying to steal home. Root was the benefactor of a double play in the seventh after Tommy Thevenow walked. Specs Toporcer, pinch-hitting for Hi Bell, lined to Adams, who tossed to Grimm to double up Thevenow. Southpaw Eddie Dyer entered the game for St. Louis and retired the Cubs in order.
The bottom of the eighth was a totally different story for the 27-year-old Dyer, who allowed four runs on five hits and two walks. Webb smashed his second home run of the game leading off the frame. Wilson walked and went to third on Stephenson's ground-rule double. Grimm and Gonzalez hit consecutive run-scoring singles to make the score 9-1, and Adams singled home another tally to make it a 10-1 blowout. After retiring Heathcote on a groundball to first to end the frame, Dyer trekked off a major-league diamond for the final time during a pitching career that covered six seasons. (He returned to the St. Louis dugout as the manager in 1946-50 and won the World Series in '46.)
Root finished off an impressive complete-game victory in 1 hour and 57 minutes. Chicago scored 10 runs on 12 hits and the Cardinals one run on seven hits. Each team committed an error. Since 1907, the Cubs had opened the season against the Cardinals seven times and now sported a 5-1-1 mark in those games.
The victory started Root on the way to a major-league-leading 26 wins (against 15 losses) for the 1927 Cubs, who finished fourth with an 85-68 record. The team was in first place at the end of August, but ended the season 12-18 to drop out of the pennant race. Alexander rebounded from the Opening Day loss to finish 21-10 with a 2.52 ERA for the second-place Cardinals. At the end of the '27 season Aleck's remarkable career won-loss record stood at 348-188.
Wrigley Field seated just over 34,000, but some accounts reported this Opening Day gathering as large as 45,000 with patrons standing on the field, in the aisles, and even among the structure's rafters.17 The Cubs led the NL in attendance in 1927 with a then-record 1,159,168 flowing through the gates.
This article appears in "Wrigley Field: The Friendly Confines at Clark and Addison" (SABR, 2019), edited by Gregory H. Wolf. To read more stories from this book online, click here.
Sources
In addition to the sources cited in the Notes, the author also accessed Retrosheet.org, Baseball-Reference.com, Newspapers.com, SABR.org/bioproj, and The Sporting News archive via Paper of Record.
Notes
1 James M. Gould, "Gould's Gossip," St. Louis Star and Times, April 12, 1927: 17.
2 Scott Ferkovich, "Wrigley Field," SABR Baseball Biography Project, https://sabr.org/bioproj/park/wrigley-field-chicago.
3 "Pointing the Path to a Pennant," Chicago Tribune, April 12, 1927: 29.
4 Bob Ray, "M'Carthy Says Cubs Stronger," Los Angeles Times, February 2, 1927: 40-41.
5 J. Roy Stockton, "Cards Open in Cold at Chicago," St. Louis Post-Dispatch, April 12, 1927: 17.
6 Quill (artist), "A.W.O.L.," St. Louis Post-Dispatch, April 12, 1927: 17.
7 St. Louis Star and Times, April 13, 1927: 16.
8 Davis J. Walsh-INSS Editor, "Trouble Over Hornsby Case Ended, Baseball Is Now All Set to Go," St. Louis Star and Times, April 11, 1927: 16.
9 Rob Rains, The St. Louis Cardinals, the 100th Anniversary History (New York: St. Martin's Press, 1992): 43-44.
10 "Looking Over His Boys," Chicago Tribune, April 13, 1927: 23.
11 "'Big Bill' Thompson Sees Cubs Win," St. Louis Star and Times, April 13, 1927: 16.
12 Ray J. Gillespie, "World Champions Lose First Game of Season," St. Louis Star and Times, April 13, 1927: 16.
13 Irving Vaughan, "Cubs Beat Cards, 10-1, Before 45,000," Chicago Tribune, April 13, 1927: 23.
14 Vaughan, "Aged Aleck to Climb Hill for World Champs," Chicago Tribune, April 12, 1927: 29.
15 Gillespie, "World Champions Lose."
16 Gregory H. Wolf, "Charlie Root," SABR Baseball Biography Project, https://sabr.org/bioproj/person/22e9a7e7.
17 Vaughan, "Cubs Beat Cards, 10-1."
Additional Stats
Chicago Cubs 10
St. Louis Cardinals 1
---
Wrigley Field
Chicago, IL
Box Score + PBP:
Corrections? Additions?
If you can help us improve this game story, contact us.
Tags
https://sabr.org/sites/default/files/CharlieGrimm.JPG
600
800
admin
/wp-content/uploads/2020/02/sabr_logo.png
admin
2019-11-26 14:22:05
2020-04-17 10:22:24
April 12, 1927: Cubs wallop defending champion Cardinals on Opening Day