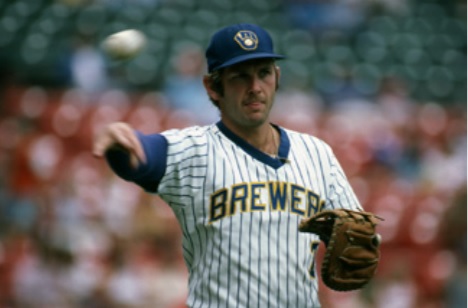 April 12, 1980: Brewers' Cooper, Money belt two grand slams in one inning
---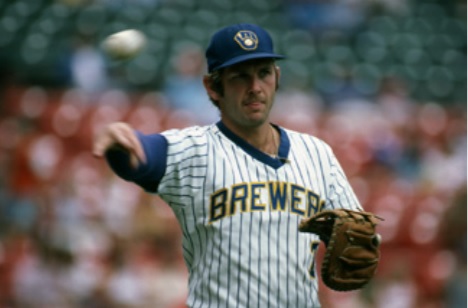 Fresh off a second-place finish in 1979, the Milwaukee Brewers arrived in training camp in Sun City, Arizona, in 1980 with dreams of a division title. But talk of games and pennants was shunted aside when, on March 6, Brewers manager George Bamberger was hospitalized with chest pains.
Bamberger had suffered a mild heart attack. He was flown to Milwaukee, where a coronary angiogram revealed a blocked artery, and quintuple-bypass surgery was performed. Although the 56-year-old skipper was recovering comfortably, it was evident that the Brewers were going to have to open the season without Bamberger at the helm.
Third-base coach Bob "Buck" Rodgers, a former catcher who had managed in the California Angels' minor-league system and coached with the Minnesota Twins and San Francisco Giants before joining Bamberger's staff, was named the team's interim manager.
Larry Hisle spoke for his teammates when he said, "We wish the best for George. As a team, we have to think about what we have to do. Now we'll have to go out and play as hard as we can for Buck."1
The Brewers did just that in the season opener against the Boston Red Sox on April 10, slugging four home runs to overcome a three-run deficit, and then, after Boston tied the game in the top of the ninth, pulling out a thrilling 9-5 victory on a walk-off grand slam by Sixto Lezcano.
After a night off because of bad weather, Rodgers tapped Lary Sorensen to start the second game before 16,962 fans on a cold, raw Saturday afternoon. The 24-year-old right-hander had blossomed in his sophomore season, winning 18 games in 1978 and hurling three innings of one-hit ball in the All-Star Game, before slipping to a 15-14 record in 1979.
Mike Torrez got the start for Boston. The veteran right-hander had forged identical 16-13 seasons for the Red Sox in 1978 and '79 and had been a 20-game winner with the Orioles back in 1975, but was already destined to be best remembered for serving up Bucky Dent's game-winning home run that cost the Red Sox the 1978 American League East title.
The hard-hitting Red Sox were led by young superstars Fred Lynn (an AL-best .333 with 39 homers in 1979) and Jim Rice (.325, 39 HR), and veteran sluggers Carl Yastrzemski, still productive in his 20th big-league season, and Tony Perez, signed as a free agent in the offseason. Boston had finished in third place in 1979, just 3½ games behind Milwaukee, but had beaten the Brewers in 8 of 12 matchups.
The Brewers' lineup boasted future Hall of Famers in Paul Molitor, who'd batted .322 in 1979 and would lead the loop in hitting the first few months of 1980 until injuries dragged him down to .304, and Robin Yount, poised for a breakout .293, 23-home-run campaign. Providing ample support were Cecil Cooper, who overtook Molitor in the batting race until overtaken himself in late July by Kansas City's George Brett, winding up at .352; Ben Oglivie, on his way to a home-run crown; and all-or-nothing slugger Gorman Thomas, AL leader in home runs in 1979 with 45 and strikeouts with 175. Hisle, who'd been limited to 26 games in 1979 by a torn rotator cuff but averaged .296 with 31 home runs in 1977 and '78, was penciled in as designated hitter.
While the Red Sox failed to get a hit off Sorensen in the top of the first inning, the Brewers jumped off to a quick start in the bottom of the frame.
Molitor led off with a walk. Cooper grounded to Torrez, who threw past Perez at first, allowing Cooper to reach second and Molitor to advance to third. Hisle, who had been held out of the opener when the weather was deemed too cold and damp for his recovering shoulder, singled, scoring Molitor, and lighting up County Stadium's new computerized scoreboard with the first run of the game.
Oglivie bounced back to the mound. Torrez, trying for the force at second, made another poor throw to load the bases, Cooper holding at third. A sacrifice fly by Lezcano scored Cooper to give the Brewers a 2-0 lead.
Sorensen dismissed the Sox again in the second, surrendering only a single to Perez.
Jack Brohamer took over at third base for Boston in the bottom of the inning, replacing Butch Hobson, who'd aggravated a hamstring injury.
Yount singled to left and promptly stole second. Buck Martinez worked Torrez for a walk, and Molitor loaded the bases on a bunt single. Then Cooper, stepping into a 2-and-1 delivery from Torrez, launched the ball into the left-center-field bleachers for a grand slam to break the game open and give Milwaukee a 6-0 lead.
That was all for Torrez, as Boston skipper Don Zimmer pulled his staggered starter and brought in Chuck Rainey, coming off a promising 8-5 rookie season.
The fresh arm hardly mattered. Hisle walked. Oglivie doubled, advancing Hisle to third. After Thomas went down swinging, Lezcano was intentionally passed to load the bases. Then, on a 2-and-1 pitch from Rainey, Money connected for another bases-clearing home run and a 10-0 lead.
On the bench, Sorensen teased Rodgers. "Two grand slams! Boy, Buck, you can really manage!"2
The next batter, Yount, followed with a shot down the right-field line for yet another home run.
In the press box, a Boston scribe captured the ebullience of the Brewers and their fans and the desultory mood of the Red Sox:
"The [Brewers] chant and sing and seem to enjoy themselves. … Organ music is being played in the background. The exploits are being replayed for the civilian populace on a giant propaganda scoreboard. The civilians are screaming for more; waving little blue flags, drinking beer and eating sausages, their national food. … The Brewers just run themselves silly on the base paths. They do not stop. Our men just become colder as they watch it all. Frozen. Silent. Intimidated. A euphoric voice from a large speaker system seems to announce another record with every other base hit. … I am here in the war zone and I am not sure of anything anymore except the fact that the Milwaukee Brewers sure can hit that baseball."3
Nine runs in the inning had exploded the score to 11-0, but as Sorensen recalled, "Buck said to treat it like a 1-0 game. That's pretty hard to do when you look out at that big scoreboard and there are two ones right next to each other up there."4
Milwaukee struck again in the fifth inning when, after two quick outs, Rainey plunked Oglivie with a pitch and Thomas walked. Lezcano doubled, driving in both runners and pushing the Brewers' lead to 13-0.
The beleaguered Red Sox finally got on the scoreboard in the sixth inning when Lynn and Yastrzemski singled and Perez brought Lynn home with a base hit.
Bruce Hurst, a 22-year-old left-hander making his major-league debut, took the mound for the Red Sox in the bottom of the inning. Hurst proved no more effective than either Torrez or Rainey.
Yount led off with a walk and, after one out, Molitor reached on a single. Cooper followed with a double, scoring Yount. Hisle fanned, but Oglivie singled, scoring Molitor and Cooper, with Oglivie taking second on Dwight Evans' throw home. Thomas then belted a two-run homer, the Brewers' fourth of the afternoon. Going into the seventh inning the Brewers held an 18-1 lead.
At this point, Rodgers elected to pull some of his starters. Ned Yost and Mark Brouhard entered at catcher and first base, respectively, and Jim Gantner spelled Molitor at second. Rodgers sent reliever Bill Castro to the mound, despite Sorensen's having held the Red Sox to one run in six innings.
"I told the starters I don't care about complete games," said Rodgers, "just winning and losing."5
The Brewers put away the Red Sox efficiently over the final innings as Castro retired the side on three quick groundouts in the seventh, rookie Dan Boitano pitched a scoreless eighth, and Bob McClure struck out two of three batters in the ninth to enter the game into the books.
The Brewers' 18 runs set a team record. They might have scored 19 had the rookie Brouhard, attempting to score on a fly out, not underestimated the arm of Boston center fielder Lynn and been doubled up at the plate to end the eighth inning.
The nine runs in the second inning broke the team record of eight scored against the Oakland A's in 1977, and remained a team best until a 13-run outburst in a 20-7 pasting of the California Angels in 1990.
Milwaukee's two grand slams in one inning tied a major-league record first set on August 18, 1890, when the Chicago Colts stroked a pair against Pittsburgh, and matched by the Twins (1962), Astros (1969), Orioles (1986), Cardinals (1999), and Mets (2006).
This article appears in "From the Braves to the Brewers: Great Games and Exciting History at Milwaukee's County Stadium" (SABR, 2016), edited by Gregory H. Wolf. To read more stories from this book at the SABR Games Project, click here.
Sources
In addition to those in the notes, the author consulted:
New York Times
Newsday
Notes
1 "He'll Manage," Milwaukee Journal, March 11, 1980: B6.
2 "Brewers Sink Red Sox With Two Grand Slams," San Bernardino County Sun, April 13, 1980: D5.
3 "A Quagmire, a Total Mess," Boston Globe, April 13, 1980: 1.
4 "A Grand Victory: 18-1," Milwaukee Journal, April 13, 1980: B6.
5 "Young Ideas," The Sporting News, May 10, 1980: 18.
Additional Stats
Milwaukee Brewers 18
Boston Red Sox 1
---
County Stadium
Milwaukee, WI
Box Score + PBP:
Corrections? Additions?
If you can help us improve this game story, contact us.
Tags
https://sabr.org/sites/default/files/Don%20Money.jpg
600
800
admin
/wp-content/uploads/2020/02/sabr_logo.png
admin
2018-04-06 14:01:48
2020-04-17 10:24:50
April 12, 1980: Brewers' Cooper, Money belt two grand slams in one inning