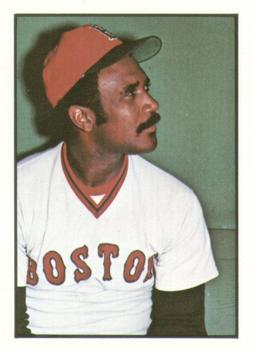 April 14, 1978: Jim Rice gets impatient; Red Sox pull even on the young season
---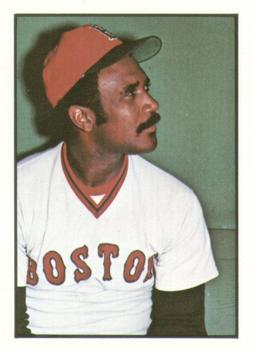 "When Red Sox slugger Jim Rice gets impatient, look out." So began Bill Liston's game story in the next day's Boston Herald.1
The Boston Red Sox started the 1978 season on the road, losing their first two games to the Chicago White Sox, both 6-5, picking up a win, then splitting a pair in Cleveland. All three losses were by just one run, and two of them were walk-offs by the opposition. The Texas Rangers were also 2-3.
The home opener was on Friday afternoon, April 14, at Fenway Park. Don Zimmer was the Red Sox manager; Billy Hunter was the manager for the Rangers. The place was sold out with an announced attendance of 34,747.
This turned out to be a season in which every win counted for the Red Sox, but they needed to win 100 games and won 99. The Rangers made a run, coming in tied (with the Angels) for second place, both five games behind the Kansas City Royals.
The starting pitchers were Dennis Eckersley for the Red Sox and Doyle Alexander for the Rangers.
Right-hander Alexander had been 17-11 with the Rangers in 1977, their winningest pitcher. Eckersley, a future Hall of Famer, had been 14-13 with the Indians in '77, also their winningest pitcher and a righty.
A leadoff double by Rangers third baseman Toby Harrah in the top of the second inning, followed by back-to-back fly outs, gave the Rangers a 1-0 lead. In the top of the third, catcher Jim Sundberg led off with a home run. In the bottom of the fourth, Red Sox center fielder Fred Lynn homered off Alexander and Boston got one back. The Red Sox tied it, 2-2, in the sixth inning when catcher Carlton Fisk led off with a wind-carried triple to right field and first baseman George Scott singled him home after Lynn fouled out the catcher. After the game, Hunter talked about his right fielder, Claudell Washington, who struggled all day against the sun and adverse wind conditions: "You could see Claudell and the rest of the outfielders were having their problems. He told me his glasses flopped down as he went for Fisk's drive. When he had flicked them up, he had lost the ball and it was behind him."2
The pattern somewhat repeated itself with Texas scoring single runs in the seventh and eighth, again establishing a two-run lead. In the seventh Harrah again led off with a double to left field. This time he scored after tagging up on a fly to center and coming home on a single to center by Rangers center fielder Juan Beniquez. In the eighth, it was again a leadoff home run, this time by first baseman Mike Hargrove — the fourth extra-base hit Eckersley had surrendered to the first batter in the inning.
The Red Sox tied it up, 4-4, in the bottom of the eighth. Right-handed reliever Len Barker had come in during the seventh, replacing Alexander. He got the first out in the eighth but then third baseman Butch Hobson homered. Second baseman Jerry Remy singled, took second on a passed ball, and then took third on a groundout to shortstop. With two outs, Jim Rice — the DH — singled to center field, driving in Remy. The hard-hit ball "nearly tore [second baseman] Bump Wills' glove off."3
Eckersley gave up a pair of one-out singles in the ninth, but then got two fly outs. Fisk led off the home ninth with a double ("a sure homer that blew back in"),4 but Barker intentionally walked Lynn and Scott grounded into a double play. Dwight Evans, Boston's right fielder, popped up to first base. Why hadn't Zimmer called for Scott to bunt in that situation? "Because I didn't want him to bunt," he replied to the question posed. He did offer a bit more explanation. Barker was throwing 90 and Scott hadn't bunted more than three or four times in the past six years. "Scott's been hitting the ball as well as anybody on the team. Earlier, he'd knocked in a big run and I wasn't having him bunt."5
It was extra innings, and Eckersley came back out to work the top of the 10th. Groundout, single, fly-ball out, single. Zimmer decided to bring in Dick Drago (another righty) to relieve Eckersley. Harrah was due up again. There were runners on first and second — until Drago uncorked a wild pitch. The runners took second and third, but were held there when Drago struck out Harrah. He pretty much blew him away; "Let's just say I get very pumped up in this ballpark," he told Peter Gammons after the game.6
For Jerry Remy, it was his first game at Fenway Park as a member of the Red Sox. He'd played his first three years for the Angels but had been traded back to his native Massachusetts in December 1977. "I don't think I've ever been so high for a game in my life," Remy said after the game. "It was a weird feeling. I was really shaking out there in the first inning. My parents were here and, believe me, it took me about three innings to calm down."7 Remy was 2-for-4 with one run scored.
The bottom of the 10th was like scripted small ball: Butch Hobson singled to center field leading off. Remy executed a sacrifice bunt, pitcher to second baseman Wills covering first base. Shortstop Rick Burleson grounded out to second and Hobson moved to third base. Jim Rice singled to right field, over Claudell Washington's head, and the game was over.
The Red Sox left 14 runners on base during the game. Rice, Liston wrote, "wearied of seeing so many Sox runners stranded yesterday, and he did something about it. The 25-year-old Rice singled home the tying run in the eighth, and then hit a two-out, moon-shot single in the 10th to bring home the decisive run as the Red Sox won their home opener, 5-4."8 The ball hit off the wall in front of the Red Sox bullpen. "What other earthly human," Gammons asked, "gets jammed and hits bullets off the bullpen wall?"9
Rice, typically a right-handed pull hitter, knew the wind was coming in from left, so he deliberately sought to go the other way. "I wasn't going to try to bust one to left. … You saw what the wind did to a couple of balls that looked like they were out. The pitch was up around my neck and I fought it off and muscled it into right."10 "What other earthly human," Gammons wrote, "gets jammed and hits bullets off the bullpen wall?"11 The wind was indeed so strong that it blew the cap off Billy Hunter's cap when he strolled out to the mound to replace Alexander.12
It was the first of 11 walk-off wins for the Red Sox in 1978. They lost 13 games to walk-offs. Drago got the win, but by the time the season was over Eckersley was a 20-game winner (20-8, with a 2.98 ERA).
When the season ended, the Red Sox had to play one more game that hadn't been on the schedule. The Red Sox and Yankees both had identical 99-63 records. A single tiebreaker playoff game was required to determine who won the American League East. This game, too, was played at Fenway Park, on October 2. This one ended 5-4, as well, but in favor of the Yankees. Some still-traumatized Red Sox fans will occasionally mutter something rude regarding Bucky Dent.
But the home opener started the home season nicely and the summer was a very promising one, until it wasn't. The Red Sox had a nine-game lead over everyone at the All-Star break. The Yankees had been 14 games behind as late as July 19. Not only did they catch the Red Sox but they went on to beat the Royals and then the Dodgers for another world championship.
Jim Rice, who had the winning hit in the home opener, led the majors in 1978 with 139 runs batted in. He also led in base hits (213), triples (15), homers (46), slugging percentage (.600), and total bases (406). He played in every one of Boston's 163 games. He was named Most Valuable Player in the American League, and later was inducted into the National Baseball Hall of Fame.
Sources
In addition to the sources cited in the Notes, the author relied on both Retrosheet.org and Baseball-Reference.com.
retrosheet.org/boxesetc/1978/B04140BOS1978.htm
baseball-reference.com/boxes/BOS/BOS197804140.shtml
Notes
1 Bill Liston, "Sox Give It That Little Something Extra," Boston Herald, April 15, 1978: 19.
2 Larry Whiteside, "For Claudell, a Day to Forget," Boston Globe, April 15, 1978: 21.
3 Joe Giuliotti, "Rice's Respect for Wind Results in Win," Boston Herald, April 15, 1978: 19.
4 Peter Gammons, "Eckersley Goes 9⅔ … Drago Provides Relief," Boston Globe, April 15, 1978: 21.
5 Liston.
6 Peter Gammons, "Zimmer Sees Tiant on Active List by Tuesday," Boston Globe, April 15, 1978: 22.
7 Giuliotti.
8 Liston. Rice was termed a "fun-loving bomber his teammates call Punjab" — something that all sounds foreign to most Red Sox fans.
9 Gammons, "Eckersley Goes 9⅔."
10 Giuliotti.
11 Gammons, "Eckersley Goes 9⅔."
12 Bob Ryan, "Ah, Spring! Baseball's Back in Town," Boston Globe, April 15, 1978: 1, 22.
Additional Stats
Boston Red Sox 5
Texas Rangers 4
10 innings
---
Fenway Park
Boston, MA
Box Score + PBP:
Corrections? Additions?
If you can help us improve this game story, contact us.
Tags
https://sabr.org/sites/default/files/RiceJim-1978.jpg
600
800
admin
/wp-content/uploads/2020/02/sabr_logo.png
admin
2020-01-30 12:53:06
2020-04-17 10:22:19
April 14, 1978: Jim Rice gets impatient; Red Sox pull even on the young season