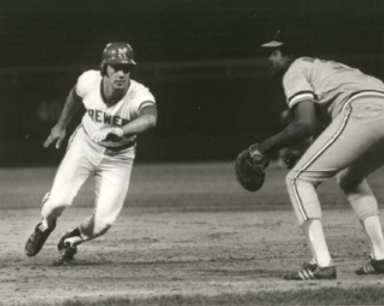 April 17, 1974: Gaylord Perry goes 15 innings; 'Macaroni Pony' hits walk-off homer for Brewers
---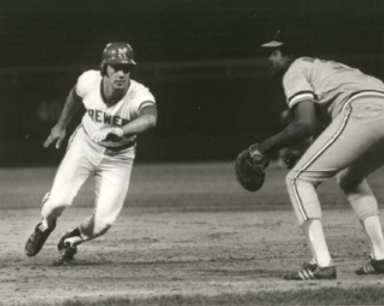 Before the era when "walk-off home run" became part of baseball's lexicon and pitchers earned millions for producing six- and seven-inning starts, Milwaukee County Stadium played host to one of the latest walk-off homers in history and also one of its lengthiest and most impressive starting performances. Remarkably, each of those signature events occurred in the same early-season game in 1974.
On Wednesday night, April 17, the Cleveland Indians visited Milwaukee for the second game of a two-game series. Going in, the Milwaukee Brewers had won five of their first eight games and were in first place in the American League East division, percentage points ahead of the New York Yankees. First place, even this early in the season, was rarefied air for the Brewers. Things had not gone well for the franchise since its relocation from Seattle (where the franchise began as the Pilots) in 1970; in the four years of the team's existence, the Brewers had yet to win 80 games or finish higher than fourth. This season, though, manager Del Crandall had high hopes that his young team, which had gotten younger with the addition to the lineup of 18-year-old shortstop Robin Yount, might finally turn the corner and start to realize its potential.
The Indians' pitcher, 35-year-old Gaylord Perry, promised to make things difficult. It wasn't enough that Perry had won 178 games; it was the way in which he'd done it that had earned the veteran right-hander equal amounts of respect and derision. Perry carried the reputation as a dirty pitcher, the owner of a nasty, illegal spitball, which he vehemently denied, but which opposing hitters were convinced he threw. Just the thought that he might possess that pitch tended to keep hitters off-balance and always guessing, and it made Perry a very tough pitcher to face.
On the mound for the Brewers was right-hander Jim Slaton. For five innings, he and Perry locked in a scoreless pitchers' duel. Both teams had opportunities to score, but each time Slaton and Perry got out of trouble. That all changed in the sixth inning.
Entering the sixth, Slaton had allowed just two hits and had walked one. That inning, though, Cleveland scored twice – on a single by George Hendrick, which brought in John Lowenstein from second base, and a subsequent single by John Ellis, which scored Hendrick. Later in the inning, Jerry Bell replaced Slaton for the Brewers, and after uncorking a wild pitch, Bell recorded the final two outs. The Brewers came to bat in the sixth trailing 2-0.
To this point, Perry was tossing a no-hitter. It was soon gone. After the first Indians batter in the sixth, Darrell Porter, grounded out, Yount reached base on an error by Indians third baseman Buddy Bell. Don Money became the second out with a fly ball to left. The next batter, Bob Coluccio, broke up the no-hitter with a single to right field, advancing Yount to second. But finally Dave May grounded out and the Brewers failed to score. Cleveland still led, 2-0.
In the seventh inning, the Indians doubled their advantage. After a leadoff groundout by Buddy Bell, red-hot Cleveland catcher Dave Duncan, in just his 26th at-bat of the season, drilled his fifth home run, pushing Cleveland's lead to 3-0. Frank Duffy then reached on an infield single but was picked off first. Lowenstein, too, singled. The next batter, Remy Hermoso, bunted. On the play, both pitcher Bell and third baseman Money charged, but Bell fumbled the bunt and Hermoso was safe at first. Money, though, was late returning to the bag, so Lowenstein advanced to third, from where he scored when Bell threw his second wild pitch of the game. A George Hendrick groundout retired the side, but not before Cleveland had upped its lead to 4-0. For Milwaukee, just three at-bats remained.
In the seventh both teams were retired in order, and Cleveland went down 1-2-3 in the eighth. In the bottom of the eighth the Brewers found some offense. Pedro Garcia, celebrating his 24th birthday, tripled to lead off the inning, and Darrell Porter drove him home with a single. Left-handed-batting Tim Johnson pinch-hit for Yount and struck out. Money reached on an infield single, but Coluccio hit into a force out, erasing Money as Porter went to third. With two outs, Dave May singled in Porter for the second run. George Scott ended the rally by grounding back to Perry. At the end of eight, the Brewers trailed, 4-2.
In the top of the ninth inning, right-hander Eduardo Rodriguez replaced Jerry Bell on the mound for the Brewers. Rodriguez immediately allowed a double to Buddy Bell, but that was it, as he retired the next three batters. Little could Rodriguez have known just how long his night would be.
The Brewers came up for their final at-bat still trailing 4-2. Leading off, fifth-place hitter Johnny Briggs struck out. The next batter, Bobby Mitchell, walked; afterward, Perry called that his "biggest mistake of the game."1 Then Garcia struck again, smacking his third home run of the season to tie the score, 4-4. Both Porter and Johnson struck out, but the Brewers had tied it. The game went into extra innings.
For the next five innings, Perry and Rodriguez were brilliant: Perry allowed just two hits and a walk, Rodriguez just one hit and a walk. In the top of the 10th the Brewers got a scare when Garcia, drifting into shallow right field to catch a pop fly, was hit in the jaw by right fielder Dave May's elbow, but Garcia remained in the game. In the top of the 15th inning, Tom Murphy replaced Rodriguez on the mound for the Brewers, and over the next two innings retired all six men he faced. The game went to the bottom of the 16th inning still tied, 4-4.
After 15 innings, Gaylord Perry had been outstanding, allowing just eight hits, four earned runs, and four walks, while striking out 14. Afterward, the Brewers' Mitchell told the press that Perry "didn't need any spitball tonight. He had this (holding his fingers apart the way a pitcher holds a forkball)."2 Bob Coluccio, too, said, Perry "had the best stuff I've ever seen him throw. He had his fastball going up three or four inches. He could have gone 20 or 25 innings, the way he was going, and he's 35. He was throwing at the end the same way he started."3 Indeed, Perry wanted to go out for the bottom of the 16th, but finally his night was through; Indians manager Ken Aspromonte called in veteran right-handed reliever Ken Sanders, a former Brewer, to start the inning.
Acquired in a trade after the 1969 season by Milwaukee, Sanders had been a workhorse out of the Brewers bullpen for three years, 1970-72: In 195 games he won 14, saved 61 and compiled an outstanding 2.21 ERA. Following the 1972 season, however, Sanders was traded to Philadelphia, then one month later, dealt to Minnesota. After a horrendous 27 games with the Twins (he amassed a 6.09 ERA), Sanders was released in August 1973, and Cleveland signed him. In the first game of this series, he'd saved the Indians' win for Jim Perry. Sanders entered this game with an outstanding 1.59 ERA.
The first batter up for Milwaukee was Bob Coluccio, whose teammates had taken to calling him Macaroni Pony, a variation on the Italian Stallion appellation applied to Coluccio by Milwaukee's radio broadcaster, Merle Harmon.4 (Coluccio's given name was Robert Pasquali.) Following an outstanding 1972 season at Triple-A Evansville, where he batted .300 and led the American Association in runs scored, the then-21year-old Coluccio, a 5-foot-11, 183-pound speedster, had gone to 1973 spring training and won a job, impressing manager Crandall with his aggressive play and quick bat. That season he started 102 games in the outfield for Milwaukee and, despite never hitting more than nine home runs in the minors, muscled out 15 for the Brewers. Now, he was the Brewers' starting center fielder and number-two hitter.
Coluccio stepped in against Sanders. The two had faced each other before. In 1973 Coluccio had doubled off Sanders in three at-bats, and a week earlier he had singled in Cleveland; so he knew what to expect.
Sanders fell behind Coluccio three balls and one strike. On the next pitch, Coluccio swung and drove a ball deep to left. Lowenstein leaped at the wall and tried to reach the ball, but it cleared the fence for a game-winning home run.
Later, Coluccio said he knew the ball would be out of the park as soon as he hit it. His swing was as perfect as he could ask for. "I was starting to get a little, not bored," he said, "but tired. Hitting a home run was the last thing on my mind, though. That's the truth. I wasn't hitting real well tonight and I just wanted to hit it up the middle."5
Instead, the Macaroni Pony hit one out, and sent the Brewers home with a 16-inning victory.
This article appears in "From the Braves to the Brewers: Great Games and Exciting History at Milwaukee's County Stadium" (SABR, 2016), edited by Gregory H. Wolf. To read more stories from this book at the SABR Games Project, click here.
Sources
Bob Coluccio Hall of Fame File, National Baseball Hall of Fame, Cooperstown, NY
Milwaukee Journal
Baseball-reference.com
Retrosheet.org
Notes
1 Milwaukee Journal, April 18, 1974.
2 Ibid.
3 Ibid.
4 The Sporting News, June 23, 1973.
5 Milwaukee Journal, April 18, 1974.
Additional Stats
Milwaukee Brewers 5
Cleveland Indians 4
16 innings
---
County Stadium
Milwaukee, WI
Box Score + PBP:
Corrections? Additions?
If you can help us improve this game story, contact us.
Tags
https://sabr.org/sites/default/files/ColuccioBob.png
600
800
admin
/wp-content/uploads/2020/02/sabr_logo.png
admin
2018-04-05 14:44:19
2020-04-17 10:24:50
April 17, 1974: Gaylord Perry goes 15 innings; 'Macaroni Pony' hits walk-off homer for Brewers