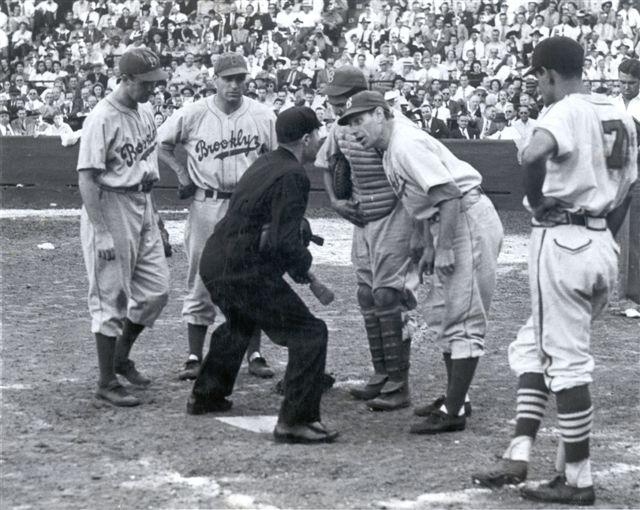 April 18, 1945: Phillies spoil Leo Durocher's last game as player-manager
---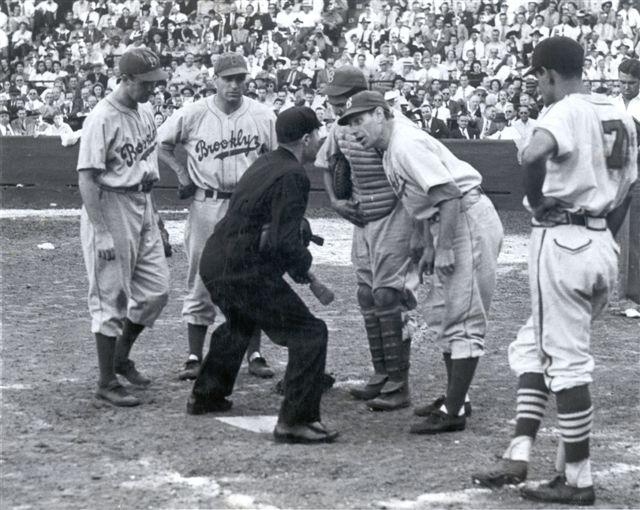 When Dodgers player-manager Leo Durocher had Frenchy Bordagaray pinch-hit for him in the bottom of the fifth, the 5,010 paying fans at Ebbets Field witnessed the Lip's final game as a player. During the offseason, Durocher signed a player-manager contract under which he not only managed Dem Bums for the 1945 season, but promised to play at least the first 15 games at second base until he could find a suitable replacement.
After Durocher came up with a charley horse in the Dodgers' 8-2 victory over the Phils on Opening Day, he met with Dodgers GM Branch Rickey and offered a $2,000 buyout of the player portion of his contract. While Rickey didn't accept or reject Durocher's offer, it was painfully clear that Leo could no longer play second base. Rickey recalled that Durocher didn't have the arm strength to throw out Phillies rookie third baseman Bitsy Mott. "The old Durocher would have thrown Mott out. But he could barely get the ball over to first on the bounce. He doesn't want to stand out there and be shown up."1
Mott led off this game for the Phillies. A former Dodgers farmhand, he played 90 games for the Phils in '45, and they turned out to be the only 90 games he played in the big leagues. After playing 10 of the next 12 years in the minors Mott retired from baseball and became a security guard for Elvis Presley. (Mott was a brother-in-law of Colonel Tom Parker, Presley's manager.) Mott appeared in two of Presley's movies, Wild in the Country and G.I. Blues.3
Another rookie, Vance Dinges, played left field and batted second for the Phils. Dinges was the lone Phillies player on the National League All-Star team in '45. (Because of wartime travel restrictions, the All-Star Game, which was supposed to be played in Boston's Fenway Park was canceled.) Havana native Rene Monteagudo batted third and played right field. This was Monteagudo's last season in the major leagues; he and several other players were blacklisted by Commissioner Happy Chandler for playing in the Mexican League in 1946.iv Batting cleanup was first baseman Jimmy Wasdell, who only struck out 11 times in 1945 in 500 at-bats. His 45.5 at-bat-to-strikeout rate was bested only by the Boston Braves' Tommy Holmes, who had 70.67 at-bats per strikeout (9 strikeouts per 636 at bats). Center fielder Vince DiMaggio batted fifth for the Phillies. DiMaggio was an All-Star for the Pirates in 1943 and '44. He lacked the plate discipline of his younger brother, Joe, and led the league in strikeouts six times, including 1945.
Rookie second baseman Garvin Hamner batted sixth. His younger brother, 17-year-old Granny (technically a rookie even though he played 21 games in 1944), played shortstop for the Phils and batted eighth. Granny became a three-time All-Star during his 17-year career, mostly with the Phillies. Granny was a key member of the 1950 Whiz Kids team that won the NL pennant. Veteran catcher Gus Mancuso batted seventh. The 1945 season was Mancuso's last, wrapping up a solid career that featured two All-Star Game appearances.
Starting pitcher "Kewpie" Dick Barrett batted ninth. Barrett pretty much coasted through this game. He went the distance and gave up two runs on seven hits. Barrett had also stymied the Dodgers on Opening Day 1944, a 4-1 Phillies victory at Shibe Park. The rest of the '45 season wasn't as easy as this one for Barrett; he finished the season with an 8-20 won-lost record (his 20 losses led the National League) and a 5.38 ERA. Barrett led the league with eight wild pitches in 1945, which was his last big-league season.
The weak-hitting Phils team battered Dodgers starting pitcher Ben Chapman for five runs on four hits and three walks in the top of the fourth. (In 1945 the Phillies ranked last in the league in batting average, slugging percentage, OPS, and hits, and tied for last in home runs and seventh in runs scored, and on-base percentage. The inning began with a walk to Monteagudo. After Wasdell popped out to the catcher, DiMaggio smashed Chapman's first offering to the right-field fence for a double, sending Monteagudo to third. With two outs, Chapman intentionally walked Mancuso. Granny Hamner then drove Chapman's first pitch to right-center, scoring Monteagudo and DiMaggio and sending Mancuso to second. Chapman walked Barrett to load the bases. Bitsy Mott grounded an offering from Chapman to second base. Durocher went to his left and fielded the grounder, but couldn't throw Mott out, and Mancuso scored. Dinges then drove a 3-and-0 pitch from Chapman to left field for a double, scoring Hamner and Barrett and giving the Phils a commanding 5-0 lead.
For the Dodgers, three-time All-Star Augie Galan was at first base. Galan was a switch-hitter for most of his career but became solely a left-handed hitter in 1943. Durocher started the game at second. Mike Sandlock was the shortstop. Sandlock eventually moved to catcher and spent the remainder of his career mostly behind the plate. Bill Hart manned third for the Dodgers. Morrie Aderholt patrolled left field. Aderholt played a few games at third in the minors; Branch Rickey described him as the "world's worst third baseman … but he's a natural batsman,"4 thus the move to the outfield. Speedy center fielder Luis Olmo led the National League with 13 triples in 1945. Dixie Walker, the 1944 NL batting champ, was the right fielder.
Chapman got into more trouble in the fifth as he gave up a leadoff single to Wasdell, walked DiMaggio and yielded a single to Garvin Hamner. With the bases loaded and no outs, a Chapman pitch got by catcher Mickey Owen for a passed ball, allowing Wasdell to score. 6-0 Phillies.
Chapman broke in with the Yankees in 1930 at second base and third. Playing only 91 games at third, he led all AL third basemen with 24 errors. With the acquisition of Joe Sewell, the Yankees moved Chapman to the outfield, where he shined. Chapman was a four time All-Star outfielder in the 1930s. He led the league in stolen bases four times and led the league with 13 triples in 1934. He was also a racist. In New York he greeted Jewish fans at Yankee Stadium with Nazi salutes. With the emergence of rookie Joe DiMaggio in 1936, Chapman was traded in midseason to the Washington Senators. After 12 seasons as a position player, it appeared Chapman's major-league career was finished after he hit only .226 with the Chicago White Sox in 1941.
However, after two seasons as a minor-league manager highlighted by a season-long suspension in 1943 for punching out an umpire, Chapman returned to the major leagues in 1944, as a pitcher with the Dodgers. He pitched decently in '44, posting a 5-3 record with a 3.40 earned-run average and six complete games of the nine he started. His 1945 campaign was less successful; this performance was typical. Overall, Chapman had a 3-3 record and a 5.53 ERA. In 53⅔ innings pitched, he Chapman surrendered 33 earned runs on 64 hits and 32 walks. On June 15, the Dodgers traded Chapman to the Phillies. On June 30, the Phillies named Chapman a player-manager, replacing beleaguered Fred Fitzsimmons who had led the Phillies to an 18-51 record. Chapman pitched seven innings in relief for the Phillies, giving up eight runs (six earned) on seven hits and six walks. He pitched another inning in relief in 1946 and became a full-time manager afterward. In 1947 Chapman's racist behavior was on full display. His taunting of Jackie Robinson from the Phillies dugout was particularly vicious. It was so bad that National League President Ford Frick had to intervene and arranged for the famous photograph of Chapman and Robinson in Philadelphia.
With the Dodgers trailing 5-0 in the fifth inning, Durocher pulled himself out of the lineup. After Mike Sandlock struck out, Durocher had Frenchy Bordagaray pinch-hit for him. Bordagaray singled to left field. Durocher replaced Chapman with pinch-hitter Goody Rosen, who reached on a fielder's-choice grounder to first. Luis Olmo knocked a double to right, scoring Rosen.
In the top of the sixth, Durocher sent Eddie Stanky in to finish the game at second base. Stanky had been was acquired from the Cubs midway through the 1944 season. He proved to be Durocher's long-term solution at second base as he led the league in '45 in runs scored (128) and bases on balls (148). Defensively, Stanky led all NL second basemen in putouts (429), and double plays turned (101). He also led NL second basemen with 34 errors.
Vic Lombardi relieved Chapman and was followed by rookie Otho Nitcholas. Each pitched two scoreless innings.
The Dodgers got another run in the bottom of the sixth when Dixie Walker hit a single to left-center field and Bill Hart launched a triple to the center-field exit gate. As reporter Harold Burr commented in the Brooklyn Daily Eagle, "When you hit over the fleet DiMaggio's head, you're really tagging the ball."5
This article originally appeared in "100: The 100 Year Journey of a Baseball Journeyman, Mike Sandlock" (SABR, 2016), edited by Karl Cicitto.
Sources
In addition to the sources cited in the Notes, the author consulted these sources:
Back To Baseball, backtobaseball.com/gamesiteregularseason.php?IDindex=NY1194504200. Retrieved July 26, 2015
Burr, Harold C. "Dodgers Add a Dozen a Day," Brooklyn Daily Eagle, September 21, 1944: 8.
Golenbock, Peter. Bums: An Oral History of the Brooklyn Dodgers (Chicago: Dover Baseball, 2010).
Harrison, Don. Connecticut Baseball, The Best of The Nutmeg State (Charleston, South Carolina: History Press, 2008).
Notes
Additional Stats
Philadelphia Phillies 6
Brooklyn Dodgers 2
---
Ebbets Field
Brooklyn, NY
Box Score + PBP:
Corrections? Additions?
If you can help us improve this game story, contact us.
Tags
http://sabr.org/sites/default/files/images/10%20TNP%202008,%20Durocher,%202008.6.20.JPG
600
800
admin
/wp-content/uploads/2020/02/sabr_logo.png
admin
2016-07-07 16:19:06
2020-04-17 10:26:04
April 18, 1945: Phillies spoil Leo Durocher's last game as player-manager