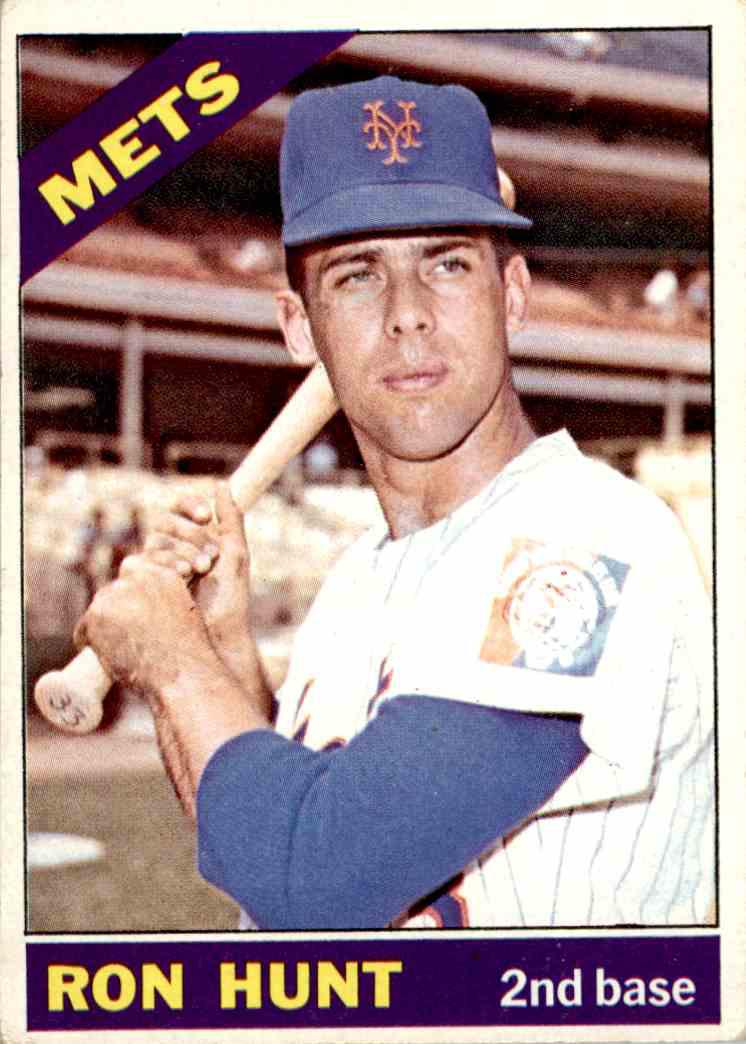 April 19, 1963: Rookie Ron Hunt lifts Mets to season's first win
---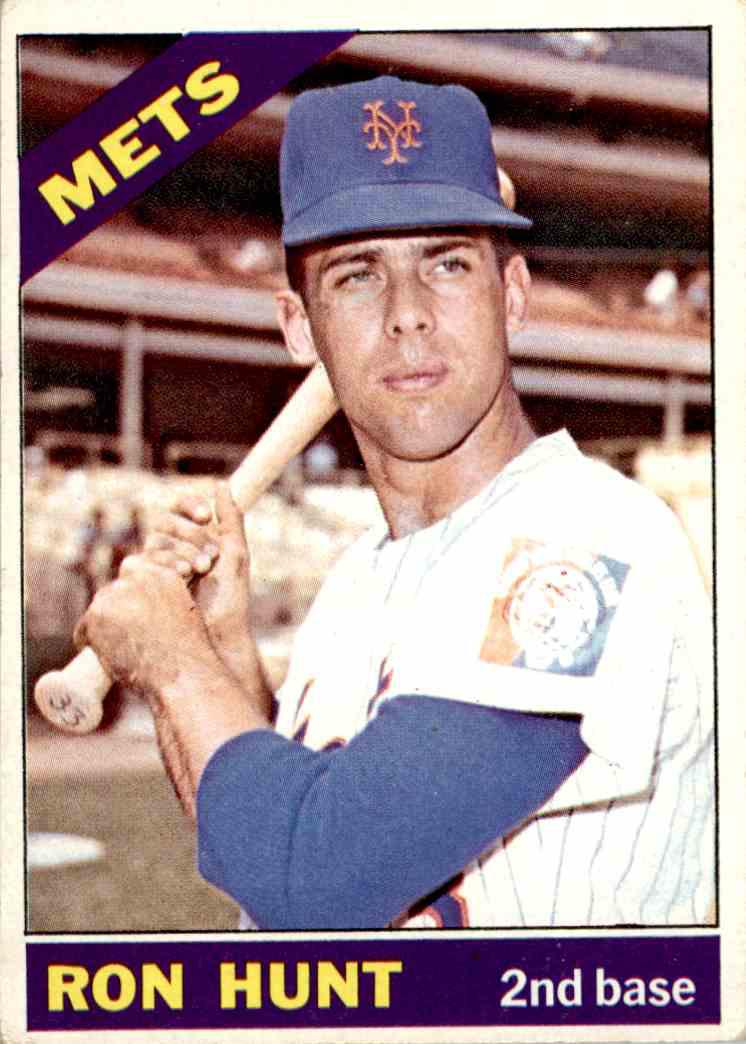 When Ron Hunt, the rawboned 22-year-old Mets second baseman, strode to the plate in the bottom of the ninth inning on April 19, 1963, much was riding on the outcome. The Mets had once again opened the season with eight straight losses and were now within two outs of tying their record for season-opening futility, set the year before in their inaugural campaign. With Choo Choo Coleman standing on third base and Jim Hickman on second, in for the Milwaukee Braves came their ace reliever, the French-Canadian Claude Raymond.
The Braves had waltzed into town riding a seven-game winning streak with every expectation of adding to the misery of the hometown fans. With a record of 7-2 and a formidable lineup propelled by Hank Aaron, Eddie Mathews and Joe Torre, it was a good bet that their winning ways would continue. And now, in game one of a four game set, they held a ninth-inning lead with a rookie digging in at the plate. For the Mets, it seemed like déjà vu all over again.
Rookie Hunt's first major-league cuts had come against the Reds just three days earlier, yet the Braves weren't totally in the dark about the Missouri kid. That's because, well, they still owned him. Hunt had been a Braves farmhand since 1959, most recently toiling in the Texas League with the Austin Senators, where his all-star play had caught the eye of Solly Hemus, out scouting for the Mets.1 Hemus persuaded the club to purchase the youngster on a conditional basis, but as yet no decision had been made whether to finalize the transaction, at least not publicly, as Hunt stood in for his final at bat on that April Friday afternoon.
It was the Mets' second year of existence, and followed a first year that qualified as the worst in the history of the modern game. Sportswriter Fred Lieb described that team as "a collection of overage veterans, humpty dumpties, misfits and alleged ballplayers."2 Even with such ragged job competition coming into the 1963 season, Hunt's chances were not good, for he had at least four second basemen standing between him and a major-league contract.3 But Hunt refused to buckle, coming into camp with a combination of swagger and determination, and caught the manager's notice early on. And not just any manager. In the words of baseball sage George Vecsey:
"Nobody was counting on Hunt to help much until an intrasquad game at Huggins Field when [five-year veteran] Joe Christopher heaved a relay far over Hunt's head. Hunt cursed mightily at Christopher for overthrowing him as old ladies cringed in the stands. But [manager Casey] Stengel's elephant ears picked up the vibrations, and soon Casey was chortling about this cocky kid from Missouri who was going to fight his way onto the team."4
Hunt also made a memorable first impression on another astute observer, legendary baseball writer Roger Angell:
"With two out in the top of the seventh, the Braves' Hank Aaron ripped a low drive through the box, and Ron Hunt, the Mets' rookie second baseman, made a sprint and a flying dive to his right, landing on his belly in a cloud of dirt. He missed the ball by about two inches — it went through for a single — but he brought a gasp from the crowd. There was nothing meretricious or flashy or despairing about that dive, even though the team was behind. Hunt very nearly pulled it off, and I suddenly realized that not once last year had I seen a Met infielder even attempt such a play. It gave me a curious un-Metsian emotion — hope."5
Through a combination of grit and guts, Hunt made the Mets Opening Day roster, but with Dodgers acquisition Larry Burright holding a grip on the second-base job, was relegated to the bench.6 But Burright struggled and the Mets floundered, and six games into the season, frustrated with his bench-sitting role, the young rookie approached his legendary manager and said "Coach, Ron Hunt, number 33, second base." (Hunt said that Stengel remembered numbers better than names.) Case said "What can I do for you?" Hunt declared that he deserved to start, "I'm not a bullpen catcher, I'm a second baseman.7 Maybe I need a chance, see if I can play here." Stengel stared at the brash youngster and replied "Son, you wanna play that bad? Hunt: "Yessir." Stengel: "OK, you play tomorrow."8
Stengel was true to his word. Hunt started at second the next day and, two games later, the Braves, who the previous week in Milwaukee had hung half of the Metropolitans' eight losses on the team, rolled into town.
Hard-luck hurler Roger Craig got the nod for the Mets, Bob Shaw for the Braves. Craig pitched well, tossing seven shutout innings while allowing but four hits. Rookie Ed Kranepool, the 18-year-old Bronx native, put the Mets up in the second with his first major-league home run, a solo shot into the "right balcony directly over the 'Willie Mays Night May 3' sign."9 In the fourth, Hickman and Hunt hit back-to-back triples to push the score to 3-0.
The eighth proved to be Craig's undoing. Len Gabrielson led off with a single and, after Frank Bolling flied out, Hank Aaron hammered his 300th career home run, to left center, and Eddie Mathews quickly followed with a double to right. An infield error left runners at first and second and, with two outs, pinch-hitting specialist Don Dillard stroked a single to right, scoring Mathews and tying the game.
After a scoreless Mets eighth, the Braves took the lead in the ninth, scoring on a bases-loaded walk to Mathews. With an unearned run in the eighth and a forced-in run in the ninth, the game had all the makings of another Mets calamity.
But that was not to be. With Frank Funk on the mound for Milwaukee, Coleman led off the bottom of the ninth with a "stinging" first-pitch single up the middle.10 After an out, Hickman doubled to put runners on second and third. That brought up young Hunt, and that also brought in Raymond, the Braves' shutdown reliever.
More than just a game was on the line. Of course the winless streak loomed heavy. The fact that Hunt still belonged to the Braves added to the drama; might the Mets' decision to exercise their option turn on this at-bat? Not to add to the pressure, but Hunt's wife, Jackie, having flown in from St. Louis at 2 A.M., was in the stands to watch her husband on a major-league field for the first time.11 Hunt later admitted to a case of nerves ("If I had cymbals on my knees, you would have heard some music when I stepped into the batter's box"),12 and sought advice from his mentor Duke Snider,13 who advised him to look for a fastball.14
With the count 1-and-1, Raymond threw the pitch Hunt was looking for, a fastball high and inside.15 Hunt turned on it and drove a double into the left-field corner, knocking in the tying and winning runs.16 Hunt's teammates mobbed him on the field.
The New York papers went nuts. The Daily Mirror crowed on its back page, "Mazel Tov! Mets Win." A picture captioned "World Series Mob" showed Hunt being congratulated by teammates and coaches, trailed by a joyous fan being chased by a not-so-joyous policeman.17 The New York Times story opened with the line "Oh happy day!"18 To top things off, the Mets' owner, Joan Payson, was so elated she sent a bouquet of roses to Jackie.19
The inspired Mets went on to sweep the four-game series, including a doubleheader on Sunday in what was described as a "World Series atmosphere." Something new and different was happening in the old Polo Grounds,20 and the series sweep sent fans home "delirious with joy."21
In its May 4 edition, The Sporting News ran the headline "Mets' Hunt for Victory Ends With Bargain-Boy Ron as Hero." Sportswriter Barney Kremenko called it a "cinch" that the Mets would keep Hunt, and he was right.22 Having previously paid $5,000 down, the Mets could now complete the acquisition with a final installment of $20,000.23 Or was it, as later reported in the Sporting News, $35,000?24 Or maybe it was as high as $45,000.25 We'll let Casey Stengel have the last word on the matter: "It was a $950,000 deal. Now write that down. That's the price and that's the deal. Write it down."26 "The Braves are trying to get him back, but I won't give him back."27
The Ol' Perfesser was so caught up in this unfamiliar "un-Metsian emotion" that he bragged to Eddie Brannick, secretary of the San Francisco Giants and a clubhouse visitor that day, "We'll see you in the playoffs."28
The rest, as they say, is history.29
Sources
The author accessed Baseball-Reference.com for box scores, play-by-play information, and player statistics. He also accessed historicbaseball.com to confirm Don Dillard's status as a pinch-hitting specialist, and of course he read and enjoyed the SABR player bios of all players mentioned, including Johnny Evers, whose hot temper is also described in Tim Layden, "Tinker to Evers to … Me," Sports Illustrated, December 3, 2012. The author expresses his great appreciation to the Hunts for inviting him into their home and sharing their memories, and would like to thank Jackie for the wonderful scrapbooks she kept over the years. Finally, the author would like to thank Ron Hunt for being Ron Hunt.
https://www.baseball-reference.com/boxes/NYN/NYN196304190.shtml
http://www.retrosheet.org/boxesetc/1963/B04190NYN1963.htm
Notes
1 Solly Hemus (d. October 2, 2017) and Ron Hunt would go on to form a lifelong friendship.
2 Fred Lieb, Baseball as I Have Known It (Lincoln: University of Nebraska Press, 1996, originally published in 1977 by G.P. Putnam's Sons), 250.
3 George Vecsey, "Ron Hunt, Loner," Sport, April 1965: 32. In the article, Vecsey referred to Hunt as "the latter-day Mean Widdo Kid … the best player on the Mets": 33.
4 George Vecsey, Joy in Mudville (New York: McCall Pub. Co., 1970), 91. It is little wonder that Casey Stengel appreciated Hunt's moxie; that's how he'd played the game. In his rookie season, Stengel slid hard into future Hall of Famer Johnny Evers, knocking him into short left field. After taking a good cussing from the quick-tempered Evers, Casey fired back, "That's the way I slid in the bushes and that's the way I'll slide up here. Take a good look at me because I'll be here a long time!" Marty Appel, Casey Stengel, Baseball's Greatest Character (New York: Doubleday, 2017), 34.
5 Roger Angell, The Summer Game (Lincoln: University of Nebraska Press, 2004, originally published in 1972 by Viking Press), 48. Angell attended the last two games of the series, played as a Sunday doubleheader. In addition to the thrill of a series sweep, Angell also witnessed something that no one at the time could have known the significance of: Ron Hunt's first HBP, courtesy of Raymond.
6 Neal Russo, "Mets Liked What They Saw in Look-See at Hunt," St. Louis Post-Dispatch, May 26, 1963: 84.
7 Benjamin Pomerance, BaseballSavvy.com, https://baseballsavvy.com/w_hunt.html, January 14, 2011.
8 Ed Randle Radio, March 25, 2018, wfan.radio.com/media/audio-channel/03-25-ed-randle-former-met-ron-hunt.
9 Jim McCulley, "Braves Wreck Mets Streak by Losing in Ninth, 5-4," New York Daily News, April 20, 1963: 25. A couple of weeks later, back in his former digs, Mays would go 1-for-4 with a double and an RBI on his night of honor.
10 Harold Rosenthal, "Had to Happen Some Time: Mets Win," New York Herald Tribune, April 20, 1963: 14.
11 "Mets (And Ron Hunt) Are Happy: They're Both Ahead of Last Year," New York Times, April 20, 1963: 19.
12 John Ryan, "Mets' Hero Hunt Will Stick Around," The Record (Hackensack, New Jersey), April 20, 1963.
13 That Snider and Gil Hodges were kindly mentors to Hunt is documented in several places, most notably in Bill Sullivan's excellent book on the early Mets, a winner of SABR's 2017 Ron Gabriel Award. Bill Sullivan, Long Before the Miracle: The Making of the New York Mets (Scotts Valley, California: CreateSpace Publishing, 2016), 304, 306. Stengel gave some solid advice of his own, "Make him pitch to you, and be sure to swing at a ball that's up. They may try to make you nibble at a low one." See Arthur Richman, "Mets Win! Hunt Big Hero in Big 9th," New York Daily Mirror, April 20, 1963: 54.
14 McCulley.
15 Richman.
16 With the winning run on second, one wonders whether Hunt actually made it to second before Hickman touched home. The New York papers all describe the hit as a double, with the exception of the play-by-play summary accompanying Richman's article in the Daily Mirror. Ron Hunt says it was a single, but he may have been in a cloud (nine) by the time he reached second.
17 "Met Hero Is Really a Brave," Tampa Bay Times, April 20, 1963: 23; UPI Photo, New York Bureau, April 19, 1963.
18 Gordon B. White Jr., "Hunt Hit in 9th Drives in Two Runs," New York Times, April 20, 1963: 19.
19 Ibid; McCulley. The gift roses triggered a Ron Hunt allergic reaction. Bad allergies would plague Hunt his entire life.
20 It would be the final year for the hallowed old Polo Grounds, soon to be demolished, converted into public housing, and christened the Polo Grounds Towers.
21 McCulley for both "World Series atmosphere" and "delirious with joy."
22 Barney Kremenko, "Mets' Hunt for Victory Ends With Bargain-Boy Ron as Hero," The Sporting News, May 4, 1963: 8.
23 Vecsey, "Ron Hunt, Loner."
24 Barney Kremenko, "Mets Buy Now Pay Later if Samuel Delivers Goods," The Sporting News, October 26, 1963: 23.
25 "Throneberry Is Sent to Buffalo," New York Times, May 10, 1963: 23.
26 Richman.
27 Ryan.
28 Ibid. Playoffs? What's Casey talking about, playoffs? There weren't any playoffs in major league baseball in 1963. In fact, there weren't any playoffs until 1969. Wait a minute, 1969 … maybe the Ol' Perfesser was even wiser than we thought.
29 By no stretch can we draw a direct line from this game to the clinching Game Five of the 1969 World Series, but the April 19 game and the series sweep, with all the accompanying hoopla, seemed to aim the team and its fans in a new direction that one day would lead to those heights. At the end of the year, fan favorite Hunt was voted the Mets Most Valuable Player (and was awarded an "Aqua-Car," capable of driving on land and in water). Barney Kremenko, "Jackson Only Mets Pitcher Safe From Auctioneer's Gavel," The Sporting News, September 28, 1963: 10. Hunt placed second to Pete Rose in the National League Rookie of the Year voting. In 1964 Hunt was voted the starting second baseman on the National League All-Star Team, the first Mets player to receive starting honors, and he repeated that feat in 1966. Hunt went on to enjoy a 12-year major-league career, and holds the modern record for the most times hit by a pitch in a single season, 50.
Additional Stats
New York Mets 5
Milwaukee Braves 4
---
Polo Grounds
New York, NY
Box Score + PBP:
Corrections? Additions?
If you can help us improve this game story, contact us.
Tags
https://sabr.org/sites/default/files/HuntRon-NYM.jpg
600
800
admin
/wp-content/uploads/2020/02/sabr_logo.png
admin
2019-07-05 11:47:24
2020-04-17 10:22:36
April 19, 1963: Rookie Ron Hunt lifts Mets to season's first win