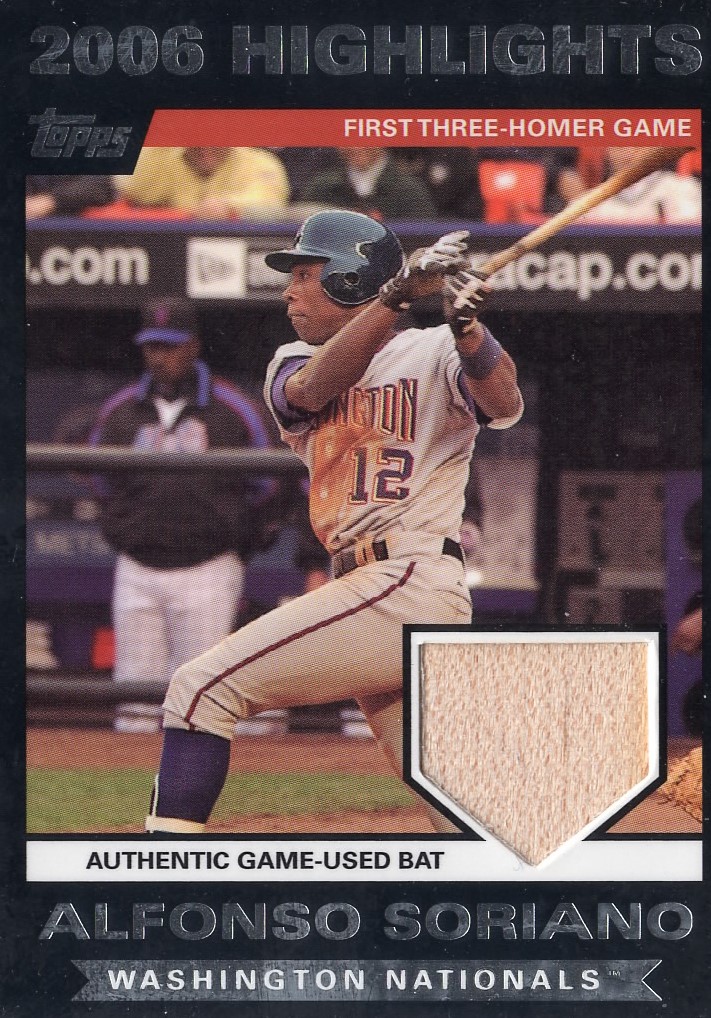 April 21, 2006: Alfonso Soriano's three home runs lead Nationals over Braves
---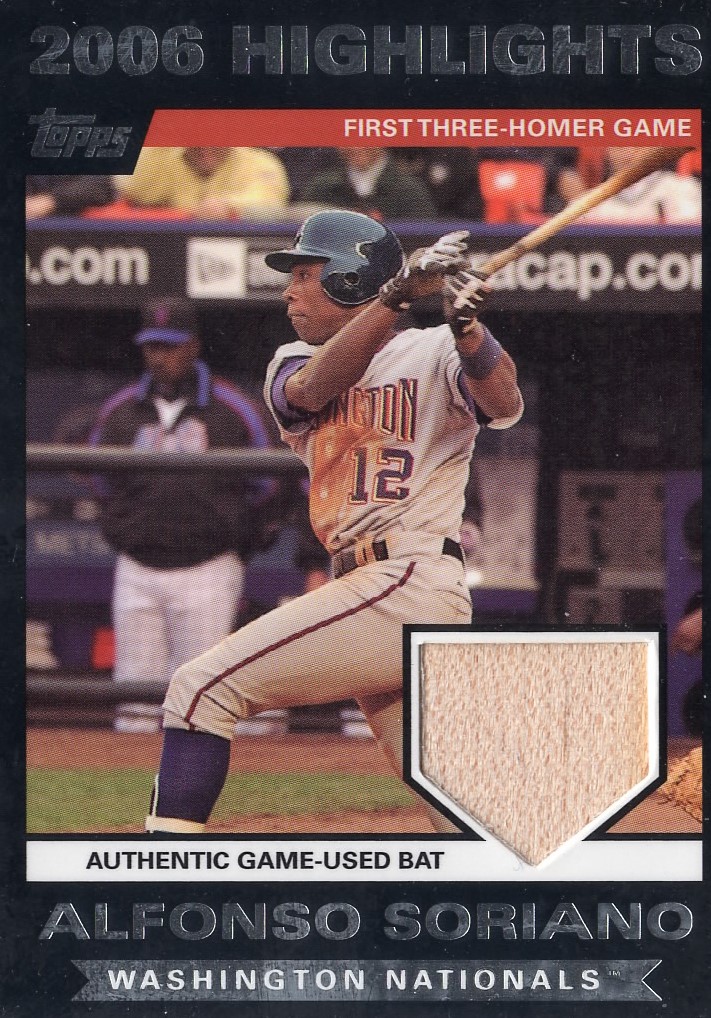 A weak offense marked the Washington Nationals' 2005 season, so an offseason trade for a bat seemed inevitable. On December 8, 2005, they obtained Alfonso Soriano from the Texas Rangers in exchange for outfielders Brad Wilkerson and Terrmel Sledge and minor-league pitcher Armando Galarraga. Soriano was a four-time All-Star and a Silver Slugger winner who had power and speed. Wilkerson had become a face of the franchise in their first season in Washington.1 Sledge was best known for hitting the first Nationals home run, on Opening Day in 2005.2
With Jose Vidro entrenched as the Nationals' second baseman, it was expected that Soriano would move to the outfield. The Nationals had not yet spoken with Soriano about that position shift, which he previously resisted in Texas.3 For the Nationals, the 2006 season was about to become known for drama, speculation, and the baseball skills of Alfonso Soriano.
After a stint playing for the Dominican Republic in the World Baseball Classic, Soriano was about to make his Nationals debut on March 20 in a spring-training game in Viera, Florida. He was going to play left field. Or was he? When the Nationals took the field in the first inning, the extraordinary happened. Frank Robinson took his lineup card to home plate to inform the umpire that Soriano would be replaced by Brandon Watson. Soriano had refused to play left field.
For the Nationals, their next steps were direct. Shortly after the refusal, general manager Jim Bowden announced that Soriano would be placed in the lineup in left field for the Nationals' next game, in two days. "Should he refuse to play then, the club will file a request with the commissioner's office to place Soriano on the rarely used disqualified list, which, according to Bowden, would mean Soriano would earn no pay or service time until he chose to play for the club."4
The suspense played out over two days. It ended in the first inning of the Nationals' next game, against the St. Louis Cardinals in Jupiter, Florida. After batting in the top of the first inning, Soriano ran out to left field with a glove borrowed from a teammate. He had a double and a walk and scored two runs in his first game. In the fourth inning, he even caught a fly ball and doubled David Eckstein off second base. "I never think I was going to make a double play in the outfield," Soriano said, "But I did it today."5
On this April night, there was a good chance that the baseball skills of Alfonso Soriano would be on full display, if it ever stopped raining. The pitching matchup, John Patterson for the Nationals and future Hall of Famer John Smoltz for the Braves, was an intriguing one since both were coming off stellar performances in their most recent starts. On April 15, Patterson earned his first victory of the season with a three-hit, eight-inning performance against the Florida Marlins, 2-1. Patterson struck out 13, a Nationals team record.6 Meanwhile on the same night, Smoltz pitched a four-hit shutout against the San Diego Padres, 2-0, also securing his first victory of the season.7
Batting leadoff, Alfonso Soriano began his night auspiciously in the bottom of the first inning, homering to left-center on a 2-and-1 count. John Smoltz struck out Ryan Church to end the inning after yielding two singles, but his 29 pitches were not a good sign of things ahead. Soriano did it again, leading off the third inning with his second home run off Smoltz. With two out, Jose Guillen lined a double to deep center field and scored on Ryan Zimmerman's single to left field for a 3-0 Nationals lead.
Meanwhile, John Patterson sailed through his first seven innings, striking out eight Braves and yielding two harmless hits to Brian McCann, a single in the third and a double in the fifth. John Smoltz pitched five innings, relieved by Ken Ray in the sixth inning. The score remained at 3-0 entering the eighth inning when the bats awoke, the excitement began, and the hour got closer to midnight.
The Braves' bats came alive. With one out, Brian McCann got his third hit off Patterson, a double to deep center. Tony Pena beat out a soft roller to first. McCann went to third and scored their first run on a sacrifice fly off the bat of Matt Diaz. Patterson got the count to 0-and-2 on Pete Orr, but his 99th and last pitch of the night yielded a run-scoring triple. Relief pitcher Mike Stanton faced his first batter, Wilson Betemit, whose single knotted the score at 3-3.
The bottom of the eighth was played like a chess match between the two managers, the Nationals' Frank Robinson and the Braves' Bobby Cox. Righty relief pitcher Lance Cormier started the inning for the Braves. With one out, Ryan Church tripled to right field and pinch-hitter Daryle Ward was intentionally walked. Cox brought in lefty Mike Remlinger, so Robinson countered with right-handed pinch-hitter Matt LeCroy and Damian Jackson to run for Ward. It didn't make any difference. Remlinger wild-pitched on a 1-and-1 count, scoring Church for a 4-3 Nationals lead. After LeCroy walked, Robinson sent Marlon Byrd to pinch-hit for Mike Stanton. Cox countered by bringing in righty Oscar Villarreal to face Byrd, but Robinson countered with left-handed-hitting Marlon Anderson to pinch-hit for Byrd. That worked for Cox when Anderson lined out to right fielder Jose Guillen. Alfonso Soriano made all those moves irrelevant when he hit a 3-and-1 pitch from Villarreal for his third home run of the game and a 7-3 Nationals lead. When Chad Cordero retired the Braves in order in the ninth for a Nationals win, the clock had just moved past midnight.
Soriano's three home runs made him the first franchise player to do so since Tim Wallach, an Expo, walloped three against the Braves in 1987.8 He also became the first National in their brief history in Washington to hit more than one home run in a game at RFK Stadium. Some sluggers had complained that RFK Stadium was just too big. Soriano had a succinct response after the game, "Not tonight for me."9
As the season progressed, the home runs and stolen bases kept coming for Soriano. He was in his last year under contract and would become a free agent at the end of the season. The Nationals were unlikely to offer him the multiyear contract and dollar value he was seeking. Speculation became rampant that he would be traded at the July 31 deadline to a contending team. There was no trade. "We felt the best deal that we could make was no deal for this franchise, Jim Bowden, then the general manager, said at the time."10
Nationals fans could now concentrate on watching Soriano hit home runs and steal bases. With 45 home runs and 39 stolen bases, he came to bat in the bottom of the first inning in the September 16 game against Milwaukee at RFK Stadium. Soriano singled off Dave Bush and stole second base without a throw from catcher Mike Rivera. Soriano joined Alex Rodriguez (1998), Barry Bonds (1996), and Jose Canseco (1988) in the one season 40-40 club.11
The 2006 season came to an end for Nationals fans with their team in last place in the NL East Division. Alfonso Soriano became a free agent and the Nationals received two draft picks, one between rounds one and two, the other in the second round. With the latter pick, the Nationals selected Jordan Zimmermann in the 2007 draft. Meanwhile, Soriano signed an eight-year, $136 million deal with the Chicago Cubs.
In this second season of baseball's return to Washington, the team remained somewhere on the long road back to baseball respectability. Alfonso Soriano's play brightened the year. He became an All-Star for the fifth time, winning another Silver Slugger Award, and completing his 40-40 quest with 46 home runs and 41 stolen bases. No statistical postscript captures the drama of the early season than his 22 assists and nine double plays, both leading all National League outfielders for the season. His baseball skills were certainly on display on this night, rain-delay and all.
Author's note
We were fortunate to be sitting undercover behind home plate in Section 316 during the 2-hour, 18-minute rain delay at the start of the game. "Good things come to those who wait" is an English phrase extolling the virtue of patience.12 One can consider how it applies to a baseball game. With April showers falling on this night, it certainly applied to the small fraction of the 24,597 fans remaining at RFK Stadium at midnight.
Sources
baseball-reference.com/boxes/WAS/WAS200604210.shtml
retrosheet.org/boxesetc/2006/B04210WAS2006.htm
Notes
1 The author recalls Brad Wilkerson's television commercials for Chevy Chase Bank.
2 Steven C. Weiner, "April 4, 2005: Washington Nationals Lose Debut Game to Phillies," SABR Games Project, December 12, 2017.
3 Dave Sheinin and Barry Svrluga, "Nationals Get a Big Bat in Soriano," Washington Post, December 8, 2005.
4 Barry Svrluga, "Soriano Refuses to Take Left Field," Washington Post, March 21, 2006.
5 Barry Svrluga, "Soriano Changes His Position," Washington Post, March 23, 2006.
6 John Patterson's record was broken by Stephen Strasburg in his major-league debut; see Steven C. Weiner "June 8, 2010: Stephen Strasburg Strikes Out 14 in MLB Debut," SABR Games Project, June 22, 2017.
7 John Smoltz would finish the 2006 season in solid fashion with a 16-9, 3.49 ERA record. He led the National League in victories and games started (35) covering 232 innings.
8 Leonard Shapiro, "Nats Follow Lead of Soriano," Washington Post, April 22, 2006: SP1.
9 "Soriano Hits Three Homers to Lead Nationals," ESPN.com (Associated Press), April 22, 2006, accessed January 8, 2018, espn.com/mlb/story?id=2417746&src=desktop.
10 Barry Svrluga, "When Alfonso Soriano Was a National," Washington Post, July 27, 2013.
11 Steven Goff, "Soriano Reaches 40-40 Mark," Washington Post, September 17, 2006.
12 A related phrase was first penned by the British poet Violet Fane (née Lady Mary Montgomerie Currie): "Tout vient à qui sait attendre." Poems (1892), Volume II, 37-40: Ah, "all things come to those who wait," (I say these words to make me glad), But something answers soft and sad, "They come, but often come too late."
Additional Stats
Washington Nationals 7
Atlanta Braves 3
---
RFK Stadium
Washington, D.C.
Box Score + PBP:
Corrections? Additions?
If you can help us improve this game story, contact us.
Tags
https://sabr.org/sites/default/files/SorianoAlfonso-2006-Topps.jpg
600
800
admin
/wp-content/uploads/2020/02/sabr_logo.png
admin
2018-02-15 16:03:21
2020-04-17 10:24:55
April 21, 2006: Alfonso Soriano's three home runs lead Nationals over Braves