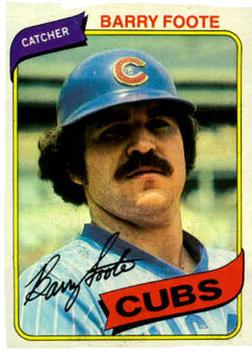 April 22, 1980: Cubs' Bary Foote, Ivan De Jesus slug their way to wild walk-off win
---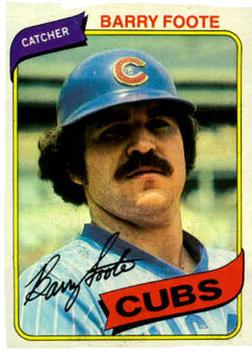 On April 22, 1980, the Chicago Cubs were 5-3, and one game out of first place in the National League East Division. They had swept the New York Mets in a three-game home series that drew healthy turnouts to Wrigley Field. Nonetheless, the "jury was still out" in regard to the amount of support new skipper Preston Gomez and his squad would receive from the fandom. During an offseason newspaper poll that evaluated potential Cubs manager candidates, Gomez finished in a tie for 10th (with Maury Wills).1
With St. Louis in town, the aged venue at Clark and Addison offered a chance to watch what had developed over the past 15 years into what Midwest baseball enthusiasts plugged as baseball's best rivalry. However, the "Lou Brock for Ernie Broglio" teaser had run its course since the former Cubs outfielder Brock had retired after the 1979 season. Cubs fans did not seem enthralled that their team included ex-Cardinals Mike Tyson, Lynn McGlothen, Doug Capilla, and Mick Kelleher. Similarly, Cardinals rooters were not enchanted having ex-Cubs Steve Swisher, Darold Knowles, and Donnie Moore playing for their team.
Won-lost numbers are traditionally tossed aside when these opponents tangle. Besides, the season was not quite two weeks old. The Cardinals, tied for fifth in the NL East, entered with a 4-6 record. Bullpen ineffectiveness, with the nonstarters pitching to an overall 6.41 ERA, generated a headache for manager Ken Boyer. In right-hander Bruce Sutter, Gomez had an All-Star reliever who could be counted on during late-inning situations. As Boyer viewed his own relief selections, he coveted an option like Sutter.
For April, it was hot. A temperature forecast of 80 was surpassed by midmorning. A record-setting mark of 91 had locals converging en masse to the beach to brave Lake Michigan water still a bone-chilling 48 degrees.2 The unseasonable weather likely threw a wrench into Wrigley's walk-up attendance. Still, a lively shirtsleeve gathering of 18,889 entered the ballpark with many arriving early to watch batting practice.
Right-hander Dennis Lamp took the ball for Chicago. The 27-year-old Lamp was 2-0 with a 2.57 ERA. Bob Forsch got the nod for the Cardinals, and came in 0-1, 2.25. The veteran right-hander's older brother, Ken Forsch, pitched for the Houston Astros. The siblings had each hurled no-hitters, Bob's coming in 1978 (against the Phillies), and Ken's in 1979 (Braves). Lamp, beginning his third full season, was 2-3 lifetime facing St. Louis. Forsch had enjoyed a 12-4 career versus the Cubs.
Lamp retired Garry Templeton and Ken Oberkfell before Keith Hernandez reached on an infield hit. Ted Simmons walked, and Bobby Bonds singled home Hernandez with Simmons going to third and Bonds taking second on an error by left fielder Larry Biittner. George Hendrick hit a hard grounder that third baseman Steve Ontiveros muffed, allowing Simmons to score. Chicago's Ivan De Jesus led off the bottom of the first with his second home run of the season.  The drive to the left-field bleachers prompted WGN's Jack Brickhouse's trademark round-tripper call of, "Hey, hey!"3
Tony Scott singled to start the second and advanced to third on a stolen base and wild pitch. Lamp walked Forsch, and faced more trouble as the top of the order loomed. Tyson helped Lamp by turning a 4-3 double play against Templeton as Scott sprinted home for a 3-1 lead. The Cubs clipped Forsch in their turn when Jerry Martin doubled and scored on a single by Barry Foote to narrow the deficit to 3-2. A wild pitch followed by a walk to Carlos Lezcano had Chicago vying for a big inning. However, Forsch fanned Tyson, and then turned Lamp's bunt into a 1-5-4 twin killing.
A steady swirling wind ramped up to 22 mph, switched from due south to southwest, and made life miserable for outfielders trying to corral fly balls.4 In the Cardinals' third, Bonds blasted a towering two-run smash to left.5 Hendrick lined a hit to the gap in left-center but was thrown out by Lezcano trying for a triple. Kenny Reitz parked a drive to right-center that the wind helped into the bleachers for his second home run of the year, and increased the Cardinals' advantage to 6-2. Chicago delivered offensive thunder right back at St. Louis. Martin's bases-loaded single in the third sent home two, and Foote's double plated another pair to knot things at 6-6.
The ex-Cardinal Lynn McGlothen, a right-hander, came in for the Cubs to begin the fourth. Forsch doubled to lead off. Templeton singled and on Ontiveros's second error he and Forsch wound up at second and third. Forsch scored on Oberkfell's groundball, and Simmons worked a two-out walk. Bonds and Hendrick rapped run-scoring singles, so Gomez waved in left-hander Capilla, another ex-Cardinal. Reitz knocked a two-run double into the left-field corner that bumped the St. Louis lead to 11-6. In the bottom of the fourth, Forsch allowed singles to De Jesus and Bill Buckner but was bailed out by Ontiveros's double-play grounder.
Forsch socked his fourth career home run with a leadoff shot to right field to open the fifth, for a 12-6 cushion. Capilla then accomplished what his mound predecessors could not by retiring three consecutive batters. In the bottom of the inning, Tyson delivered a run-scoring sacrifice fly. Scot Thompson followed with a pinch-hit double, and raced home when De Jesus tripled to right, completed the cycle with a triple to right to make the score 12-9. Forsch, tagged for 14 hits, was lifted as Boyer went to left-hander Bob Sykes, who fanned Ontiveros.
Sykes and Chicago's Bill Caudill offered semblances of effective relief work by shutting down the bats during the sixth. Caudill did the same in the top of the seventh. Cubs catcher Foote remarked, "Caudill quieting their bats was the important thing for us."6 Sykes, after opening the bottom half with a strikeout, allowed consecutive singles to Tyson, Steve Dillard, and De Jesus to load the bases. Boyer went to righty John Fulgham, and the 24-year-old fanned pinch-hitter Mike Vail. With Buckner up, Boyer switched to southpaw Don Hood, but Buckner smacked a two-run single to close the Cubs' deficit to one run (12-11).
In the eighth, Dick Tidrow benefited from Lezcano's diving catch in right-center of Hernandez's drive,7 but the pitcher proceeded to fill the bases with two outs on two walks and a hit by Hendrick. Gomez brought in Sutter, who struck out Scott on a split-finger fastball. Right-hander Roy Thomas was on for St. Louis in the bottom of the eighth, and Foote knocked a one-out solo homer into the left-field bleachers that tied the score, 12-12. On WGN radio Vince Lloyd assured listeners, "It's a bell-ringer!"8
Sutter allowed a one-out single to Templeton in the ninth, but Foote gunned down the shortstop attempting to steal. In the bottom of the inning, right-handed closer Mark Littell came on for the Cardinals, hoping to get the game into extra innings. Littell got De Jesus a grounder, the first time in the game the shortstop was retired. But pinch-hitter Dave Kingman lined a one-out single to left. Lenny Randle ran for Kingman and swiped second. Buckner was intentionally passed, then Littell uncorked a wild pitch to put runners on second and third. Littell struck out Biittner, looking, but walked Jerry Martin to load the bases. Foote, already the author of one homer, lofted a first-pitch slider to right center. Hendrick and Scott retreated, but could only watch the "wind-aided" sphere land in the wire basket near the 368-foot mark for a walk-off grand slam.9
The Wrigley Field faithful responded with a roar as Foote circled the bases. The burly catcher's career-day line revealed eight RBIs on a single, double, and two home runs. At home plate, Buckner planted a congratulatory kiss on Foote's forehead before he was mobbed by teammates.10 The line score read 16 runs, 23 hits, and 3 errors for the Cubs, 12 runs, 16 hits, and no errors for the Cardinals. Each team employed six pitchers, with Sutter getting the win and Littell the loss.
Boyer said, "It looked like where the team that scored last would win. In 20 years, I've never seen the wind blow out like this."11
Gomez agreed, commenting, "The wind made things very tough out there today. From batting practice on, you could see it would be one of those days. If you could write a script, this is the way you would have done it."12
This article appears in "Wrigley Field: The Friendly Confines at Clark and Addison" (SABR, 2019), edited by Gregory H. Wolf. To read more stories from this book online, click here.
Sources
In addition to the sources cited in the Notes, the author also accessed Retrosheet.org, Baseball-Reference.com, Newspapers.com, SABR BioProject, and The Sporting News archive via Paper of Record.
https://www.baseball-reference.com/boxes/CHN/CHN198004220.shtml
http://www.retrosheet.org/boxesetc/1980/B04220CHN1980.htm
Notes
1 Bob Verdi, "Cubs' Choice Represents Victory for Status Quo," Chicago Tribune, October 3, 1979: 65.
2 Photo caption, "On an August Day in April," Chicago Tribune, April 23, 1980: 64.
3 Phil Rosenthal, "Hey, Hey Chicago, What Do You Say?" Chicago Tribune, November 9, 2016: 3-1.
4 Richard Dozer, "Another Slam-Bang Cub Day," Chicago Tribune, April 23, 1980: 57, 59.
5 Rick Hummel, "Cardinals to Claiborne: Get a Stopper," St. Louis Post-Dispatch, April 23, 1980: 21.
6 Dozer.
7 Ibid.
8 Verdi, "Please Feel Pity for Vince & Lou," Chicago Tribune, May 22, 1981: 59.
9 Dozer.
10 Photo Caption, Chicago Tribune, April 23, 1980: 57.
11 Associated Press, "Cubs' Foote Kicks Cardinals on His Biggest Day in Majors," Southern Illinoisan (Carbondale, Illinois), April 23, 1980: 9.
12 Dozer.
Additional Stats
Chicago Cubs 16
St. Louis Cardinals 12
---
Wrigley Field
Chicago, IL
Box Score + PBP:
Corrections? Additions?
If you can help us improve this game story, contact us.
Tags
https://sabr.org/sites/default/files/FooteBarry.jpg
600
800
admin
/wp-content/uploads/2020/02/sabr_logo.png
admin
2019-12-16 15:04:12
2021-07-06 11:30:40
April 22, 1980: Cubs' Bary Foote, Ivan De Jesus slug their way to wild walk-off win