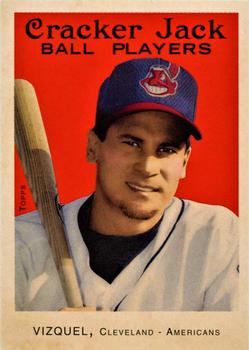 April 22, 2004: Omar Vizquel singles for his 2,000th career hit
---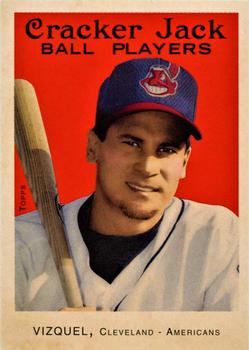 On a Thursday afternoon, in April, chilly weather greeted fans as they headed to Jacobs Field for a noon game between Kansas City and Cleveland. Back in the day, the 12:05 P.M. games were designated as "Businessman Specials," as the crowd would be dotted with men in suits, blazers, and topcoats.
Both teams were trying to find themselves in the first month of the 2004 season. There was a long season ahead for both the Royals and Indians. K.C. manager Tony Pena and Cleveland's Eric Wedge were still trying to arrange the movable parts of their respective rosters to yield the most positive results positive.
The crowd of 15,720 that attended the afternoon tilt was bundled up as if they were going to an autumn football game with a kickoff at 12:05 instead of a first pitch. No doubt the crowd was as large as it was because Cleveland's ace, C.C. Sabathia, was getting the start. Sabathia was sporting a 1-0 record with a 1.71 ERA. He was making his 100th start with Cleveland. But a collective groan, followed by boos from the chilled crowd, echoed around the ballpark when it was announced that Sabathia was being scratched from the lineup. About 20 pitches into his warm-up in the bullpen, lefty Sabathia felt a pain in the front of his left shoulder. Cleveland pitching coach Carl Willis told him to stop throwing and he was shut down. Later, an MRI showed no structural damage and Sabathia avoided a trip to the disabled list.
Jeff D'Amico was in the clubhouse when he got the word that he was now the starting pitcher. Boos emanated from around the park. "If I came to a game expecting to see C.C. Sabathia pitch and was told he wouldn't be pitching, I'd have booed, too," said D'Amico.1 The starting time was pushed back to 12:12 P.M. to give D'Amico time to warm up.
D'Amico, who pitched for Pittsburgh in 2003, led the National League in losses with 16. Thus far in 2004, D'Amico was 1-1 with a 5.27 ERA in three starts. Pena countered with lefty Jeremy Affeldt (0-1, 10.24 ERA in two starts).
Cleveland scored two unearned runs in the bottom of the third inning. Alex Escobar worked Affeldt for a walk to lead off the inning. Travis Hafner reached on a fielder's choice, but Kansas City shortstop Andres Blanco muffed the throw from second baseman Tony Graffanino, and both runners were safe. Lou Merloni flied out to right field for the first out. Ronnie Belliard doubled to plate Escobar. Hafner raced to third base and scored one batter later when Omar Vizquel grounded out to shortstop. Jody Gerut flied out to right for the third out.
Meanwhile D'Amico was sailing through the Royals' lineup. Through the first five innings, he faced little adversity. He set the Royals down in order in the first and fifth innings. "I should have been in a panic mode," said D'Amico, "but I really didn't have much time to worry, much time to get a nervous stomach."2
D'Amico was giving the Tribe yeoman service in spite of the circumstances. But the Royals evened the score in the top of the sixth inning. Carlos Beltran got aboard on a bunt single, and took third base when the next batter, Joe Randa, doubled to left field. Juan Gonzalez grounded out to shortstop and Beltran raced home to score the Royals' first run. "What a great step-up performance by Jeff D'Amico," said Wedge.3
Wedge went to his bullpen and brought in southpaw Scott Stewart to face Matt Stairs. Stewart struck out Stairs for the second out. But Ken Harvey singled, scoring Randa to knot the score at 2-2.
Jack Cressend replaced Stewart on the mound for Cleveland in the top of the seventh inning. Kelly Stinnett greeted him by hitting his first home run of the season and giving the Royals a 3-2 lead. They added an insurance run off relief pitcher Rafael Betancourt in the top of the eighth inning. Harvey led off and singled to right field, but was forced out at second base when the next batter, Aaron Guiel, grounded out to second base. Guiel stole second base. After Stinnett whiffed, Blanco atoned for his earlier error by slashing a triple to center field. Guiel scored and the Royals led, 4-2.
Pena went to his bullpen in the bottom of the eighth inning, bringing in righty Jason Grimsley. Cleveland fans were familiar with Grimsley, who might be best known for crawling through the ductwork at new Comiskey Park to retrieve Albert Belle's corked bat from the umpire's locker room.4
Belliard led off with a walk. Vizquel slapped a single to left field. The base hit was the 2,000th of Vizquel's career. The crowd gave him a standing ovation. Gerut walked to load the bases. D.J. Carrasco relieved Grimsley. Casey Blake singled to left field to score Belliard and keep the bases loaded. Matt Lawton bounced into a 4-6-3 double play. Vizquel scored to tie the game and Gerut took his place at third base. Victor Martinez doubled to left field. Gerut scored and the Indians took a 5-4 lead.
David Riske pitched a scoreless ninth to earn his second save of the season. With the win, Cleveland improved to 6-10, and K.C. was now at 5-9.
The man of the hour was Vizquel, who became the 230th major leaguer to reach 2,000 hits. "When I came up at age 21 (with the Seattle Mariners in 1989), no one thought I could hit in the big leagues," said Vizquel as he took a couple of chugs from a champagne bottle. "What also made this hit special is that it came in our first come-from-behind victory at the ballpark where I basically grew up. I was worried about not getting it here."5
"It is nice to win a game in that fashion," said Wedge. "We've been on the flip side of those too often."6
The 2004 season was the last for Vizquel in Cleveland. In 11 years, he batted .283, stole 279 bases, and won eight Gold Gloves. A free agent after the season, Vizquel went to San Francisco in 2005 and won two more Gold Gloves. He ended his 24-year career with 2,877 hits and 11 Gold Gloves. He was eligible for induction into the Hall of Fame in 2018.
Sources
https://www.baseball-reference.com/boxes/CLE/CLE200404220.shtml
http://www.retrosheet.org/boxesetc/2004/B04220CLE2004.htm
Notes
1 Burt Graeff, "A Standing 'O,' Milestone Hit, D'Amico Start Gives Fans Something to Cheer," Cleveland Plain Dealer, April 23, 2004: D1.
2 Ibid.
3 Ibid.
4 Vince Grzegorek, "Jason Grimsley and Others Tell the Story of Stealing Albert Belle's Corked Bat in Chicago", Cleveland Scene Magazine, December 31, 2014.
5 Graeff.
6 Ibid.
Additional Stats
Cleveland Indians 5
Kansas City Royals 4
---
Jacobs Field
Cleveland, OH
Box Score + PBP:
Corrections? Additions?
If you can help us improve this game story, contact us.
Tags
https://sabr.org/sites/default/files/VizquelOmar.jpg
600
800
admin
/wp-content/uploads/2020/02/sabr_logo.png
admin
2018-03-14 19:56:11
2020-04-17 10:24:53
April 22, 2004: Omar Vizquel singles for his 2,000th career hit