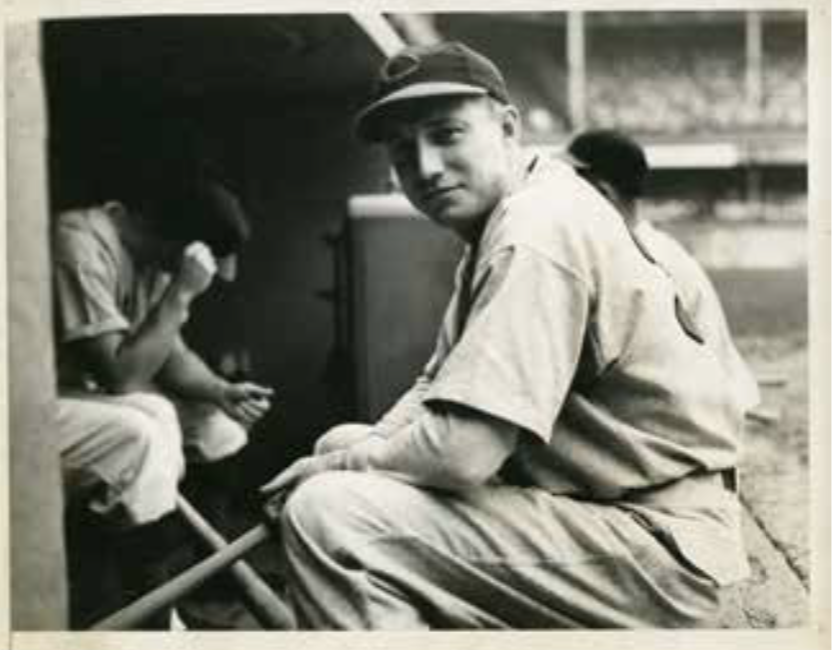 April 26, 1944: Reds outlast Cardinals in 13 innings on Frank McCormick's homer
---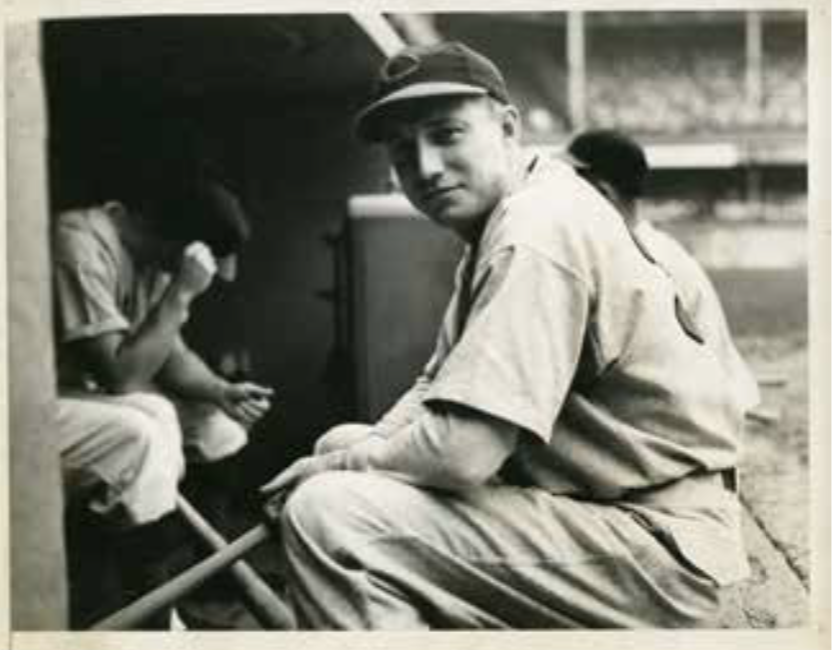 As 1944 approached, with war being waged across the world, baseball fans in Cincinnati remained optimistic over the fortunes of the club. After all, the Reds were in the midst of a multi-year run of success, and there were no signs that the good times — on the field, at least — would end any time soon.
On the heels of back-to-back National League pennants and a World Series championship in 1940, the Reds had remained competitive. In 1943 Cincinnati finished in second place with an 87-67 record, but they were a full 18 games behind the pennant-winning St. Louis Cardinals. Nonetheless, the Reds were expected to battle with the Cardinals, Cubs, and Pirates for top honors in the 1944 pennant race.1
The Reds lost on Opening Day, but had won four straight as they prepared to meet the Cardinals on April 26, 1944. It was Ladies Day at Crosley Field, but a sparse crowd of 2,520 greeted the teams, only 1,296 of whom were paying customers.2 (In addition to the women who were permitted to go through the turnstiles free of charge, the Reds handed out free tickets all season long for members of the armed services who were stationed in the United States.)3
There was a bit of a stir before the game, as Major Billy Southworth Jr., the son of Cardinals manager Billy Southworth, took his seat in a field box next to the St. Louis dugout. Southworth had recently returned to the States after a stretch as a bomber pilot, completing 25 missions in Europe.4 The same "rough flying weather" that had grounded Major Southworth in Cincinnati greeted Reds pitcher Bucky Walters as he took the mound for the afternoon contest.5 He would be facing a St. Louis club that had won two pennants in the last three years, featuring a fearsome lineup, with emerging superstar right fielder Stan Musial anchoring the offensive attack.
Of course, Walters was pretty fearsome himself. Beginning in 1939, when he was named the National League's Most Valuable Player, Walters had been perhaps the premier pitcher in the senior circuit.6 A big right-hander with a dazzling fastball, he was in the midst of a six-year stretch in which he averaged 20 wins per season.
The Cardinals countered with a rookie making his major-league debut, Al Jurisich. Jurisich, a tall righty, had toiled previously in the minors for Rochester and his hometown New Orleans Pelicans, but had spent the entire 1943 season serving in the Coast Guard. After receiving a medical discharge, the 22-year-old Jurisich broke camp with the Cardinals.7
The skies were overcast as Walters delivered the first pitch to St. Louis second baseman Emil Verban.8 The Cardinals went down quietly in the top of the first, and Jurisich's big-league debut got off to an auspicious start in the bottom half.
Cincinnati's Dain Clay led off by cracking a line drive that struck Jurisich on his right shoulder. The ball caromed bounded high into the air, where Verban settled under it. The young hurler took a few minutes to recover.9 One batter, one out, injury narrowly avoided, and Jurisich's major-league career was underway.10
The following inning, Jurisich encountered a different sort of trouble. With one away, Cincinnati shortstop Eddie Miller doubled. Jurisich then walked Reds third sacker Chuck Aleno, and the Reds were in business for the first time. With two on, Jurisich delivered a pitch that was met with complaints from the Cincinnati dugout that he was not maintaining contact with the rubber as he pitched. Umpire Jocko Conlan agreed, and he walked to the mound to deliver a formal warning.11
The game settled into a classic pitcher's duel. Walters was magnificent, holding the Cardinals hitless until Musial scratched out an infield hit with two outs in the fourth. The veteran's biggest weapon was his "blazing fastball, which he mixed up cleverly with a change of pace, and his famous sinker."12 Through nine innings, Walters surrendered just four hits, and the Cardinals didn't come close to scratching a run across.
Meanwhile, Jurisich was nearly matching Walters pitch for pitch. Displaying a fastball that was even faster than Walters' heater, Jurisich held the Reds scoreless through nine innings on six hits.13 At the end of nine, the score remained 0-0.
Walters quickly retired two hitters on fly balls to the outfield in the 10th. In a scenario that modern baseball fans would scarcely believe, Jurisich then batted for himself. He lofted a soft fly ball to short center field that looked as if it would drop in, but Miller sprinted over from shortstop and made a sparkling over-the-shoulder grab for the final out.14
Jurisich continued to hold the Reds scoreless, but he was clearly tiring. He walked two batters in the 10th, but got a strikeout and a fly out to end the inning. In the 11th Reds slugger Frank McCormick, who had been 0-for-4 so far, led off with a single. Though McCormick was not a threat to steal second base, he wandered too far off first, and Jurisich picked him off.
Making matters worse for the Reds, after left fielder Eric Tipton followed by working yet another walk from Jurisich, the pitcher's fourth of the day (and the third in extra innings), there was only one runner on base instead of two on with no outs. Tipton was eventually erased on a double play to end the inning. The game moved to the 12th inning still tied, 0-0.
St. Louis's best scoring opportunity came in the 12th, when catcher Ken O'Dea singled to lead off the inning, his second hit of the day. After two fly outs, left fielder Danny Litwhiler singled, giving the Cardinals two baserunners for the first time since the fourth inning. Never fazed, Walters induced a groundout to third by Marty Marion for the third out.
Meanwhile, Jurisich appeared to have caught his second wind. He retired the Reds in order in the 12th, then struck out shortstop Woody Williams and right fielder Gee Walker to nab the first two outs of the 13th inning.
That's when Frank McCormick walked to the plate, still stinging from his baserunning blunder two innings before.
McCormick was Cincinnati's unquestioned leader, a six-time All-Star who had earned the 1940 MVP award as the Reds won their first championship in more than two decades.15 And as the team's cleanup hitter, he was the player manager Bill McKechnie wanted at the plate with the game on the line.
Jurisich looked in to get the sign from catcher Walker Cooper.16 He reached back and delivered a fastball, belt-high, on the inside part of the plate.17 McCormick swung mightily and delivered a booming line drive. In left field, Litwhiler took three steps back, then stopped to admire the ball as it flew over his head and over the fence.18
In the Reds dugout, Chucho Ramos, a rookie from Venezuela who spoke very little English, jumped off the bench and waved his arms in celebration. "No more game!" he exclaimed.19
No more game indeed. McCormick had ended the contest with one swing of the bat, giving the Reds a 1-0 win and ruining Jurisich's brilliant debut. In 12⅔ innings, Jurisich had surrendered just eight hits while striking out seven and permitting one costly run.20
Walters had been even more dominant, putting together one of the greatest performances in a brilliant career. He pitched 13 shutout innings, allowing just seven hits. Not a single Cardinal reached third base, and only four got as far as second. The win vaulted the Reds into a first-place tie with the New York Giants.
The game launched both Walters and McCormick, two legends of Reds history, into their final great seasons with Cincinnati. Walters went on to post a 23-8 record in 1944, leading the NL in victories, and finishing second with a 2.40 ERA. McCormick hit .305/.371/.482 with 20 home runs and 102 RBIs. He also continued to play stellar defense, "one of the best defensive first basemen ever to play the game," according to baseball historian Bill James.21
Alas, by season's end, Cincinnati was destined to drift back to third place with an 89-65 record, while the Cardinals went on to win their second World Series in three years. The 1944 season marked the end of a glorious era of Reds baseball. In 1945 the Reds lost 93 games and the club wouldn't be a factor in the NL pennant race until the magical 1961 Ragamuffin Reds went on their marvelous run.
This article was published in "Cincinnati's Crosley Field: A Gem in the Queen City" (SABR, 2018), edited by Gregory H. Wolf. To read more articles from this book at the SABR Games Project, click here.
Sources
In addition to the sources listed in the Notes, the author consulted Baseball-Reference.com, RedlegNation.com, and SABR.org.
https://www.baseball-reference.com/boxes/CIN/CIN194404260.shtml
https://www.retrosheet.org/boxesetc/1944/B04260CIN1944.htm
Notes
1 Lou Smith, "Bucky Walters to Be on Mound for Reds," Cincinnati Enquirer, April 18, 1944: 12.
2 Lou Smith, "Reds Win on McCormick's Home Run in 13th," Cincinnati Enquirer, April 27, 1944: 12.
3 The Cincinnati Enquirer printed a statement from the "Cincinnati Baseball Club Co." on Opening Day (April 18, 1944: 12), announcing the policy by stating that "baseball games provide a necessary emotional outlet and a healthful means of mental and physical relaxation in these trying times."
4 Lou Smith, "De La Cruz to Do Pitching in Final Cardinal Battle," Cincinnati Enquirer, April 27, 1944: 12.
5 "Rookie Jurisich Makes First Major League Start in Cincinnati," St. Louis Post-Dispatch, April 26, 1944: 20.
6 Walters had actually reached the big leagues as a light-hitting third baseman in 1931.
7 "Bucky Walters to Be on Mound or Reds."
8 "Rookie Jurisich Makes First Major League Start in Cincinnati."
9 Ibid.
10 Jurisich even got an assist on the putout.
11 "Rookie Jurisich Makes First Major League Start in Cincinnati."
12 "Reds Win on McCormick's Home Run in 13th."
13 Ibid.
14 Ibid.
15 McCormick would make his seventh National League All-Star squad later that summer. He would be selected to his eighth and final All-Star team two years later as a member of the Philadelphia Phillies.
16 As a member of the Reds five years later, on July 6, 1949, Cooper enjoyed the best day of any hitter in Cincinnati history when he went 6-for-7 with three home runs and 10 RBIs in a 23-4 rout of the Cubs.
17 "De La Cruz to Do Pitching in Final Cardinal Battle."
18 "Reds Win on McCormick's Home Run in 13th."
19 Tom Swope, "Chucho Calls the Turn," The Sporting News, May 4, 1944: 8.
20 Jurisich got his revenge nearly two weeks later, when he spun a shutout to beat the Reds, 1-0, at St. Louis's Sportsman's Park. That game was also won on a solo homer, a sixth-inning shot by Litwhiler. Jurisich finished the season 7-9 with a 3.39 ERA. His pitching log for his four years in the major leagues (two with the Cardinals, two with the Philadelphia Phillies) was 15-22, 4.24.
21 Bill James, The New Bill James Historical Baseball Abstract (New York: The Free Press, 2001), 452.
Additional Stats
Cincinnati Reds 1
St. Louis Cardinals 0
13 innings
---
Crosley Field
Cincinnati, OH
Box Score + PBP:
Corrections? Additions?
If you can help us improve this game story, contact us.
Tags
https://sabr.org/sites/default/files/Screen%20Shot%202019-10-01%20at%202.25.35%20PM.png
600
800
admin
/wp-content/uploads/2020/02/sabr_logo.png
admin
2019-10-01 14:23:39
2020-04-17 10:22:31
April 26, 1944: Reds outlast Cardinals in 13 innings on Frank McCormick's homer