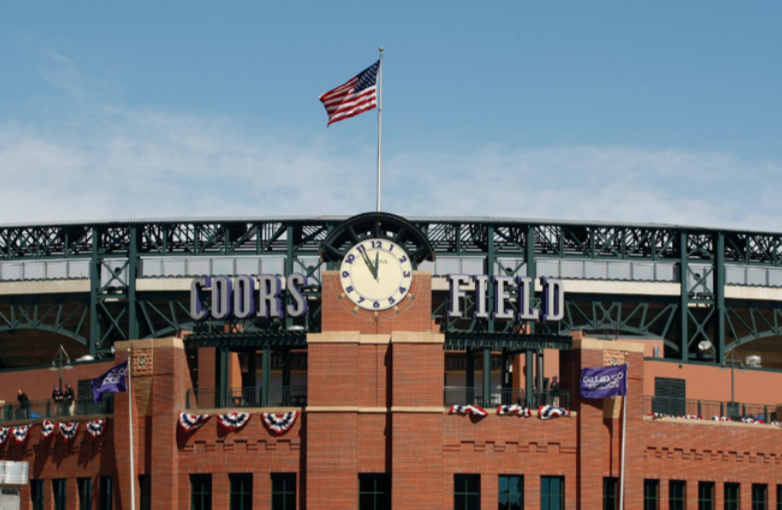 April 26, 1995: The opening of Coors Field and the birth of the Blake Street Bombers
---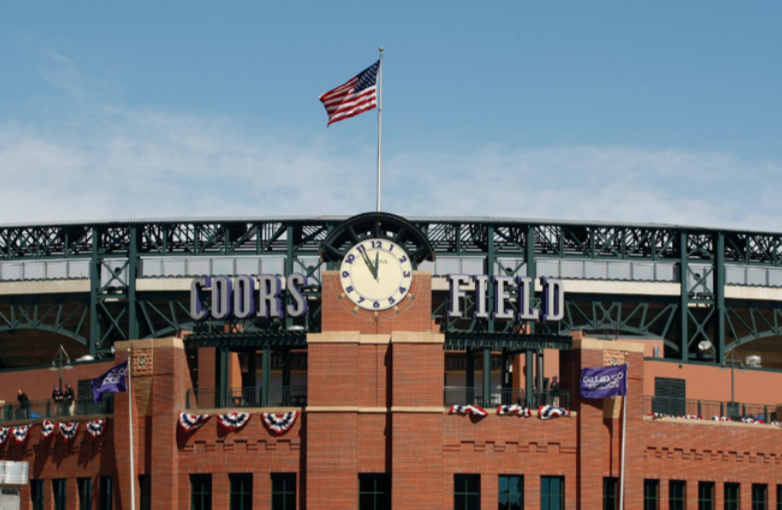 Fans tend to expect expansion baseball teams to endure several years of subpar ball, but meanwhile enjoy a brand-new ballpark. Rockies fans had to wait two years while a new ballpark was being built. Finally, on April 26, 1995, public-address announcer Alan Roach said, "Welcome to Coors Field, home of the Colorado Rockies," and 47,228 fans, along with the ESPN Wednesday Night audience, saw the new ballpark open with a game to remember.
After the players strike was settled, Opening Day was delayed.1 But at 5:38 P.M. on the 26th, the Rockies and the New York Mets got baseball underway at Coors Field, in an early moment foreshadowing the "chicks dig the long ball" era.2
On this cold, mid-30s evening, managers Don Baylor of the Rockies and Dallas Green of the Mets turned over lineup cards to a crew of replacement umpires.3 Only Terry Bovey had experienced working in a major-league game (17 of them).4 High-profile free-agent pitcher Bill Swift was the Rockies' starter. Things started quickly, as the Mets' speedy center fielder Brett Butler didn't give history a moment. He took a swing at the first pitch and beat out a close play from shortstop Walt Weiss for the first base hit at Coors Field. Two pitches later, Mets shortstop Jose Vizcaino hit into a 5-4-3 double play. Rico Brogna grounded out to end the inning.
Bobby Jones, the first visiting pitcher to experience Coors Field, quickly received an inkling of the experience. Weiss led off the bottom of the first with a single to right and the first home hit at the new park. Catcher Joe Girardi singled, Weiss going to third. Things were now set for the eminent free-agent right fielder of the Rockies. Larry Walker, eventually identified with Ozzy Osbourne's "Crazy Train" as his walk-up song, and hereafter seen as the locomotive of the Rockies, doubled to left, scoring Weiss and sending Girardi to third. Original Rockie and fan favorite left-fielder Dante Bichette drove Girardi in with a fly ball to right field. Colorado had a 2-0 lead.
Colorado controlled the game throughout the first five innings, and Walker added another RBI when he doubled Girardi in from first base in the third. The Rockies entered the fourth inning with everything going their way, but Swift allowed a leadoff home run to first baseman Brogna. Swift himself led the fifth with a base on balls, and Weiss sacrificed him to second. Girardi doubled him in and scored himself on a single by first baseman Andres Galarraga. With Swift at 56 pitches entering the sixth and with a 5-1 Rockies lead, fans may have believed fate planned an easy victory.
The sixth inning saw the Mets shift that narrative quickly. The Mets loaded the bases on Swift, with singles by Brogna, left fielder David Segui, and right fielder Carl Everett. With two outs, switch-hitting catcher Todd Hundley, poised for a career peak year, stepped up, already 2-for-2. He made it 3-for-3 with a grand slam that tied the game, 5-5, and chased Swift after the inning. It was a game again; the Mets would not be relegated to history without a fight.
Once in the Rockies' hands, the game now began to oscillate. The Rockies loaded the bases in the bottom of the sixth after Jerry DiPoto hit Roberto Mejia with a pitch. Dallas Green let lefty hitter John Vander Wal be announced to bat for Swift, then summoned lefty Eric Gunderson. Baylor countered with righty Eric Young, Vander Wal never hitting. Young's sacrifice fly scored a run, but also led to a 9-6-5-2 double play. The Rockies had a 6-5 lead. The Mets countered in the top of the seventh, with Butler getting to third via a walk, a bunt, and a wild pitch, then scored on a double to center field by third baseman Bobby Bonilla off Mike Munoz. The resulting six-run tie would hold until the ninth inning.
In the top of the ninth, Brett Butler drew a walk from lefty Bruce Ruffin, Colorado's fifth pitcher of the game. Butler reached third on a sacrifice and a groundout, then scored on a single by Bonilla, a liner to short left.
In the bottom of the inning, Mets closer John Franco walked Weiss with one out. After Girardi struck out, Walker's third RBI double of the night sent the game into extra innings.
Hundley doubled to right field with one out in the Mets' 10th and Butler again walked, but Ruffin's strikeout of Vizcaino ended the threat. In the 11th, after being called out on strikes, Bonilla threw his bat and helmet at the plate.5 Home-plate umpire Terry Bovey ejected Bonilla, and manager Green, too, when he popped out to defend Bonilla. The New York Times reported that Bonilla "was obviously attempting to show up the replacement umpire."6
Butler doubled to center in the 13th for his second hit in four at-bats, with three walks. With one out, Vizcaino's hit scored Butler, but Vizcaino was thrown out by Bichette trying to advance to second base.
In the Rockies' 13th, center fielder Mike Kingery singled off Mike Remlinger and Jim Tatum doubled him home, yielding another tie, now 8-8.
Ricky Otero made his major-league debut, coming in to play left field in the 11th; he started things in the top of the 14th with a single to left. Hard-hitting second baseman Jeff Kent was asked to forgo his stroke for a sacrifice bunt. The strategy worked when Joe Orsulak doubled to left to score Otero for a 9-8 Mets lead.
The Rockies came storming back. Joe Girardi led off the bottom of the 14th with a single. Walker struck out swinging. Galarraga reached on an error by third baseman Tim Bogar. Dante Bichette was up next and Kingery was on deck. Twenty years later he confided that while waiting he had wondered why, with a base open, the Mets didn't walk Bichette. "I can't believe they are pitching to him," Kingery thought.7
As for Bichette, "I went to the plate for one thing, that was to hit a home run and win that game."8 Taking a whack at a 2-and-1 pitch from Remlinger, Bichette smote a high fly into left center, out of the ballpark, and provided the final entry for all the evening's scorecards.9 Forty-three players had been used, 33 hits, three home runs and only one of those home runs by the Rockies. However, there's no doubt that one home run forged the Blake Street Bombers.10
This story originally appeared in "Major League Baseball A Mile High: The First Quarter Century of the Colorado Rockies" (SABR, 2018), edited by Bill Nowlin and Paul T. Parker.

Sources

In addition to the sources cited in the Notes, the author consulted Retrosheet.org, Baseball-Reference.com. and the following:
Associated Press. "'Colorado Rrrrrrockies' Stadium Announcer Roach Steps Down," Denver Post, February 26, 2007. https://denverpost.com/2007/02/26/colorado-rrrrrrockies-stadium-announcer-roach-steps-down.
Chass, Murray. "Rockies Open Their Wallet for Two Stars." New York Times, April 9, 1995.
Colorado Rockies, Coors Field, n.d., https://colorado.rockies.mlb.com/col/ballpark/.
Costello, Rory. "John Franco," https://sabr.org/bioproj/person/2966ede2.
Rockies: 20 Seasons of History. youtu.be/67oCZAyCfyk. Produced by MLB.com.
Silverberg, Evan. "Greatest Mets — Edgardo Alfonzo," NYSportsDay, November 5, 2003. https://nysportsday.com/news/memories/1068092180.html.
Weiss, Noah M. The Republican Revolution? The Transformation and Maturation of the House Republican Party, 1980-1995. Undergraduate Research Fellows, Philadelphia: University of Pennsylvania ScholarlyCommons, 2009.
Zimniuch, Fran. Baseball's New Frontier (Lincoln: University of Nebraska Press, 2013).
Notes
1 Paul D. Staudohar, "The Baseball Strike of 1994-95," Monthly Labor Review, March 1997. https://bls.gov/opub/mlr/1997/article/baseball-strike-of-1994-95.htm.
2 Ted Berg, "Tom Glavine Explains How He and Greg Maddux Came Up With 'Chicks Dig the Longball,'" USA Today, August 8, 2014. https://usatoday.com/2014/08/greg-maddux-and-tom-glavine-came-up-with-chicks-dig-the-longball.
3 The umpires had also been embroiled in a dispute with Major League Baseball, and had been locked out since January 1. The umpires didn't return to work until May 3.
4 Chris Spears, "Rockies Opening Day Weather 'Luck' Almost as Hot as Story's Bat News," CBS Denver 4, April 7, 2016. https://denver.cbslocal.com/2016/04/07/rockies-opening-day-weather-luck-almost-as-hot-as-storys-bat/
5 Jennifer Frey, "This One Has It All, Except Met Victory," New York Times, April 27, 1995.
6 Ibid.
7 "Memories by Rockies Players From the First Game at Coors Field," CBS Denver 4, May 4, 2015. https://denver.cbslocal.com/2015/05/04/top-15-memories-by-rockies-players-from-the-first-game-at-coors-field/.
8 Baseball's Seasons: 1995. "Baseball Returns," MLB Network, 2009.
9 ESPN, "Bichette Hits a Walk-Off in Coors Opener," MLB.com, 1995. https://youtu.be/TVFO_BhUOHk.
10 Patrick Saunders, "Blake Street Bombers Left Unforgettable Impression in Rockies' First 25 Years," Denver Post, July 22, 2017.
Additional Stats
Colorado Rockies 11
New York Mets 9
14 innings
---
Coors Field
Denver, CO
Box Score + PBP:
Corrections? Additions?
If you can help us improve this game story, contact us.
Tags
https://sabr.org/sites/default/files/coors%20field.png
600
800
admin
/wp-content/uploads/2020/02/sabr_logo.png
admin
2019-04-04 13:18:44
2020-07-21 00:44:50
April 26, 1995: The opening of Coors Field and the birth of the Blake Street Bombers