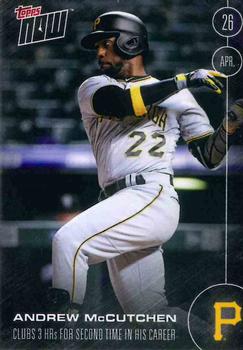 April 26, 2016: Pirates' Andrew McCutchen hits three home runs at Coors Field
---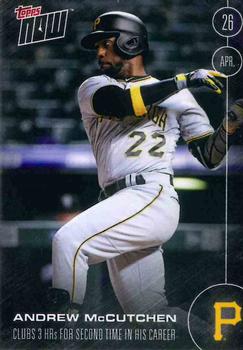 It was a chilly spring evening at Coors Field. The Pirates were hoping to rebound from their 6-1 loss on the previous evening when their team leader, Andrew McCutchen, returned to the lineup. McCutchen had struggled on the Pirates' Western road trip, getting only three hits in 23 at-bats before the team's arrival in Denver. Manager Clint Hurdle gave him the day off when the team arrived in Denver, to give him time to sort things out and get back on track. "[I]t was good to have that day to sit back and relax. Just clear my mind," McCutchen said.1
McCutchen was determined to overcome his shaky start to the 2016 season and show why he had earned his MVP award in 2013. He came to the ballpark early to watch film of his previous at-bats against Rockies left-hander Jorge De La Rosa. McCutchen had had success against De La Rosa in the past and wanted to be sure that this success continued. After watching the film, he patiently stood in front of his locker in the visitors clubhouse and took one practice swing after another. He explained his thinking later: "I lock in here. I lock in when nobody is watching. So when the game begins, I just play."2
The Rockies hoped that De La Rosa would begin to turn things around with this start and reverse the struggles he had experienced in the first month of the season. In his previous start, on April 19, he lasted only two innings and gave up four runs to the Cincinnati Reds.
In the first inning, De La Rosa got leadoff batter Jordy Mercer to fly out to center field before things fell apart for him. McCutchen, the second batter, hit his fifth pitch over the left-field wall. As he arrived at home plate, he tipped his cap to honor his wife, something he started doing after watching Jackie Robinson do the same thing in the film 42. "We always need our spouses, [Tipping my cap] is my acknowledgement to Maria, letting her know I'm thinking about her, that she's on my mind constantly."3
Before the Pirates could finish celebrating, David Freese hit De La Rosa's first pitch over the right-field wall for another home run. De La Rosa struck out Starling Marte but then walked Francisco Cervelli and hit Jason Rogers with a pitch. Josh Harrison singled and suddenly the Pirates were leading 3-0.
Gerrit Cole started for the Pirates. The young pitcher gave up a single in the bottom of the first but the Rockies could not take advantage of the runner. Cole struck out when he led off the second inning. After Mercer grounded out, McCutchen stepped to the plate for the second time in as many innings. After taking a ball from De La Rosa, he hit his second home run of the night over the center-field fence. Once again, he tipped his cap to his wife as he touched home plate. With just two swings of his bat, McCutchen signaled that he was coming out of his slump.
The Rockies scored in the second inning. Cole gave up a single to leadoff batter Ben Paulsen. Paulsen moved to second on a passed ball and ended up at third on DJ LeMahieu's grounder to second. Paulsen came home on another groundball to second by Brandon Barnes.
But this lone run would not matter as the Pirates continued to hammer De La Rosa. After a shaky third inning , in which he walked one batter and hit another, Rockies manager Walt Weiss took him out when he pulled up short of first base while grounding out in the bottom of the third. He told Weiss he might have a groin injury. De La Rosa had never given up three home runs in a game at Coors Field but this was the second time it had happened in his three starts this season.4 Christian Bergman took over and pitched two solid innings before McCutchen struck again.
This blast, in the sixth inning, would earn McCutchen three RBIs and give the Pirates a commanding 7-3 lead. Bergman gave up a double to Gregory Polanco and a walk to Mercer before McCutchen stepped up to the plate. With the count 1-and-2, he hit another one over the right-field fence. This was McCutchen's second such three home run game. He also hit three home runs in an 11-6 Pirates victory against Washington on April 1, 2009, his first full year in the majors. With this third home run, McCutchen also joined an elite group of Pirates players. Only 10 Pirates have had three-homer games (19 games in all).5
After McCutchen homered, Bergman struck out David Freese before Weiss removed him for Gonzalez Germen. Germen threw two balls to Marte. On the third pitch, Marte hit one out of the park for the second Pirates home run of the inning to put them up 8-3.
The Pirates' Cole continued to pitch well although he did give up one more unearned run in the bottom of the sixth. He had relied on his fastball, throwing it on 73 of his 103 pitches. His manager made note of this after the game: "Old-fashioned baseball, boys, here it is. He moved the fastball around — up and down, in and out. That, in and of itself, was fun to watch."6 The fact that Cole's curveball was not working in the thin air of Coors Field may also have explained why McCutchen was able to power three home runs out of the ballpark.
The Pittsburgh bullpen shut down the Rockies for the final three innings. Although McCutchen had already won the game for the Pirates with his three home runs and five RBIs, his teammates added one more run in the top of the ninth. Cervelli singled, moved to third on a walk to Joyce and a fly ball by Harrison and came home when Polanco hit a single. But this run was lost amid all of the excitement in the Pirates' dugout over the return of McCutchen's hitting.
It was clear that the day off had made a difference for him. McCutchen said afterward: "Having the day off to lay back and … work on [what I had been trying to change] in the cage, and when the game started (Monday), I could just relax. I was able to go around, talk to other people and watch the game and study the game."7 Clearly that time in the cage and those conversations paid off.
After the game, Hurdle reflected on McCutchen's achievement and how he had bounced back from his slump. "The elite can do it. I never bounced back like that. Maybe in Little League."8
McCutchen not only bounced back but added his name alongside Pirates legends Willie Stargell, Roberto Clemente, and Ralph Kiner, the only other Pirates with multiple three-home-run games.9 "'It's awesome to hit one homer, but to hit three is really cool," McCutchen told reporters. "'Just to be with those caliber of players is tremendous. It's a good day to remember."10
Rockies manager Walt Weiss said he knew McCutchen would eventually break out of his slump. He was just hoping that he would do that after the Pirates had finished their series in Denver. "Unfortunately, he's rolling again," Weiss said after the game. "You knew it was a matter of time. … He looks like he's swinging pretty good to me."11
McCutchen had the final word on his spectacular night: "Confidence is always going to be there. You can't always care about results. It's not like I felt myself getting worse. I felt myself getting better and better and better. I knew it was a matter of time."12
This article appears in "Moments of Joy and Heartbreak: 66 Significant Episodes in the History of the Pittsburgh Pirates" (SABR, 2018), edited by Jorge Iber and Bill Nowlin. To read more stories from this book at the SABR Games Project, click here.
Sources
In addition to the sources cited in the Notes, the author also used the Baseball-Reference.com, Baseball-Almanac.com, and Retrosheet.org websites for box-score, player, team, and season pages, pitching and batting game logs, and other pertinent material.
https://www.baseball-reference.com/boxes/COL/COL201604260.shtml
http://www.retrosheet.org/boxesetc/2016/B04260COL2016.htm
Notes
1 "McCutchen Hits 3 Homers, Pirates Beat Rockies 9-4," Sports Illustrated.com, April 26, 2016.
2 Stephen Nesbitt, "Andrew McCutchen Hits Three Home Runs as Pirates Blast Past Rockies for 9-4 Win," Pittsburgh Post-Gazette, April 27, 2016.
3 Burt Wilson, "Pirates Outfielder Andrew Mccutchen Tips His Cap After Each Home Run to Honor His Wife," Pittsburgh Post-Gazette, May 6, 2016.
4 Patrick Saunders, "Rockies' Pitching Woes Continue as Pirates Cruise to Victory, Denver Post, April 26, 2016.
5 Nesbitt.
6 Ibid.
7 Travis Sawchik, "McCutchen's 3-HR Game Provides Proof That Taking Day Off Can Be Beneficial," TribLive.com, April 27, 2016.
8 Nesbitt.
9 Ibid.
10 "McCutchen Hits 3 Homers, Pirates Beat Rockies 9-4."
11 "Rockies Roughed Up by McCutchen, Pirates in 9-4 loss," USA Today, April 27, 2016.
12 Jamal Muhammad, "Andrew McCutchen Hits Three Home-Runs in a Single Game for the Second Time," Imediago.com, April 26, 2016.
Additional Stats
Pittsburgh Pirates 9
Colorado Rockies 4
---
Coors Field
Denver, CO
Box Score + PBP:
Corrections? Additions?
If you can help us improve this game story, contact us.
Tags
https://sabr.org/sites/default/files/McCutchenAndrew-2016.jpg
600
800
admin
/wp-content/uploads/2020/02/sabr_logo.png
admin
2019-01-16 10:36:26
2020-04-17 10:23:42
April 26, 2016: Pirates' Andrew McCutchen hits three home runs at Coors Field