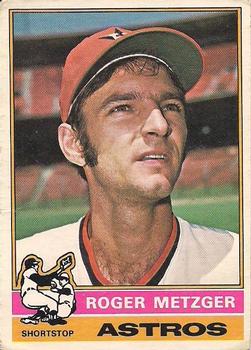 April 29, 1974: Astros' win over Cubs marred by Roger Metzger's near-fatal collision
---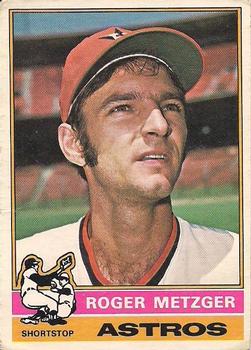 Baseball players can suffer serious injuries in numerous ways, including getting hit by a pitch, injuring a hand or leg on a slide, and colliding with another player in the field. Normally a collision happens when two players fail to communicate as they both pursue a batted ball. However, on April 29, 1974, Houston Astros shortstop Roger Metzger, who had won a Gold Glove the previous season, had a near-death experience after a collision that occurred during pregame warm-ups. Two hours before the start of the Astros' game against the Cubs, Metzger was running laps in the outfield when he crashed into pitcher Don Wilson, who was shagging flies and was running in quickly to catch a line drive.
The impact was so severe that Metzger was knocked unconscious and swallowed his tongue. Catcher Johnny Edwards recounted, "[H]e was turning grayish and his eyes had rolled where all you could see was white. He was making loud sounds down in his throat. It really scared you."1 Third baseman Doug Rader, who was also Metzger's roommate on the road, began to pound on the sides of Metzger's jaw in order to force his mouth open. Once Metzger's jaws were unlocked, Edwards reached in and pulled out his tongue, saying later, "Maybe it was lucky that I'm a catcher and had it happen once to me, so I knew what to do!"2
Metzger later recalled thinking to himself, "I guess this is it. Then I passed out. The next thing I saw was the top of the Dome. It was spinning around. Then I heard John leaning over me, talking. He was really sweating."3 Both Metzger and Wilson were taken to a hospital. Wilson had some stiffness in his shoulder but was found to have no injury. Metzger suffered no serious repercussions from the event, but he did have a chipped bone at the base of his left thumb that landed him on the 15-day disabled list. After the Astros received the encouraging news about their fallen player, manager Preston Gomez reported, "We said, 'Let's win this game for Roger,' and we went out and had a good night."4
Gomez's "good night" was an understatement: The Astros' 18 runs scored matched the largest single-game output in franchise history, which previously had been accomplished against the San Francisco Giants on July 7, 1971. After Astros lefty Dave Roberts set the Cubs down in order in the first, Houston jumped on the visitors early and often. Larry Milbourne led off with a single and advanced to second as Greg Gross reached first safely on what should have been a fielder's choice grounder. With Cesar Cedeño at bat, Milbourne advanced to third and then scored — while Gross advanced to second and third — as Cubs starter Bill Bonham unleashed consecutive wild pitches. Cedeño drew a walk and stole his first base of the game, putting him in scoring position. Bob Watson delivered a two-RBI base hit, and Lee May followed with a single of his own. Bonham managed to strike out Milt May but then surrendered a base on balls to Rader to put an Astros runner on every bag.
Cubs manager Whitey Lockman had seen enough of Bonham's wildness for one day, and he inserted reliever Herb Hutson into the jam. Dave Campbell hit a fielder's-choice grounder to Cubs shortstop Don Kessinger, who forced Rader out at second, but Watson scored on the play. Roberts came to the plate and aided his mound effort by banging a base hit that drove in May with the fifth Astros run of the inning, after which Milbourne's grounder to Kessinger put a temporary end to Chicago's misery.
The Cubs scored one run in the top of the second when Jerry Morales, George Mitterwald, and Vic Harris hit consecutive two-out singles, but Houston recouped that run in the bottom of the frame. The Cubs sent their third pitcher to the hill in the person of rookie Jim Todd, who had joined the team from Triple-A Wichita earlier in day. Cedeño worked his second walk and quickly initiated Todd into the ways of the major leagues. Watson was batting when Cedeño once again attempted a steal of second, and Cubs catcher Mitterwald's errant throw to the base allowed Cedeño to advance to third. The speedy Astros outfielder was not yet finished giving the young hurler lessons on baserunning as he "faked a break for home and forced the rattled Todd to make [a] balk" that allowed him to score.5 After this inauspicious beginning to his big-league debut, Todd escaped the remainder of the inning by allowing only Lee May's second single of the game.
Neither Roberts nor Todd allowed a run in the third, but the scoring resumed in the following frame. Jose Cardenal led off the top of the fourth with a double to center field, and Mitterwald lashed a one-out double into left that drove him in with the Cubs' second and, as it turned out, final run. Once more, the Astros set about adding the lost run back to their lead, and Cedeño had the opportunity to torment yet another Cubs pitcher, Ray Burris. This time Cedeño reached first on a hit, rather than a walk, before he stole second base once more. Cedeño's third steal of the game tied an Astros record he already shared with Jimmy Wynn, though he became the first Astro to accomplish the feat twice. Burris now unleashed the Cubs staff's third wild pitch of the game, allowing Cedeño to advance to third; Watson then drove him in with a sacrifice fly. Lee May remained hot at the plate, smacking his third base hit of the game, though he ended up stranded at first base again. He soon took matters into his own hands to ensure that he contributed more than his fair share of runs to the Astros' barrage against the Cubs.
Watson led off the bottom of the sixth with a single against Burt Hooton, the fifth Cubs pitcher, and was replaced by pinch-runner Bob Gallagher. Lee May then stepped to the plate and hit a rainbow shot over the left-field wall. Hooton fared even worse than Bonham as he failed to retire a single batter he faced: Milt May and Rader both singled, and Campbell doubled to put the Astros in double digits as May scored their 10th run. The Cubs now sent Jim Kremmel to the mound to squelch the Astros' rally, but he merely followed in the footsteps of his predecessors.
First, Roberts drove in his second run with a sacrifice fly that plated Rader. Milbourne walked, Gross singled, and then Kremmel showed what he had gleaned from watching the Cubs' previous pitchers. Following Bonham's first-inning lead, he threw consecutive wild pitches that allowed Milbourne and Gross to cross home plate. Cedeño made his first out of the game, but Gallagher singled to bring up Lee May once more. May clouted his second homer of the inning, this time to center field, to tie a major-league record; the feat had been accomplished 14 times previously in the modern era, including 10 times in the National League. When asked about his hot, homer-bashing bat, May responded, "I don't theorize about it. I just swing. You can do too much thinking up there and it can mess you up."6 May's second blast finished the scoring in the Astros' "12-batter, 24-minute half-inning" in which they scored nine runs to blow open the game, 16-2.
The Astros added their final two runs in the seventh against Kremmel. Campbell singled and scored on Milbourne's triple. Gross's single that drove in Milbourne finally ended the onslaught. Roberts faced the minimum of three Cubs batters in both the eighth and ninth innings to close out a seven-hitter that raised his record in the young season to 4-2. In contrast to Roberts, the six Cubs pitchers had allowed 20 hits and six walks, thrown five wild pitches, and balked once, leading Cubs pitching coach Hank Aguirre to say, "What the bleep can you say about something like that?"7 Manager Lockman had the answer, conceding, "We got the bleep beat out of us."8
Although several Astros players had contributed greatly to the demolition of the Cubs, the superlative performance belonged to Lee May, who went 5-for-5, including his two homers, three runs scored, and four RBIs. Cliff Johnson replaced May in the top of the eighth and batted in the bottom of the same inning, depriving May of the opportunity to do further damage. The only person who seemed unimpressed by the performance was May himself, who said of his two homers in one inning, "It's been done before," and reminded reporters, "I had some bigger ones [games] when I was with Cincinnati."9
Sources
Box scores for this game can be found at Retrosheet.org and Baseball-Reference.com:

http://www.retrosheet.org/boxesetc/1974/B04290HOU1974.htm
https://www.baseball-reference.com/boxes/HOU/HOU197404290.shtml
Notes
1 "Metzger Hurt in Freak Accident," Corpus Christi Caller-Times, April 30, 1974: 4B.
2 John Husar, "Astro Swallows Tongue: Mates Save Life," Chicago Tribune, April 30, 1974: 3-1.
3 Joe Heiling, "Rader, Edwards Save Metzger's Life, The Sporting News, May 18, 1974, 30.
4 Fred McMane, "Houston Astros in Orbit, Bomb Cubs 18-2," Galesburg (Illinois) Register-Mail, April 30, 1974: 14.
5 John Husar, "Astros Rock Cubs, May Socks 2," Chicago Tribune, April 30, 1974: 3-2.
6 Joe Heiling, "Two Homers in Inning Not Enough to Excite Lee May," The Sporting News, May 18, 1974, 19
7 John Husar, "Astros Bombard Cubs 18-2," Chicago Tribune, April 30, 1974: 3-1.
8 Husar, "Astros rock Cubs, May socks 2."
9 Heiling, "Two Homers in Inning Not Enough to Excite Lee May."
Additional Stats
Houston Astros 18
Chicago Cubs 2
---
Astrodome
Houston, TX
Box Score + PBP:
Corrections? Additions?
If you can help us improve this game story, contact us.
Tags
https://sabr.org/sites/default/files/MetzgerRoger.jpg
600
800
admin
/wp-content/uploads/2020/02/sabr_logo.png
admin
2019-08-26 18:34:12
2020-04-17 10:22:34
April 29, 1974: Astros' win over Cubs marred by Roger Metzger's near-fatal collision