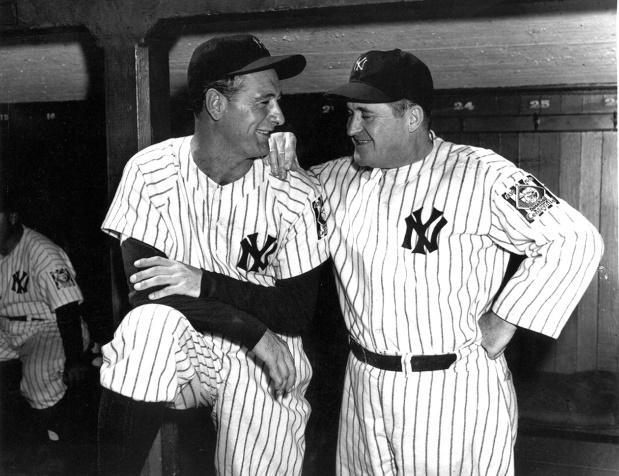 April 30, 1939: Lou Gehrig plays his final game with Yankees
---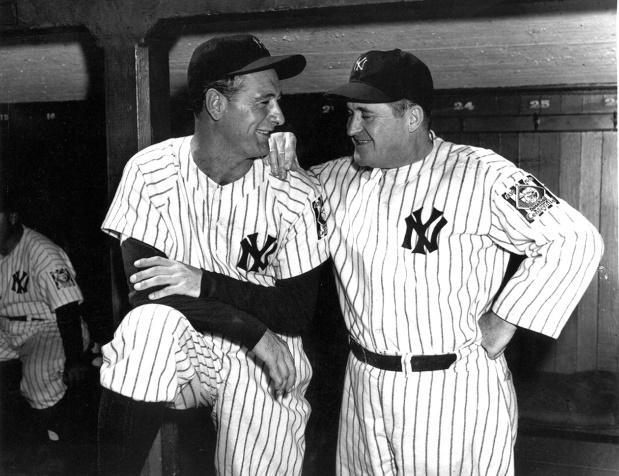 Baseball's greatest streak ended on a cloudy spring afternoon in the Bronx. New York Yankees first baseman Lou Gehrig, battling a slump and his weakened body, played the 2,130th consecutive game of his career on April 30, 1939.[fn]Jonathan Eig, Luckiest Man: The Life and Death of Lou Gehrig (New York: Simon and Shuster, 2005), 283.[/fn] It was also his final game in the majors. Just two days later, following an off day for travel, Gehrig approached manager Joe McCarthy at the Book-Cadillac Hotel in Detroit. The Iron Horse asked to be benched.[fn]Ibid.[/fn]
Gehrig's performance in 1938—29 home runs, 114 RBIs, and a .295 batting average — while subpar for him, had not been all that bad.[fn]James Lincoln Ray, "Lou Gehrig," SABR Biography Project, sabr.org, accessed February 20, 2017.[/fn] The Yankees had won their third consecutive World Series title and their seventh in 16 years that season. On Sunday morning, April 30, 1939, the Yankees' record stood at five wins and two losses; they would win the American League pennant by 17 games, and earn yet another World Series championship, defeating the Reds in four straight games.
Gehrig, though, began the 1939 campaign in an abysmal slump. In the seven games before April 30, he managed just four hits in 24 at-bats (.167), with five walks, one RBI, and two errors. Everyone seemed to know something was wrong, including Gehrig himself, but he kept going to work every day, hoping things would get better.
The Iron Horse's slump was not the only piece of Yankee news. The team's center fielder, Joe DiMaggio, was on his way to the first of three American League MVP awards. However, he had injured his leg in a game April 29 against the Senators while chasing after a ball hit by Bobby Estallela that turned into a triple. He was sent to St. Elizabeth's Hospital for treatment and was out of the lineup April 30.[fn]"Yanks Lose Without DiMaggio," Courier News, (Bridgewater, New Jersey), May 1, 1939: 14.[/fn] He would be out of action through May 27.
The Senators sent left-hander Joe Krakauskas to the mound, while the Yankees went with righty Oral Hildebrand as they wrapped up a home stand. Gehrig batted fifth in the Yankees' order. He had been hitting in that spot all season behind DiMaggio. With DiMaggio hospitalized, Gehrig hit behind catcher Bill Dickey, who was off to a robust .409 start.
The Senators were the only team to beat the Yankees in the early going of the 1939 campaign.[fn]"Hildebrand Bows to Senators, 3-2," New York Times, May 1, 1939: 27.[/fn] With former Yankees pitcher George Pipgras umpiring behind the plate and 23,712 on hand,[fn]"New Yorkers Are Limited to Four Hits," Arizona Republic, May 1, 1939: 37.[/fn] Krakauskas and Hildebrand matched zeros for the first six innings. Finally, New York put a run on the board with two singles and an infield out[fn]Ibid.[/fn] in their half of the seventh to take a 1-0 lead.
Washington rebounded in the eighth inning as Cecil Travis, Jimmy Wasdell, and pinch-hitter Charlie Gelbert all scored to give Washington a 3-1 lead.[fn]"Hildebrand Bows to Senators, 3-2.[/fn] The Yankees managed a run in the bottom of the eighth inning, but they ended up going down to defeat at the hands of the Senators for the third time, this time by a 3-2 margin.[fn]Washington had previously defeated New York on April 22 and 29, both times by scores of 3-1.[/fn] In his final game, Gehrig went hitless in four at-bats. His batting average dropped to .143 on the season.
This early, New York fans probably were not that worried about the Senators. The question was why their fixture at first base wasn't hitting. Yankee general manager Ed Barrow had talking in the offseason about cutting Gehrig's salary from $39,000 to $36,000, Gehrig had assured Barrow he would "strive mightily" to regain his old form.[fn]James Lincoln Ray, "Lou Gehrig."[/fn]
Through the 1938 season, Gehrig had appeared in 2,122 consecutive ballgames and a total of 2,156 in his career. He had scored 1,886 runs, had 2,717 hits, 534 doubles, 163 triples and 493 home runs. He also had driven in 1,994 runs.[fn]Entering the 2017 season, Gehrig stands in sixth place on the career RBI list.[/fn]
The man just did not go into slumps, and his start in 1939 was something loyal Yankee fans could not understand. There were three times in the April 30 game when Gehrig had a chance to knock in runs; each time he could not do it.[fn]Bill McCullough, "DiMag Mishap Spells Dry Dock For Gehrig," Brooklyn Daily Eagle, May 1, 1939:18.[/fn] The fans were not happy—they were even booing and jeering their beloved first baseman.[fn]Ibid.[/fn] This had to weigh on Gehrig as he agonized over what to next. Should he keep playing, or should he finally sit down?
Following his talk with McCarthy in Detroit, Gehrig explained the situation to reporters this way: "I haven't been a bit of good to the team since the season started." Gehrig said it wouldn't be fair to the Yankees if he kept playing. However, the Iron Horse did not rule out a future return to the lineup. He planned to sit down, he said, for "a couple of games."
McCarthy, meanwhile penciled in 26-year-old Babe Dahlgren at first base, batting eighth on May 2. (The Yankees thumped the Tigers that day 22-2. Dahlgren went 2-for-5 with two RBI. It was one of three times that season the Yankees scored at least 20 runs.) Gehrig never played again, although he did travel with the team for a while.
Eleanor Gehrig, Lou's wife, contacted the famed Mayo Clinic in Rochester, Minnesota. She hoped doctors could find out what was wrong with her husband. After six days of intensive tests in the spring of 1939, it was determined that Lou Gehrig had amyotrophic lateral sclerosis, an incurable disease that leads to paralysis and, ultimately, death.[fn]Luckiest Man, 288.[/fn]
On June 21, 1939, the Yankees announced Gehrig's retirement. On July 4, they held Lou Gehrig Appreciation Day at Yankee Stadium.[fn]James Lincoln Ray, "Lou Gehrig."[/fn] This was when Gehrig gave his "Luckiest Man" speech. Later in 1939, he was selected for induction into the Baseball Hall of Fame, which waived its five-year waiting period. On June 2, 1941, 14 years to the date after Lou Gehrig began his consecutive game streak, he died, at only 37 years old.[fn]Ibid.[/fn]
Sources
In addition to the sources cited in the Notes, the author consulted the Baseball-Reference.com and Retrosheet.org websites, Ray Robinson's Iron Horse: Lou Gehrig in His Time (New York: W. W. Norton, 1995), Jonathan Eig's Luckiest Man: The Life and Death of Lou Gehrig, (New York: Simon and Schuster, 2006). as well as the author's Gehrig: Game by Game, (Troy, New York: Troy Bookmakers, 2015).
http://www.baseball-reference.com/boxes/NYA/NYA193904300.shtml
http://www.retrosheet.org/boxesetc/1939/B04300NYA1939.htm
Additional Stats
Washington Senators 3
New York Yankees 2
---
Yankee Stadium
New York, NY
Box Score + PBP:
Corrections? Additions?
If you can help us improve this game story, contact us.
Tags
https://sabr.org/sites/default/files/Gehrig-McCarthy-1939.jpg
600
800
admin
/wp-content/uploads/2020/02/sabr_logo.png
admin
2017-05-03 01:32:22
2020-04-17 10:25:51
April 30, 1939: Lou Gehrig plays his final game with Yankees