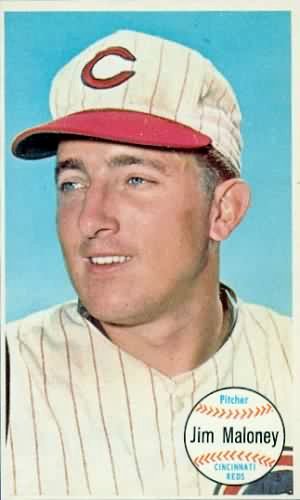 April 30, 1969: Reds' Jim Maloney fires his second no-hitter
---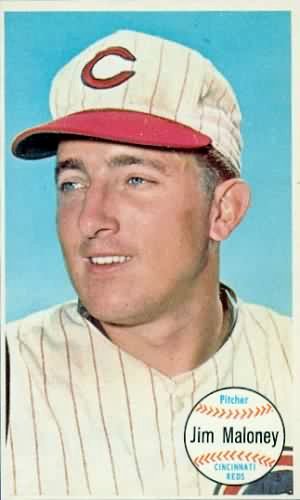 When the 1969 baseball season got underway, the Cincinnati Reds' fiery right-hander Jim Maloney felt that he had something to prove. For two seasons he had battled chronic shoulder pain that had taken a few notches off his heater. He was no longer the consistently overpowering hurler who had posted a 74-34 record over a four-year period (1963-1966) while striking out almost a batter an inning. He also heard rumbling from sportswriters, fans, and even teammates that he was not even the staff ace any longer. Despite the distractions, Maloney had lost none of his competitive spirit. That desire was never more evident than on a cold spring night in the Queen City when he raced from second to score a meaningless run with the Reds leading the Houston Astros by nine runs in the eighth inning. Moments later the 6-foot-2 hurler came limping to the mound to finish the game.
Skipper Dave Bristol was relieved to get his squad back to Cincinnati to open a two-game series against the lowly Houston Astros on April 30. The Reds (8-11) were reeling, having lost their final five games on the West Coast to conclude a 10-game road swing and fall 5½ games behind the Los Angeles Dodgers and the San Francisco Giants in the newly created West Division of the NL. Houston's skipper Harry "The Hat" Walker was probably on the verge of exploding. The Astros, losers of seven straight and 14 of their last 15, had the worst record (4-19) in the NL.
Maloney, who began the season with an impressive 122-75 record since debuting as a 20-year-old rookie in 1960, was charged with the ending the bleeding. A notorious slow starter, Maloney was coming off successive complete-game victories, his first two of the '69 campaign, which lowered his ERA to 1.86. Prior to his shoulder pain, Maloney was regarded as one of baseball's hardest throwers who was a threat to hurl a no-hitter every time he took the mound. On June 14, 1965, he tossed 10 innings of no-hit ball against the New York Mets at Crosley Field only to yield a leadoff home run in the 11th in an 1-0 eventual loss. Later that season he finally joined the ranks of no-hit hurlers by holding the Chicago Cubs hitless for 10 innings and overcoming 10 walks in a 1-0 victory at Wrigley Field. Two other times Maloney had held opponents hitless for at least six innings before being forced to leave the game with injuries.1
A matchup between two losing teams on a chilly 50-degree Wednesday night drew only 3,898 to Crosley Field. The weather did not bode well for Maloney, a native Californian whose dislike of pitching in the cold, damp spring of southwestern Ohio was well known.
Despite Mother Nature, Maloney came out firing bullets. Through the first four frames he fanned seven, including the side in the third, and also walked two.
Pressure was on Astros hurler Wade Blasingame even before the game started. A once-promising southpaw who posted a 16-10 record as a 21-year-old with the Milwaukee Braves in 1965, Blasingame had struggled with myriad elbow and shoulder injuries his entire career. He had lost all four of his starts thus far in '69 to fall to 34-35 in parts of seven seasons, and needed a good outing to keep his spot in the rotation. He held the Reds hitless in the first, but two Astros errors enabled leadoff hitter Pete Rose to tally the game's first run.
The Reds blew the game open in a wacky fourth, scoring seven times on just three hits. Blasingame loaded the bases with a hit batter, walk, and single with one out before the floodgates opened. He plunked Lee May to push Alex Johnson across the plate. Darrel Chaney lined a two-out single to drive in Johnny Bench and May, and then Tommy Helms scored on a wild pitch to Maloney, who eventually walked, sending Blasingame to the showers. After a wild pitch and walk to Rose by reliever Jim Ray, Bobby Tolan cleared the bases with a triple for an 8-0 Reds lead.
Staked to a seemingly insurmountable lead, Maloney did not let up and neither did his teammates. The fifth inning ended when Curt Blefary smashed a screeching liner straight into first baseman Lee May's glove. It was the Astros' "only well hit ball" the entire game, opined sportswriter Bob Hertzel of the Cincinnati Enquirer.2 The Reds got a scare when Astros catcher Johnny Edwards led off the sixth with what Hertzel thought was a "sure hit," a lazy looper to short left. Rookie shortstop Chaney sprinted to make a "diving one-handed grab" to preserve the no-hitter.3 "I had to get to that ball," said a seemingly still nervous Chaney after the game. "If I got there and dropped it, it would have been an error."4
The tension of Maloney's no-hitter was palpable as the game progressed. Johnny Bench, still a wide-eyed catcher in just his second full season in the big leagues, claimed he was "nervous since the sixth inning" and could barely keep his hands from shaking when he flashed Maloney signs.5 By the seventh inning, the few thousand fans in attendance had recognized that history could be made and began to cheer before every pitch Maloney made. The one person who seemed impervious to the situation was Maloney, described by Hertzel as "calm throughout" the game.6 "I'm beyond the point of getting scared," said Maloney, the longest-tenured Reds player, after the game.7 Maloney calmly walked off the mound when May made a "back-hand sweep" to corral Chaney's poor throw on pinch-hitter Gary Geiger to end the eighth.8
The eighth inning proved to have consequences well after the game. Maloney belted a one-out double to drive in Helms and increase the Reds' lead to 9-0. Two batters later, Tolan lined a single to right, and Maloney took off with his head tucked down, harboring no intention to heed third-base coach Vern Benson's hold sign. "I didn't want him sliding into the catcher and hurting himself," said Benson.9 Maloney scored the Reds' 10th and final run, but it was a costly one as Maloney had pulled his groin.
Maloney shrugged off the injury and took the mound in the ninth. He retired Joe Morgan on a fly to center field; it was just the second and last ball hit to the outfield by the Astros the entire game. After Jesus Alou grounded out, Wynn, en route to leading the majors with 148 free passes, drew Maloney's fifth and final walk of the game, on four pitches. Maloney fired a fastball to Doug Rader, who swung and missed on a 2-and-2 count to complete the no-hitter in 2 hours and 28 minutes. It was Maloney's 13th punchout, and the 38th and final time that he whiffed at least 10 batters in a game. Bench rushed to mound to congratulate Maloney, whom teammates carried off the field.
"I felt good and was making the right pitches at the right time," said Maloney.10 Astros catcher Edwards, who had caught Maloney's other no-hitter, in 1965, also appreciated his former teammate's command performance. "He had good stuff," said Edwards. "He kept the ball down and mixed his pitches well."11
Astros skipper Harry Walker was livid after the game, and not just because his team had lost its eighth straight. "It was that greaseball," said Walker, claiming that Maloney had doctored the ball.12 For years opposing managers had claimed Maloney had the best spitter this side of Gaylord Perry, yet no charges were ever proven. "He got seven or eight strikeouts on that greaseball," Walker said. "He threw one to Rader, why the bottom fell out."13 Maloney shrugged off the accusation and retorted, "There's never any mention of any mystery pitches when you get knocked out of the box. It's only when you throw a good game."14
And a good game it was. In a photo-op for the press the next day, Reds GM Bob Howsam tore up Maloney's contract and gave him a $1,000 bonus.
The euphoria of Maloney's no-hitter was tempered by the realization over the next few days and weeks that the pitcher's groin pull was much more serious than expected. Maloney didn't win another game for 2½ months. In his next five starts, all in May, Maloney lasted only 14⅔ innings, yielding eight runs, and eventually landed on the DL. He finished the season with his fewest wins (12) and innings (178⅔) since becoming a full-time starter in 1963. Ironically, Maloney's baserunning led to his premature retirement. In his second start of the 1970 season, he ruptured the Achilles tendon in his left ankle running out a groundball and made only five more starts in his career.15
The day after Maloney fired the last Reds' no-hitter in Crosley Field, the Astros' Don Wilson held the Reds hitless. Wilson's second career no-hitter marked the last one thrown at the venerable ballpark in the Queensgate neighborhood on Cincinnati's north side and the second time in big-league history that two teams no-hit each other in successive games.16
This article was published in "Cincinnati's Crosley Field: A Gem in the Queen City" (SABR, 2018), edited by Gregory H. Wolf. To read more articles from this book at the SABR Games Project, click here.
Sources
In addition to the sources cited in the Notes, the author also accessed Retrosheet.org, Baseball-Reference.com, SABR.org, and The Sporting News archive via Paper of Record.
https://www.baseball-reference.com/boxes/CIN/CIN196904300.shtml
http://www.retrosheet.org/boxesetc/1969/B04300CIN1969.htm
Notes
1 On April 18, 1964, Maloney held the Los Angeles Dodgers hitless through six innings in Los Angeles. He suffered an injury and was relieved by Jim Tsitouris to start the seventh in the Reds' 3-0 victory. On August 16, 1967, Maloney asked to be taken with shoulder pain with one out in the seventh against the Pittsburgh Pirates at Forbes Field while working on a no-hitter.
2 Bob Hertzel, "Maloney Throws No-Hitter," Cincinnati Enquirer, May 1, 1969: 61.
3 Bob Hertzel, "Maloney's No Hits 'Em," Cincinnati Enquirer, May 1, 1969: 1.
4 Ibid.
5 Ibid.
6 Ibid.
7 Ibid.
8 Bob Hertzel, "Maloney Throws No-Hitter."
9 Vito Stellino, United Press International, "Cincinnati's Jim Maloney No Hits Astros; Indians Win," Raleigh Register (Beckley, West Virginia), May 1, 1969: 12.
10 Bob Hertzel, "Maloney's No Hits 'Em."
11 Bill Ford, "Astros Manager Charges 'Greaseball,' " Cincinnati Enquirer, May 1, 1969: 61.
12 Ibid.
13 Ibid.
14 Bob Hertzel, "Maloney On Walker – 'Let Him Talk,' " Cincinnati Enquirer, May 2, 1969: 33.
15 Gregory H. Wolf, "Jim Maloney," SABR BioProject, https://sabr.org/bioproj/person/de00e781.
16 The first time teams tossed no-hitters against each other on consecutive days occurred one year earlier. On September 17, 1968, Gaylord Perry of the San Francisco Giants held the St. Louis Cardinals hitless and defeated Bob Gibson, 1-0, at Candlestick Park. The next day, Ray Washburn no-hit the Giants, winning 2-0.
Additional Stats
Cincinnati Reds 10
Houston Astros 0
---
Crosley Field
Cincinnati, OH
Box Score + PBP:
Corrections? Additions?
If you can help us improve this game story, contact us.
Tags
https://sabr.org/sites/default/files/images/MaloneyJim1.jpg
600
800
admin
/wp-content/uploads/2020/02/sabr_logo.png
admin
2019-10-08 14:27:44
2020-04-17 10:22:28
April 30, 1969: Reds' Jim Maloney fires his second no-hitter