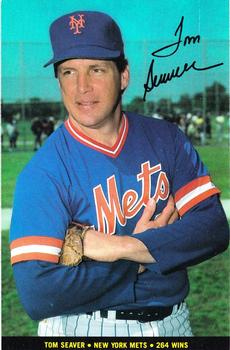 April 5, 1983: Tom Seaver makes his long-awaited return to Mets
---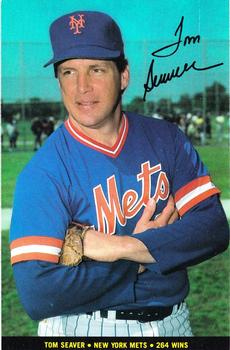 Tom Seaver became a New York Met in a very unusual way. In 1966 a rule prevented any team from signing a college player while his season was still in progress. Since the Atlanta Braves had signed Seaver illegally, Commissioner William Eckert voided the contract and allowed any team to match the Braves' offer of $51,500. The Indians, Phillies, and the Mets were interested in signing Seaver, so the commissioner held a lottery to determine who would get him. The Mets won the lottery and Seaver joined their Triple-A team at Jacksonville.1
Seaver was "The Franchise" for the New York Mets. He turned the team from perennial losers when he arrived in 1967 and won the Rookie of the Year Award to World Series champions in 1969, when he won the first of his three Cy Young Awards. Team broadcaster Ralph Kiner described Seaver as "the driving force behind the players, always pushing the team to be better than they were, never letting them settle."2
In early 1977, Seaver grew increasingly dissatisfied with Mets Board Chairman M. Donald Grant for not trying to improve the team. The Mets had signed Seaver to a three-year contract extension in 1976 for $675,000, making him baseball's highest-paid pitcher. A new collective-bargaining agreement reached in July of that year led to the first wave of free-agency signings after the season. The Mets stood pat, and Seaver was upset that there wasn't much motivation to upgrade a club that was coming off a third-place finish. After quarreling with Grant and general manager Joe McDonald over the team's performance and a new contract, he was dealt to the Cincinnati Reds for pitcher Pat Zachry, second baseman Doug Flynn, and outfielders Steve Henderson and Dan Norman on June 15, 1977 – forever known as the "Midnight Massacre." The Mets entered the darkest era in their history.3
Seaver pitched for the Reds for six seasons, compiling a record of 75-46, and tossed a no-hitter against the St. Louis Cardinals in 1978. On December 12, 1982, Seaver came home again. The Reds traded him back to the Mets for Charlie Puleo, Lloyd McClendon, and Jason Felice. Seaver was 38 years old and had recently suffered from a sore right shoulder and sore hip.4
Despite Seaver's age, the still-rebuilding Mets made him the Opening Day starter on Tuesday, April 5, 1983. Seaver left his home in Greenwich, Connecticut. at 10:30 A.M. and arrived at Shea Stadium 45 minutes later. When fans entered the ballpark, they began to post banners welcoming him back. As usual, Seaver went to the bullpen to warm up. When the final member of the Mets' starting lineup was announced, cheers resonated throughout the park. After Seaver completed his warm-ups, he gave the ball to a handicapped boy in the stands and walked to the dugout to an even louder ovation. New York Governor Mario Cuomo and New York City Mayor Ed Koch participated in the pregame ceremonies, but those dignitaries paled in comparison to the one who would take the mound minutes later.5
Seaver's return involved a classic matchup against an old rival, the Philadelphia Phillies' Steve Carlton. The two had dueled nearly 10 years prior – April 6, 1973 – and several more times before and since. Collectively, Seaver and Carlton had won 549 games, pitched 106 shutouts, struck out 6,571 batters, and won seven Cy Young Awards. Not surprisingly, both were later elected to the National Baseball Hall of Fame almost unanimously on the first ballot. The crowd, announced at 46,687, was the largest Opening Day crowd at Shea Stadium since 1968 as everyone wanted to welcome "Tom Terrific" back to New York.
The fans received more remnants of past glories. Seaver began this beautiful sun-drenched afternoon by striking out Pete Rose, and embarked on a sterling day. In fact, both pitchers were nearly flawless over the first six innings. Seaver allowed three hits while Carlton allowed only two. Neither gave up a run. Since Seaver was nursing a strained thigh, he had to depart after six innings – to be relieved by Doug Sisk. The Mets offense was unable to get Seaver a win, but they were able to win the game. They broke through in the bottom of the seventh, when Mike Howard got an RBI single through a drawn-in infield. Brian Giles hit a sacrifice fly to Rose in right field for the second run, which was enough for New York to improve its record against Carlton to 32-27.
Seaver's reunion with the Mets lasted for only one season. In 34 starts he won 9 games and lost 14 for the 68-94 Mets. (He did lead the pitching staff with 135 strikeouts in 231 innings.) Back then, there was a compensation pool to reimburse teams that lost free agents. Every club could protect 26 players. Since the Chicago White Sox lost Dennis Lamp to the Toronto Blue Jays, they were allowed to pick one player not protected by any team. The Mets thought that at age 39 no team would want Seaver and left him unprotected. To the Mets' and Seaver's dismay, the White Sox took him. Mets owners Nelson Doubleday and Fred Wilpon were devastated by this development, as it was their intention to bring Seaver back to complete his career with the Mets.6
Seaver pitched with Chicago until June 29, 1986, when he was traded to the Boston Red Sox for Steve Lyons. The highlight of his tenure with the White Sox was his 300th win on August 4, 1985, at Yankee Stadium. After posting a 7-13 record in an injury-plagued 1986 season, Seaver was left off the Red Sox' postseason roster and retired at the end of the season. When several pitchers for the Mets were injured early in 1987, he attempted a comeback, but quickly realized that he couldn't return. But despite his other stops in his storied big-league career, he'll forever be remembered as a New York Met.
This article was published in "Met-rospectives: A Collection of the Greatest Games in New York Mets History" (SABR, 2018), edited by Brian Wright and Bill Nowlin.

Sources
In addition to the sources cited in the Notes, the author also consulted Baseball-Reference.com.
The author was on jury duty that April 5. He was released early from his civic obligation and took the subway to Shea only to find out the game was a sellout.
https://www.baseball-reference.com/boxes/NYN/NYN198304050.shtml
https://www.retrosheet.org/boxesetc/1983/B04050NYN1983.htm
Notes
1 Maxwell Kates, "Tom Seaver," SABR BioProject. Accessed January 18, 2018. sabr.org/bioproj/person/486af3ad.
2 "Tom Seaver," Baseball Hall of Fame. Accessed January 18, 2018. baseballhall.org/hof/seaver-tom.
3 Bill Madden, "The Midnight Massacre," New York Daily News, June 17, 2007. Accessed January 18, 2018. nydailynews.com/sports/baseball/mets/midnight-massacre-article-1.224970.
4 Joseph Durso, "Mets and Reds in Agreement on Seaver Trade," New York Times, December 10, 1982. Accessed January 18, 2018. nytimes.com/1982/12/11/sports/mets-and-reds-in-agreement-on-seaver-trade.html.
5 Steve Wulf, "It Was a Terrific Homecoming," SI.com, October 13, 2015. Accessed January 18, 2018. si.com/vault/1983/04/18/619590/it-was-a-terrific-homecoming.
6 Joseph Durso, "Mets Are Stunned," New York Times, January 20, 1984. Accessed January 18, 2018. nytimes.com/1984/01/21/sports/white-sox-take-seaver-mets-are-stunned.html.
Additional Stats
New York Mets 2
Philadelphia Phillies 0
---
Shea Stadium
New York, NY
Box Score + PBP:
Corrections? Additions?
If you can help us improve this game story, contact us.
Tags
https://sabr.org/sites/default/files/SeaverTom-1983.jpg
600
800
admin
/wp-content/uploads/2020/02/sabr_logo.png
admin
2019-10-15 14:41:20
2020-07-21 00:57:23
April 5, 1983: Tom Seaver makes his long-awaited return to Mets