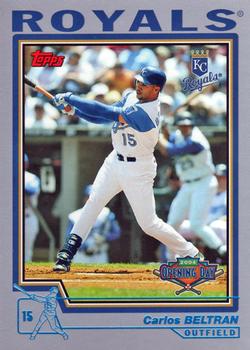 April 5, 2004: Beltran's walk-off homer lifts Royals to Opening Day win
---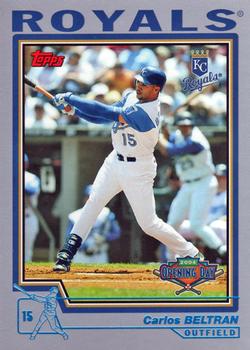 There was an air of excitement on Opening Day at Kauffman Stadium in 2004. More than 41,000 fans packed the ballpark armed with Royals magnetic 2004 season schedules.1 It was a comfortable 66 degrees, with clear skies, although winds were from the south at a potentially impactful 10 mph.2
The Royals' 2004 slogan was "We Believe,"3 which carried over from their successful 2003 season, when they finished with an 83-79 record. It was their first winning season after eight consecutive losing seasons, and earned Tony Peña Manager of the Year honors.4 In anticipation of a run at the AL Central title this season, they had signed former AL MVP Juan Gonzalez and five-time All-Star catcher Benito Santiago.5
In Chicago, the White Sox were a talented team that hadn't met its expectations in recent years. Ozzie Guillen, who replaced the fired Jerry Manuel, was hired to bring more fun to the dugout.6 They were led by a powerful right-handed-hitting lineup that included Magglio Ordonez, future Hall of Famer Frank Thomas, Paul Konerko, and Carlos Lee. Their advantage in the AL Central was that their opponents were strong on left-handed starters and the White Sox had been successful hitting against lefties.7 They further bolstered their lineup by signing catcher Sandy Alomar Jr.
The White Sox named Mark Buehrle their Opening Day starter, his third consecutive Opening Day start. The Royals countered with Brian Anderson, a veteran left-hander acquired during the 2003 season from the Cleveland Indians and re-signed as a free agent during the offseason.8
The game started at 2:10 P.M. with a Brian Anderson fastball strike to leadoff hitter Willie Harris.9 After a scoreless first inning, the White Sox got four runs in the second. Frank Thomas and Carlos Lee led off with singles and were driven home by Paul Konerko's double. The next two batters were retired, but Alomar homered to drive in two more runs.
In the bottom of the inning the Royals countered with a run. Juan Gonzalez sent a line drive to center for the initial Royals hit. One out later, Ken Harvey dribbled a ball to pitcher Buehrle, who threw wide to first. Gonzalez went to third and Harvey to second. Benito Santiago followed with a groundball to short. Gonzalez scored but Harvey was thrown out trying to advance to third. Aaron Guiel struck out to end the inning.
The game settled in. Carlos Lee led off the fourth with a home run to extend the White Sox lead to 5-1, and Royals starter Anderson was relieved by Shawn Camp after five innings. By the seventh inning, the White Sox' lead was 7-2. In the seventh, Buehrle gave up two hits and a run and was replaced by Cliff Politte with two outs. Buehrle's pitched 6⅔ innings and surrendered three runs (two earned) and eight hits. Buehrle was not satisfied with his performance. "I really didn't think I had good stuff," he said, "I fell behind in the count a lot. If I have this outing the next time out [Saturday in New York], it's not going to go as well as it did. I got lucky."10
With a 7-3 lead, Politte came out to pitch the ninth. After he walked the first two batters, manager Guillen brought in righty Billy Koch to face the right-handed-hitting Benito Santiago, who had homered earlier in the game.
Santiago greeted Koch with a double down the left-field line, scoring Joe Randa and putting runners on second and third. "The pitch I threw to Santiago was in off the plate," said Koch. "It was thigh-high, so it was up a little bit, but it was off the plate. The only way he keeps it fair is because he was cheating."11
With the tying run now coming up to the plate, Guillen left Koch in to pitch to Aaron Guiel, whom he struck out. Powerful left-handed hitter Matt Stairs was on deck preparing to bat for light-hitting Tony Graffanino, so Guillen signaled for the left-handed Damaso Marte to replace Koch. "I wanted to get the best matchup," Guillen said. "I didn't want Stairs to tie the game [with a home run]. I'm going to play with my gut feeling."12 Royals manager Peña countered the move by replacing Stairs with right-hander Mendy Lopez.
Lopez was an infielder who had spent most of his career in the minor leagues. His major-league career had spanned parts of six seasons, with only 384 at-bats and just five home runs. After Marte relieved, Peña recalled that Lopez had faced Marte in winter ball. "I just called him in and said hit a home run," said a grinning Peña.13 Little did Lopez realize that this would be the greatest at-bat of his career.
On a 3-and-1 pitch, Lopez smashed a home run over the left-field wall, tying the game, 7-7. (It was Lopez's last major-league home run and he soon end up back in the minors after hitting only .105 in 43 more plate appearances. He never made it back to the major leagues.)
Guillen stayed with Marte. A single by Angel Berroa brought up the Royals' best player, Carlos Beltran. Beltran dug in with the boisterous crowd imploring him to bring the game to a successful close. He took a 1-and-2 fastball from Marte because he felt he couldn't do anything with it. "It was very close," Beltran said after the game. "But I got a second chance."14 The next pitch, another fastball, Beltran slugged over the left-field wall, the ball bouncing off the top of the wall in front of the fountains for a 9-7 Royals victory. Elated Royals fans cheered as Beltran smiled while he circled the bases, throwing off his helmet as he ran into a wall of teammates, who pushed him around and slapped his back and jumped on him.15
Beltran's home run made a winner of D.J. Carrasco, who had pitched the scoreless top of the ninth. The loser was Marte, who failed to retire any of the three batters he faced and surrendered the home runs by Lopez and Beltran.
Guillen's debut as a manager started strong, then faded with the Royals' ninth-inning comeback. "I started pretty good," said Guillen. "I don't know if people think I can manage or not. I'm going to have people second-guessing me from now on. (The Royals), you've got to pitch good every inning and that didn't happen today."16 Guillen was second-guessed about his decision to pull Koch in favor of Marte, including by Koch himself. "There's no doubt in my head," Koch said. "I thought I threw the ball very well. For the velocity doubters, I saw a 97 [mph reading on the scoreboard]."17 Just over two months later, he was traded to the Florida Marlins.
For the Royals, it was their first Opening Day game-winning home run. "This I'm going to remember for the rest of my life," Beltran gushed. "I'm going to live with this. Opening Day. A walk-off home run. It doesn't get any better."18 The team was hopeful to build off their successful 2003 season, when won their first nine games amid a run of winning 16 of their first 19 games. "We aren't saying this means we're going to start 9-0 again," said third baseman Joe Randa, who scored one of the six runs in the ninth. "But Mendy and Carlos did something magical today. It was a feeling none of us will ever forget."19
Sources
In addition to the sources cited in the Notes, the author used the Baseball-Reference.com and Retrosheet.org websites.
https://www.baseball-reference.com/boxes/KCA/KCA200404050.shtml
https://www.retrosheet.org/boxesetc/2004/B04050KCA2004.htm
Notes
1 kansascity.royals.mlb.com/content/printer_friendly/kc/y2004/m02/d05/c634599.jsp.
2 wunderground.com/history/daily/us/mo/kansas-city/KMKC/date/2004-4-5.
3 Max Rieper, "Royals Slogans Throughout the Years," SB Nation Royal Review, February 6, 2015.
4 Bob Foltman, "Pena, Guillen Let Enthusiasm Show," Chicago Tribune, April 5, 2004.
5 Doug Tucker, "Pena and Guillen Center of Attention, Springfield (Missouri) News-Leader, April 5, 2004.
6 Bob Foltman, "Pena, Guillen Let Enthusiasm Show."
7 Phil Rogers, "Why the Sox Will Make the Playoffs," Chicago Tribune, April 5, 2004.
8 baseball-reference.com/players/a/anderbr02.shtml.
9 "Opening Game Firsts," Chicago Tribune, April 6, 2004.
10 Bob Foltman, "Royals Yank Rug Out from Under Sox in 9th," Chicago Tribune, April 6, 2004.
11 Foltman, "Royals Yank Rug Out from Under Sox in 9th."
12 Foltman, "Royals Yank Rug Out from Under Sox in 9th."
13 Doug Tucker, "Lopez Rewards Pena's Faith with Homer," Springfield (Missouri) News-Leader, April 6, 2004.
14 Joe Posnanski, "Making Most of 2nd Chance," Kansas City Star, April 6, 2004.
15 Posnanski.
16 Doug Tucker, "Lopez Rewards Pena's Faith with Homer."
17 Phil Rogers, "Guillen's Gut Fails Him in a Gut-wrencher," Chicago Tribune, April 6, 2004.
18 Doug Tucker, "The Boys Are Back in Town," Springfield (Missouri) News-Leader, April 6, 2004.
19 Tucker, "The Boys Are Back in Town."
Additional Stats
Kansas City Royals 9
Chicago White Sox 7
---
Kauffman Stadium
Kansas City, MO
Box Score + PBP:
Corrections? Additions?
If you can help us improve this game story, contact us.
Tags
https://sabr.org/sites/default/files/Beltran-Carlos-2004.jpg
600
800
admin
/wp-content/uploads/2020/02/sabr_logo.png
admin
2020-03-11 01:56:50
2020-09-27 23:05:28
April 5, 2004: Beltran's walk-off homer lifts Royals to Opening Day win