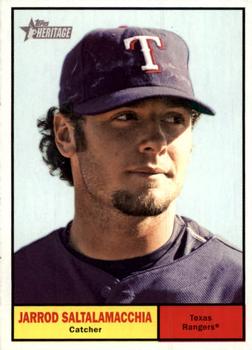 April 5, 2010: Rangers foil Marcum's no-hit bid, then win on walk-off single
---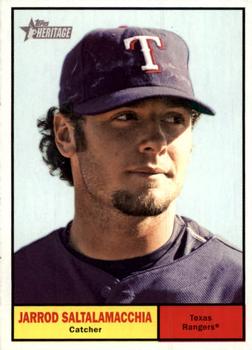 Opening Day of the 2010 season matched two teams going in different directions. The Texas Rangers were looking to be back in the playoffs for the first time in a decade, while the Toronto Blue Jays were starting yet another rebuild.
Rangers ownership was in limbo. Beset by financial problems, Tom Hicks was seeking to sell. He had a deal worked out with Chuck Greenberg, a minor-league owner from Pittsburgh, and Nolan Ryan, the Hall of Famer and Rangers team president. Although they acted like owners on Opening Day, the deal wasn't yet complete. "Good things are worth waiting for," Greenberg said. "It's been a long process and another few weeks really won't make any difference at all."1
The Rangers had on-field issues. In March Sports Illustrated broke the story that manager Ron Washington had used cocaine during the 2009 season. He had admitted the one-time use to the Rangers and had failed a drug test. "I did make a mistake and I regret that I did it. I am really embarrassed and I am really sorry," he said.2 He also admitted that he had used marijuana and amphetamines during his playing career. The Rangers retained him as manager. "He came forward and said he would resign. He understood the consequences. … We felt like he was sincere and forthright," Ryan said.3
On top of all that, the Rangers had their worst spring ever, finishing 10-19-1. Ryan also heaped pressure on the team, predicting that they would win 92 games. "I just feel like it is a reasonable figure. … I don't believe I'm just pulling a figure out of the sky," he said.4 "We all think we're going to have a pretty good year," pitcher Scott Feldman said.5
Toronto had a new general manager, Alex Anthopolous, who had begun to rebuild the Blue Jays. He knew that in the existing climate Toronto could not compete with division rivals New York and Boston. He started his tenure by trading ace Roy Halladay to Philadelphia. That meant that Toronto would have someone other than Halladay start on Opening Day for the first time since 2002. A week before the season began, outfielder Adam Lind signed a four-year, $18 million contract extension. This was the beginning of Anthopolous's plan to sign the team's young stars to longer contracts.
The Rangers sold several hundred standing-room tickets for the Monday afternoon game. The beyond-capacity crowd of 50,299 watched Dallas Cowboys hero and Football Hall of Famer Roger Staubach throw out the first pitch. Ryan said the fastball over the plate was one of the best first pitches he'd ever seen.6
The Rangers started Feldman, who had opened the previous season as the long man in the bullpen. After shifting to the rotation, Feldman had gone 17-8, earning a three-year, $13.9 million contract and the Opening Day start. Things didn't go well, though, as with two out in the first Lind singled and Arlington native Vernon Wells homered for a quick 2-0 lead. In the third inning Lind homered, making it 3-0.
The score stayed that way into the seventh inning because of the brilliance of Blue Jays starter Shaun Marcum. With Halladay gone, Marcum led an inexperienced rotation into the season, despite having missed all of 2009 after elbow surgery. Now he was back and raring to go. "My arm feels great. My legs feel like they're underneath me," he said before the game.7 He followed that promise by taking a no-hitter into the seventh, often throwing changeups in fastball counts to keep the hitters off-balance.
Marcum tired, though, and in the seventh Josh Hamilton walked, then Vladimir Guerrero singled to break up the no-hitter. The next batter, Nelson Cruz, homered into the Rangers bullpen to tie the game. "The home run he hit was a good pitch. Give him credit for getting wood on it and getting it up in that jet stream," Marcum said.8
In the top of the eighth Neftali Feliz relieved Feldman and promptly set things on fire. A walk and a double put runners on second and third, so Washington opted to intentionally walk Lind and load the bases for Wells. Wells singled to left, giving Toronto the lead again. Darren Oliver came in for Feliz, and kept it to a one-run game with a strikeout and fly out.
The game went to the bottom of the ninth with the score still 4-3, and Toronto brought in Jason Frasor to close it out. The first batter, Michael Young, doubled, but Hamilton struck out. Guerrero singled, with second baseman Aaron Hill making a diving stop to prevent Young from going any farther than third. Cruz came through once more, blooping a double down the right-field line, which scored Young with the tying run and moved Guerrero to third. Chris Davis was intentionally walked to load the bases. Catcher Jarrod Saltalamacchia then singled over the drawn-in outfield to score pinch-runner David Murphy with the winning run. "It was an unbelievable feeling. I've never done that before," Saltalamacchia said after being mobbed by his teammates at first base.9
Ron Washington talked about resilience, a trait that would follow the team through the season. "We showed our character out there," Washington said. "We got no-hit for six … but they played nine innings. They never quit."10 The Rangers went on to comfortably win their division, and at 90-72 they were two wins shy of Ryan's prediction. They finished by winning the American League pennant, but lost the World Series in five games to San Francisco.
"What a way to start the season," Blue Jays manager Cito Gaston said. "We start with almost a no-hitter and it leads to a loss."11 It was perhaps indicative of the seasons to come, a high point followed by a low. They finished 85-77, a 10-game improvement over the prior year, but still 11 games back in the division. Their plan to rebuild then took hold, and it would take another five years for them to win that many games again.
Sources
In addition to the sources cited in the Notes, the author consulted Baseball-Reference.com.
https://www.baseball-reference.com/boxes/TEX/TEX201004050.shtml
https://www.retrosheet.org/boxesetc/2010/B04050TEX2010.htm
Notes
1 "Greenberg Attends Rangers Opener," Brownsville (Texas) Herald, April 6, 2010: B4.
2 "Rangers Manager Ron Washington Tested Positive for Cocaine Last July," Sports Illustrated, https://si.com/mlb/2010/03/17/washington, accessed January 5, 2020.
3 "Texas Manager Tested Positive for Cocaine," Joplin (Missouri) Globe, March 18, 2010: 9B.
4 Stephen Hawkins, "Bar Set High," Brownsville (Texas) Herald, April 2, 2010: B5.
5 Hawkins, "Bar Set High."
6 "Staubach Throws Fastball for First Pitch," NBCDFW, https://nbcdfw.com/news/sports/staubach-throws-fastball-for-rangers-first-pitch/2117236, accessed January 5, 2020.
7 "Jays' Marcum Healthy and Raring to Start," Winnipeg Free Press, April 5, 2010: C2.
8 Hawkins, "Bar Set High."
9 "Rangers No-Hit into 7th, Rally to Beat Blue Jays," Orange (Texas) Leader, April 6, 2010: 2B.
10 Stephen Hawkins, "Rangers Come Alive Late to Knock Off Blue Jays," Odessa (Texas) American, April 6, 2010: 3B.
11 Hawkins, "Rangers Come Alive Late to Knock Off Blue Jays."
Additional Stats
Texas Rangers 5
Toronto Blue Jays 4
---
Rangers Ballpark
Arlington, TX
Box Score + PBP:
Corrections? Additions?
If you can help us improve this game story, contact us.
Tags
https://sabr.org/sites/default/files/Saltalamacchia-Jarrod.jpg
600
800
admin
/wp-content/uploads/2020/02/sabr_logo.png
admin
2020-04-04 09:22:04
2020-06-22 16:28:26
April 5, 2010: Rangers foil Marcum's no-hit bid, then win on walk-off single