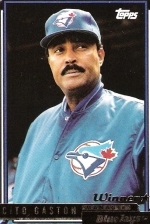 Clarence ""Cito" Gaston was a National League outfielder from 1967 to 1978. At his best, he was an All-Star in 1970. He also made a vivid impression on the fans of Venezuela, where he won two batting titles in winter ball. However, Gaston attained much greater fame and respect as a manager. He became the first African-American skipper to lead his team to the playoffs -- and then to win a World Series. His Toronto Blue Jays won back-to-back championships in 1992 and 1993. "Cerebral, dignified, and tolerant" describe this imposing man's best qualities as a leader.1

Clarence Edwin Gaston was born on March 17, 1944. His parents were Sammy Gaston and Gertrude Coley.2 However, some details of his family background are a little hazy. Gaston spent his early years in the small city of Seguin, about 36 miles northeast of San Antonio, and at least one story states that he was born there rather than in San Antonio, his generally accepted birthplace.3 Also, Clarence had five sisters, but it may have been a blended family. Cito's friend of nearly five decades, Johnny Cardona, Sr., notes that Gertrude remarried a man named Collins when her son was young. Cardona recalls that Sammy moved to Oklahoma.

It's quite possible that Gaston inherited some of his ability. Negro League legend Ted "Double Duty" Radcliffe -- from Mobile, Alabama, which has a long record as a hotbed of black baseball talent -- pointed out in his biography:

"You know who else lived in our neighborhood? Cito Gaston's daddy. We used to call him 'Big Boy' 'cause he was a big heavyset fella -- he could hit!"4

Duty's collaborator, author Kyle McNary, states in another of his books that Gaston's father was a Negro Leaguer.5 However, references for the "major" Negro Leagues do not show either a Gaston or a Collins who fits the bill. Whichever man it might have been, his experience may have come in a local circuit, the South Texas Negro League.

Cito's father -- though perhaps it was his stepfather, Mr. Collins -- was a truck driver. Gertrude was a homemaker and at times a waitress. "Religion was a big part of the Gaston family's life. His grandfather was a Baptist minister and the Gastons often attended church twice on Sundays."6

Young Clarence had ambitions of being either a truck driver, a singer, or playing major-league baseball.7 "Some remember Gaston as a backyard preacher, the kid who always took the pulpit when the neighborhood children would gather to play church. Others remember him as a garbage man, who would trade his work gloves for a baseball."8

At some point in his teens, Gaston acquired his nickname from a neighborhood friend in San Antonio. In a May 2002 online chat with Toronto fans, he said it came when he was 14, but earlier stories suggest that it was a few years later as he began to play amateur ball. At any rate, the man responsible was Carlos Thompson, who later became a police detective in San Antonio. He thought Gaston resembled a Mexican wrestler whose stage name was Cito.9 There are some suggestions that this could be short for "Papacito," or Sugar Daddy, but this part is doubtful.10

Gaston grew up in both San Antonio and Corpus Christi. He attended Wheatley High School in San Antonio for a year.11 After that he went to both Holy Cross High in San Antonio and Solomon-Coles High in Corpus Christi, and sources are split as to where he actually graduated.12 However, it is clear that he was a three-sport star: baseball, basketball, and football. At Solomon-Coles, he was also a pitcher. "On graduation, he returned to San Antonio, married and went to work on the midnight-to-dawn shift parking cars at a downtown garage."13

In 1961, the young man joined the Cardona Welders baseball team. Local businessman Johnny Cardona, Sr. sponsored this amateur squad from 1954 to 1984. "There were some Anglos, a couple of black guys, and the rest were Mexican," says Cardona. Among other opponents, the Welders faced South Texas Negro League teams such as the San Antonio Black Sox, from the East Side, the city's traditionally African-American area.

"When he first played for us, he was barefooted," Cardona told Richard Oliver of the San Antonio Express-News in 2006. "He showed up and nobody paid much attention to him. He went up there and hit the ball all the way out there in deep center field. I bought him his first pair of spikes, and the rest is history."14

Cardona adds today, "The deal was, you bring your spikes and glove, we furnish the uniform and everything else. But Cito didn't have the spikes. I told him I'm gonna make an exception, I'm gonna call the sporting goods store. The owner, Rudy, he said, 'Since when in the hell are you buying the guys spikes?' I said, 'Just this one, Rudy -- don't tell anyone else!"

It was in 1963 that Cito worked for the San Antonio sanitation department. "I don't regret that nine months," Gaston smiles. "The work puts muscle on you."15

The Milwaukee Braves signed Gaston as an amateur free agent on March 22, 1964. George Vecsey of the New York Times told the story in 1989, as did Richard Oliver. Scouting legend Al LaMacchia, then with the Braves, stopped by Olmos Field in San Antonio to watch a Welders game. LaMacchia -- later Cito's colleague for many years in Toronto -- recalled, "Great build on him, wiry and strong. First thing he did was to chase a ball in deep center field, so I knew he could catch. Then he fired a strike so I knew he could throw. Then he beat out a ground ball, so I knew he could run. And then he hit a home run, so I knew he had power."

The stories went on to recount how LaMacchia beat out Houston scout Andy Andrews; the bottom line was that Gertrude said, "Sign the contract, Clarence."1617

The young outfielder made his pro debut in 1964 with the Binghamton Triplets of the New York-Penn League (Class A). In 11 games, he went 5 for 21 (.238) with 1 home run and 4 RBIs. Then he was sent to the Greenville Braves in the Western Carolinas League (also Class A) where he posted a .230-0-16 batting line. In 1965 he arrived at the Florida State League (still Class A) with the West Palm Beach Braves. Gaston suffered growing pains that year: .188-0-9 in 70 games. He was still bothered by a cracked shinbone that had gone undiagnosed during the 1964 season.18

In 1966 he joined the Batavia Trojans in the New York-Pennsylvania League (still at the A level). He enjoyed much better success, leading the league in homers (28) and RBIs (104) while batting .330. He was selected to the league's All Star team and won the Bob Stedler trophy for the league's player with the brightest professional future.19 He also earned promotion to Double A, going 3 for 10 in 4 games with the Austin Braves and then helping them to the Texas League championship.

Back with Austin in 1967 after a stint in the Arizona Instructional League, Gaston had a good year (.305-10-70) with some standout moments. On June 12, he ended a scoreless pitching duel between Wally Wolf (El Paso) and Joe Cisterna (Austin) with a bases-loaded single in the ninth inning. On August 28, Gaston smacked a solo homer over the right field wall to break a 2-2 tie with Amarillo.

Cito's strong season earned him a cup of coffee with the Atlanta Braves in September. He pinch-ran for Tito Francona in his debut on September 14, flied out in his first at-bat off Chicago's Rich Nye two days later, and tripled off Nelson Briles on September 24 for his first big-league hit. In nine games, he went 3 for 25 (.120). The young man got a special mentor as roommate: Hank Aaron, whom he credits with teaching him "how to be a man; how to stand on my own."20

After that performance Gaston was offered a contract to play winter ball in the Venezuelan League. So he headed south to play with Cardenales de Lara in the 1967-68 season. Nobody ever found out if Cito Gaston had difficulty adjusting to the city of Barquisimeto, if he was homesick, or if the league was beyond his capabilities. He played in just 31 games, with a very modest batting line of .254-0-3. Lara's general manager decided to release him. In the mid-1980s, Gaston returned to the Cardenales as a batting instructor. He declared to journalist Rodolfo Mauriello that Lara's management didn't give him the chance to recover back in '67-68.

Gaston started the 1968 spring with the Richmond Braves in the International League (AAA). However, after 21 games (.239-2-8), he was sent down to Double-A Shreveport in the Texas League (.279-6-57 in 96 games).

That winter Cito's career took a great step forward, thanks to Rodolfo Mauriello. Then general manager of another Venezuelan team, Navegantes del Magallanes, he talked to Gaston about a contract with his team. Gaston replied that he'd had a hard time with Lara the previous season. Mauriello told him not to worry about that because he now had one more year of experience.

With Magallanes Gaston led the league in hitting (.383) and RBIs (64). He came close to a Triple Crown, as his 11 home runs ranked second, tied with Pat Kelly behind Brant Alyea's 17. In Venezuela many people still remember a weekend "a la Gaston." On December 8, 1968 the Navigators played the Caracas Lions. Cito won an exciting 13-inning game with a homer to the centerfield bleachers. The next day, Magallanes played the La Guaira Sharks starting at 11 AM. Again the game went to extra innings, as Gaston tied it with a bad-hop single over the head of his future teammate in San Diego, Enzo Hernández. He then won it in the 11th with a single to center.

The league's talent level was high, as evidenced by the long roll call of major-leaguers who took part in those two games alone. Rollie Fingers, Mike Epstein, Bo Belinsky, Walt Hriniak, and Pat Kelly were some of the Americans, while the homegrown stars included César Tovar and Vic Davalillo.

The duo of Gaston and Kelly had special significance in Venezuela. "[They] became the first members of the Poder Negro -- Black Power -- era of the Magallanes team: African American import players who hit for power. Venezuelan sportswriters coined the term 'Poder Negro' after the incident at the Mexico City Olympics in 1968 when Tommie Smith and John Carlos raised black-gloved fists."21 Carlos Tovar Bracho, a Venezuelan sportscaster, described Gaston and Kelly as a black version of Batman and Robin.

Gaston was taken by the San Diego Padres in the 1968 expansion draft, their last of 30 picks. In the spring of 1969, Sports Illustrated noted, "Their most exciting player may be a rookie named Clarence Gaston, a centerfielder with speed and power."22 In his first complete major-league season, Cito played in 129 games and got 391 at bats. However, he hit just .230 with 2 home runs and 28 RBIs. The rookie was a very free swinger, especially for that era, striking out 117 times.

Gaston returned to Venezuela in October to play with Magallanes in the winter of 1969-70, but had to leave the team on December 20 because of a knee injury. However, he had enough at-bats (161 in 43 games) to win his second Venezuelan batting title, with an average of .360. His 8 doubles, 3 triples, and 7 home runs drove in 28 men and also made him the leader in slugging at .578. Only three other men have won back-to-back batting crowns in Venezuela, two natives and another American. Vic Davalillo was the first (1962-63 and 1963-64), and Al Bumbry (1973-74 and 1974-75) followed Cito. Luis Sojo has done it twice (1989-90 and 1990-91; 1993-94 and 1994-95).


In 1970 Cito enjoyed easily his best big-league season with the Padres. He played for the National League in the All-Star Game, going 0 for 2 with a walk. In 146 games, he hit 29 homers, drove in 93, and batted .318. In addition to Hank Aaron, Gaston credited several men for his emergence. Richie Allen provided moral support, Billy Williams advised him to switch to a lighter bat, and San Diego batting coach Bob Skinner bolstered his confidence and adjusted his swing. Finally, Padres manager Preston Gómez stuck with him through nagging injuries and bad times during his rookie year.23 Much of the success came from within, though -- Cito had learned about pitchers and learned how to relax.24

Gaston returned to play 35 games with Magallanes in the winter of 1970-71, but did not approach his former peaks (.260-3-27). Then, unfortunately, he did not sustain his fine form with the Padres in 1971. He appeared in 141 games, but slumped badly to .228 in 518 at-bats. His power numbers declined to 17 homers (including two solo shots on May 4 in a 3-2 win over Atlanta) and 61 RBIs. Another notable moment came on June 16, as he got the only hit off Bill Stoneman at Montreal's Jarry Park. Stoneman told Baseball Digest in 2005 that he regarded this outing as "The Game I'll Never Forget" -- even over his two no-hitters.25

In 1970, Cito had shown at least some patience at the plate, walking a career-high 41 times to go with 142 Ks. In '71, however, he drew just 24 passes and whiffed 121 times. On August 10 that year, San Diego obtained speedy center fielder Johnny Jeter from Pittsburgh, viewing Gaston in turn as trade bait. However, the Padres wound up not dealing Gaston away that winter, which he again spent with Magallanes (.299-1-16 in just 25 games).

During the spring of 1972, Jeter became the starter in center, and Cito shifted to right. He would remain a corner outfielder for the rest of his career, seldom playing in center again. In 111 games, while his batting average picked up to .269, he dropped off further to 7 homers and 44 RBIs in 379 at bats. One of those homers, off hard-throwing Don Gullett, provided the game's only run as San Diego beat Cincinnati on September 15. Surprisingly, the cellar-dwellers took 10 of 18 games from the pennant-winning Big Red Machine that year.

Johnny Jeter was a bust, and the Padres traded him to the Chicago White Sox. However, the team's first-round draft pick in 1971, Johnny Grubb, was ready to take over center field in 1973. Gaston -- who, as his 1973 baseball card noted, had "been plagued by injuries the past two seasons" -- remained in right. He enjoyed a fairly decent season (.250-16-57 in 133 games).

The Padres made some more moves that winter. They picked up veteran first baseman Willie McCovey from the Giants, ano also added Bobby Tolan from the Reds, who got most of the time in right. More than anything, though, Dave Winfield blossomed as the full-time left fielder. Gaston became the fourth outfielder (.213-6-33 in 106 games).

That November, San Diego dealt Cito back to the Atlanta organization for reliever Danny Frisella. In 1975 he appeared in 64 games for the Braves (.241-6-15).Then, in the winter of 1975-76, at age 31, he reappeared in Venezuela to play with Magallanes. It was a successful winter (.296-5-31 in 60 games).

Gaston remained with Atlanta in 1976. He remained a reserve, although he felt he was still capable of making a greater contribution.26 In 134 at bats across 69 games, he posted his best average in years (.291) to go with 4 home runs and 25 RBIs. On August 3, in a rare start at first base, he hit two homers and drove in five (a career high) off San Diego's Rich Folkers. It was the second time he'd connected twice in a game.

The 1976-1977 season was Gaston's last in Venezuela. With La Guaira he appeared in 56 games (.262-4-38). He was taken as a reinforcement player by Magallanes to play in the 1977 Caribbean Series. Gaston joined a lineup that already had Dave Parker and Mitchell Page, the latest members of the Poder Negro tradition. He averaged .300 with 4 RBIs in the Series (won by the Dominican team, the Licey Tigres). Cito's career totals in Venezuela were 31 homers, 207 RBIs, and a .307 average across seven seasons.

Gaston remained with the Braves in 1977 (.271-3-21 in 56 games) and most of 1978 (.229-1-9 in 60 games). On September 22, 1978, the Pittsburgh Pirates purchased his contract. With the Pirates at the tail end of that season, Cito was 1 for 2 in two games -- which turned out to be his last in the majors. On October 11, Pittsburgh declined to offer him a contract for the 1979 season.

Thus Cito decided to play for the Santo Domingo Azucareros in the short-lived Inter-American League, which featured many veteran big-leaguers hanging on. Before the league folded in June, he took part in 40 games (.324-1-14 in 148 at bats). Then he left for the Mexican League to play for the León Cachorros (Cubs). There he appeared in 24 games (.337-1-8). In 1980, he returned to León and played in 48 games (.238-4-27). Gaston then retired as an active baseball player.

In 1981, Hank Aaron helped his friend find a spot with the Braves as their minor-league hitting instructor. "'I had finished playing and Hank got me back in baseball,' Gaston said. 'He called me a couple times and asked me to come back as a coach. I said no. The third time he called, I said yes.'"27

The following year, Bobby Cox -- who became manager of the Toronto Blue Jays after Ted Turner fired him -- took Gaston along as his batting coach. As the sixth-year expansion club matured into a winner, Cito helped develop the likes of George Bell, Jesse Barfield, Lloyd Moseby, and Willie Upshaw. "He made a huge impression on journalists and baseball people as the rock of the clubhouse during two jittery pennant races in 1985 and 1987."28

Williams was fired on May 15, 1989, and Gaston stepped in as interim manager -- the fourth black man to manage in the majors. The organization had actually been considering him for a greater role for some time:

"Two springs ago, in the roiling wake of The Campanis Affair, Blue Jays General Manager Pat Gillick approached [Cito Gaston] and asked if he would be interested in managing. Not the Blue Jays quite yet, but winter ball. It would be an apprenticeship, servicing both the Jays' belief that Gaston might make a useful manager someday and baseball's fresh demand for minority candidates. No matter, Cito Gaston wasn't hot on the idea. His father was ill, his second marriage (with two children added to his own two) was just getting its sea legs and life as a coach wasn't at all intolerable. So he said no."29

Gillick was hoping to hire Lou Piniella but was unable to do so. After encouragement from his players and Sparky Anderson, Gaston took the job full-time. Toronto was 12-24 when he took over but went 77-49 the rest of the way, winning the AL's Eastern Division (but then losing the playoffs to Oakland). George Vecsey's article from the end of the season that year contained some other intriguing quotes:

"I never thought I'd be a manager. But once it happened it's pretty much what I expected. The worst part is the questions from the press. When the games start I relax." With regard to being a black manager, he noted, "I don't get too emotional about it. To me, it doesn't matter what color you are. I only think about it when you guys bring it up."30

The Jays finished second in the AL East behind Boston in 1990. They recaptured the division in 1991, but lost the pennant to Minnesota. The next year, though, in late August David Cone joined a strong talent base including Joe Carter and Roberto Alomar. Toronto was prepared to move to a higher level. Their field leader was feeling better too. George Vecsey noted, "Gaston showed courage by coming back from back surgery after 1991, showing more energy and less pain. He rarely complained or lost his temper, becoming ever more of a yup-and-nope guy." That same article compared him to "strong and silent" types such as Gil Hodges and movie star Gary Cooper.31

The Blue Jays beat Oakland in the AL playoffs in 1992 and then won their first World Series on October 24 by defeating the Atlanta Braves in six games. The winning run in Game Six, an exciting 4-3 11-inning affair, was driven in by Dave Winfield. The veteran was then in his 19th season, 18 years after his emergence in San Diego prompted Gaston's trade.

George Vecsey observed, "Gaston has been skewered by a few critics in Toronto, which is normal in these critical times. 'I don't know, I don't feel any animosity in my heart toward the media,' Gaston said. . .He admitted he had been hurt by inscrutable managers when he was a decent outfielder in the '70s, and he has tried to be open with his players. 'In this game, you meet good people and you meet bad people,' Gaston said. 'I guess I learned that everybody has feelings.'"32

In 1993 Cito and the Blue Jays again won the World Series. Joe Carter's memorable home run lifted the Jays over the Philadelphia Phillies in Game 6. He became the first manager to win two consecutive Series since Sparky Anderson did it with the Cincinnati Reds in 1975-1976.

Cito continued managing Toronto until the 1997 season was almost finished. Unfortunately, he never had another winning record -- he came under fire for not developing good relationships with younger players such as John Olerud and Shawn Green, and he lost support in the press. His none-too-subtle hints that racism was a factor did not help his cause (he followed with a qualified apology).3334

Gaston's total record as manager when he lost his job was 683-636. In July 1999, he became the fourth of nine men on the Blue Jays Level of Excellence, and his two World Series titles gained him entry into the Canadian Baseball Hall of Fame in 2002.

Cito returned to the Jays as hitting coach for the 2000 and 2001 seasons. Yet while other teams had considered making him their manager, for over a decade he never landed another top job. Blue Jays President and CEO Paul Godfrey called it, "the one big mystery in baseball, why this elegant, decent man had never been offered another job in baseball."35 After the 1999 season, Gaston interviewed with the Indians and Brewers; the Angels were also interested, but he withdrew from consideration for family reasons.36 He came closest in November 2003, when the White Sox chose Ozzie Guillén.

In recent years, he served, along with former Blue Jays pitcher Pat Hentgen, as Club Ambassador and Special Assistant to Paul Godfrey. He also made occasional appearances at spring training as a guest coach with the Jays. The club's camp is located in the Tampa suburb of Dunedin, Florida. Cito lives in nearby Oldsmar with his third wife, Linda, whom he married in 2003.37 Gaston thought the baseball life was why his first marriage to Lena Green ended in divorce.38 That union produced two daughters, Rochelle and Shawn. In the late '80s, Cito married a Canadian woman named Denise; that marriage lasted into the early 2000s.

Gaston was inducted into the San Antonio Sports Hall of Fame in 2006. He appeared to be peacefully retired, golfing and traveling the world. "In fact, he eventually started to turn down clubs that wanted him to interview for vacant jobs." The suspicion lurked that he was being used as a token candidate.39 But life changed for Cito Gaston on June 20, 2008.

Amid a slump that saw the team win just four out of 17 games, Blue Jays general manager J.P. Ricciardi fired manager John Gibbons. "We know we've got a better team than this," Ricciardi said. "Right now, we just needed something to spark us, and I think Cito is the right guy for that." He cited Gaston's experience, respect, and credibility. Cito observed that he didn't know the hitters as well as he did the last time Toronto called on him -- but overall, he said, "I don't think the game has changed."40 The Jays responded with a 51-37 record after Gaston's return, and late in the 2008 season, Toronto gave him a two-year contract extension.

Perhaps the best expression of this man's even-keeled approach to baseball and life goes back to his earliest days as manager. As he told George Vecsey in 1989, "I don't mind if the guys laugh after we lose. They've got to get themselves ready for the next day. The same when we win. Enjoy it, but you can't take it with you. You've got to start again tomorrow."41

Additional research by Rory Costello. Thanks to Johnny Cardona, Sr. for his memories.


Notes

1 Vecsey, George. "One Baseball Man Who Got His Chance". New York Times, September 24, 1989.

2 Scherwitz, Harold. "S.A.'s 'Cito' Gaston Hopes to Make San Diego a Winner". San Antonio Light, January 17, 1971: 5-D.

3 "Braves Think They've Got Star in San Antonio's Cito Gaston". San Antonio Light, October 2, 1966: 62.

4 McNary, Kyle. Ted "Double Duty" Radcliffe: 36 Years of Pitching & Catching in Baseball's Negro Leagues. Minneapolis, Minnesota: McNary Publishing, 1994.

5 McNary, Kyle. Black Baseball: A History of African-Americans & The National Game. New York, New York: Sterling Publishing Company, Inc., 2006: 68.

6 Griffin, Tim. "Cito Gaston: Laid-back perfection". San Antonio Express-News, March 20, 1994: 1C.

7 Leavy, Walter. "Cito Gaston: on top of the baseball world". Ebony, May 1, 1994.

8 Page, Harry. "From sandlot, to SkyDome: Gaston's family, friends will watch Series closely". San Antonio Express-News, October 17, 1992: 14D.

9 Various citations, including Scherwitz, op. cit.; Twyman, Gib. "Gaston makes another name for himself: Champ". The Kansas City Star, October 26, 1992: C2; Matthew, John IV. "Fans chat with Cito Gaston". www.mlb.com, May 7, 2002.

10 Oliver, Richard. "Long journey home". San Antonio Express-News, February 12, 2006: 1C. To confuse matters further, at least two stories suggest that the nickname arose in Venezuelan winter ball. See Page, op. cit; Hyland, Frank. "Next black manager? Cito Gaston". Atlanta Journal-Constitution, June 5, 1988: D-24.

11 Page, op. cit.

12 Page, Harry. "Gaston graduated from Coles". San Antonio Express-News, October 25, 1992.

13 "Braves Think They've Got Star in San Antonio's Cito Gaston"

14 Oliver, op. cit.

15 "Braves Think They've Got Star in San Antonio's Cito Gaston"

16 Vecsey, op. cit.

17 Oliver, op. cit.

18 "Braves Think They've Got Star in San Antonio's Cito Gaston"; Scherwitz, op. cit.

19 Ibid.

20 Leavy, op. cit.

21 Jamail, Milton H. Venezuelan Bust, Baseball Boom: Andres Reiner and Scouting on the New Frontier. Lincoln, Nebraska: University of Nebraska Press, 2008: 27.

22 Leggett, William, Mark Mulvoy, Peter Carry, Roy Blount, "Old Saws Over a New Mays". Sports Illustrated, April 14, 1969.

23 Cour, Paul. "Gaston Credits Tutors For His Swatting Rise". The Sporting News, March 27, 1971: 42.

24 "Gaston Concentrates on Pitchers' Styles". San Antonio Light, August 5, 1970: 50.

25 Doyle, Al. "Bill Stoneman: the game I'll never forget". Baseball Digest, June 1, 2005.

26 Minshew, Wayne. "Braves' Gaston Eager to Shed Pinch-Hitter Tag". The Sporting News, August 28, 1976: 11.

27 Chass, Murray. "Blue Jays Utilize a Strength Within". New York Times, June 6, 1989.

28 Vecsey, "One Baseball Man Who Got His Chance."

29 Layden, Tim. "Cito Gaston Is Getting Job Done as Toronto Manager". Los Angeles Times, June 18, 1989: 4.

30 Vecsey, "One Baseball Man Who Got His Chance."

31 Vecsey, George. "Cito Gaston Is a Baseball Man Who Finally Got His Chance". New York Times, October 26, 1992.

32 Ibid.

33 Harper, John. "Jays' Gaston Stirs Racism Flap". New York Daily News, April 18, 1997

34 "Toronto's Gaston Apologizes". New York Times, April 18, 1997.

35 Feschuk, Dave. "A triumphant renaissance for Cito Gaston". Toronto Star, September 27, 2008.

36 Greenstein, Teddy. "Williams, Gaston reportedly discuss White Sox vacancy". Chicago Tribune, October 1, 2003.

37 Feschuk, op. cit.

38 "Blue Jays Fire Williams, Look for a Manager," Los Angeles Times, May 16, 1989.

39 Ryan, Allan. "Gaston still questions past rejections". Toronto Star, June 22, 2008.

40 Bastian, Jordan. "Gibbons out; Gaston returns to Jays," toronto.bluejays.mlb.com, June 20, 2008.

41 Vecsey, "One Baseball Man Who Got His Chance"


Sources

Venezuelan newspapers and magazines: El Nacional, El Universal, Meridiano, Sport Gráfico

www.baseball-reference.com

www.baseballlibrary.com

www.retrosheet.org

Gutierrez, Daniel, Efraim Alvarez, and Daniel Gutierrez, La Enciclopedia del Béisbol en Venezuela. Tomo II. Caracas, Venezuela: Fondo Editorial Cárdenas Lares, 1997.


Photo Credits

The Topps Company