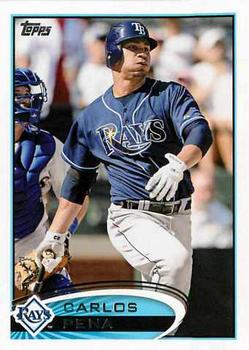 April 6, 2012: Pena's walk-off single lifts Rays over Yankees on Opening Day
---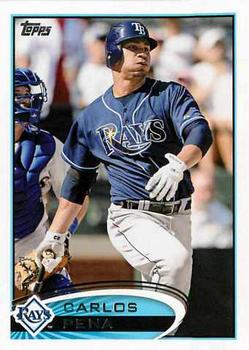 A crowd of 34,078 showed up for Opening Day 2012 at Tropicana Field. A group of 120 season-ticket holders carried an enormous American flag on the field for the pregame ceremony. The 2011 wild-card banner was lifted to the rafters, joining those from 2008 and 2010.
Jim Dundee, son of boxing legend Angelo Dundee, threw out the first pitch to Evan Longoria. The ball was the one that Longoria had hit over the fence in the final game of the 2011 season to propel the Rays past the Yankees and into the playoffs.1
James Shields started for the Rays. Shields finished the 2011 season with a 16-12 record and a 2.82 ERA. He led the team in victories and strikeouts (225). Shields beat the Yankees in his last regular-season start of 2011 and Rays manager Joe Maddon hoped for a repeat performance to start the new season.
Shields got the Yankees out in order in the first but struggled in the second. Alex Rodriguez led off with a double. Shields hit Mark Teixeira with a pitch. Nick Swisher's groundout moved the runners up.
Shields got Raul Ibanez to ground out to second as Rodriguez scored. With Russell Martin at the plate, Shields threw wild, walking Martin and allowing Teixeira, who had taken third on Ibanez's groundout, to score the second Yankee run.
Shields continued to struggle, walking two more batters and giving up a single to load the bases. But he struck out Curtis Granderson to end the half inning.
Yankees manager Joe Girardi sent veteran starter CC Sabathia to the mound. Sabathia led the team in wins, ERA, and strikeouts in 2011. He had gone 1-2 against the Rays in 2011.
The Rays pounced on Sabathia immediately. Desmond Jennings led off with a walk. Longoria's one-out single pushed Jennings to second. When Jeff Keppinger ground out to second, both runners advanced but it looked as if Sabathia might get out of the jam.
Girardi ordered an intentional pass to Sean Rodriguez to bring up Carlos Peña. Peña had been hitless with 11 strikeouts in 14 at-bats against Sabathia since 2009.
Forty minutes before the start of the game, Maddon had told Peña that he had a "midnight epiphany" and was moving him to sixth in the batting order.2 Peña, who usually batted cleanup, didn't argue with the decision. "You never know what's coming," he said. "I love that. He's not afraid to try new things. I told him: 'Joe, I'm ready to go.'"3
Peña made Girardi pay for the intentional walk by hitting the second Opening Day grand slam in Rays history. (Fred McGriff hit the first in 2000 against Minnesota.) Sabathia told reporters after the game, "Joe made the right move. If I made the pitch, we'd have nothing to talk about."4
"Obviously, Sabathia is very difficult on lefties. Very difficult on me. So to be able to square him up and give the team an early lead is very satisfying, very gratifying," Peña said.5
Shields continued to struggle and couldn't hold the four-run lead his teammates gave him. After surrendering two runs in the second, he allowed the Yankees to pull ahead in the third. Singles by Robinson Cano and Alex Rodriguez put runners at the corners. After Teixeira hit a pop fly for the first out, Swisher reached base on a fielder's choice that scored Cano. Ibanez stepped to the plate and connected on a three-run homer to put the Yankees ahead 6-4.
The Rays made it a one-run game on a solo home run by Longoria in their half of the third. But Shields struggled again in the fourth. Although he retired the side in order, Maddon decided to go to his bullpen in the sixth. At this point, "Maddon seemed determined to showcase all the principals that he's deemed to comprise his closer-by-committee [bullpen]."6 Over the next four innings, he used no fewer than six relievers.
The plan worked although there was a scare in the eighth when right-hander Joel Peralta took over from lefty Jake McGee. Peralta walked Alex Rodriguez and Teixeira and then went to 3-and-2 on Swisher before striking him out.
Meanwhile, Maddon was trying desperately to gain ground on the Yankees. Bill Madden of the New York Daily News wrote that Maddon "went to extremes that would have left John McGraw and Casey Stengel wondering if he'd lost his mind."7
With right-hander David Robertson on the mound and runners on first and third in the eighth, Maddon sent pinch-hitter Stephen Vogt to bat for Elliot Johnson. It was the left-handed Vogt's first major-league at-bat. Although Vogt struck out, Maddon explained his move this way: "That's why we put him on the team — for this moment."8
Maddon followed that move by signaling Jose Molina to lay down a squeeze bunt when the count reached two strikes. Molina initially missed the call and swung. He then fouled the ball on his bunt attempt to strike out for the second out. Neither move got the Rays any closer to tying the game.
Girardi went to his star closer, Mariano Rivera, in the ninth. Rivera was 60-for-61 in game situations against the Rays. Jennings led off with a single to center field. (He said later, "You still got to go out regardless of who comes in. You still got to try and do what you got to do to win the ballgame. We were confident we could still win."9)
After Jennings, Ben Zobrist stepped into the batter's box and hit Rivera's first pitch into center field for a triple that tied the game.
Rivera intentionally walked Longoria and Luke Scott to load the bases. It was now Girardi's turn to make the unexpected move. He sent in Eduardo Nunez as an extra infielder in place of Swisher in right field.
"A sac fly is going to win it so you're hoping to get a groundball or a double play at that point," Girardi said after the game.10
Rivera struck out Sean Rodriguez for the first out. If he could get one more out, the Yankees could rearrange their defense and perhaps get out of the jam. Rivera got ahead of Peña but then the Rays slugger drove a high pitch over the infield that rolled all the way to the outfield fence.
Asked about facing Rivera, Peña said, "He's just one of those pitchers where you come back to the dugout scratching your head, like, what was that? You think you saw the ball right down the middle and the next thing you know the bat is broken in a hundred pieces. It's one of those things where what your eyes are telling you is not the truth. He has that illusion with the ball. You swing where the ball is at, and it's not there anymore."
This time Peña got the upper hand to send the Rays to an Opening Day victory. "It's my fault," Rivera said. "It's bad. You don't want to start a season this way. But thank God, it's only one game."11
Zobrist scored the winning run and the Rays poured out of their dugout to mob Peña at second base. "This kicks off the season in the right way," Longoria said. Exclaimed Jennings, "That was a blast, man. That was a blast."12
"Shocking," said Girardi.13 "[Rivera] has been so good for so long, that we've been blessed. This organization has been blessed with what he's done. Even when you see him blow one today, it's shocking."14
Said Maddon: "This is life in the fast lane. I love it. I absolutely love it. You have to be on top of your game every night you play in this division. It's a blast. [The American League East] is the best place to play."15
Sources
In addition to the sources cited in the Notes, the author used the Baseball-Reference.com, and Retrosheet.org websites for box-score, player, team, and season pages, pitching and batting game logs, and other pertinent material.
https://www.baseball-reference.com/boxes/TBA/TBA201204060.shtml
https://www.retrosheet.org/boxesetc/2012/B04060TBA2012.htm
Notes
1 Roger Mooney, "Back with a Bang," Tampa Tribune, April 7, 2012: 22.
2 Mooney.
3 Peter Kerasotis, "Two Swings, Two Hits to Celebrate for Pena," New York Times, April 7, 2012: D5.
4 David Waldstein, "Yankees' Game 1 Looks a Lot Like Game 162," New York Times, April 7, 2012: D1.
5 Kerasotis.
6 Bill Madden, "Opening Flop," New York Daily News, April 7, 2012: 37.
7 Madden.
8 Madden.
9 Mooney.
10 Madden.
11 Waldstein.
12 Mooney: 18.
13 Madden.
14 Waldstein.
15 Kerasotis.
Additional Stats
Tampa Bay Rays 7
New York Yankees 6
---
Tropicana Field
St. Petersburg, FL
Box Score + PBP:
Corrections? Additions?
If you can help us improve this game story, contact us.
Tags
https://sabr.org/sites/default/files/Pena-Carlos-2012.jpg
600
800
admin
/wp-content/uploads/2020/02/sabr_logo.png
admin
2020-04-04 08:59:33
2020-06-22 16:29:11
April 6, 2012: Pena's walk-off single lifts Rays over Yankees on Opening Day