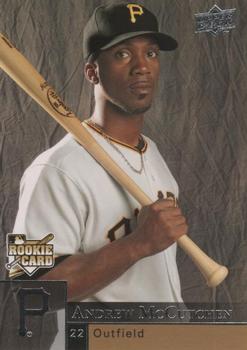 August 1, 2009: Andrew McCutchen becomes first Pirates rookie to blast three home runs in a game
---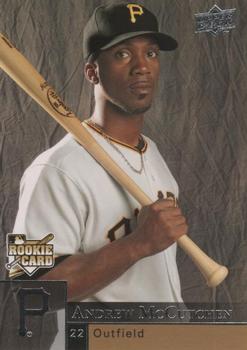 The Pittsburgh Pirates' all-time roster boasts several home-run sluggers of historical significance, including Willie Stargell (who hit 475 home runs as a Pirate), Ralph Kiner (301), Roberto Clemente (240), and Barry Bonds (176).1 The Pirates have existed continuously since 1882, when they joined the major-league American Association as the Pittsburgh Alleghenys. In 1887 the Alleghenys moved to the National League after the AA folded, replacing the expelled Kansas City franchise. Yet, more than a century of Pittsburgh major-league baseball passed before a Pirates rookie homered three times in a game.
The 2009 Pittsburgh Pirates endured another rebuilding season; the team hadn't enjoyed a winning season since 1992. Pittsburgh traded away five everyday players from its 2009 Opening Day lineup2 and was 44-58 heading into the August 1 contest. The roster turnover provided an onslaught of rookies to enjoy more than the usual September "cup of coffee." Andrew McCutchen, Pittsburgh's first-round draft pick and 11th overall in the June 2005 amateur draft, was one of the Pirates' projected stars. The 22-year-old started the 2009 campaign playing 49 games for Pittsburgh's Triple-A affiliate Indianapolis Indians and delivered a solid .853 OPS (on-base plus slugging percentage) before his June call-up.
McCutchen debuted in the majors on June 4, 2009, going 2-for-4, scoring three runs, stealing a base, and hitting a single his first time up in Pittsburgh's 11-6 victory over the New York Mets.3 Pittsburgh manager John Russell was eager for McCutchen to develop his leadoff skills. "We've always envisioned Andrew as our leadoff hitter. He can get on base, draw walks, do a lot of things for us," Russell said.4 McCutchen had demonstrated his leadoff prowess the night evening before, when he went 2-for-3, walked, and scored two runs as Pittsburgh defeated Washington 5-4 in the first game of a four-game series.5
The 32-71 Washington Nationals were also struggling to win games. Washington had the lowest winning percentage in the majors, and was 28 games behind the NL East Division-leading Philadelphia Phillies. The Nationals' offense centered on All-Star Ryan Zimmerman with outfielders Josh Willingham and shortstop Cristian Guzman also contributing. John Lannan was Washington's staff ace –the only Nationals pitcher to throw more than 106 innings in 2009 — with Mike MacDougal closing games.
Virgil Vasquez started for Pittsburgh. The 27-year-old right-hander had debuted with the Detroit Tigers two years earlier, pitching 16⅔ innings with an 8.64 ERA. Vasquez was in his second major-league season after spending 2008 with Detroit's Triple-A Toledo Mud Hens. Three times in the previous offseason he had passed from one team to another on waivers — from the Tigers to the Red Sox, the Red Sox to the Padres, and the Padres to the Pirates. Since his June call-up from Indianapolis, Vasquez was 1-5 with a 6.21 ERA in 29 innings. He had won his Pittsburgh debut with seven strikeouts in six innings,6 but dropped his next five decisions.
Craig Stammen started for Washington. The rookie right-hander was drafted by the Nationals in the 12th round of the June 2005 amateur draft. Stammen made his major-league debut on May 21 against the Pirates in Washington, and got a no-decision after allowing four runs in 6⅓ innings.7 Stammen was 3-5 with a 4.46 ERA in 13 starts heading into the contest.
The 26,855 fans watched as Washington wasted no time generating offense. After leadoff hitter Nyjer Morgan, who had arrived from Pittsburgh in a midseason trade,8 fouled out in a bunt attempt. Guzman and Zimmerman singled. Cleanup hitter Adam Dunn doubled down the left-field line, scoring Guzman. Willingham was hit by a pitch to load the bases. Elijah Dukes plated Zimmerman on a fly to center field to give Washington a 2-0 lead.
Pittsburgh immediately responded. Leadoff batter McCutchen blasted his fourth homer of the season on a 2-and-2 fastball into the left-field bleachers that sailed just past Washington left fielder Willingham. Lastings Milledge, who came to Pittsburgh in the deal involving Morgan,9 lined out, Garrett Jones singled, and Ryan Doumit hit into a 4-6-3 double play.
Washington's bats slowed down over the next two innings, though Morgan hit an infield single. In the Pittsburgh third, Ronny Cedeño singled to left field and reached second on Vasquez's sacrifice. McCutchen's bunt single moved Cedeño to third base. Milledge doubled home Cedeño and McCutchen and the Pirates took a 3-2 lead.
In the fourth inning, the Nationals threatened when Josh Bard and Morgan singled, but Guzman's groundout kept Washington off the scoreboard. Pittsburgh's half started with Delwyn Young's single. Andy LaRoche tripled Young home, then Brandon Moss singled LaRoche home to end Stammen's night. Cedeño greeted reliever Tyler Clippard with a single, but Vasquez's unsuccessful bunt attempt turned into a double play. With Moss at third, McCutchen blasted an 0-and-1 changeup into the left-field seats for his second home run, increasing Pittsburgh's lead to 7-2.
The Nationals scored in the fifth when Bard plated Zimmerman with two outs after Zimmerman led off with a double. They added another run in the sixth inning when Guzman doubled pinch-hitter Anderson Hernandez home. The Pirates led, 7-4.
In the Pirates' sixth, Washington reliever Logan Kensing fared no better than his predecessors. LaRoche singled, Moss singled, and Cedeño's groundout scored LaRoche. Ramon Vazquez walked on a full count. In his fourth at-bat of the game, McCutchen hammered a three-run blast on a 1-and-1 fastball, and Pittsburgh's lead grew to 11-4. The appreciative fans demanded a curtain call to recognize their budding star. Even though he hit three homers, McCutchen wasn't swinging for the fences. "I've always taken pretty short, quick swings to the ball," he said after the game. "I was looking to go to right field, but (Kensing) came in, and I made an adjustment. That's all."10
The Nationals added single runs in the eighth and ninth innings, scoring both runs without a hit. McCutchen batted in the bottom of the eighth with a runner on first and one out, but hit into an inning-ending double play.
Vasquez allowed three runs in five innings for his second win while Stammen absorbed the loss, giving up six runs in three innings. McCutchen enjoyed the most productive game of his rookie season, going 4-for-6 with three homers and six RBIs and raising his batting average to .293. LaRoche, Moss, and Cedeno each went 2-for-4 with an RBI. Washington's Zimmerman and Morgan each banged out three hits, but the Nationals were 4-for-19 with runners in scoring positions and stranded 12 runners. The Nationals' Morgan complimented his former teammate McCutchen on his performance, saying, "He's a special breed. He's one of the most special talents I've seen since I've been in the game. For a kid that young to have bat speed like that and the patience at the dish, there's something there the Pirates will be enjoying for a long time."11
Vasquez was optioned back to Triple-A after the game, then returned for the expanded rosters in September. He finished the season with a 2-5 record and a 5.84 ERA in 44⅔ innings, his last year in the majors. He bounced around the minor leagues and played in the Australian Baseball League with Perth, Adelaide, and Melbourne until 2017. Stammen ended his rookie campaign with a 4-7 record and 5.11 ERA in 105⅔ innings, finished second on Washington's staff in innings pitched, and then transitioned from a starter to a reliever the next season. Both teams were eager to turn the page on the 2009 campaign; Washington finished with the lowest winning percentage in the majors, and Pittsburgh finished with the second-lowest.
McCutchen finished fourth in the NL Rookie of the Year voting, earning two first-place votes. He delivered 12 homers, plated 54 runs, and batted.286 with an.836 OPS in 108 games and 493 plate appearances. He became the first Pirates rookie to hit three home runs in a game, and the first Pittsburgher since Aramis Ramirez in 2001 to accomplish the feat at all. Before McCutchen, both Kiner and Stargell hit three homers in a game four times, Clemente did it twice, and six Pirates did it once.12 McCutchen hit three home runs in a game twice more wearing a Pittsburgh uniform; the next time was on April 26, 2016, against the Colorado Rockies and then on July 30, 2017, against the San Diego Padres.13
Sources
Besides the sources cited in the Notes, the author consulted Baseball-Reference.com, Retrosheet.org, Bill James's The New Bill James Historical Baseball Abstract (New York: The Free Press, 2001), the 2010 Washington Nationals Media Guide, and the following:
baseball-reference.com/boxes/PIT/PIT200908010.shtml
retrosheet.org/boxesetc/2009/B08010PIT2009.htm
Notes
1 2020 Pittsburgh Pirates Media Guide, 276.
2 Dejan Kovacevic, "And So It Goes …," Pittsburgh Post-Gazette, July 30, 2009: 25.
3 Dejan Kovacevic, "McCutchen Debut Adds Spark Atop Order," Pittsburgh Post-Gazette, June 5, 2009: 25.
4 Kovacevic, "McCutchen debuts."
5 Dejan Kovacevic, "Top 2 Hitters Set Off Mood Swing," Pittsburgh Post-Gazette, August 1, 2009: 23.
6 Chuck Finder, "Vasquez Solid in Debut Victory," Pittsburgh Post-Gazette, June 27, 2009: 17.
7 Chuck Finder, "Blown Lead In Eighth Ends Five-Game Streak," Pittsburgh Post-Gazette, May 22, 2009: 15.
8 Dejan Kovacevic, "Wheelin' & dealin'," Pittsburgh Post-Gazette, July 1, 2009: 29.
9 Kovacevic, "Wheelin' & dealin'."
10 Dejan Kovacevic, "McCutchen Wallops Three Homers," Pittsburgh Post-Gazette, August 1, 2009: 33.
11 Kovacevic, "McCutchen Wallops Three Homers."
12 Kovacevic, "McCutchen Wallops Three Homers."
13 Baseball-Almanac.com, "Three Home Runs in a Game," baseball-almanac.com/feats/3-Home-Runs-In-A-Game.shtml, accessed April 28, 2020.
Additional Stats
Pittsburgh Pirates 11
Washington Nationals 6
---
PNC Park
Pittsburgh, PA
Box Score + PBP:
Corrections? Additions?
If you can help us improve this game story, contact us.
Tags
https://sabr.org/sites/default/files/McCutchen-Andrew-2009.jpg
600
800
admin
/wp-content/uploads/2020/02/sabr_logo.png
admin
2020-05-26 14:28:46
2020-05-28 15:23:14
August 1, 2009: Andrew McCutchen becomes first Pirates rookie to blast three home runs in a game